For affiliate links and as an Amazon Associate I earn from qualifying purchases.
Today I'm sharing my Easy Paleo Bread recipe with you. This recipe was previously shared in a post with another recipe, a non-paleo recipe, which always confused—and, truth be told, aggravated—some readers. I don't want to do that! Plus, my Easy Paleo Bread is so good that it really deserves its own separate post.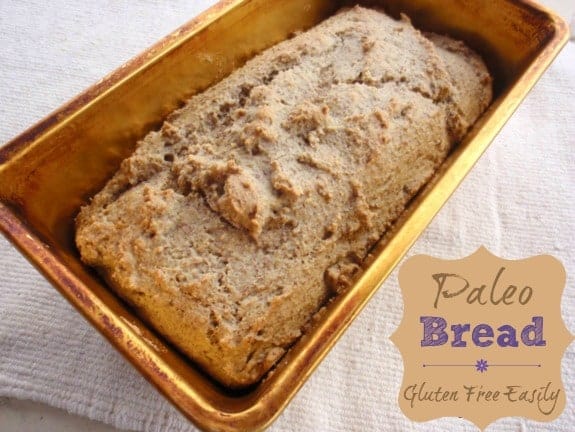 I've been making this modified loaf version of Kiva's Golden Flax Bread for some time. I don't make bread often because I really don't miss bread and I don't think eating bread on a daily basis—even grain-free bread—is necessarily a good thing. I'd rather consume my calories in whole foods. However, this bread I am sharing today really is delicious and I do like indulging in it from time to time (although admittedly many would not even consider calling this healthy bread an indulgence).
When I shared Kiva's Golden Flax Bread, which makes a rounded flat loaf, several years back, a lot of folks were very intrigued. Not a lot of paleo bread recipes had been shared at that time, or at least very few had reached everyone's attention. So some readers made Kiva's recipe immediately after I shared it. And some of them made their own adaptations, of course. All of us who like to cook can't resist doing that, right?
Reader Cynthia commented with her variation, which doubled the ingredient measurements in the recipe and increased the almond flour to flax meal ratio. I tried her version and really enjoyed it.
The new Easy Paleo Bread was a bit lighter in taste than the Golden Flax Bread. It also yielded a traditional, rectangular loaf of bread. Although the loaf didn't rise as high as a traditional loaf of bread (which made for a smaller loaf of bread), it was really nice as far as both flavor and texture!
Mr. GFE really liked the earlier version and always enjoys this one as well. He still eats gluten-full bread often, so that is saying a lot!
My mom fell in love with this bread when I made it for Thanksgiving several years ago, so much so that she took the remainder of the loaf home with her. I've been making this bread for holiday meals and sending her home with a second loaf ever since!
I've made a few different versions over the years, usually working with what I have on hand. If I don't have non-dairy milk, I might add an extra egg. If I don't have flax meal or have less than the recipe calls for, I might add some walnut meal. If I want to make a slightly larger loaf in a larger loaf pan, I may increase the ingredients proportionally, perhaps adding extra baking powder.
One really doesn't have to be completely obsessed with exact measurements and ingredients for gluten-free baking as is usually thought. I find that grain-free bread that doesn't require any yeast is especially more "forgiving" when it comes to slight variations.
We enjoy this bread to accompany meals, to make sandwiches, but one of my favorite ways is just to have a slice with a mug of good tea for breakfast!
Yield: 1 regular-sized loaf
Easy Paleo Bread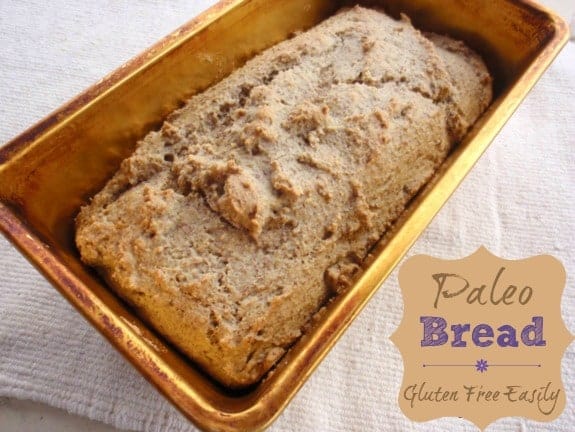 My Easy Paleo Bread is a nice addition to any meal, but also works for breakfast with jam or other spread and makes for tasty sandwiches. Naturally gluten free, grain free, dairy free, and refined sugar free.

Prep Time 5 minutes

Cook Time 20 minutes

Inactive Time 10 minutes

Total Time 35 minutes
Ingredients
4 to 5 eggs (see notes)
2/3 cup flax meal
1 1/3 cup almond flour, finely ground like Honeyville (other finely ground nut flours may be substituted)
1 1/2 to 2 tsp grain-free baking powder (see notes for easy grain-free, frugal substitution)
1/2 tsp (or more) salt (I use this one)
about 2 tbsp olive oil] or [coconut oil (or non-dairy butter for a non-paleo version)
1/4 cup almond milk (or other non-dairy milk, such as this one; optional, if 5 eggs are used)
Instructions
Preheat oven to 350F and grease standard-sized loaf pan.
In large bowl, gently beat eggs together before adding dry ingredients. Mix well.
Transfer batter to greased loaf pan. Batter will be thick; you'll need to use a spoon or spatula to spread it evenly in pan and smooth top.
Cook for approximately 20 – 25 minutes, until somewhat brown on top. Use toothpick test in the center of the bread to check for doneness.
Enjoy fresh out of the oven or at room temperature for a nice sandwich. I usually let mine cool about 5 to 10 minutes before removing from pan.
Notes
Sometimes I use 4 eggs and the almond milk. Sometimes I skip the almond milk, use 5 eggs, and another ½ teaspoon of baking powder. Sometimes I use less or no flax meal and use a different nut meal in addition to the almond flour instead. And so on and so forth. Feel free to "play" with this recipe a bit.

Be sure to use a grain-free baking powder or grain-free baking powder substitution to make this bread completely grain free. A common substitution for baking powder is a mix of baking soda, cream of tartar, and arrowroot, but truthfully, you don't need the arrowroot in this mixture in my opinion and you need less of the baking soda and cream of tartar combination than you do actual baking powder. So this is not only a grain-free tip, it's also a frugal one. For every teaspoon of baking powder needed, add ¼ teaspoon of baking soda and ½ teaspoon of cream of tartar. In this recipe, I'd just go ahead and substitute for the higher amount of baking powder, using ½ teaspoon of baking soda and 1 teaspoon of cream of tartar. The general advice is not to make this mixture up in advance as it may not keep well. I learned this tip from The Tightwad Gazette many years ago, when author Amy Dacyczyn was still publishing her newsletter of that name. But The Complete Tightwad Gazette, a compilation of her very helpful newsletters, is still available.

Recipe inspired by Kiva's Golden Flax Bread recipe (The Medicine Woman's Roots)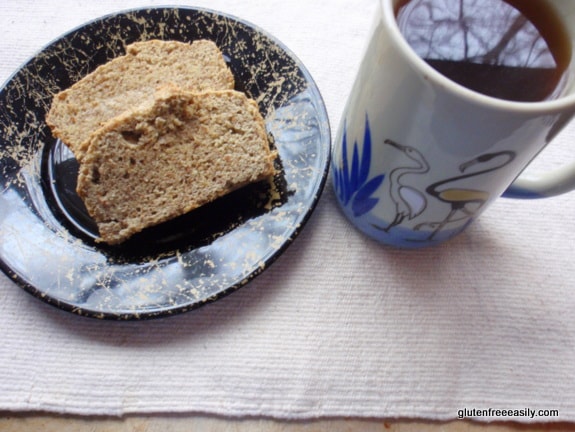 Originally published January 23, 2012; updated August 20, 2020.