For affiliate links and as an Amazon Associate I earn from qualifying purchases.
Am I the only one who prefers salads that others make more than my own? Salads like this Thai Green Salad with Shrimp and Spicy Almond Dressing from my friend Danielle of Against All Grain.
I'm not the only one, right? Okay, I'll admit that I have heard other friends say the same, so I already know I'm not alone. But I do wonder how many of you guys are right there with us.
Sometimes my friends are declaring their preference for others' salads even as they're serving me and other friends their own amazing salads!
It still surprises me that I myself feel that way so I do feel a little better when others express that same lack of salad inspiration. What is that all about anyway?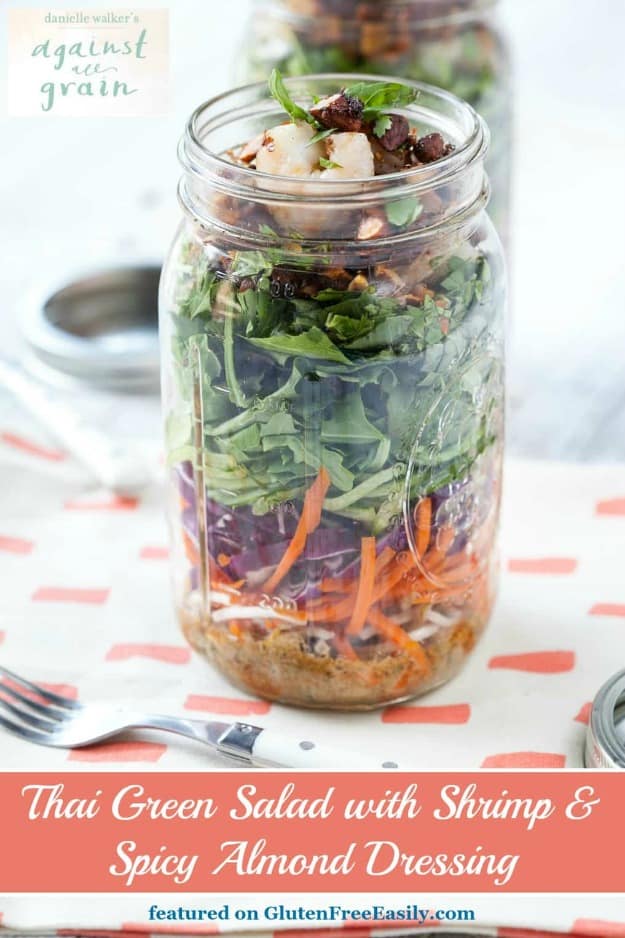 Homemade salads can be fairly easy to make, but just like any other meal, I guess our own salads can seem, well, boring at times. Usually the salad that a friend "invents" or the colorful and appealing ingredient combos that restaurants offer just seem more exciting.
I even created a Pinterest board a while back to help me address this problem, Because Salads Shouldn't Be Boring. I'm definitely pinning Danielle's Thai Green Salad with Shrimp and Spicy Almond Dressing to that board.
Yes, I enlisted the help of Danielle, who you probably know from her blog as well as her three best-selling cookbooks: Against All Grain: Delectable Recipes to Eat Well and Feel Great; Danielle Walker's Against All Grain: Meals Made Simple: Gluten-Free, Dairy-Free, and Paleo Recipes to Make Anytime; and Danielle Walker's Against All Grain Celebrations: A Year of Gluten-Free, Dairy-Free, and Paleo Recipes for Every Occasion. Danielle's blog and her cookbooks are such terrific resources!
Update: Danielle has written several more wonderful books since. They include new cookbooks, Healthy in a Hurry: Real Life. Real Food. Real Fast. and Eat What You Love: Everyday Comfort Food You Crave; Gluten-Free, Dairy-Free, and Paleo Recipes, and her personal memoir, Food Saved Me: My Journey of Finding Health and Hope Through the Power of Food.
The name of Danielle's salad, Thai Green Salad with Shrimp and Spicy Almond Dressing, tells you what it's all about in simple and delicious terms and, oh my goodness, doesn't it sound and look great?
As you can see from Danielle's photos of her salad, you can makes this recipe as individual layered salads in canning jars—which is a fun and attractive presentation—or you can go the traditional route and layer the ingredient in a large salad bowl or several smaller bowls for your family and guests.
Either way, this salad is in no way boring and is sure to be enjoyed!
Not a fan of shrimp? You can leave it out and still have a delicious vegetarian/vegan salad. Or you can sub in some shredded or chopped chicken. I'm sure gluten-free flavorful rotisserie chicken would be a great option—or leftovers from another favorite chicken recipe!
Thai Green Salad with Shrimp and Spicy Almond Dressing Recipe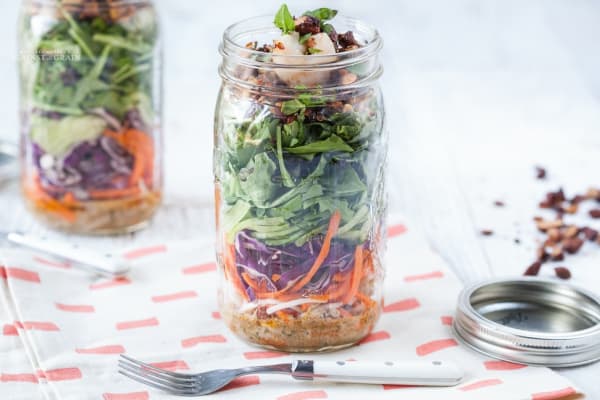 Yield: 6 servings
Thai Green Salad with Shrimp and Spicy Almond Dressing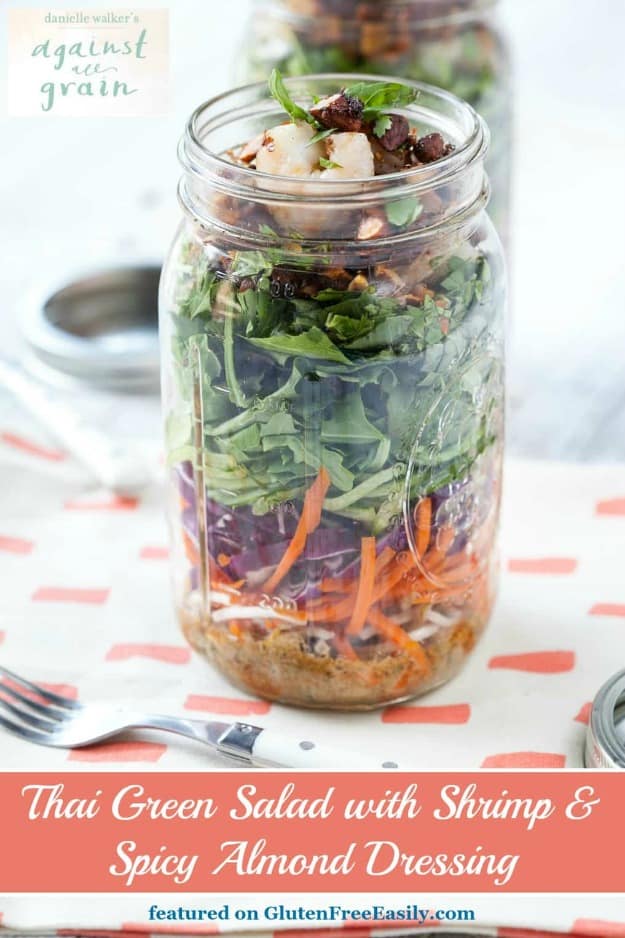 Danielle says this Thai Green Salad with Shrimp and Spicy Almond Dressing won't disappoint those with a palate for Thai food! She adds: "It has so many bold flavors that meld together so well. It's nutty and a little spicy from the almonds and dressing, and refreshing from all the vegetables!" If you don't eat shrimp, you can simply leave those out. The results will still be great!
Ingredients
For the Spicy Almonds
1/2 cup whole natural almonds
3/4 teaspoon maple syrup
1 1/2 teaspoons extra-virgin olive oil
1 teaspoon coconut aminos
1/4 teaspoon ground cumin
1/4 teaspoon garlic powder
1/4 teaspoon coarse sea salt
1/8 teaspoon cayenne
1/8 teaspoon paprika
For the Dressing
2 tablespoons unsalted natural almond butter
1 tablespoon maple syrup
1 clove garlic, crushed
1 tablespoon cilantro, chopped
1 tablespoon lime juice
2 teaspoons rice wine vinegar
1 teaspoon sesame oil
1/2 teaspoon ground ginger
1/2 teaspoon cayenne pepper
1/4 teaspoon sea salt
1/3 cup extra-virgin olive oil
For the Salad
1 pound wild shrimp, tails removed, peeled and deveined
1 teaspoon extra-virgin olive oil
Sea salt and pepper
1 cup mung bean sprouts
1 cup carrots, julienned
1 cup red cabbage, shredded
1 cup cucumber, julienned
4 cups arugula
4 cups mixed baby greens
1/4 cup fresh chopped basil
1/4 cup fresh chopped cilantro
1/2 cup dressing
1/2 cup spicy almonds, chopped
Instructions
To make the spicy almonds:
Preheat the oven to 350°F. Toss all of the ingredients together in a bowl, then spread the almonds in a single layer on a baking sheet lined with parchment paper and drizzle with any remaining sauce. Bake for 10 minutes, turning once halfway through. Cool completely, then roughly chop.
Meanwhile, make the dressing:
Place all of the ingredients in a blender except for the olive oil. Blend until smooth. With the blender running, slowly drizzle the olive oil into the blender in a steady stream. Add one tablespoon of water, to help keep the dressing liquid when refrigerated.
To assemble the salads:
Toss the shrimp in the olive oil and season generously with salt and pepper. Heat a grill pan or skillet to medium-high heat and cook the shrimp for two minutes on each side, until pink throughout. Set aside to cool.
Divide the dressing between six 24-ounce Mason jars or bowls. Divide and layer the remaining salad ingredients in the four jars or bowls in the order they are listed, with the lettuce and shrimp at the top. Leave 1 inch of space at the top of the jar.
Garnish each with about 1 tablespoon chopped spicy almonds, cover and refrigerate until ready to enjoy. When ready to enjoy, shake the jar vigorously to mix the ingredients and dressing.
More Cooling and Delicious Salad Recipes You're Sure to Love
~ Lemony Shrimp Salad with Avocado, Heart of Palm, and Feta
~ Mexican Street Corn Salad, Esquites or Elotes
~ Pulled Chicken Salad with Lime Cilantro Dressing
Originally published June 16, 2015; updated July 18, 2023.