For affiliate links and as an Amazon Associate I earn from qualifying purchases.
Coffee Ice Cream. Dairy-free Coffee Ice Cream. Worthy of any celebration or simply to celebrate one's existence any day!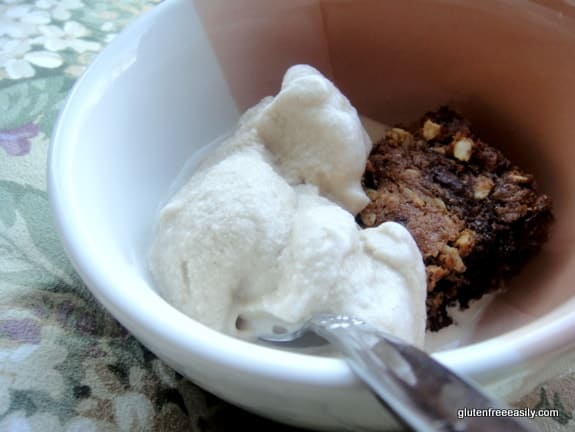 Last weekend, we got together with Mom and Dad to celebrate two special occasions, a big birthday for Mom as well as Mom and Dad's 55th wedding anniversary. Mom and Dad like simple celebrations with family; they don't like a big fuss made over them.
I knew we'd pick up a half bushel of just cooked, steamed crabs on the way, but I needed to come up with a dessert plan on the spur of the moment. Ice cream is always a welcome treat after crabs for our family, so I pondered the options.
I remembered that I'd saved the brewed coffee from my recent waffle-making experience. I had simply poured the leftover coffee into a glass jar and popped it in the freezer.
Ah, Coffee Ice Cream sounded really good—specifically Dairy-Free Coffee Ice Cream—especially when I could control the intensity of the coffee flavor. I'm not always a fan of store-bought coffee ice cream. I pulled out the coffee to thaw while I worked on making something to accompany the ice cream.
My sister and her husband had visited my parents the previous day to celebrate. They had all enjoyed a traditional birthday cake then. So I wanted to do something different. Finally, I decided to make a healthier version of my Oatmeal Marble Squares.
This is a recipe I've been making for many years. After going gluten free, I simply swapped out the all-purpose (gluten) flour with a gluten-free flour mix. It worked perfectly; no other modifications were needed. However, this time since we'd be enjoying the oatmeal squares with ice cream, I decided to make them a bit less decadent.
Dairy-Free Coffee Ice Cream Recipe
Wanting to make good use of my time (and quickly running out of it!) before we headed to Mom and Dad's, I baked the Oatmeal Marble Squares, while I also churned the Coffee Ice Cream. Dairy-free ice cream made using coconut milk could not be easier.
Thankfully, for those who eat dairy free, it also could not be more delicious! Everyone—as in folks with no dietary restrictions at all—that I share homemade coconut milk ice cream with ends up truly loving it. Most say they don't even taste the coconut milk.
In this recipe, the coffee provides a very nice flavor, but nothing too strong. Mr. GFE doesn't like coffee anything, so I didn't even tell him that it was Coffee Ice Cream until after he'd given this flavor his earnest approval.
Mom and Dad loved this ice cream, too. Especially with it topping an Oatmeal Marble Square.
Oh, how I agreed! This dairy-free coffee ice cream is wonderful on its own but pairing it with a favorite treat makes both the ice cream and the treat more special. How will you enjoy this Coffee Ice Cream?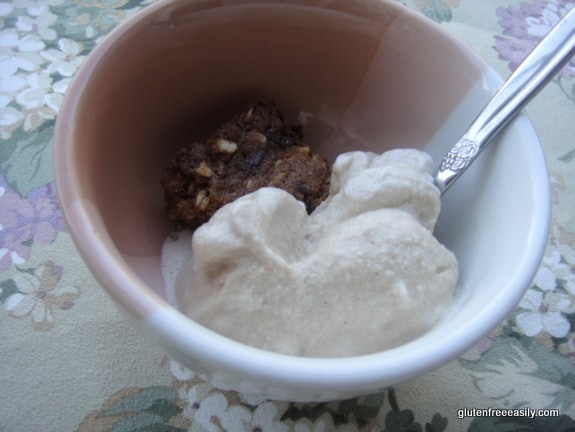 Yield:
Dairy-Free Coffee Ice Cream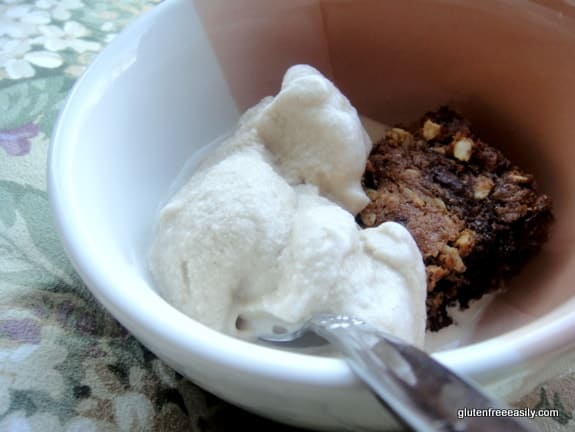 Ingredients
2 ¼ cup full-fat coconut milk, chilled
1 cup brewed coffee, chilled
1 tbsp Grand Marnier liqueur (or similar; optional)
1 tsp vanilla extract
1 tsp cinnamon
½ cup honey
½ cup coconut sugar (or brown sugar)
Instructions
Mix all together in blender or a bowl using your mixer.
Add mixture to already frozen ice cream tub.
Churn about 25 minutes.
Freeze additional amount of time before serving, if needed.
Notes
You can probably cut back on the honey and coconut sugar (or brown sugar) a bit if you like. I made this version with Mom and Dad in mind.
If I were making it just for us, I'd probably go with 1/3 cup of each for a total of 2/3 cup sweetener versus the 1/2 cup of each that I used in this version.
More Gluten-Free Coffee-Flavored Desserts You Should Check Out
~ Almond Coffee Chocolate Chip Cookies
~ Chocolate Coffee Zucchini Bread
Originally published September 14, 2010; updated July 24, 2018.