For affiliate links and as an Amazon Associate I earn from qualifying purchases.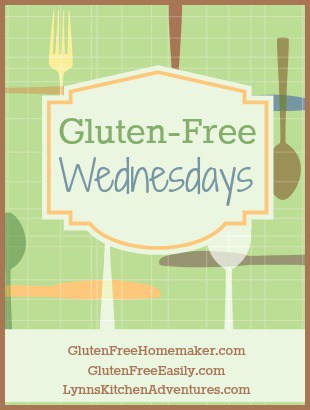 Welcome to Gluten-Free Wednesdays (GFW) once again! This past week of GFW brought us gluten-free recipes for Banana Bread, Graham Crackers, Mexican Popsicles, and much more!
GFW is the weekly blog carnival event that I co-host with my friends Linda of Gluten-Free Homemaker and Lynn of Lynn's Kitchen Adventures. If you're new to GFW, the main thing that you need to know is that GFW is all about gluten-free food-related posts.
You'll find a wonderful mix of terrific posts linked up each and every week. If you're still undecided about what to make for your 4th of July celebration, you're sure to find some ideas here. We've always enjoyed the 4th for patriotic reasons and the fun events that take place, but we have really looked forward to it the last couple of years as it's one of the holidays for which Son always comes home. We'll all be together camping at our mountain property on the Shenandoah River again this year and we truly treasure that time!
I hope you all have a glorious 4th of July weekend if you're in the U.S.! And belated Happy Canada Day to all my Canadian friends!
Now let's get to GFW . . .
My Highlights from gfe
~ Grain-Free Banana Nut Chocolate Chip Brownies ~ These are not only grain free, but also have a dairy-free, paleo-friendly option. They're my latest recipe creation and I'm pretty pleased with them!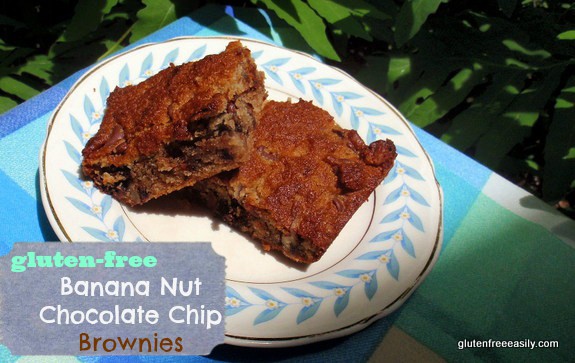 ~ My GFW Post "Picks" from Last Week
~ Graham Crackers from Fairy Wings and Pixie Dust ~ Not only are Jolene's picture-perfect graham crackers free of gluten, they're also Top 8 allergen-free!
~ Mexican Chocolate Popsicles from Alexis's Gluten Free Adventures ~ Alexis got happily busy with popsicle making as soon as her popsicles molds arrived. When I saw her Mexican Chocolate Popsicles, I thought "yum, Fudgesicles … only better!" When you take a look at the ingredients in her recipe, you'll understand!
The Carnival
What you need to know before linking up:
~ Your link must be related to the gluten-free diet.
~ If you're new, please read the guidelines.
~ Leave a link back to this blog or one of the co-hosts in your post. We do not highlight or share any recipes that do not link back to the specific event in the post. (If you've never linked up to a carnival before, you can see how I like to link back in the last line of my gfe post(s) above.)
~ We really appreciate you joining in!
Note: Linking up indicates you are giving permission for us to share your submitted photo and your link via social media or in next week's post if it is selected as the most popular post for the week or featured as a highlight.
Originally published July 2, 2014; updated February 27, 2022.