For affiliate links and as an Amazon Associate I earn from qualifying purchases.
Welcome once again to March Muffin Madness (MMM)! It doesn't seem possible, but each day I get more and more excited about the muffin recipes, the daily prizes, and the overall/grand prize offering that I get to share with you all! I hope you're getting more excited about MMM as well. Today's post has more of a kid focus, which I love—with an adorable little one "modeling" today's muffin recipe, Baby's First Muffins.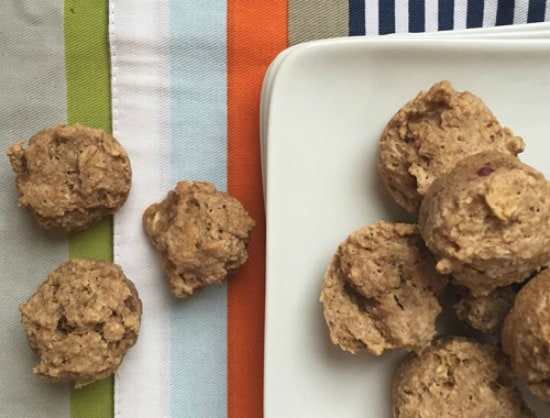 Baby's First Muffins from She Let Them Eat Cake
Today my good friend Maggie of She Let Them Eat Cake is sharing her newest muffin recipe, Baby's First Muffins. This is a very special recipe because she developed it for her youngest "babe," as her first birthday was approaching. Maggie didn't want to go the traditional birthday cake route (she explains in her post). Instead, she created some really healthy and tasty muffins that she felt comfortable giving her daughter.
UPDATE: On April 4, 2023, Gluten-Free Watchdog issued a new statement, Gluten-Free Watchdog Cannot Recommend Any Brand of Gluten-Free Oats. Read the full statement here. This statement was followed by details on recent testing results of gluten-free products that contain oats., which showed 30% of the labeled gluten-free oat products tested contained quantifiable gluten.

This statement was followed by details on recent testing results of gluten-free products that contain oats, which showed 30% of the labeled gluten-free oat products tested contained quantifiable gluten. I'm not eating any oats and I urge all of my readers who eat gluten free for medical reasons to also abstain.
Her muffins are made using certified gluten-free oat flour and oats, and sweetened using fruit. (Important: Always use oats sourced from purity protocol oats; see the listing of companies that use purity protocol oats here.) Maggie made her muffins as minis because she says mini muffins fit perfectly in a little one's hands. She's right! They're also a nice bite-sized version that works for adults, too.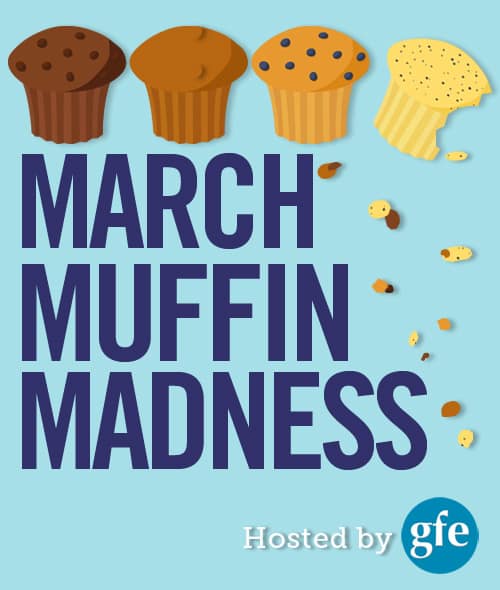 In keeping with my MMM tradition, I am sharing some of Maggie's other delicious muffin recipes, starting with her lovely contribution to the last MMM event:
~ Blueberry Lemon Muffins with Cinnamon Crumble Topping,
~ Morning Glory Muffins, and
I've made a lot of Maggie's recipes over the years and have adapted others, or have been inspired enough by them to create a new gfe recipe. Some of my favorite recipes of hers are: Almond Dream Shake, Blueberry Buckle, Double Chocolate Chip Cookies, and Triple Chocolate Pudding Sandwiches.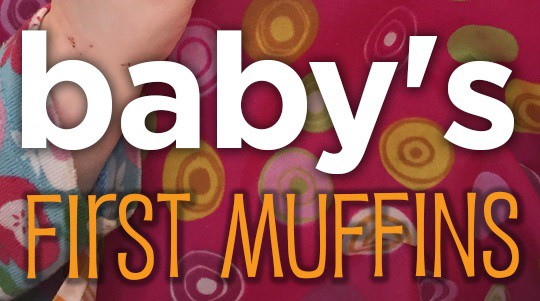 I know you're ready to head over to get Maggie's Baby's First Muffins recipe, but hang on just a minute because you're definitely going to want to enter today's giveaway and be sure that you get all your entries for the overall/grand prize giveaway, too.
Today's Daily Giveaway
UPDATE: This giveaway is now closed, but please check out these amazing resources for children and their parents, teachers, etc.!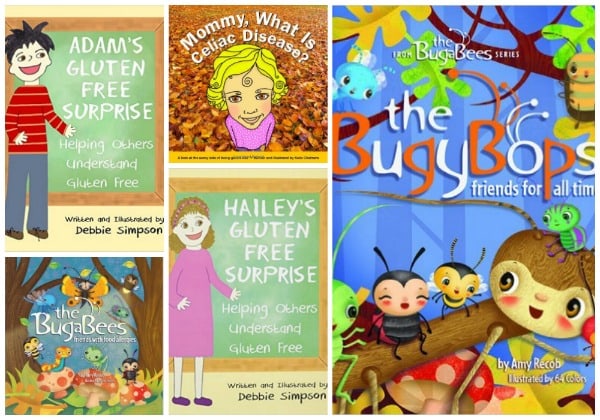 Every time I share children's books that deal with living gluten free or allergen free, readers tell me that they didn't know these books existed. While I'm happy to be the one to introduce such wonderful resources to my gfe readers, I'm always a little upset that these books tend to fall under the radar. Earlier I shared The No-Biggie Bunch series (enter the giveaway for them here) and today I have 5 more terrific books written to help children who are gluten free and/or have food allergies. I encourage you to not only enter the giveaway, but to also spread the word to others that these very valuable books are out there!
~ Mommy, What Is Celiac Disease? from Katie Chalmers (2 winners)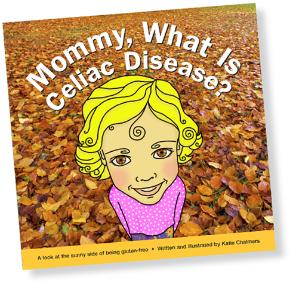 You can read my full review of this terrific book from my friend Katie Chalmers of g-free kid (blog and Facebook page), but you can see why I like this book so much simply from its subtitle, A Look at the Sunny Side of Being a Gluten-Free Kid, and its captivating cover. Katie's book is a straightforward, positive read with beautiful illustrations. It's the perfect introduction to celiac for most children. Thanks so much to Katie for sponsoring this giveaway!
~ Adam's Gluten-Free Surprise or Hailey's Gluten-Free Surprise from Debbie Simpson (3 winners in total; winners get to choose their books)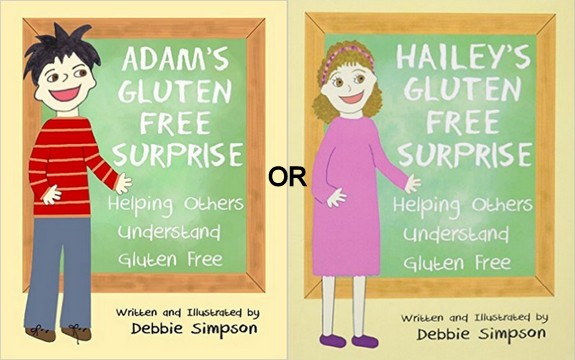 Debbie of DSimpson Books and Gluten-Free Respect has written several versions of her Gluten-Free Surprise books (e.g., Adam's Hailey's, Gabriel's), gearing them to different sexes in the hopes that they can be more relatable to the individuals reading them. The goal of her books is to educate all in the gluten-free world on how to support and keep a gluten-free child safe and happy. Therefore, her primary intended audience is parents, teachers, nurses, and the like, but she quickly discovered that her books are also directly helpful to gluten-free children as well. These children read about Adam's or Hailey's experiences and recognize the situations they've been in themselves after going gluten free. Just knowing they have that shared experience helps them. But the books also show them how to work through the situations, with the aid of the adults around them as well as their classmates/peers. Thanks to Debbie for sharing her books with us!
~ The Bugabees: Friends with Food Allergies & The BugyBops: Friends for All Time from Amy Recob (1 winner for each)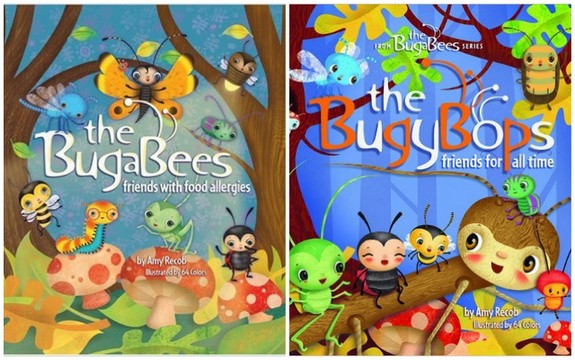 These award-winning books are beautifully done, sharing the stories of bug characters who have food allergies. They're written to a younger audience as far as the appeal of the characters and fun rhyming narrative, but the "activities and talking points" that are included in each can be used to extend the age range for the audience of these books. Children with food allergies have even used this book as a way to introduce their classmates to their food issues and get support. (The copies of these books are barely used, signed copies that Amy Recob donated to my gluten-free support group.)
a Rafflecopter giveaway
Grand Prize Giveaway (1 winner for each)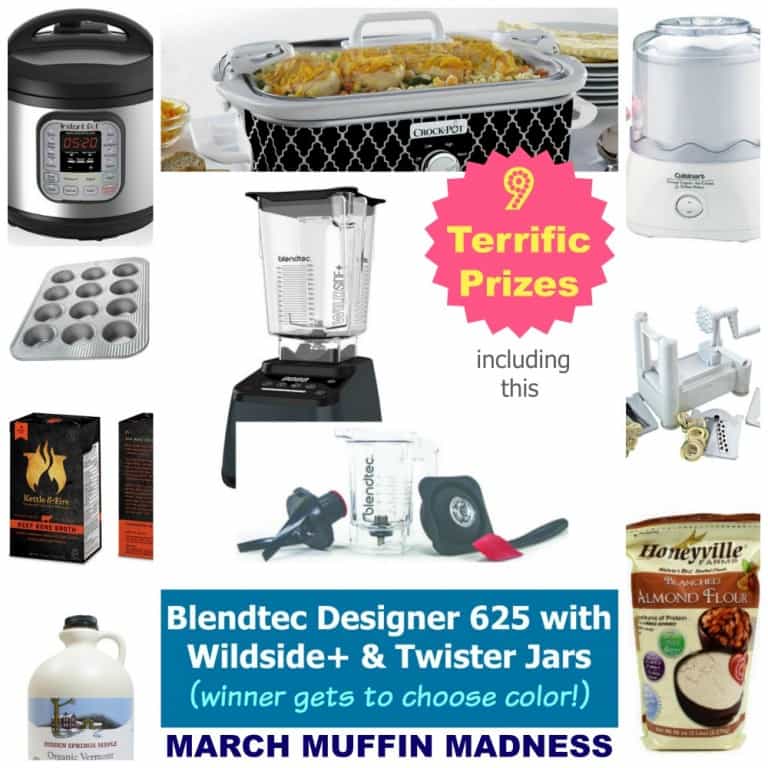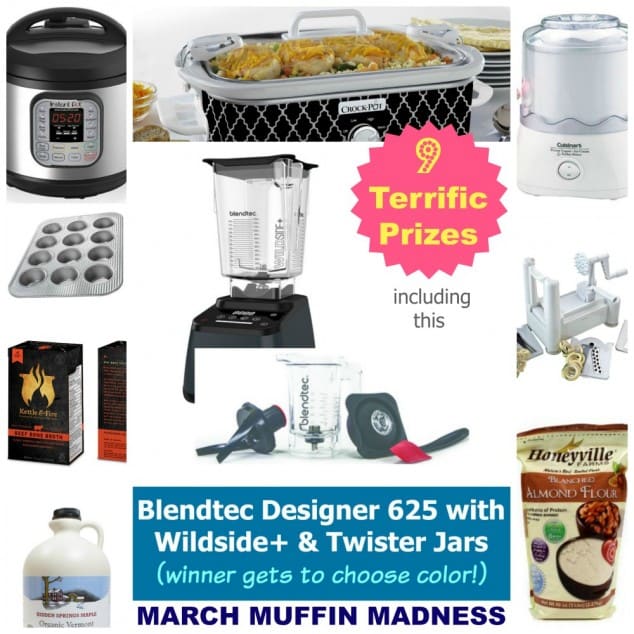 Be sure to enter the overall/grand prize giveaway at the bottom of this post and come back tomorrow for another terrific gluten-free muffin recipe and another daily giveaway. Again, remember that commenting on every post during the MMM event gives you additional entries into the grand prize drawing, which includes the following, so be sure to spread the comment love here and on participating posts!
1/2 gallon Hidden Springs Vermont organic maple syrup,
USA Bakeware 12-cup muffin pan,
Kettle & Fire bone broth (thanks to the folks at Kettle & Fire!),
5-lb bag of Honeyville almond flour,
Paderno World Cuisine vegetable slicer/spiralizer,
Crockpot casserole slow cooker,
Instant Pot pressure cooker, and
Blendtec Designer 625 with Wildside+ jar and Twister jar—this is our grand prize! It's sponsored by the generous folks at Blendtec. The winner even gets to choose the color of their high-speed blender/all-in-one appliance
You can see the up-to-date listing of daily prizes and the complete lineup of bloggers and recipes in the kickoff post here.
a Rafflecopter giveaway
Originally published March 31, 2016; updated April 17, 2023.