For affiliate links and as an Amazon Associate I earn from qualifying purchases.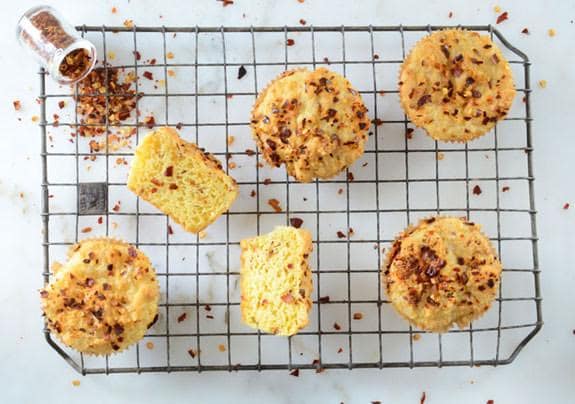 Welcome back! We're heading into the final week of March Muffin Madness (MMM), but don't worry, there are plenty more glorious gluten-free muffin recipes, new daily prizes, and more chances to enter the overall/grand prize giveaway. You know the one, right? If not, be sure to check out all the prizes—including a Blendtec—at the bottom of this post. Now for those Grain-Free Chili Cheese Muffins …
Grain-Free Chili Cheese Muffins from Elana's Pantry
These Grain-Free Chili Cheese Muffins come from my dear friend Elana of Elana's Pantry. These grain-free muffins are made using just six ingredients, which means they come together quickly. You know they have to be good because "chili" and "cheese" is a match made in heaven.
I love Elana's suggestion to serve them with eggs for a delicious and complete breakfast. Of course, as I'm a big fan of "brinner," I'd be more likely to enjoy them much later in the day. However, Elana's suggested combo would be ideal as a breakfast for overnight guests.
Of course, because we're in MMM, I want to highlight some more of Elana's muffin recipes, of course.
~ Bran Muffins,
~ Paleo Carrot Banana Muffins (this is the recipe Elana shared during MMM last year),
~ Paleo Lemon Poppy Seed Muffins,
~ Pizza Muffins, and
~ Zucchini Chocolate Chip Muffins.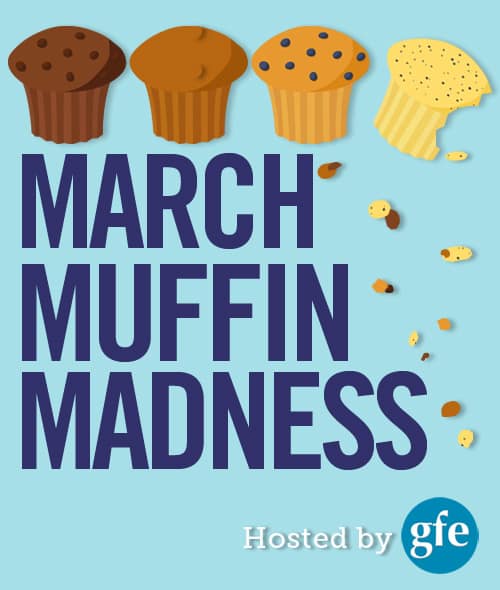 Of course, the first recipe that I ever enjoyed of Elana's was her original Chocolate Chip Cookies, the recipe that you can now find on the back of the bag of Honeyville Blanched Almond Flour (which is also one of our prizes for MMM). I've told the story many times before, but Elana literally saved a group of gluten-free bloggers with these cookies. We were all at a cocktail party at a bloggers' conference with nary a gluten-free food item in sight and she whips out this box of cookies that she'd toted from Colorado to California. Can you imagine how good her cookies tasted that evening? I also love her super simple scones, like these Orange Dark Chocolate Chip Scones (although most of the time I make them without the orange zest).
Before you click over to see the details of Elana's Chili Cheese Muffins recipe, be sure to enter today's daily giveaway (it includes Elana's bestselling cookbook!) and please don't miss yesterday's Carrot Ginger Muffins. Make sure you're also entered in the overall/grand prize giveaway as well—and continue to be entered as every comment on every single post during MMM is an entry. Gotta love that!
Today's Daily Giveaway
~ Paleo Cooking from Elana's Pantry (3 winners)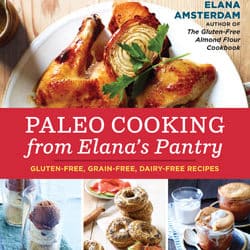 This is Elana's latest cookbook. It's a New York Times bestseller for good reason. You can read my full review here  and actually get two sample recipes from the cookbook. And they're really fantastic recipes! Flourless Brownies (nut free!) and Paleo Bread. Thanks so much to Elana for sponsoring this giveaway! (Note that you can enter the giveaway for Elana's Gluten-Free Cupcakes: 50 Irresistible Recipes Made with Almond and Coconut Flour cookbook here.)
~ The New Yiddish Kitchen:  Gluten-Free and Paleo Kosher Recipes for the Holidays and Every Day (2 winners)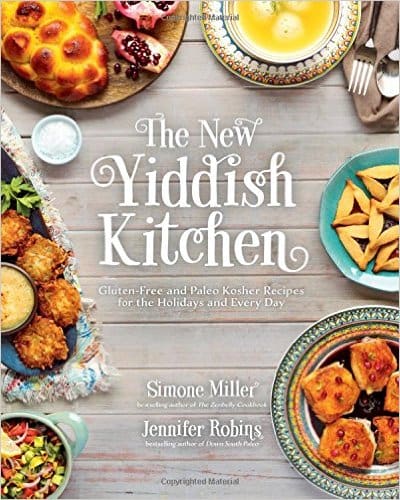 This new cookbook from Jennifer Robins (Predominantly Paleo) and Simone Miller (Zenbelly) is #1 in new releases in Kosher Cooking on Amazon, with a 5-star review rating! This is an impressive cookbook, both from a viewing standpoint and from the recipes. Think bagels—several versions—latke, chocolate chip mandlebrot, challah, marble rye bread, and so much more. Thanks to Jennifer for sponsoring this giveaway! (Note: You can enter to win Jennifer's first cookbook, Down South Paleo, here.)
a Rafflecopter giveaway
Grand Prize Giveaway (1 winner for each)
Be sure to enter the overall/grand prize giveaway at the bottom of this post and come back tomorrow for another terrific gluten-free muffin recipe and another daily giveaway. Again, remember that commenting on every post during the MMM event gives you additional entries into the grand prize drawing, which includes the following, so spread the comment love here and on participating posts!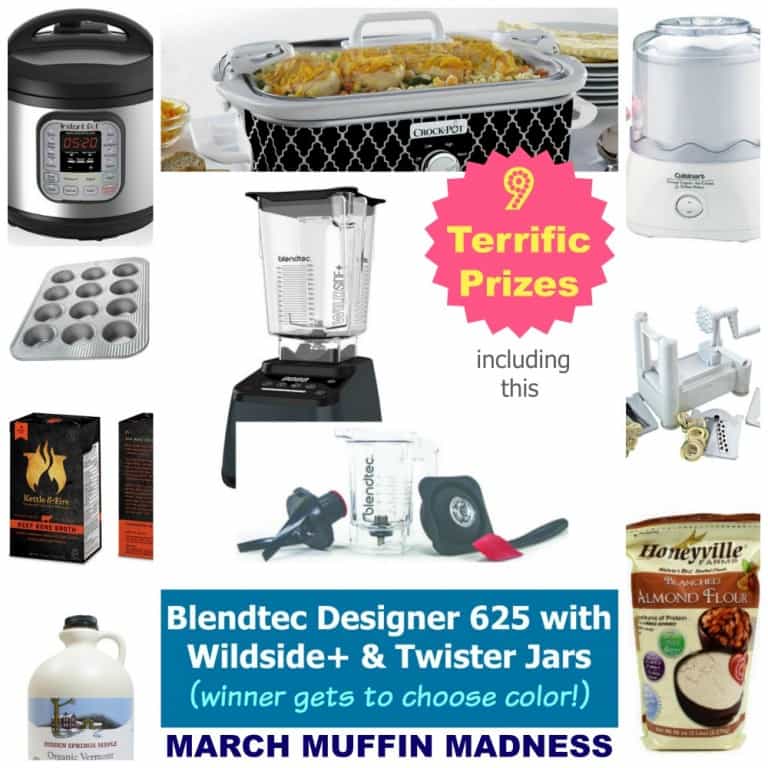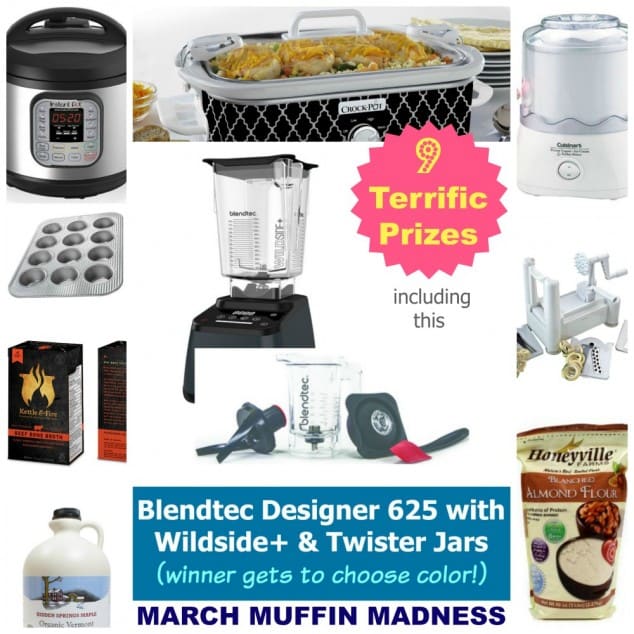 1/2 gallon Hidden Springs Vermont organic maple syrup,
USA Bakeware 12-cup muffin pan,
Kettle & Fire bone broth (thanks to the folks at Kettle & Fire!),
5-lb bag of Honeyville almond flour, 
Paderno World Cuisine vegetable slicer/spiralizer,
Crockpot casserole slow cooker,
Instant Pot pressure cooker, and
Blendtec Designer 625 with Wildside+ jar and Twister jar—this is our grand prize! It's sponsored by the generous folks at Blendtec. The winner even gets to choose the color of their high-speed blender/all-in-one appliance
You can see the up-to-date listing of daily prizes and the complete lineup of bloggers and recipes in the kickoff post here.
a Rafflecopter giveaway