For affiliate links and as an Amazon Associate I earn from qualifying purchases.
Today I'm sharing a recipe for Gluten-Free Cheesecake with Nut Crust and Blueberry Topping (optional on the latter) from my good friend Linda Etherton (formerly Gluten-Free Homemaker).
Some of you may recall that since Linda retired her site, she has graciously allowed me to share some of her recipes here on gfe. I'll refresh your memory on those specific recipes in a minute.
You may also be thinking, hey, didn't you just share a cheesecake recipe here on gfe? Well, yes. Yes, I did!
I recently shared Gluten-Free Crustless Cheesecake. A very simple, somewhat lighter cheesecake.
But as I always say, one good recipe leads to another! After I shared my latest cheesecake recipe, I immediately thought of Linda's Gluten-Free Cheesecake with Nut Crust. With Blueberry (or Huckleberry) Topping if you wish.
Or you can simply leave it plain; i.e., skip the topping. I enjoy this cheesecake plain and also like to sprinkle a handful of chocolate chips into the batter right before baking.
This recipe makes a 10-inch gluten-free cheesecake but still requires only three blocks of cream cheese.
The crust used for this cheesecake is a very simple, easy-to-make nut crust. A pastry blender or the simple fork and knife method (shown in the photo below) makes quick work of this task.
You can use any kind of nuts you prefer. (If you can't eat nuts, seeds—such as sunflower seeds and pumpkin seeds—would probably work just as well.)
Linda made a simple topping for her cheesecake. One which can be made with either blueberries or huckleberries.
Are you familiar with huckleberries?
I will admit that I don't know a lot about huckleberries. I do know there are several varieties growing wild (huckleberries are not easily "domesticated") in different parts of our country—some say up to 30 different species—including in my state of Virginia.
My mother speaks fondly of picking wild huckleberries when she was growing up in our area.
Although I have seen huckleberry bushes around here, I've never seen any with fruit. I also have not heard any local folks talk about huckleberries recently.
Huckleberries and blueberries often get mistaken for each other.
Different varieties of huckleberries can be very similar in appearance to blueberries.
One way to distinguish them is their seeds. Huckleberries contain 10 large seeds while blueberries contain many tiny seeds.
Taste-wise, many say that huckleberries are not as sweet as blueberries but have a more intense and wild flavor, which they love.
Back to This Gluten-Free Cheesecake with Nut Crust
When Linda first shared this cheesecake long ago, she noted that her husband had just requested it for his birthday. Instead of a traditional birthday cake.
That is a request I can totally understand! In fact, there have been many family birthdays (and other celebrations as well) the last several years at which gluten-free cheesecake was the dessert choice for my family.
Linda says: "There are three parts to making this scrumptious gluten-free dessert: the crust, the cheesecake, and the topping. However, it's not difficult to make."
I don't know about you but "scrumptious" and "not difficult to make" is always my favorite combination when it comes to gluten-free recipes!
More of Linda's Recipes & Gluten-Free Cheesecakes Featured on gfe
Almost every week, someone reaches out to me to ask about Linda and her site or to tell me that they have found their favorite recipes of hers here on gfe and they're so grateful! Because of Linda's graciousness, I get to share not only today's cheesecake but also the following recipes–delicious Almond Cranberry Muffins and her incredible Angel Food Cake creations (so much better than the gluten-full originals!).
You'll also see a lot more cheesecake options below. Can there be too many? I think not!
~ Gluten-Free Almond Cranberry Muffins
~ Gluten-Free Angel Food Cupcakes
~ Gluten-Free Crustless Cheesecake (Flourless)
~ Gluten-Free Lemon Cheesecake (Crustless)
~ Gluten-Free Key Lime Cheesecake Bars (Vegan)
~ Gluten-Free Mini Cheesecakes
~ Over 50 Gluten-Free Pumpkin Cheesecake Recipes
Gluten-Free Cheesecake with Nut Crust (and Blueberry Topping) Recipe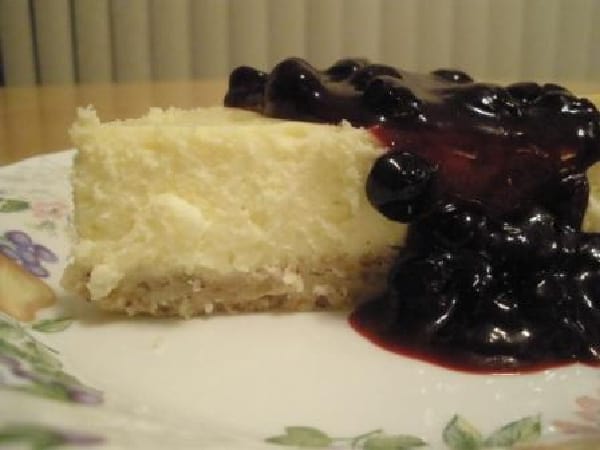 Yield: 10 slices
Gluten-Free Cheesecake with Nut Crust (and Optional Blueberry Topping)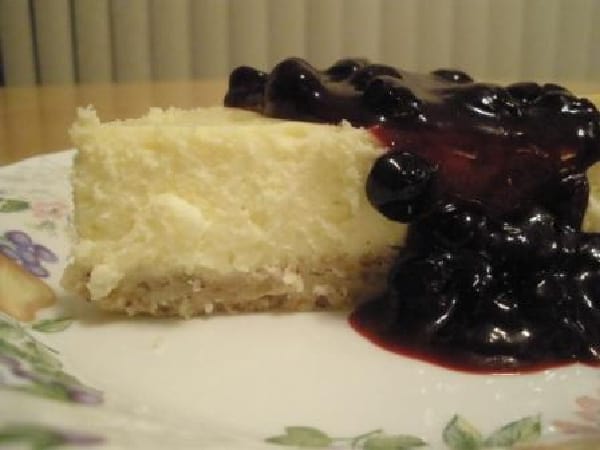 This delicious 10-inch gluten-free cheesecake has a nut crust instead of the usual graham cracker crust. The blueberry (or huckleberry) topping is optional but it makes a very nice and flavorful presentation. How good is this cheesecake? It gets chosen over birthday cake for birthday celebrations!

Prep Time 25 minutes

Cook Time 45 minutes

Additional Time 3 hours

Total Time 4 hours 10 minutes
Ingredients
For the Nut Crust
½ cup plus 2 Tablespoons rice flour
¼ cup potato starch
2 Tablespoons tapioca starch
¼ teaspoon xanthan gum
¼ cup light brown sugar, packed
5 Tablespoons cold butter or dairy-free "butter"
½ cup finely chopped nuts (your choice)
For the Cheesecake
3 (8-ounce) packages cream cheese, softened
¾ cup sugar
1 teaspoon gluten-free vanilla extract
3 eggs, at room temperature
For the Topping (Optional)
2 cups huckleberries or blueberries (fresh or frozen)
1/2 cups sugar
3 Tablespoons cornstarch
2 Tablespoons lemon juice
1 Tablespoons butter (optional)
Instructions
Preheat oven to 325F.
Prepare the nut crust first.
Combine the flour, xanthan gum, and brown sugar.
Using a fork and knife (as shown in photo above) or pastry blender, cut in the butter until you have small crumbs.
Stir in the nuts.
Press the mixture into the bottom of a 10-inch springform pan that has been sprayed with cooking spray. Set aside.
In a large mixing bowl, with your mixer, beat together the cream cheese, sugar, and vanilla until smooth.
Beat in the eggs just until combined, but do not over mix.
Pour into the nut crust.
Bake for 45 minutes or until the center is almost set.
Cool. Then refrigerate 3 or more hours.
If adding the topping, in a medium-sized saucepan, combine all ingredients except the butter.
Heat and stir until topping thickens.
Stir in the butter if desired.
Spoon topping over cheesecake before serving.
Notes
I have made the nut crust using my Two-Ingredient Gluten-Free Flour Mix instead of the individual flours/starches and did not add xanthan gum and the resulting nut crust was good but I do prefer the texture a little more when it's made with the flours/starches shown in the recipe and xanthan gum.

The crust does not need to be precooked. It bakes as the cheesecake filling bakes.

Originally published June 18, 2023; updated June 19, 2023.