For affiliate links and as an Amazon Associate I earn from qualifying purchases.
There are many things to love about gluten-free expos. Today I'm sharing five things I love about gluten-free expos, plus one thing I don't love (at all). Why am I talking about gluten-free expos? Because there's one coming up in my area next weekend!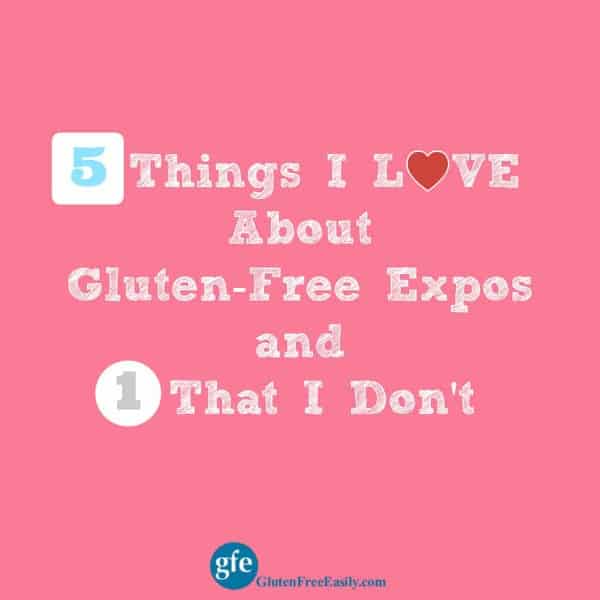 Coming up next weekend, the first weekend in June, on Sunday, June 7 to be exact, is the Washington D.C. Gluten-Free Expo. This event will be held at the Double Tree Bethesda Hotel (8120 Wisconsin Avenue, Bethesda, MD 20814). There's both free and paid parking available and a Metro stop close by.

I'm going to be attending with my good friend Linda of Gluten-Free Homemaker. If you're in the greater D.C. area and can make the event, either of us would love to meet you! (Be sure to give me a heads up by leaving a comment or sending me an email.)
Before I share more details, I want to let you know that you can use the coupon code GFREEEASILY25OFF to get 25% off your tickets when you purchase them online.

D.C. Gluten-Free Expo Schedule
Educational Sessions:  10:00 am to Noon
Two hours of educational sessions is a new addition to the Expo and a great one I think.  The sessions include:
Understanding Celiac Disease
State of Celiac Disease (latest research on celiac and non-celiac gluten sensitivity)
Gluten-Free 101
Inside Your Kitchen
Celiac and Psychology
Nutrition and Gluten-Free Baking (a focus on all the gluten-free flour mix options)
Local Support Resources
Read more here.
Gluten-Free Expo (Vendor Fair): Noon to 4:00 pm
Over 70 vendors will be sharing their products, both via samples and items for sale (some at discounted prices).
Sponsor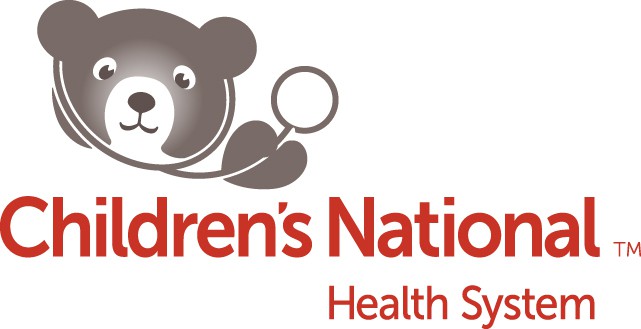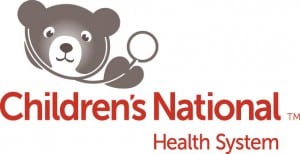 This event is sponsored by the Celiac Disease Program at Children's National Health System. Proceeds from the event will benefit the patients and families of this program.
Several members of the Celiac Disease Program were actually the guest speakers at my support group open house a few years ago. They are truly very caring and knowledgeable folks who do great work for the celiac and entire gluten-free community.
The program was founded by Blair Raber and her husband Steve in 2009. Both Blair and her daughter Kate have celiac. Their program is comprehensive and theirs was the first in the country to have a psychologist as a member of its celiac disease team. I've written numerous times on the psychosocial effects of celiac and non-celiac gluten sensitivity, so I applaud the fact that they address this aspect of living gluten free for the children (including teenagers) in their program.
And now for my promised list in regarding to expos in general:
5 Things I Love About Gluten-Free Expos
1. Everything offered for eating and drinking is gluten free!
I offer one caveat here. At some "gluten-free" events I've attended, some "gluten-removed" products have been offered. Personally, I don't consume those. I recommend that you do your own research before deciding if it's in your best interest to consume such products. Read more about gluten-free removed beer here and other gluten-removed products here.
2. It's reassuring—and actually uplifting and energizing—to know that there are so many others who live gluten free, too.
It's easy to feel alone sometimes when you live gluten free, and children often struggle with this feeling much more than adults (although they may not let anyone know how they feel). But, nope, go to an Expo and you'll see that you are not alone after all. Not even close!
3. Expos are a great chance to meet some of your gluten-free heroes in person.
Maybe you've connected with the creator of one of your favorite gluten-free products on Facebook. Maybe you have a favorite blogger or cookbook author that you'd love to meet in person. So many of these individuals attend and present at gluten-free expos and they can't wait to meet you! Speaking of cookbook authors, I'll be interviewing Jilly Lagasse, one of chef Emeril Lagasse's daughters, who is gluten free along with her sister Jessie Lagasse Swanson. Together they write gluten-free cookbooks. Jilly will be there selling and signing their cookbooks. (Their latest is The Lagasse Girls' Big Flavor, Bold Taste–and No Gluten!: 100 Gluten-Free Recipes from EJ's Fried Chicken to Momma's Strawberry Shortcake.)
4. It's ideal to sample products before buying them, and you get to do that at an expo. Doing so will save you lots of money and frustration.
So says the girl who once ordered a case of crackers via a local health food store only to find out she did not like them at all. These crackers had come highly recommended, mind you, but it's really only our own opinions that matter when it comes to products though, right? We have to taste them to know if they'll work for us. In my case, the health food store bought the rest of the case of crackers from me to stock their shelves. But being able to sample definitely keeps you from making purchases you will regret after the first bite. While I don't buy many gluten-free specialty products per my gfe approach, I do want the ones I buy to be top notch in quality and taste per my own preferences. I'm sure you do, too.
5. Gluten-free expos are intended for people like YOU. Just be yourself. No explanation needed.
You don't have to label yourself gluten free or stand out in the crowd if that is not your thing, because everyone at a gluten-free expo is like you. The organizers and vendors are expecting you. You don't have to identify yourself as gluten free, tell your story, worry, etc. Just be you and enjoy! (Note: I'm all about sharing one's personal story in the hopes of helping others recognize their own symptoms and get tested/go gluten free, but sometimes it's nice to just "be" gluten free and not have to say anything, you know?)
And, as promised,
One Thing I Don't Love About Gluten-Free Expos
It's quite easy to overdo your sampling of the gluten-free products available.
Let me repeat that, with emphasis added. It's quite easy to overdo the sampling. And when you do overdo—yes, even with gluten-free products—you will probably not feel your best the next day or even later that evening. Go for small bites and sample only the products you're truly interested in, not everything. Try to balance sweet intake with savory intake. There tend to be many more sweet products shared than savory, as well as lots of carbs in both categories.
While you might be thinking, hey, that's common sense advice—and it most definitely is—those of us who are gluten free are not accustomed to being able to eat ALL the food at an event. And there can be a lot of food!
It can be very easy to go a bit crazy when you see all the ready-made options, especially treats like sweet goodies and pizza that you didn't have to make yourself. So simply remember to moderate your enthusiasm. Yes, that old school wisdom of "everything in moderation" does apply in this case. In the end, you'll have a super enjoyable time and come away with helpful information on gluten-free products and gluten-free living, and perhaps even new connections and friendships!
Again, if you're planning to attend, use the coupon code GFREEEASILY25OFF to get 25% off your tickets here. ("Cutting and pasting" the code is the easiest way to be sure you get the code right and get your discount. If you choose to type it in, remember that the code is all capitals, the first part is GFREE—not gluten free—and there are three "e's" in a row.)

p.s. If any local gluten-free bloggers are reading who are not familiar with the expo, be sure to read more here on how the event organizers would like to work with you.
Full disclosure:  I am receiving free admission to the expo in exchange for sharing this information.