For affiliate links and as an Amazon Associate I earn from qualifying purchases.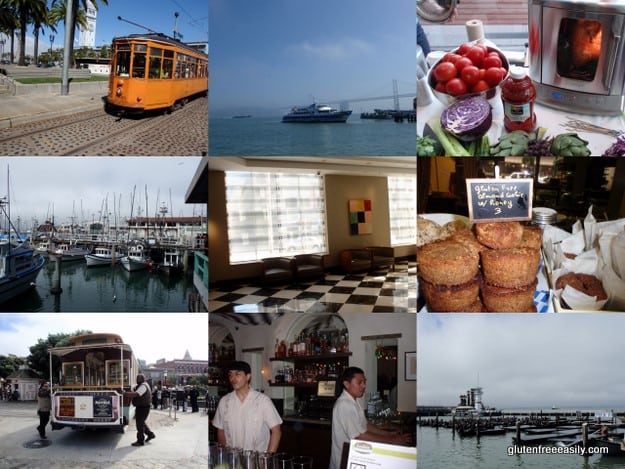 When I shared BlogHer Food '09—Part I, I told you I'd only covered the folks I'd met part of the way through breakfast. Here I am a month later to let you know about the other great folks whose acquaintances I made. I figured I'd better get on it because there's a lot more coming up here at gfe—like several weeks of Holiday Food Fest. (You'll want to re-read that post to be sure that you are at all the host blogs on the right day with the right recipe for the selected category. Of course, I'll be posting recipes every Thursday that will link back to the right site. You'll want to join in if you can—fun and fabulous prizes.) Even though a month has passed since BlogHer Food, it's enjoyable to stretch out the event a little. I'm also happy to report that the connections I made there are continuing on much to my delight!
Picking up at where I left off … oh, you might want to grab a beverage and get comfy—there's a lot to cover here.
Gudrun of Kitchen Gadget Girl Cooks (this site is no longer active)—Gudrun was another smiling, friendly face. I was sorry I only got to meet Gudrun briefly at breakfast, because it was only later when I checked her site that I found out she's a beekeeper. As many of you know, our family is also a beekeeping one. Save the honey bees! I didn't get a photo of Gudrun, but see the picture below that Son snapped recently of one of my mother-in-law's beautiful honey bees working. Thanks for doing your part, Gudrun!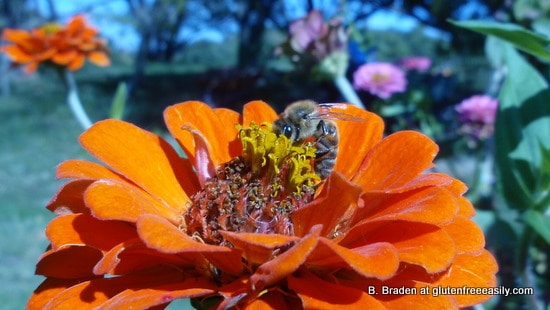 Danica of Danica's Daily—My meeting with Danica was literally no longer than a minute, but she radiated warmth and friendliness. I checked out her site and she has some really healthy and very appealing recipes there. While her blog is not gluten free, most recipes are gluten free easily (gfe)—either naturally gluten free or easily made gluten free. Oh, and she definitely has a thing for Pumpkin Butter (how timely!)—and shows you how to make it and even shares a muffin recipe using her pumpkin butter. Danica has many other seasonal treats on her site at the moment, so you'll want to check those out as well. There are lots of goodies, but the Smokey Black Bean Chili in Sweet Dumpling Squash Bowls caught my eye.
Dr. Jean Layton, both of Gluten-Free Organics and More and Gluten-Free Doctor (update: this site is no longer active)—Jean is a naturopathic physician, chef, and just take-charge kind of gal. She's confident and outgoing with an opinion on everything—I like folks like her! Both her sites are worth a read, particularly if you live in the Bellingham, WA area as she shares noteworthy area happenings. Want to see Jean and hear her philosophy? View a video of her at Diane's The W.H.O.L.E. Gang site.
Michelle Lenz of My Wine Education (this site is no longer active)— Michelle is also known as "Wine Girl." She was part of the panel titled: How Blogging Best Practices Apply, No Matter Your Blog Niche. Michelle hails from Cincinnati and was one of the few speakers whose blog has a local emphasis. She shares info about wine tastings and other events in her area, as well as specifics on individual wines. Her husband plays the role of the occasional contributor and "beer guy" per Michelle's words. Michelle even offers in-home tastings for every occasion—now that is cool!
Damaris of Within the Corners of My Kitchen—Damaris is a very lovely, dedicated blogger and her blog is gorgeous. She was at the conference with her newborn of 9 days. I was amazed. She confessed she could never have attempted such a feat with her firstborn, but with the second one, she was more relaxed. Still, that's blogging dedication! You can see a very charming photo of her little one on her site. Of course, there are wonderful recipes there, too—not all gluten free, but many are and others are adaptable. I'm smitten with the post on Pumpkin Snickerdoodles myself. I'll definitely be giving a gluten-free version of those a try. Oh, and she just launched a new blog with a friend, a food blog for children called The Little Foodie.
Tara, also known as The Diva on a Diet, at Beach Eats (subtitled A Dangerous Combination of Dieting and Mascara)— What great fortune that I ended up sitting next to Tara at lunch! She's a doll. We had such fun chatting! She even was gracious enough to let me stash all my loot in her posh room at the St. Regis, so I didn't have to keep up with it at the terrace cocktail party or lug it back to my room at The Westin. She's an enthusiastic foodie for sure, but a realistic one—I like that. And, she dishes on much more than food at her blog. Head over to her blog right now and you can read all about her snowy trip to Germany, plus you'll also find a delightful recipe for a Leaner Meat Loaf (if gluten free, you'll want to use gf breadcrumbs and Worcestershire sauce).
Gabrielle of Peanut-Free Mama—I only spoke to Gabrielle for a few minutes at lunch, but it was a pleasure. Passionate about protecting her own daughter given her peanut allergy, she blogs to ensure others know how to keep their own children safe if they have peanut and other allergies. Of course, a great alternative for those with peanut/nut allergies is seeds like sunflower and pumpkin seeds. Go to her blog right now and you'll find a seasonally appropriate recipe for Sweet and Spicy Pumpkin Seeds. Check out the ultra fancy jack-o-lantern she has pictured, too.
Seamaiden of The Book of Yum (update: this site is no longer active)—It was such a treat to meet, Sea, as she's affectionately called. One of the gluten-free bloggers present, she's cute and personable, always with a ready smile and fun to be around. We were all tickled pink when Seamaiden's husband showed up with their Baby Yum (as Seamaiden refers to her daughter). Baby Yum is just as cute as her mom, of course. Sea is a vegetarian blogger and the genius creator of Adopt-a-gluten-free blogger. She shows that eating vegetarian and gluten free can still be quite wonderful, as exemplified by her recent Vegan Shepherd's Pie.
Alison St. Sure (Sure Foods Living) and Seamaiden (Book of Yum) enjoying Elana's Chocolate Chip Cookies
Karen Schuppert of Karen Schuppert (update: this site is no longer active)— What a nice surprise to meet Karen! Although she was gathered into the gluten-free blogging fold, I did not know of her before this conference. I was so glad to be introduced to her; she's a ray of sunshine. Newly trained as a chef , she's also a long-time manager of a Napa Valley farmer's market. And, if that's not enough, she's also a certified nutrition educator. I love her motto: "Promoting a healthy appetite for a thriving planet." Her site is full of gfe-type recipes and wonderful guidance on a number of things. What's new at her blog? Fresh pumpkin pudding, vanilla bean applesauce, and corn chowder. Not all of Karen's recipes are gluten free, but most are and when recipes are not gluten-free, substitutions are easy ones.
Carrie Oliver, the CEO and founder of The Oliver Ranch Company—Carrie's site says her company "hand selects natural or organic artisan ranchers who produce delicious, signature styles of beef." I'm not the carnivore that Mr. GFE is, but still that appeals to me. You can even select your beef from particular regions. You'll want to read her explanation on regional differences at Region Matters.
Erika Kerekes of In Erika's Kitchen—I met Erika at the terrace cocktail party. We were in a group of folks overlooking the city's skyline on the warm and breezy evening. I was sorry we didn't get to chat more, but we've connected via Twitter since the conference. She's a devoted foodie with a fondness for fungi, especially truffles. You have to admire someone who titles a post "Oh, the Truffles I've Had," even if it's noted that it was a borrowed title.
Cora of Cora Cooks and Season to Taste—Cora was one of the last folks I met at the terrace cocktail party while we were both gazing out at the city, of course. Cora was sharing her enthusiasm about her time at BlogHer Food while I admired her business cards. They were a pretty nifty foldout design, with one of Cora's recipes in the foldout. She said her husband was responsible for that small act of genius. I'm still thinking about stealing that idea …my card displayed Cora's Pineapple Salsa––a naturally gluten-free recipe. Visit her blogs. You'll find fall photos, memories, and recipes (e.g., molten chocolate cake and pavlova—gluten free or easily made gluten free). How about Brunswick Stew? It's naturally gluten free, as long as you verify the status of all the ingredients.
Elise Bauer of Simply Recipes—Elise did most of the talking in the session on Protecting Yourself and Your Work. (Unfortunately, she's had lots of experience with folks stealing her work.) Then she shared more at the closing comments for the conference. I learned a huge amount from what she said, enjoyed her comments at the closing, and really enjoyed the fabulous party she co-hosted at Tropisueno. Elise is a very popular food blogger, so you may well know her site already. Her Cashew Chicken is calling my name. Elise kindly notes the adjustments that need to be made to ensure a gluten-free dish in the recipe.
Jaden Hair of Steamy Kitchen—Jaden spoke at the session, Your Blog Is Great … Now What? Jaden is enthusiastic and just plain fun. It's no wonder she has such a huge following. I loved her advice on putting yourself "out there" to draw readers to your blog. By the way, Jaden was quite impressive on the dance floor at the party she co-hosted at Tropisueno. (Here's a "stylized" view of her getting down.) It's clear she's passionate about whatever she's up to … who doesn't love that? FYI–Her new cookbook, The Steamy Kitchen Cookbook, is out!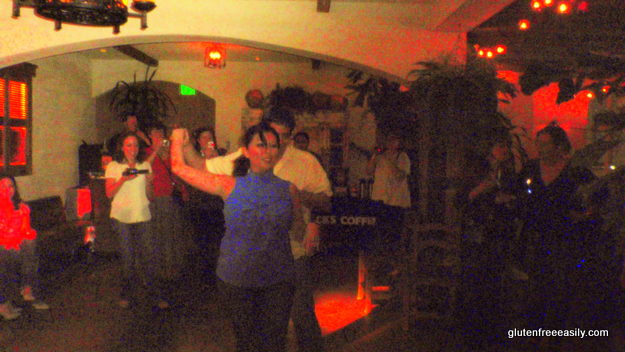 Helene Dujardin of Tartelette—Helene was also a part of the Your Blog Is Great … Now What? panel. She was eager to share all the different things she had done in promoting her blog and business. Search on "gluten-free" on her site and you'll find a bunch of mouth-watering recipes, including Helene's revised Bouchon Lemon Tart recipe post that features Shauna, the Gluten-Free Girl, and "Little Bean." Helene's site and food photographs are stunning … I can only imagine how phenomenal any of her specialty sweets would be! I snapped Helene "working" in a semi-quiet spot while the rest of us were enjoying the terrace cocktail party.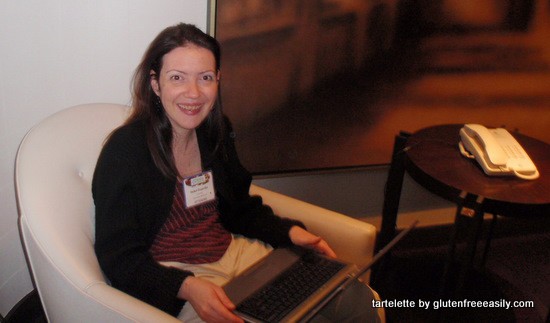 Amy Sherman of Cooking with Amy—Amy was the moderator/third speaker at the Your Blog Is Great … Now What? Amy is another very popular blogger. As her blog header shows, she shares recipes, reviews, news, and travel. She has a gluten-free section on her blog, but only has two items listed. However, there are other naturally gluten-free recipes there, like her Guilt-Free Panna Cotta. Amy, Jaden, and Helen engaged in a lively discourse. They shared many viewpoints, but disagreed on quite a few as well. Those of us in the audience found that refreshing, and in the end, I felt like I could go with the guidance that best fit my own style.
Lauren "LoLo" Ulm of Vegan Yum Yum—I really enjoyed Lauren's part in the panel, How Blogging Best Practices Apply, No Matter Your Blog Niche. She was matter of fact and forthright about what one needs to share in photos on one's blog. Not to mention, that she's just plain adorable. She also has a new cookbook out—titled (what else?) Vegan Yum Yum. You can see a preview recipe, Hurry Up Alfredo!, at her site right now. Ensure that you use safe ingredients and you'll be good to go!
Kalyn Denny of Kalyn's Kitchen—Kalyn also spoke on the panel How Blogging Best Practices Apply, No Matter Your Blog Niche. She had a list of tips and points she wanted to share with us and she didn't relinquish the floor until she did. As attendees, we appreciated everything she had to tell us. She was so helpful and her list was so extensive that I haven't yet worked my way through her list of "to do" items! Kalyn is a South Beach low-carb diet devotee. This is good news for us, her gluten-free readers. Low-carb diets, of course, feature many naturally gluten-free recipes, but Kalyn's are some of the best you'll find. "High taste" is always her aim. Other neat posts are her Five Fun Things on Friday posts.
Ree Drummond of The Pioneer Woman—I didn't get to speak to Ree personally, but I very much enjoyed her comments in the closing session. And, as I've stated, I thoroughly enjoyed the party she, Elise Bauer, and Jaden Hair hosted at Tropisueno. She lives on a ranch, homeschools, and shares recipes at the food blog part of her site—recipes I that a phenomenal number of people clamor for I should add. If you can't make her recipes gluten free, you can certainly use them for inspiration. Her new book, The Pioneer Woman Cooks, just came out! I plan to sit down with a cup of tea and a glass of wine later and read it from cover to cover! I took a peek and literally had to pull myself away from her story to get other stuff accomplished. Incidentally, her story includes her hunky husband, who she refers to as Marlboro Man.
Elizabeth Falkner of Citizen Cake dessert cafe, Orson restaurant, and food television fame—Elizabeth is known as the queen of creative desserts … think offbeat and highly creative. She constructed a chocolate box from huge slabs of Scharffen Berger chocolate and an untold number of ingredients that were the delicious contents within the "box." Attendees donned plastic gloves and just grabbed a handful. (The unique dessert was not gluten free, however, so I didn't take part.) I met Elizabeth just briefly at the Tropisueno after party. She was very friendly. Make sure you check out her site and read about the Scharffen Berger contest for which she'll be one of the judges. There are two grand prizes of $10,000. Yes, that's right. One will be for the Sweet category and the other will be for the winning Savory recipe. Wow—time to get creative!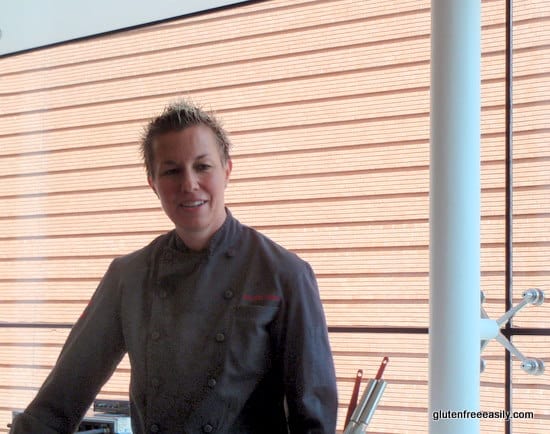 David Leibovitz at his self-titled blog, subtitled living the sweet life in Paris—If you don't know of David, he's an acclaimed creator of many dishes in the kitchen, but especially desserts. By all accounts, he's a good guy. I really enjoyed his remarks at the closing. David and Elizabeth Faulkner were kind enough to take a photo with me at the after party at Tropisueno. David's latest book is The Sweet Life in Paris. His next book, Ready for Dessert: My Best Recipes, will be released April 2010. Last, you'll want to take a look at his just posted The Best Granola recipe. I don't know about you, but I'm always looking for good granola recipes. I'm very picky about my granola, but this one looks sensational—just use gluten-free versions of the ingredients listed.
Matt Armendariz of Matt Bites and his other site. I only met Matt for maybe a minute at the after party. We were both yelling to try to hear each other. I wish I'd gotten to talk to him earlier. He seems like such a nice guy. I really enjoyed checking out his blog, especially watching the video of him when he appeared on the Martha Stewart show and made one of his cookie recipes, alfajores. Alfajores are Argentinian sandwich cookies filled with dulce de leche and dusted with powdered sugar. (They can also be filled with jam and/or covered in chocolate.) Of course, I plan to adapt his recipe to be gluten free.
Christina Olson from Foodzie was passing out different artisanal treats, including some pretty fabulous gluten-free ones (like buttery treats from Made to Crave and handmade caramels) at the after party. Foodzie is a novel idea that has become a very successful concept. Be sure to check out all the wonderful food items that are offered there, from whole foods like chestnuts and pistachios to homemade granola and baked goods. A search on "gluten free" will yield some appetizing results for sure, but remember to look for the products that are naturally gluten free, too, and won't show up in the search results—like those aforementioned chestnuts and pistachios, plus other items like pickles, and fruits and vegetable concoctions (how about cumin green beans?).
Meeting all the amazing folks at BlogHer Food was indeed the very best part, but some other highlights were the aforementioned presentations and parties, and the swag. Oh, the swag … especially from the after party at Tropisueno. I never even knew I liked swag, but give me swag from CHEFS, Cuisinart, KitchenAid, PUR, other food bloggers (free cookbooks!), and the like, and I am so there!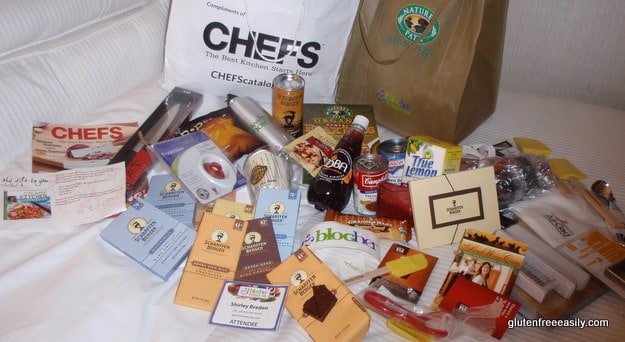 Let me say a little more on the sessions themselves. There were three tracks: visual, values, and vocational. Within each track, there were three sessions. I attended all of the vocational track sessions, but an attendee did not have to stick to one track. BlogHer said right up front that you could "vote with your feet" and just leave a session and go to another if the first one was not meeting your needs. I liked that guidance a lot—it just made sense. The sessions I attended were well done. Each was a panel discussion with Q & A at the end or throughout (depending upon how much the panel had to cover). All of the speakers were excellent, and some beyond excellent, because they were so passionate and enthusiastic. They were sharing critical information with us; all of attendees greatly appreciated the tips and info. In fact, one of the laments commonly heard was that we couldn't possibly attend all the sessions we were interested in. However, the great news is that BlogHer personnel were "live blogging" on each session and you can read all the session write-ups at their site (look on the sidebar).
Does that mean that everything went perfectly at BlogHer Food? No, but perfectionism is often overrated. It's usually not the perfect moments we remember and treasure the most. It's the imperfect ones. I, for one, will never forget others eyeing my risotto that had been freshly made by the hotel staff. While it was not the best risotto I've ever had, I was somewhat amused that my "special," gluten-free meal would have been preferred over the "standard" meal. A lot of grievances have been aired regarding the luncheon, but I'm sure that BlogHer will learn from the experience. We all learn when we make mistakes, right? Would everyone have been quite as "a-twitter" if the meal had gone flawlessly? Would we have accepted Rocco DiSpirito more if he had talked us through a shared meal that had taken hours to prepare? We'll never know. I've voiced my opinion on the matter and I'm sure BlogHer will listen to all the input. In my short association with BlogHer, I've seen that they both solicit and listen to input.
In closing, I don't know where BlogHer Food '10 will be held, but I know I plan to be there. If you're considering attending the next conference, as Nike said, "just do it!"
Shirley
Not just gf, but gfe!
Originally published November 2, 2009; updated March 25, 2020.