For affiliate links and as an Amazon Associate I earn from qualifying purchases.
UPDATE: On April 4, 2023, Gluten-Free Watchdog issued a new statement, Gluten-Free Watchdog Cannot Recommend Any Brand of Gluten-Free Oats. Read the full statement here. This statement was followed by details on recent testing results of gluten-free products that contain oats., which showed 30% of the labeled gluten-free oat products tested contained quantifiable gluten.

This statement was followed by details on recent testing results of gluten-free products that contain oats, which showed 30% of the labeled gluten-free oat products tested contained quantifiable gluten. I'm not eating any oats and I urge all of my readers who eat gluten free for medical reasons to also abstain.
UPDATE (March 29, 2023): At one point in time in this Bakery on Main gluten-free products review, I told you all that Bakery on Main was no longer using purity protocol oats. I am happy to report that Bakery on Main returned to using only gluten-free purity protocol oats and, therefore, they are on what I call Gluten-Free Watchdog's "safe" list. Bakery on Main stated that all oats used in their labeled gluten-free products are sourced from suppliers of oats produced following a gluten-free purity protocol. They added that their supplier is Avena Foods.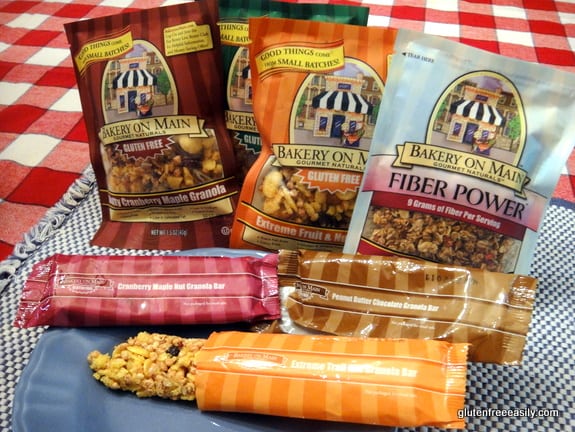 Bakery on Main is known as a great company. For one thing, it's a small company that focuses on using natural ingredients. For another, its founder, Michael Smulders, set out to make gluten-free food that tasted really good after hearing so many gluten-free folks complain about the opposite being true of most gluten-free products.
Getting Bakery on Main going was no small task; it took 2 years before he got his facility, ingredient suppliers, etc., in place. Bakery on Main products are made in a dedicated gluten-free facility with gluten-free ingredients, and are certified gluten free by GIG's Gluten-Free Certification Organization—that means their products contain less than 10 parts per million (ppm) gluten. Here's a brief statement from Bakery on Main on its history and focus.
"It all started in the small bakery of a natural foods market on Main Street in Glastonbury, Connecticut. Founder Michael Smulders listened to his Celiac customers complain about the taste of many of the gluten free options available to them. He thought that no one should have to suffer because of a food allergy or other special dietary need, and made it his mission to create products that were good for them but taste like they aren't.

Late in 2003, after tasting a granola recipe one of the bakers was working on, Smulders said, "these gluten free people need granola!" He walked through the store and gathered ingredients and baked the first batch that day. It took almost 2 years to find gluten free sources of all the ingredients and find a place where we could make the product without risk of cross-contamination.

Three years and two bakeries later, their gluten free granola is made in a 34,000 square foot manufacturing facility with state of the art quality controls and in-house gluten testing on every batch. Located just a few miles down the road from the original bakery, the plant maintains the small bakery quality by continuing to bake in small batches."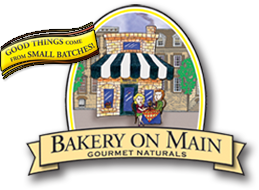 The truth is that I've had a little sweet spot in my heart for Bakery on Main since last year. Right before Thanksgiving, one of my support group members forwarded their Thanksgiving email newsletter to me because Bakery on Main had linked to my Crustless Pumpkin Pie.
That was quite the pleasant surprise because I didn't even know about Bakery on Main at that point. Later, Bakery on Main folks contacted me and sent their products for my review (shown above) and for my support group to sample, as well as product coupons for our members.
In the granola department, we sampled Extreme Fruit and Nut Granola, Nutty Cranberry Maple Granola, Apple Raisin Walnut Granola, and Fiber Power Granola. (There's a Rainforest Granola that I did not get to try. It contains dried bananas, roasted Brazil nuts, and coconut.)
For granola bars, there were Peanut Butter Chocolate Chip, Cranberry Maple Nut, and Extreme Trail Mix. More recently, Bakery on Main has been adding to its granola bar line with three flavors of Soft and Chewy granola bars: Chocolate Almond, Peanut Butter and Jelly, and Apple Cinnamon. The folks from Bakery on Main have been generous in sharing their products and very pleasant in our interactions.
So all that said, I really wanted to love Bakery on Main's products. I should also tell you that I don't consider myself an in-depth product reviewer.
I'm much more about eating and cooking with real food. It's very infrequent for me to sample gluten-free specialty products because they play a very small part in my gfe approach and when I do review them my main focus is simply whether I like the products myself. I don't go into detailed descriptions and comparisons, etc.
All of us are looking for different things in products. For granola and granola bars, personally, I want something with heft and crunch. Fiber and nutrition often come with those characteristics, but I won't get into those factors much in this review. Also, in granola, I specifically like the chunky clusters that form when oats, nuts, and seeds bind with the sweeteners used.
Taste testing Bakery on Main's granola and granola bars was interesting. I found that one flavor would be very pronounced at first bite and then the taste would subside as I ate more of the product. Sometimes a product would start out tasting too artificial in its flavoring, but then taste okay after a few bites. The experience was rather strange actually. I really didn't find that any of the flavors stood out on their own.
The granola flavors were all so similar that they were sort of indistinguishable to me. How could Apple Raisin Walnut Granola taste like Nutty Cranberry Maple Granola? I suppose daily consumers and fans of Bakery on Main would say that they don't, but there was not enough of the named flavors/ingredients to distinguish them for my tastes.
Tasting the original granola bars played out the same way. Peanut Butter Chocolate Chip, Cranberry Maple Nut, and Extreme Trail Mix should have been very distinctive but were still pretty non-descript to me. The Peanut Butter Chocolate Chip was my favorite of the group, but even the peanut butter flavor in it was very mild.
That could be a good thing for some. If you normally dislike peanut butter, you'd probably still like this granola bar.
However, I like a product to really taste like what it's called, what it's supposed to taste like. The texture of all these products is just not substantial enough for my liking.
As I said, I wanted that heft and crunch in both the granola and original granola bars and it just wasn't there. Likewise, the granola really didn't have what I'd call chunky clusters.
Bakery on Main's new granola bars are billed as soft and chewy. They lived up to their label of Soft and Chewy and are quite pleasant in their texture.
What about taste? Well, I sampled Chocolate Almond flavor first. I found it to be very enjoyable overall as an after-work snack.
Another time I tried the Apple Cinnamon bar. The first bite yielded a fake type apple flavoring in my opinion, but the bar tasted more natural as I finished it. Again, strange. I saved the Peanut Butter and Jelly one for Son. Son liked it and would have eaten more if I'd had any left to share with him.
So, in conclusion, while I don't dislike Bakery on Main's products, I didn't really like most of them—meaning I wouldn't buy them for myself. I'll keep making my own granola on occasion.
But, please don't take just my word on these products. My support group members love Bakery on Main products.
I divvied up the sample leftovers and sent several members home with "carryout" containers; they were all very happy. And as I said earlier, Bakery on Main sent coupons for all of my members, too. Again, my folks were pleased to get them as they enjoy the Bakery on Main products. I urge you to do your own research and decide.
Note that the Soft and Chewy bars contain no GMOs, no dairy, and no trans fat. They are made with certified gluten-free oats, amaranth, quinoa, flax seeds, and chia seeds. FYI: To introduce its new line of granola bars, Bakery on Main is offering free shipping on your entire order if you order any of their Soft and Chewy Granola bars. (It's my understanding that the Soft and Chewy aren't yet available in stores or from other online sources.) Bakery on Main also uses ingredients such as unsulphured/freeze-dried fruits, brown rice syrup, evaporated cane juice, canola oil, and sea salt.
I hope you have benefited from this Bakery on Main gluten-free products review. While I'm catching up with my posts, you can catch up on my 25 Days of Christmas posts via the links below.
Day 1 – Gluten-Free Holiday Giveaway Galore x 10—Giveaway of the new book, Mommy, What is Celiac Disease?, plus gluten-free treats and fun stuff. (Although giveaway has ended; you can still order Katie's new book here. )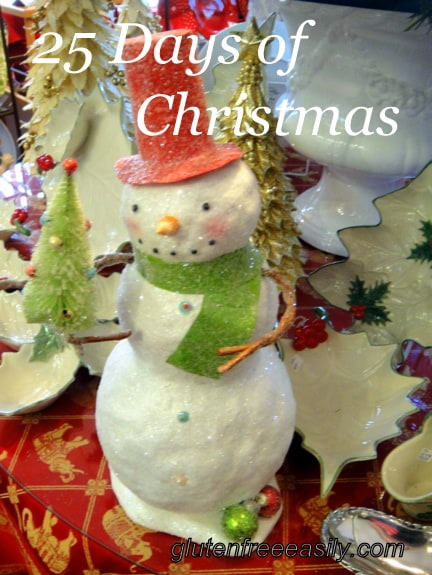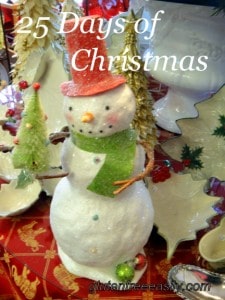 Day 2 — Guest Post from Debi Smith (Hunter's Lyonesse)—My Journey Back to Healthy Living
Day 3 — Corn and Butter Bean (or Lima Bean) Casserole for A Gluten-Free Holiday
Day 4 — Little Cayman Beach Resort Review
Day 5 — 20 (Plus) Thoughts on International Food Bloggers Conference
Day 6 — Nutiva Products (Coconut, Hemp x 2, & Chia) Review and Giveaway (Giveaway has ended.)
Day 7 — Reindeer Antlers Punch for Share Our Holiday Table (You can still give and feed a child.)
Day 8 – Flourless Pecan Sandies (Gluten Free, Grain Free, Dairy Free)
Day 9 — Volcano Pancake and Other Breakfast Fare Plus Allegro Marinade
Day 10 – The Palate Peacemaker's Pecan Butter & Pumpkin … Uh Oh … Cake!
Day 11 — Kitchen Table Bakers Crisps Review and Giveaway (Giveaway has ended.)
Day 12 — Guest Post: Linda Etherton (The Gluten-Free Homemaker)
Day 13 — The Spunky Coconut Grain-Free Baked Goods & Desserts Cookbook Review and Giveaway (Giveaway ends Sunday, December 19.)
Day 14 — Sweet and Crunchy Snack Mix and Classic Spicy Snack Mix (Make Great Gifts … Even Last Minute)
Day 15 — Winners, Gluten-Free Holiday, and Super Short Roundup
Full disclosure: Bakery on Main provided the products featured in this review to me free of charge. However, the opinions expressed on these products are strictly my own.
Originally published December 18, 2010; updated April 17, 2023.