For affiliate links and as an Amazon Associate I earn from qualifying purchases.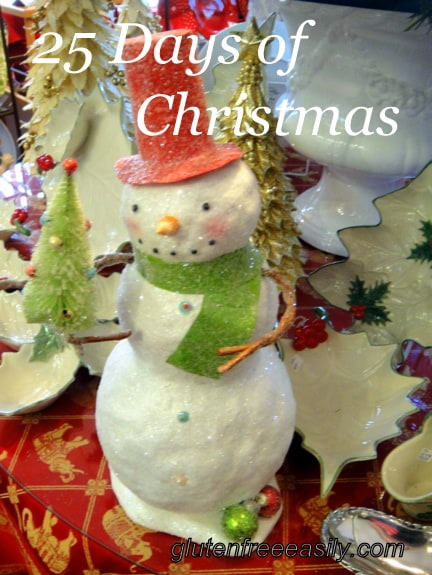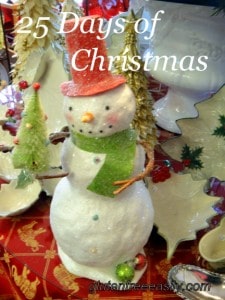 This post is linked to Slightly Indulgent Tuesdays.
Today is Christmas Eve … wow! We hosted my family's celebration here this afternoon. Our time together was great. Admittedly, some of my food plans fell by the wayside as our gathering time approached, but that often happens and it was okay, because of course we had more than enough of everything. We all do that, right? Chances are that all of you have your meals and even snack foods planned for the next few days. But, just in case, you don't or perhaps you are already thinking ahead to New Year's Eve and New Year's Day next weekend, I thought I'd share some links for gfe recipes that are enjoyed by our family during the holidays and even some "new ones" that I've been serving this holiday season just to change things up.  We already hosted a party with our cousins a week ago. Everyone brought a dish and both the food and company were wonderful and enjoyed by all.
For Christmas at our house, we rarely have "formal" sit-down meals. It's almost always all about appetizers or buffet-worthy entrees with lots of desserts.
There's a festive beverage for the adults …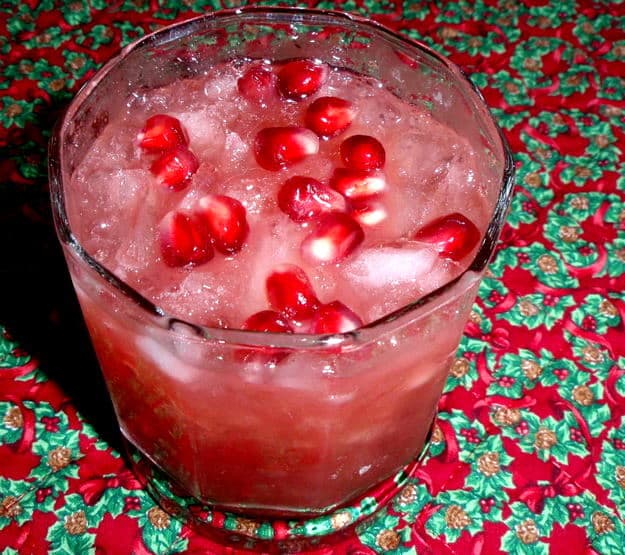 The comforting hot cider drink that can be made for all to enjoy …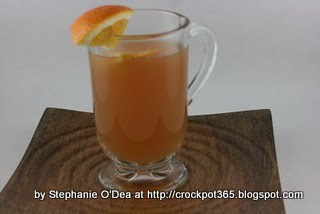 A little Black-Eyed Pea Soup—hearty and comforting—to take the chill off … something different from the traditional, rich fare.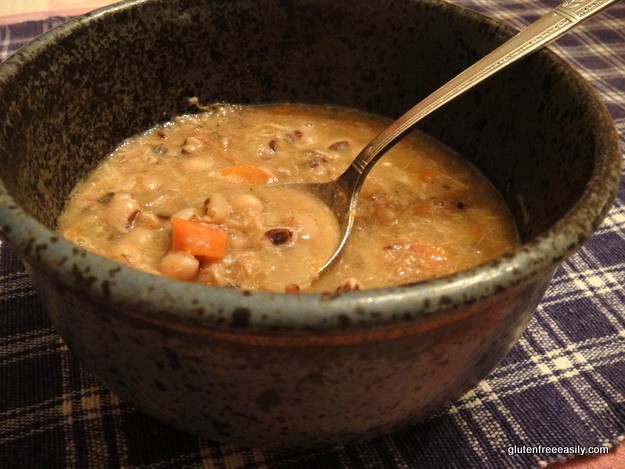 The favorite appetizer—Crab Ball (a divine crab spread made from just two ingredients) …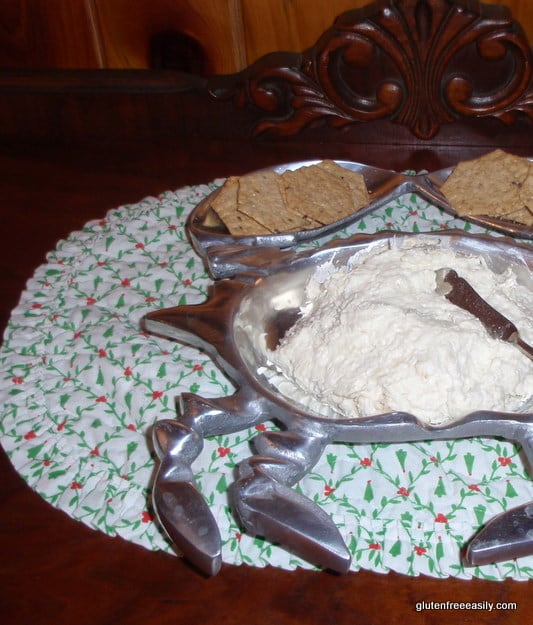 but there are Mom's Deviled Eggs, too. (As you can see, a few get eaten immediately!) And, that decadent fudge of hers that I keep mentioning. If things go well, I'll have a healthier version to share soon … maybe even for Carol's (Simply … Gluten-Free) roundup for this month's Go Ahead Honey, It's Gluten Free! Entries are due to Carol by Monday, December 27. The theme is Family Traditions.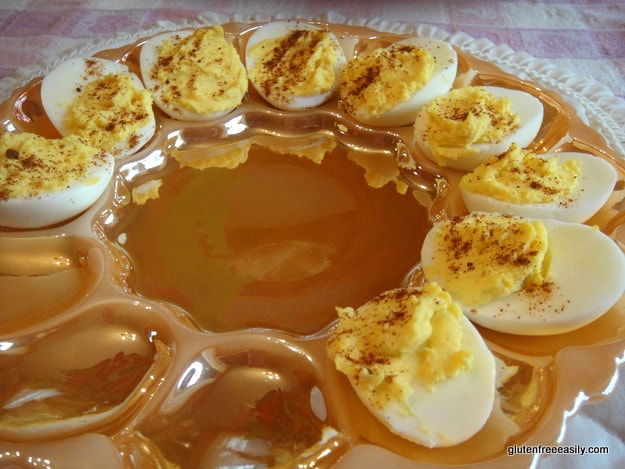 Getting in some of the green stuff means Great Salad—that salad that will have everyone eating salad and loving it!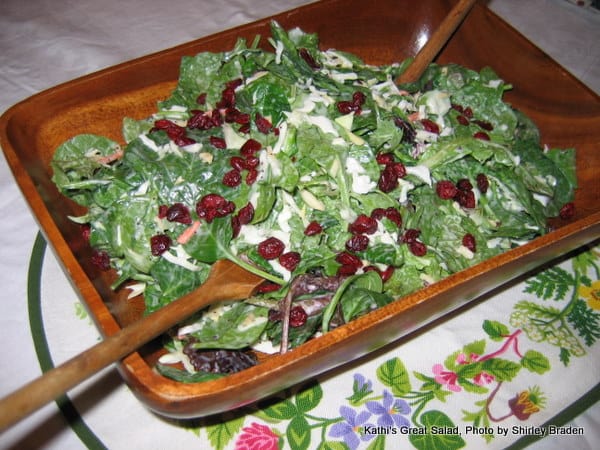 There's Susie's Crab Casserole (which she brought today and I may make to take to my mother-in-law's house tomorrow).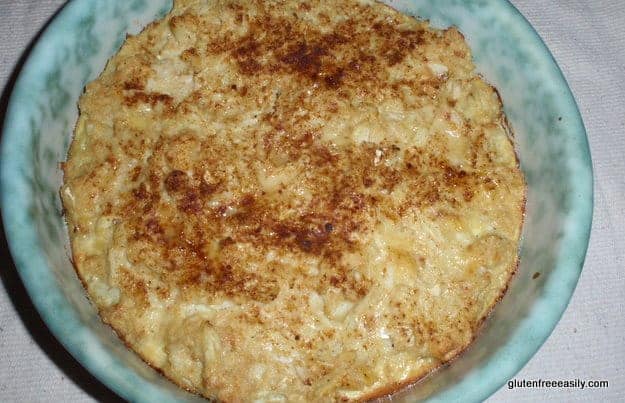 For more seafood, Oven-Steamed Shrimp is a nice alternative to the sometimes bland, ready-to-go shrimp rings.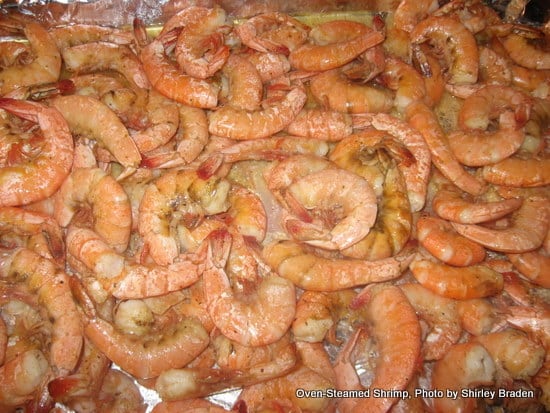 Flourless Pizza, cut into small squares, is loved by everyone. I made this for the cousins' party and again today and several family members will be visiting gfe for the first time to get the recipe. Have you made it yet?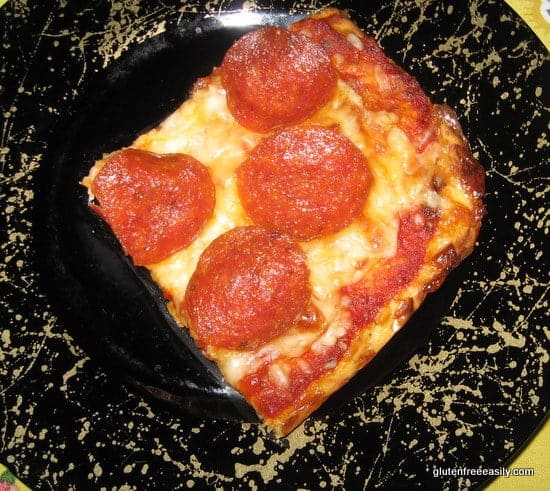 Dessert could be any manner of goodies, but last week we had Crustless Coconut Pie and Mediterranean Chocolate Cake—with birthday candles (a cousin had just had her birthday). Today the Crustless Coconut Pie was on the menu again, but coconut also appeared in the form of cookies—Coconut Meringues. And, no matter the time of year … Brown Sugar Chocolate Chip Cookies are requested.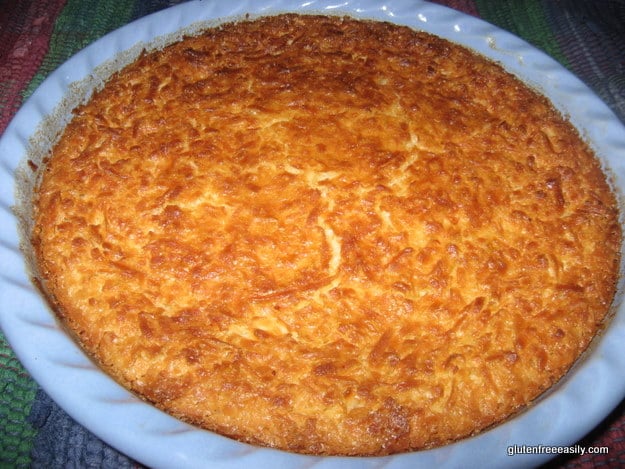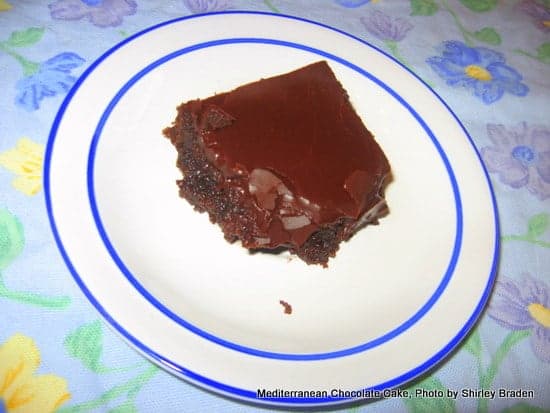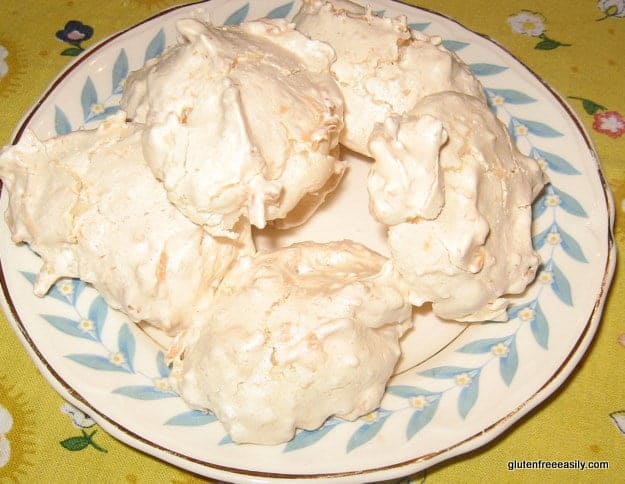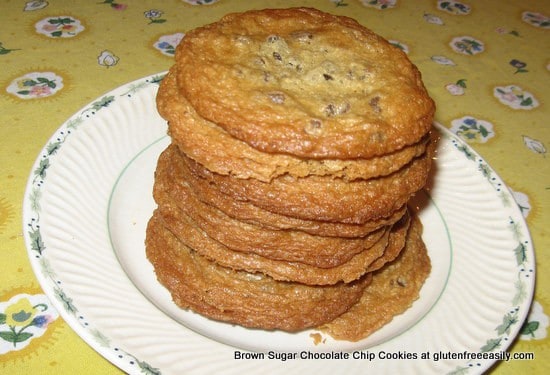 Wishing you all good food, good health, and much happiness this holiday season!
You can see the previous 25 Days of Christmas posts below.
Day 1 – Gluten-Free Holiday Giveaway Galore x 10—Giveaway of the new book, Mommy, What is Celiac Disease?, plus gluten-free treats and fun stuff. (Although giveaway has ended; you can still order Katie's new book here. )
Day 2 — Guest Post from Debi Smith (Hunter's Lyonesse)—My Journey Back to Healthy Living
Day 3 — Corn and Butter Bean (or Lima Bean) Casserole for A Gluten-Free Holiday 
Day 4 — Little Cayman Beach Resort Review
Day 5 — 20 (Plus) Thoughts on International Food Bloggers Conference
Day 6 — Nutiva Products (Coconut, Hemp x 2, & Chia) Review and Giveaway (Giveaway has ended.)
Day 7 — Reindeer Antlers Punch for Share Our Holiday Table (You can still give and feed a child.)
Day 8 – Flourless Pecan Sandies (Gluten Free, Grain Free, Dairy Free)
Day 9 — Volcano Pancake and Other Breakfast Fare Plus Allegro Marinade
Day 10 – The Palate Peacemaker's Pecan Butter & Pumpkin … Uh Oh … Cake!
Day 11 — Kitchen Table Bakers Crisps Review and Giveaway (Giveaway has ended.)
Day 12 — Guest Post: Linda Etherton (The Gluten-Free Homemaker)
Day 13 — The Spunky Coconut Grain-Free Baked Goods & Desserts Cookbook Review and Giveaway (Giveaway has ended.)
Day 14 — Sweet and Crunchy Snack Mix and Classic Spicy Snack Mix (Make Great Gifts … Even Last Minute)
Day 15 — Winners, Gluten-Free Holiday, and Super Short Roundup  
Day 16 — Review: Bakery on Main Granola and Granola Bars
Day 17 — Review and Giveaway of Ricki Heller's Desserts Without Compromise (Giveaway ends Sunday, December 26, at midnight Eastern.)
Day 18 — An Unexpected Christmas Blessing