For affiliate links and as an Amazon Associate I earn from qualifying purchases.
Full disclosure: Ricki Heller's e-cookbook Desserts Without Compromise was provided to me free of charge for review. Ricki is also providing the winner's free copy. However, this is not a sponsored post and the opinions expressed within are strictly my own.
Update: This giveaway is now closed. Thanks to all who entered and congrats to Pat (Elegantly, Gluten-Free). Pat was selected by random.org, but her comment was: "That fudge looks too good to be good for me…must be something I'll need to try! =)" Stay tuned for more as my Christmas event winds down as my blogiversary approaches.
I've talked a lot about my dear friend, Ricki Heller before. I briefly reviewed her book, Sweet Freedom, here. Then I adopted Ricki for a recent Adopt a Gluten-Free Blogger event; check that out here.
As part of my adoption, I made her Chia Pudding and Cashew Chocolate Chip Cookies. I have some tahini now so I can actually make her Cashew Chocolate Chip Cookies according to the original recipe, although I loved the results using peanut butter. They are excellent cookies … gluten free, dairy free, egg free, and refined sugar free.
Ricki is all about excellence in desserts, so I was delighted when she sent me her newest e-book—Desserts Without Compromise— to review and give away to one of my loyal and loved gfe readers. Gosh, I love it when that happens … for both me and you!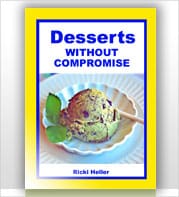 Her book is full of "must have right now" recipes. However, some include ingredients I don't have on hand, so I opted for the Almond-Cinnamon Fudge because I had everything on hand and I really wanted some fudge. I guess I've had fudge on the brain since I mentioned my mom's "to die for, straight to the vein" classic cocoa fudge in my post with tips on eating healthier for the holidays (as part of our Gluten-Free Holiday event—last post here).
I know some of you are still hoping I'll post mom's fudge recipe, but I seriously don't want to be responsible for having a reader go into a state of serious glucose unbalance. If I improve the recipe and make it a bit healthier, I'll post it. Now before you protest, I'll tell you that mom's recipe has 3 cups of sugar. Yes, 3 whole cups! And, no, that amount is not because the recipe makes a huge pan. It's a typical, small rectangular pan that mom uses for making fudge. Of course, I admit that I love the stuff and I already asked mom to bring my tin of fudge, but not solely for me—to share with everyone on Christmas Eve. Oh, how I'm regretting that decision now. I'm serious. That fudge is insanely good.
But, most of the time I do want to make better choices, so what if I could have healthy fudge that tasted wonderful? A fudge made using white beans (and not just a token amount, mind you … beans are the primary ingredient), almond butter, cinnamon, almonds, coconut oil, lemon zest, stevia, yacon syrup, almond extract, vanilla extract, salt, and flax meal—gluten free, dairy free, refined sugar free, and full of all the nutritional benefits that those ingredients bring to the table.
Does it sound too good to be true? Well, yes, this fudge is too good, but it is true. Take a look again at Ricki's Almond-Cinnamon Fudge below. Note that I topped my fudge with the almonds versus incorporating them. I like both the look and the more concentrated crunch. For a treat, even a square smaller than the ones shown will suffice, but I ate two pieces the size of the ones shown for breakfast. Hey, I was very happy as a result and I wasn't hungry for hours!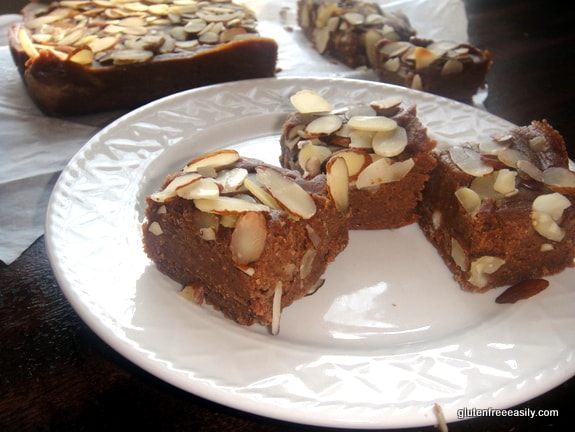 You can take a look at a bunch of the other recipes from Ricki's e-book in this post, which she first shared when Desserts Without Compromise came out. If you'd like to get more of a feel (look, taste, etc.) of Ricki's recipes from this e-book, you can find a few of the actual recipes on her blog; e.g., Carob Coconut Sweeties and Grain Free Coconut Macaroons.
thers, like the Almond-Cinnamon Fudge I made, were newly created by Ricki for Desserts Without Compromise. Every one of the recipes in this e-book is gluten free, dairy free, egg free, refined sugar free, low glycemic, and—as Ricki so importantly points out—delicious.
Without the delicious factor, none of us would be nearly as interested in the other attributes of these desserts, necessary as they may be. Hence, the name, Desserts Without Compromise. I can't wait to work my way through all the recipes.
Ricki's book also includes an introduction to the anti-candida diet, explaining why she eats the way she does. She also spends some time discussing the ingredients that she uses.
I found both sections very informative and helpful even though personally I don't currently follow the anti-candida diet. By the way, Ricki is a Registered Holistic Nutritionist (RHN), too. I love knowing that her wonderful recipes on based on such knowledge!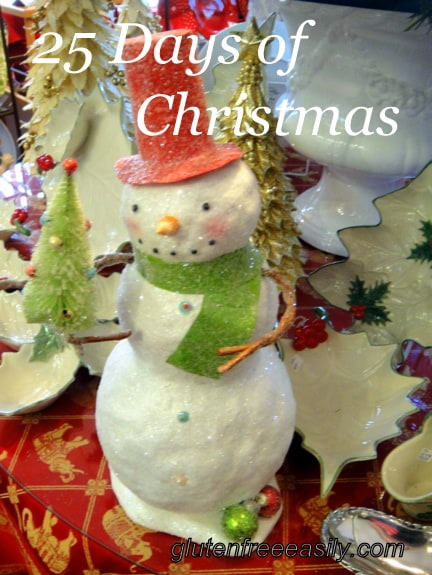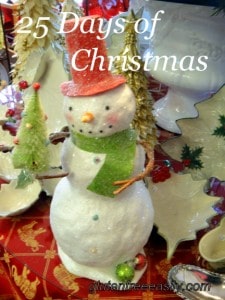 This giveaway will end Sunday, December 26, at midnight (gosh, it seems weird to type that date already!). Here are the following ways you can enter—PLEASE READ. First, I want to state that most of you are not getting credit for all the possible entries in recent giveaways. I want you to have as many chances to win as possible. So, please remember that you don't have to be a new subscriber, new follower, etc. to leave an entry. If you already subscribe to gfe, just state "I subscribe to gfe." If you already like gfe on Facebook, simply state, "I like gfe on Facebook." But, and this is an important but, you do have to leave a separate comment for each. I use the random number generator and cannot tally all your entries unless they are separate. Hope that makes sense … now enter like crazy because you all deserve to win Ricki Heller's Desserts Without Compromise!
~Simply leave a comment.
~Post about this giveaway on your blog and/or share it on Facebook. Leave a separate comment here saying that you did.
~Tweet about this giveaway using @Shirleygfe and @RickiHeller. Leave a separate comment here saying that you did.
~Subscribe to gfe via reader or email. Leave a separate comment here saying that you did.
~"Like" gfe on Facebook. Leave a comment here saying that you did.
~"Friend" me on Facebook. Leave a comment saying that you did.
~"Like" Diet, Dessert, and Dogs on Facebook. Leave a comment here saying that you did.
~ "Follow" Ricki on Twitter. Leavea comment here saying that you did.
~Follow me on Twitter. Leave a separate comment here saying that you did.
Originally published December 20, 2010; updated May 12, 2019.