For affiliate links and as an Amazon Associate I earn from qualifying purchases.
Full disclosure: All items in this giveaway of The Gluten-Free Almond Flour Cookbook and other Elana's Pantry products were provided courtesy of Elana Amsterdam (Elana's Pantry). However, this review is not a paid review. I'm simply a huge fan of Elana. All opinions expressed are my own.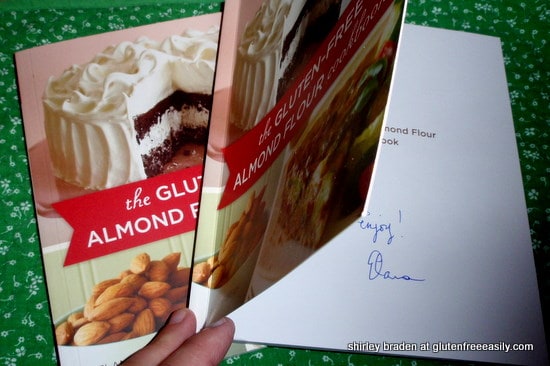 Update:  This giveaway is now closed. Congratulations to the 14 winners and thanks to all who participated, sharing in my 2-year blogiversary and also sharing favorite recipes of Elana's (she has so many amazing ones!).
Are you a fan of Elana Amsterdam (Elana's Pantry)? I know, I know … I'm speaking to the choir—who isn't, right? Every week she's making super simple, nutrient-packed, always amazing recipes. She just "messed up" a recipe and ended up making Cinnamon Pecan Brittle. The recipe contains all of five ingredients, comes together very quickly, and her readers are raving over it. Such is the normal response when readers make any of Elana's recipes!
I'm not only a long-time reader, but I'm so lucky that I can call Elana a personal friend, too. From the moment we met face to face at BlogHer Food '09, we've been good friends. Yes, I liked her even before she shared her famous Chocolate Chip Cookies with me, but, of course, that generous act sealed the deal. I knew I would be Elana's friend forever. That's also when I truly realized how much of an impact Elana has had with her nutritious gluten-free, usually dairy-free, and refined sugar-free recipes. They are a blessing to all her readers and she kept several of us happily fed that day when the gluten-free offerings were few and far between.
Lest I forgot how good her chocolate chip cookies were, she brought more to BlogHer Food this year to share with me and the other gluten-free bloggers (and maybe a few other gluten-full folks, too). Plus, Diane (The Whole Gang) had made the Double Chocolate Cherry Cookies from Elana's first cookbook for our trip. Oh my goodness, these cookies were heavenly! Another chocolate recipe here at gfe—and one of my most popular ones I might add—is one I adapted from a recipe of Elana's … Flourless Chocolate Banana Honey Walnut Cake.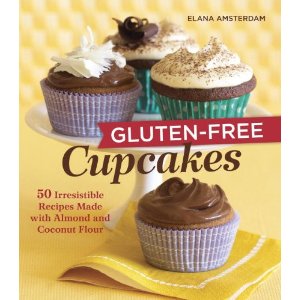 You may have heard that Elana has a new cookbook coming out in the spring, Gluten-Free Cupcakes: 50 Irresistible Recipes Made with Almond and Coconut Flour. Understandably, everyone is very excited! Cupcakes are more "in" than ever, and even when they weren't "in," they were always delicious. Okay, maybe you weren't so fond of cupcakes when you found out at 10:00 pm that little Jimmy or Mary had promised to bring in cupcakes for a class party the following day, but otherwise, you have always liked them right? You can pre-order from Amazon here. (I love to pre-order. Usually you get a better price, but best of all, in no time it seems you're holding a brand spanking new cookbook that most others are just beginning to hear about.) But don't forget Elana's first cookbook, The Gluten-Free Almond Flour Cookbook. I know it's still missing from many of your shelves. Well, with this next-to-the-last 25 Days of Christmas post and to celebrate my two-year blogiversary, I'm giving away some products from Elana's Pantry, courtesy of Elana herself.
They are:

~ six copies of Elana's Gluten-Free Almond Flour Cookbook (several are signed)

~ seven of Elana's Pantry eco-friendly, fair trade tote bags

~ and even one Elana's Pantry t-shirt, sized medium.

Add them all up and you'll see that 14 gfe readers will be receiving a package in the mail!
This giveaway is now closed.