For affiliate links and as an Amazon Associate I earn from qualifying purchases.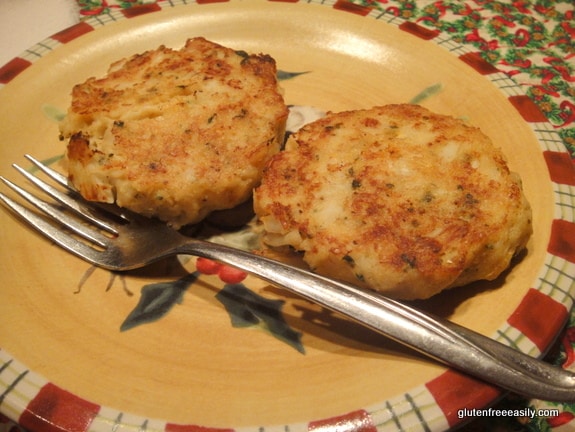 Full disclosure: This product was provided to me free of charge. However, this is not a paid review and the opinions expressed within are strictly my own.
This post is linked to Gluten-Free Wednesdays.
Have you heard about the gluten-free crab cakes on the market? On December 7, Handy International announced "the world's first and only Certified Gluten-Free Crab Cake." These crab cakes are certified gluten free by the Gluten-Free Certification Organization (GFCO). As Handy states on its site, that means that "Handy Gluten-Free Crab Cakes meet standards more than twice as stringent as the USFDA's." Actually as most of us who are gluten free know, the FDA's standards in regard to gluten free are only proposed at this time, but it's true that GFCO standards are less than 10 parts per million (ppm) gluten, whereas, proposed FDA standards are less than 20 ppm gluten. As I've shared before, I don't have any gluten reactions to products that are certified by the GFCO, but do to products that meet the "less than 20 ppm gluten" standard. Therefore, even the super sensitive among us should be okay with these Gluten-Free Crab Cakes because of their GFCO certification.
From Handy's Gluten-Free Crab Cake website:
 

Handy's Gluten-Free Crab Cakes are setting the standard in Gluten-Free living without sacrificing taste or satisfaction. Enjoy 6 of our Restaurant Quality 3oz. Handmade Gluten-Free Crab Cakes delivered right to your door. Share this culinary wonder with friends or indulge alone.

Handmade with no preservatives, 0 trans fats, and made with all natural ingredients! Each 3oz. cake will satisfy with sweet fresh crab meat.
There are 3 million Americans with Celiac, 5 million Americans who are gluten intolerant, and thanks to Handy, only 1 Certified Gluten-Free Crab Cake! Don't miss this chance to indulge in this health conscious delicacy.

Shipping to your door via FedEx 2nd Day Air is always included in our pricing! We currently can only ship Monday, Tuesday, and Wednesday for delivery Wednesday, Thursday, and Friday within the continental United States. For all other requests please contact us at [email protected].
 What I like about these crab cakes …

~ They are good. There are big chunks of crab meat, the amount of bread crumbs included is relatively small (mostly just enough to hold the crab meat together and give some tasty texture), and the flavoring combination of seasonings and mustard is quite nice. Okay, these crab cakes are not quite as good as my homemade ones (made from the recipe on the back of the Old Bay Seasoning tin with local fresh crab), but they are still good. Handy's representative told me that these crab cakes were chosen over "gluten-full" crab cakes time and time again. It's important to note that the crab cakes are also attractive. Simple baking per directions yields lovely golden brown crab cakes. (I did flip mine towards the end of the baking time.) And, for a change of pace, it was quite enjoyable to pull a package out of the freezer and have hot tasty crab cakes to eat in 22 minutes. It was easy to add a salad or a baked potato and a veggie and have a great meal.  Of course, for some folks—like Son—only the crab cakes will be needed for a meal. Twice over the holidays he ate two of these as his dinner and loved them!
~ Crab is the primary ingredient. Most of the other ingredients are "real food" and I'm okay with them.  
~ UPDATE: The latest formulation of these crab cakes does not contain dairy; that's a bonus, although the product I tried did. Here's an excerpt from this page of Handy's website where they respond to a reader's query about dairy free. Handy states below that the new crab cakes that are both gluten-free AND diary-free are being "rolled out."  
Comments

Posted by Handy International on December 16, 2010

Currently, the Gluten-free Crab Cake does contain milk (as seen on the Nutrition Facts label). We have already altered the recipe, however, to avoid this ingredient in future shipments and the packaging will change accordingly. All product being sold in club stores such as Costco is already of the non-dairy variety, but we're currently moving the final inventory of product that contains dairy.

Thanks for the great question/comment! You'll see a posting here as soon as we're into the non-dairy shipment. If you're wondering how to tell at the grocery store it's a simple as reading the ingredient label. If you don't see evaporated milk, then it's the newer shipment that is completely dairy free.
~ The size of these crab cakes is just right.
~ I think these crab cakes would be an excellent option for restaurants and other food services (like caterers) that want to offer another seafood option for the gluten-free consumer. I would love to be able to order a gluten-free crab cake while eating out. Of course, restaurant personnel would still need to be trained adequately to ensure no cross contamination occurred once the crab cake was removed from the packaging for heating and serving. But having these bonafide, certified crab cakes would go a long way in mitigating the usual risks.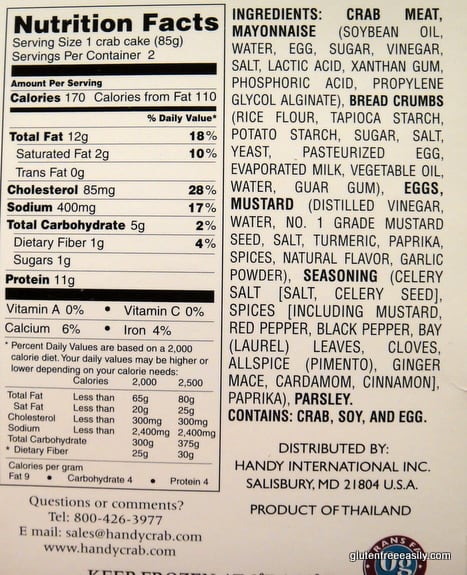 What I don't like about these crab cakes …
~ They contain soy.  I realize it's a common ingredient in packaged foods and I do eat it occasionally in that form, preferably in small amounts. In this case, the crab cakes are made with mayonnaise, which contains soybean oil. When I make crab cakes at home, I also use a small amount of mayonnaise and usually, that too contains some soybean oil.
~ The cost of these crab cakes is pretty steep for the "average" consumer, and I consider myself one. The package of six 3-ounce crab cakes shown above costs $69.99. That does include FedEx 2nd day air shipping as mentioned above, but that price is still steep. UPDATE:  Handy now offers some lower cost shipping options so that ordering off their website can be less costly. Handy also states that its crab cakes are also sold at Costco, Whole Foods, and a few other spots, but they also offer the crab cakes directly to consumers via their new consumer targeted website: www.glutenfreecrabcake.com.  In the words of Carol Haltaman, the head of Handy's research and development team, "The gluten-free community has strong ties to the web and we wanted to give them direct access to the product until a retailer close to them carries the product." 
~ But my biggest issue with these crab cakes is that they are produced in Thailand. I find that a bit puzzling and more than a bit concerning. Handy International—the company that has given its name to these products—is located in Salisbury, MD, which is on the Eastern Shore of Maryland. The Eastern Shore is considered by many to be one of the "seafood central" spots on the East Coast, with the emphasis being on the Maryland Blue Crab. The Maryland Blue Crab is what I use to make crab cakes and what one would think would be contained in all crab cakes. Handy is only shown as the distributor of this product … as you can see on the label above.  I'd be much happier if these crab cakes were also produced in the U.S.
The fact is that I pass up seafood from Asia and other countries regularly as much of what I know about seafood that comes from foreign waters is not good. There have been numerous articles by public watch groups and health reporters questioning the safety of imported seafood and even documenting unsafe seafood; e.g., the presence of toxins. There has also been acknowledgement by senior FDA personnel that the FDA does not currently have the staff to properly inspect all the seafood coming into the U.S. That's a huge issue because by some estimates, 80% of the seafood consumed in the U.S. is imported. I'm not going to quote or reference any further information because I would be pointing you to data unrelated to Handy Crab Cakes and that would be patently unfair. I don't know if those concerns come into play at all with the products  that Handy International distributes. I do invite Handy representatives to respond and address that concern.  
While I don't typically purchase imported seafood at the grocery store or local seafood markets,  I do frequently eat seafood out and I rarely inquire on the source of the seafood. Sometimes that information is shared on a food establishment's menu (e.g., "Wild Alaskan Salmon'), but do I even know if it's accurate information? I'm not trying to cloud the issue here, but I do want to point out that I have not been "operating" in accordance with my concerns regarding foreign seafood all of the time. To be honest, I never thought of my inconsistencies on the subject before doing the brief research for this post. I'll be much more aware and "investigative" with my future seafood purchases—even the ones that don't come with a label and clear info in black and white.
Conclusion …
These crab cakes are delicious enough that I'd eat them again and even buy them upon occasion (more than likely, those would be special occasions), but I'd be more inclined to do so if they were produced in the U.S. using "local" crab meat. While I don't buy packaged foods often and our usual method of eating crab meat is "picking" steamed crabs, eating Crab Norfolk, or eating Susie's Crab Casserole, the gfe family would be happy to see these crab cakes make an appearance occasionally. (Okay, Son would like a freezer full of these crab cakes, but that will have to wait until he's completely on his own.)
See the complete roundup of 25 Days of Christmas posts here. All 25 posts will be up by the end of the day to celebrate my 2-year "blogiversary" … I think they will be worth the wait! In the mean time, don't forget to enter the giveaway for Stephanie O'Dea's new cookbook, More Make It Fast, Cook It Slow, on my Out and About page here.
Update: Here's a response from Kevin Voisin of Handy International on my review and readers' comments:

"We are thrilled to see people eating and enjoying the new gluten-free crab cakes. At Handy we strive to set a new standard in quality, taste, and in doing the right thing in seafood – and have been for over 100 years. Thank you all for your comments and insights on making our gluten-free crab cakes better. We appreciate your input and I'd like to respond to your comments.

Cakes Containing Dairy

We have completely eliminated dairy from our gluten-free crab cakes. As of now no product shipped on the site contains dairy. We are very grateful that you have made us more keenly aware of the issue of dairy sensitivity amongst the gluten-free community.

Crab Cake Pricing

There is no doubt that the least expensive way and best way to enjoy our crab cakes is to buy them locally from a grocery store near you. Far from competition, we see local retailers as essential partners in supplying the gluten-free community with the great food products they want and need. You can find a list of retailers who carry the product near you by visiting http://www.glutenfreecrabcake.com/pages/buy-locally .

The shipping involved in getting the product direct to a consumer's door certainly adds to the pricing, but we thought it was important to give the entire gluten-free community access to this product right away – even those located far from our retail outlets. We included shipping in the price of every package so there were no hidden costs to you.

Ingredients from Thailand

These cakes are made in Thailand where fresh blue crab meat is available year round which gives us the best flavor and also sufficient supply. Fresh blue crab meat is not available in the U.S. year round and the supply is limited.

We subject ourselves to independent testing by Silliker, a top inspection firm used by Whole foods and Costco. Handy's plants have received Silliker's gold certificate – an achievement only the top 10% of inspected companies achieve. Handy is also a founding member of the National Fisheries Institute's Crab Council, a groundbreaking group focused on creating a more sustainable seafood offering, and works diligently to provide the most consistent high quality products the crab community has to offer."