For affiliate links and as an Amazon Associate I earn from qualifying purchases.
Today I'm sharing a new naturally gluten-free recipe, Pimento Cheese Spread. Pimento Cheese Spread—or you can simply call it Pimento Cheese—is a truly wonderful Southern recipe. It can be served on gluten-free crackers, with celery sticks, on gluten-free toast points, on gluten-free bagels, and more.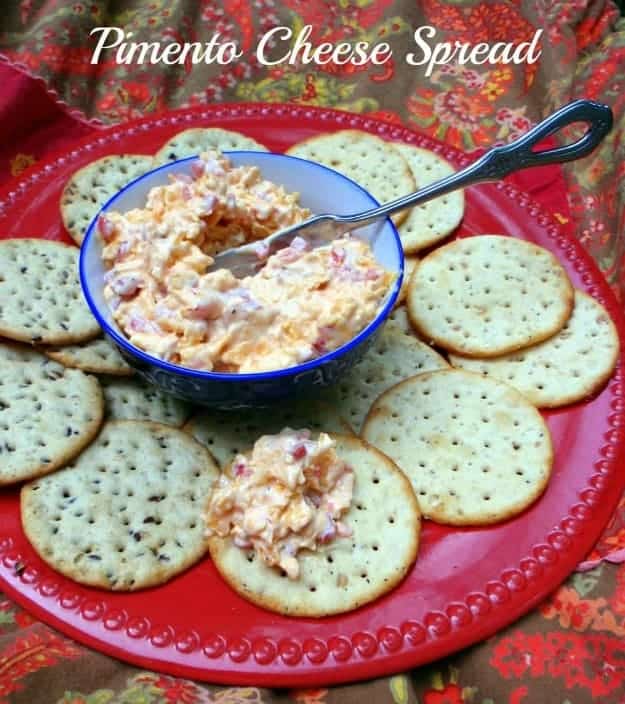 Back during the holidays, I hosted a tea for my girlfriends in lieu of giving Christmas presents. (I'm all about experiences versus "things" these days.) The tea was a totally delicious event as well as a grand time!
My friend Veronica brought her homemade Pimento Cheese Spread. Everyone agreed that it was an excellent recipe. It was also a welcome savory offering as tea events always tend to be a bit heavy on the sweets.
There are quite a few "worthy" gluten-free crackers on the market now. That is a wonderful thing! I remember when I first went gluten free and there were very few gluten-free crackers, none of which were available at my local grocery store.
One brand had been recommended to me. In fact, I'd read raves online.
We had a local health food store at the time and I ordered a case of these highly-acclaimed crackers through them. When I was told the order was in, I hurried down to the store and picked up my case of crackers and a few more items.
Once home, I excitedly opened one of the packs of crackers. Hmm, they didn't look anything like the gluten-full crackers that I'd enjoyed in the past. In fact, they looked like birdseed that had been pressed into crackers.
One bite told me they also tasted like birdseed that had been pressed into crackers. I was not impressed. In fact, I spit out the cracker.
I lamented to my friend who happened to be an employee at the store that I had been overzealous in my purchase. She told me that they had enough customers that did enjoy that brand of crackers and they'd be happy to buy the unopened boxes to sell.
Whew! I was so relieved! If you've ever purchased a gluten-free product that you detested from the first bite and had to chuck and then were so sorry you'd wasted your money, you know the situation I had just gotten out of.
I was always super cautious about purchasing gluten-free crackers after that. But, again, we have many good gluten-free cracker options now. Thankfully.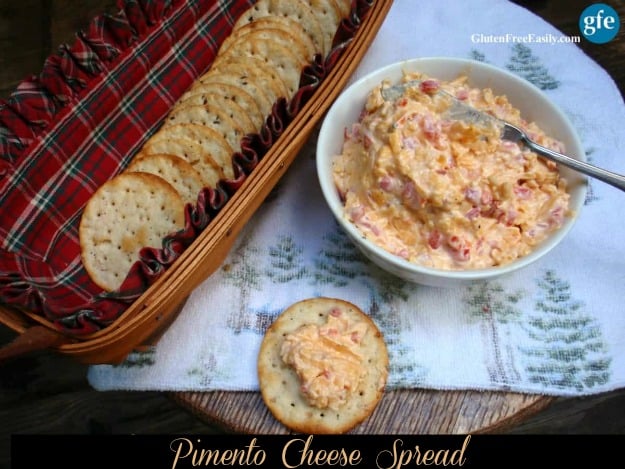 Pimento Cheese Spread—A Delicious Easy-to-Make Appetizer That Works for All Events
Veronica started out with a recipe from Southern Living, modifying it to her tastes and preferences. I modified her recipe a bit further, adjusting the ingredient amounts to my own liking.
This is a simple recipe that's so easy to make, but one which will impress family and guests with both its appearance and flavor. I even used some of this spread as part of the filling in my taco the other night. Yum!
The recipe below is enough to serve a group, but I halved the recipe when I served it as an "everyday" appetizer for the two of us. This Pimento Cheese Spread will work for a variety of events.
For example, I think it would be ideal for serving on Christmas morning while presents are opened. We all need something to eat on that often hectic and exciting morning, but we don't want to stuff ourselves if there's turkey, ham, mashed potatoes and pies coming up that afternoon.
And if you're invited to a Memorial Day event or summer picnic, this Pimento Cheese Spread and gluten-free crackers combo would also be welcomed, because as you can see, this spread and crackers makes a great presentation. And I promise you that it tastes even better!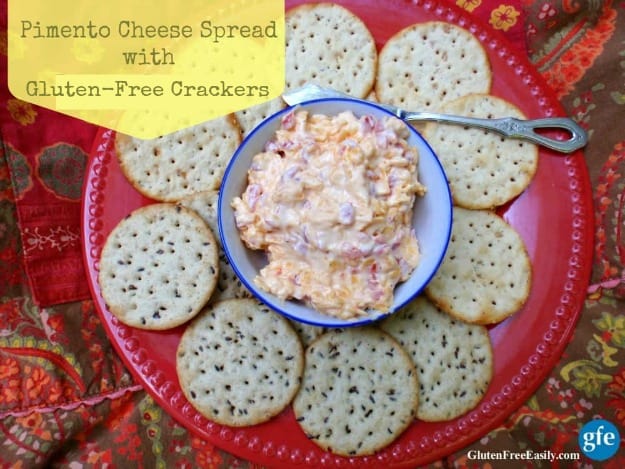 Yield:
Pimento Cheese Spread Recipe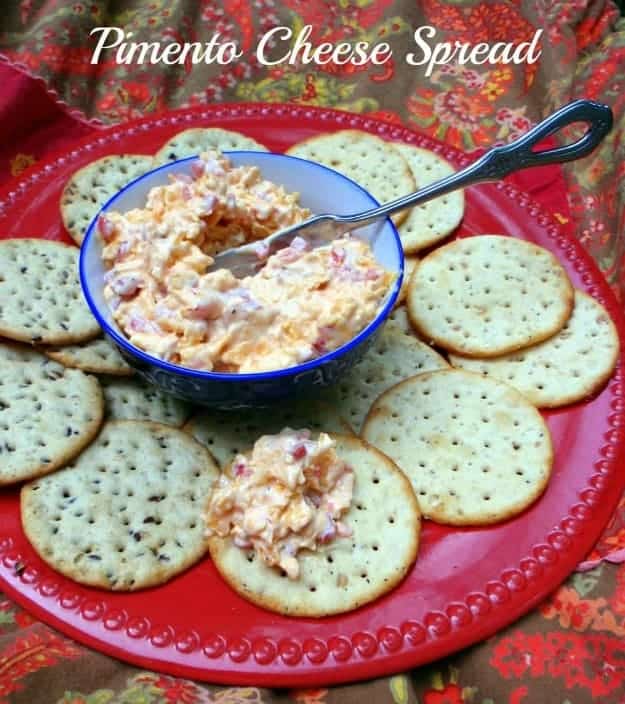 A classic Southern appetizer recipe that serves one to many and works for events year round.
Ingredients
10 ounces good quality extra sharp cheddar cheese. (I used Cracker Barrel per Veronica's guidance), coarsely grated
one 4 oz. jar of diced pimentos (see notes regarding draining)
½ cup mayonnaise
1 tsp onion powder (or about 1 tbsp finely chopped onion)
1 tsp Worcestershire sauce
Freshly ground black pepper (several turns of the grinder, to taste)
Instructions
Combine all in a bowl, mixing well. Serve.
Notes
Remove the pimentos from the jar with a spoon so that you get a little of the liquid to add to the flavor and consistency of the spread.
Refrigerate if not serving immediately and refrigerate any leftovers.
Originally published May 25, 2015; updated June 4, 2018.