This post may contain affiliate links. If you purchase through them, your cost will stay the same, but gfe will receive a few cents for every dollar spent. Thanks for supporting gfe!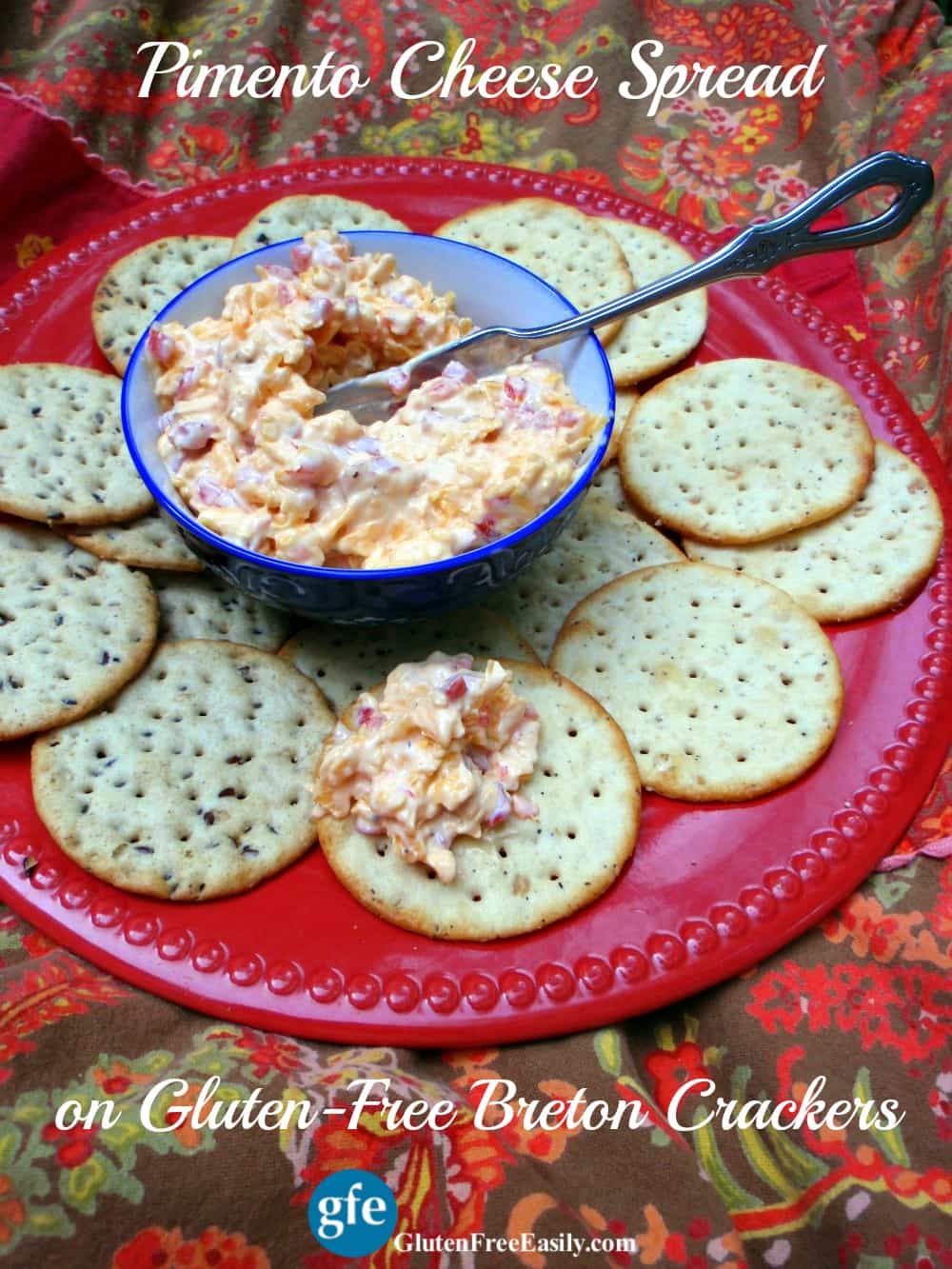 Today I'm partnering with Dare Foods to bring you a review of their gluten-free Breton crackers paired with a new recipe, naturally gluten-free Pimento Cheese Spread, which is a wonderful topping for these crackers.
Back during the holidays, I hosted a tea for my girlfriends in lieu of giving Christmas presents. (I'm all about experiences versus "things" these days.) The tea was a totally delicious event as well as a grand time! My friend Veronica brought her homemade Pimento Cheese Spread. Everyone agreed that it was an excellent recipe. It was also a welcome savory offering as tea events always tend to be a bit heavy on the sweets.
When Dare Foods' line of Breton gluten-free crackers made its way to my area, I bought some right away and I immediately thought of topping them with Pimento Cheese Spread.  But before I got around to making the recipe, I topped these crackers with everything else—like tuna salad, salmon, garlic spread, and chocolate hazelnut butter—or I simply enjoyed them plain.
Not only did I keep buying them for us to enjoy, but my gluten-full mom and gluten-free aunt were also enjoying them. In fact, we all immediately liked them so much that there has not been a single shopping trip since when Breton's gluten-free crackers didn't make it into our grocery carts. That's quite an endorsement!
What Else You Need to Know About Breton's Gluten-Free Crackers
Breton's gluten-free crackers taste like "regular" crackers, folks. They have the perfect texture–with both crispiness and "give"—and taste, and that's for all four flavors. I can't recommend one flavor over another. That's because I like them all for different reasons and use them as the base for different toppings, or use them to satisfy different cravings when I eat them sans topping.
I also really like the shape and size of these crackers. They're round and 2 ½ inches in diameter so, as you can see, they make a really appealing presentation.
Breton's gluten-free crackers are "certified gluten-free" by the Gluten-Free Certification Program (GFCP) per the seal on product packaging. (This program is endorsed by the National Foundation for Celiac Awareness.) The four flavors offered in the gluten-free product line are Original with Flax, Herb and Garlic, Black Bean with Onion and Garlic, and White Bean with Salt and Pepper.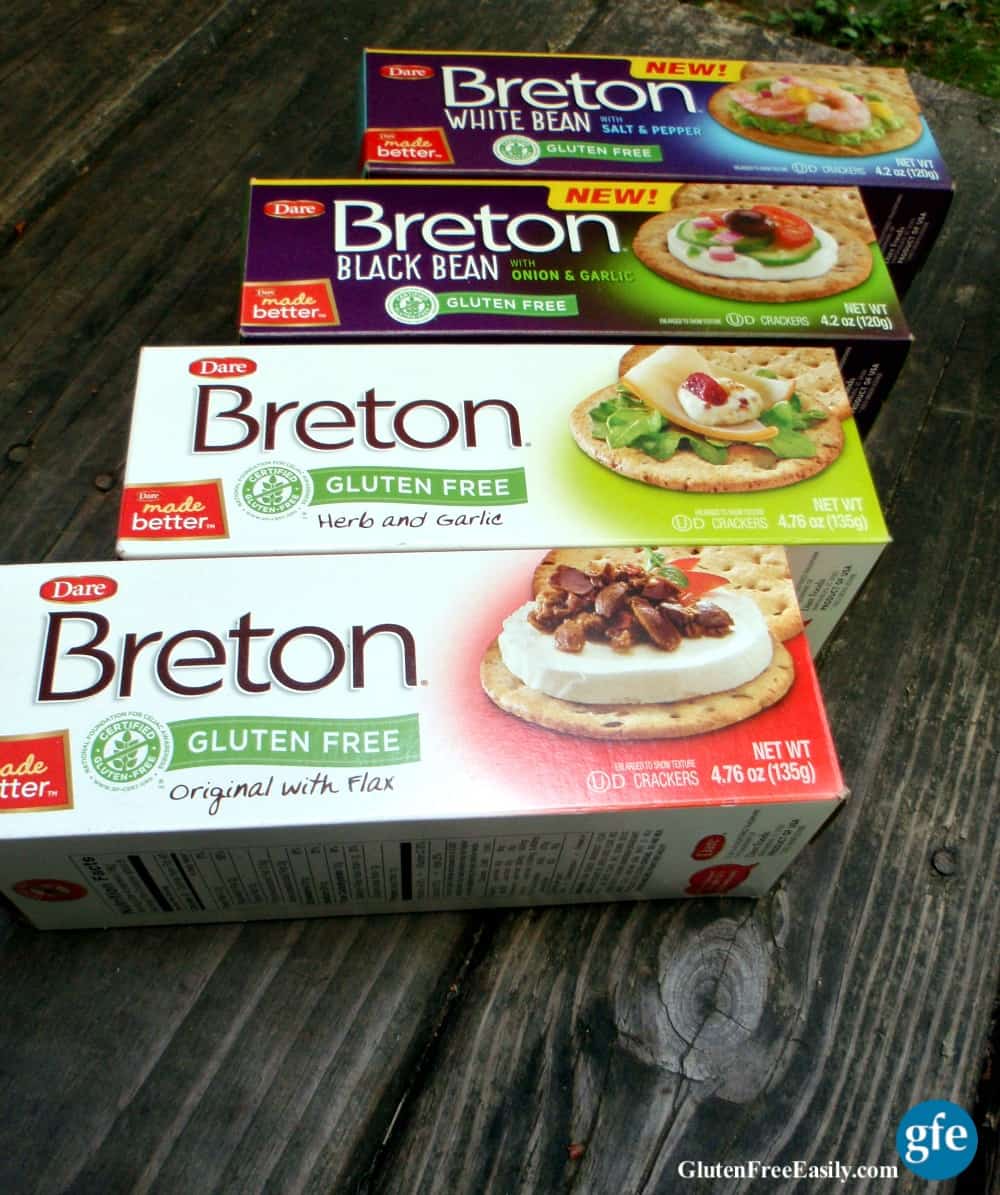 The main ingredient in the White Bean with Salt and Pepper crackers is "dried navy beans." The main ingredient in the Black Bean with Onion and Garlic crackers is "dried black beans." The Original with Flax crackers and Herb and Garlic crackers both include green lentil flour. Cornstarch, arrowroot flour, coconut oil, and sesame seeds are some of the other ingredients in these crackers. All the ingredients contribute to the "regular" taste and texture of Breton's gluten-free crackers. You can see all the product ingredients on Breton's site by clicking on the individual flavors of the gluten-free crackers.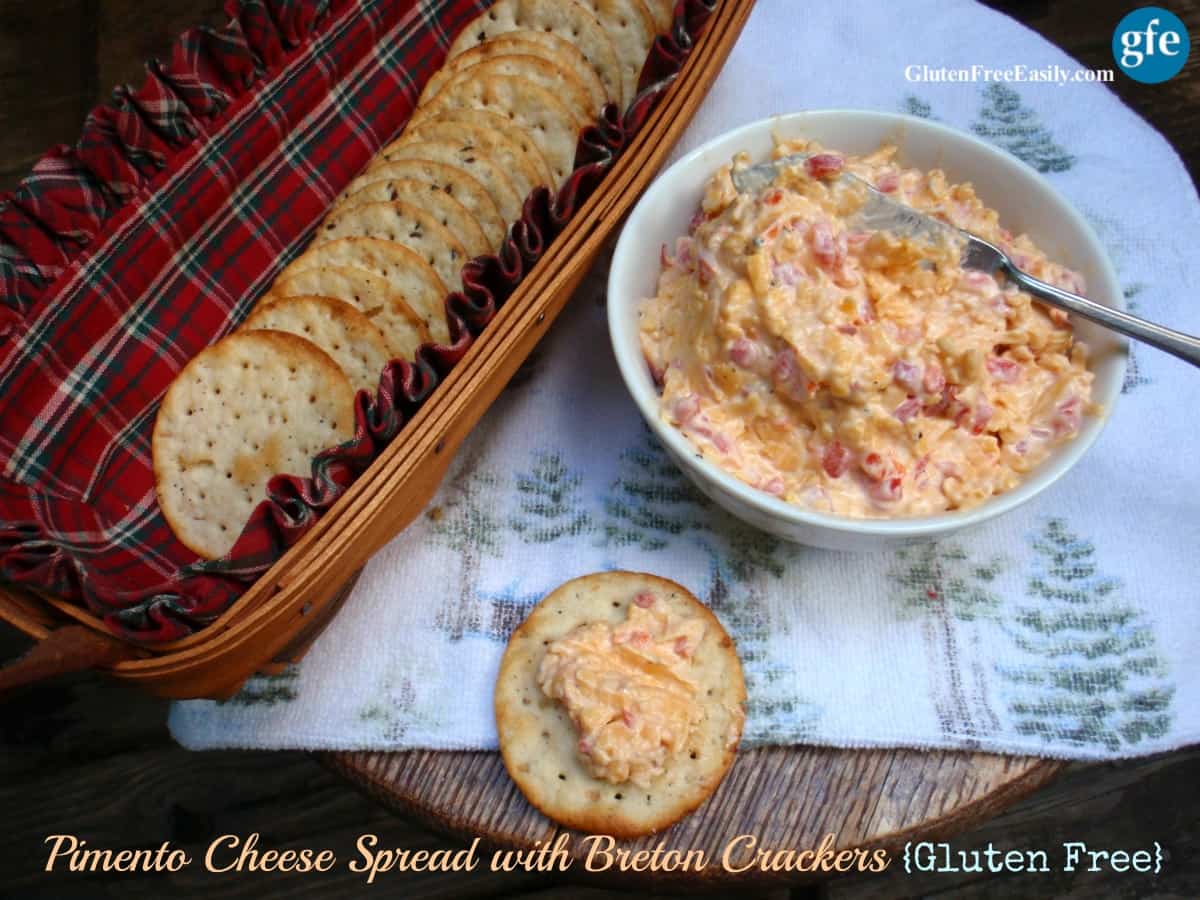 Pimento Cheese Spread—A Delicious Easy-to-Make Appetizer That Works for All Events
Veronica started out with a recipe from Southern Living, modifying it to her tastes and preferences. I modified her recipe a bit further, adjusting the ingredient amounts to my own liking.  This is a simple recipe that's so easy to make, but one which will impress family and guests with both its appearance and flavor. I even used some of this spread as part of the filling in my taco the other night. Yum!
The recipe below is enough to serve a group, but I halved the recipe when I served it as an "everyday" appetizer for the two of us. This Pimento Cheese Spread will work for a variety of events. For example, I think it would be ideal for serving on Christmas morning while presents are opened. We all need something to eat on that often hectic and exciting morning, but we don't want to stuff ourselves if there's turkey, ham, mashed potatoes and pies coming up that afternoon. And if you're invited to a Memorial Day event or summer picnic, this Pimento Cheese Spread and Breton gluten-free crackers combo would also be welcomed, because as you can see, this spread looks great on Breton's gluten-free crackers and I promise you that it tastes even better!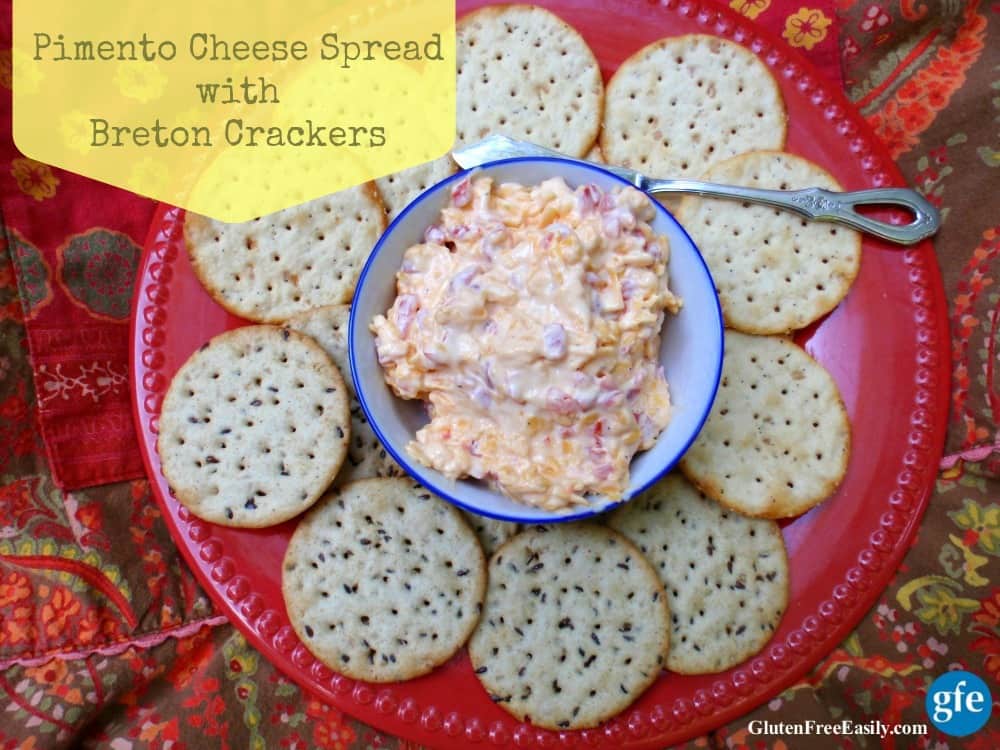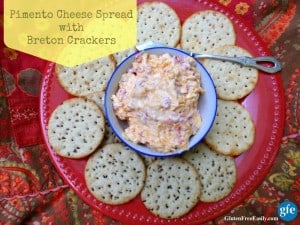 Print
Pimento Cheese Spread Recipe
A classic Southern appetizer recipe that works for one to many and for events year round.
Ingredients
10 ounces good quality extra sharp cheddar cheese. (I used Cracker Barrel per Veronica's guidance), coarsely grated
one 4 oz. jar of diced pimentos (see notes regarding draining)
½ cup mayonnaise
1 tsp onion powder (or about 1 tbsp finely chopped onion)
1 tsp Worcestershire sauce
Freshly ground black pepper (several turns of the grinder, to taste)
Instructions
Combine all in a bowl, mixing well. Serve.
Notes
Remove the pimentos from the jar with a spoon so that you get a little of the liquid to add to the flavor and consistency of the spread.
Courses Appetizer
I was selected for this opportunity as a member of Clever Girls and the content and opinions expressed here are all my own.