For affiliate links and as an Amazon Associate I earn from qualifying purchases.
Yes, here I am finally … back from our motorcycle trip with a recipe for gluten-free and lovely London Broil!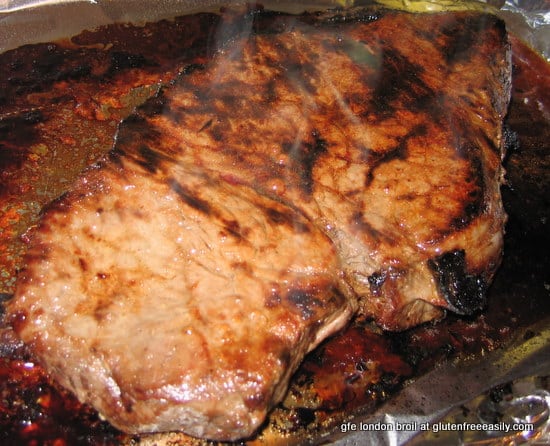 But first, let me tell you about our trip. We returned Monday evening, but it's taken me this long to "re-enter" normal life! LOL The trip was a great one and I promise to share lots of info, specifically, the gluten-free food I experienced, but for now, I'll just share a few quick trip stats and a little trivia of sorts.
We traveled 11 days; visited 10 states; spent 4 nights in ME, 3 nights in PA, 1 night in NY, 1 night in NH, 1 night in MA; stayed at 8 B&Bs; stayed at 2 hotels; visited 3 groups of friends; had 1 day of heavy rain (4 inches—that halted our trip overnight); saw 1 moose (and got photos!); packed two pairs of jeans each, three casuals shirts each, and one dress shirt each; took 1 new camera; purchased 3 items; enjoyed 8 excellent to stellar dinners; ate 8 breakfasts that included eggs; ate 3 lobster meals; ate 1 fast food meal (last day on interstate); traveled 5 miles of dirt roads due to road construction (one lane at a time, near the precipice … with no guard rail). My favorite billboard along the way:
Recession 101 "Economic forecasts tend to be shovel-ready."
Also, I just learned a saying that rang true regarding our road travel in New England:
"There are two seasons in the north: winter and road work."
There was a lot of road work going on and lots of roads that needed road work. I guess with the winters you northern folks get, plus cutbacks on road maintenance due to the economy, it's pretty understandable that any time other than winter is focused on road work, that your roads suffer due to the harsh winters, and that some roads are not getting as much attention as they have in the past. (Even here in Virginia, the state and localities have eliminated most mowing of medians and roadsides for economic savings.)
Now tomorrow (i.e., Friday), I'll share the Go Ahead Honey It's Gluten Free! roundup for this month's theme, Make Me A Happy Camper. It's a really nice mix of wonderful recipes suitable for camping, picnicking, hiking, etc.—you guys excelled as usual with your entries! But, first, let me share one more gfe recipe that works great for camping or cooking at home.
A little background … Mr. GFE and I had told Son that we didn't want Mother's Day or Father's Day presents this year. Well, not things anyway. (We have too many things already.) With a 21-year old son, the thing we treasure most is spending time with him, so we asked him to join us camping one weekend this summer. We got our present on July 4th, which made that weekend even more celebratory than usual. Son typically likes to have "running buddies," so he had a bunch of friends join him.
He asked me to bring lots of food. "Kids" of that age tend to eat a lot of snack foods, but not too many real meals. So while we did enjoy my alternative Cookie S'mores for dessert one night, I purposely planned to have substantial meals every evening for the crew.
As I gathered provisions for the weekend, I had perused the contents of my freezer. When I first spied the London Broil cut, I almost dismissed it as a dinner possibility. I don't usually think of London Broil as camping food, but I thought about it a minute because the cut was very large and finally decided it would be a great choice for feeding the masses. Plus, I could put the meat in the cooler frozen and it would help keep the other contents cold.
I mixed up the marinade in a glass jar before we left home and stored that in the cooler, too. Once we arrived at our property, I placed the London Broil in a plastic bag and covered it with marinade. (Occasionally I'd flip the bag to ensure the meat was evenly marinated. You can read the additional directions in the recipe below.)
London Broil or flank steak is another one of those meats you can usually get at a great discount (like pork butt, also known as Boston Butt, for my Fabulous Pork Butt (Pulled Pork)) and while the price of the piece of meat still can seem costly, the cost per serving ends up being a bargain. London Broil cuts frequently go on sale for 50% off at my local store. I usually buy one or two and freeze them for when the mood strikes.
London Broil is so flavorful that it's great served a variety of ways: traditional, as a cold and slightly chewy protein snack (think beef jerky), or as a nice topping for a robust salad. I've used the following recipe many times. It's one I came up with by taking various recipes and "mixing" and "matching" … combining my favorite ingredients from each into a single recipe.
The resulting London Broil is really good. Like the pork butt, it's another simple, naturally gluten-free (i.e., gfe) dish that can make you look like a rock star in the kitchen—even if that "kitchen" consists of built-in counters, a cooler, a stove, and a grill, all nestled in the middle of trees overlooking the river. 😉
This lovely London Broil fed nine of us (with side dishes as well, of course) and everyone enjoyed it. There was even some left over to make delicious steak hash for breakfast. Check out this gfe recipe and a photo below … hot off the grill for you!
As you'll see, this is just a regular recipe made gluten-free by using gluten-free soy sauce and gluten-free Worcestershire sauce (which is not readily available if you're in Canada, it seems so be extra cautious regarding this ingredient if you're in Canada). So once again, this recipe is another example of following the gfe approach!
More Delicious Gluten-Free London Broil Recipes
~ Chimichurri London Broil from Mashup Mom
~ Grilled and Marinated London Broil from Allergy Free Alaska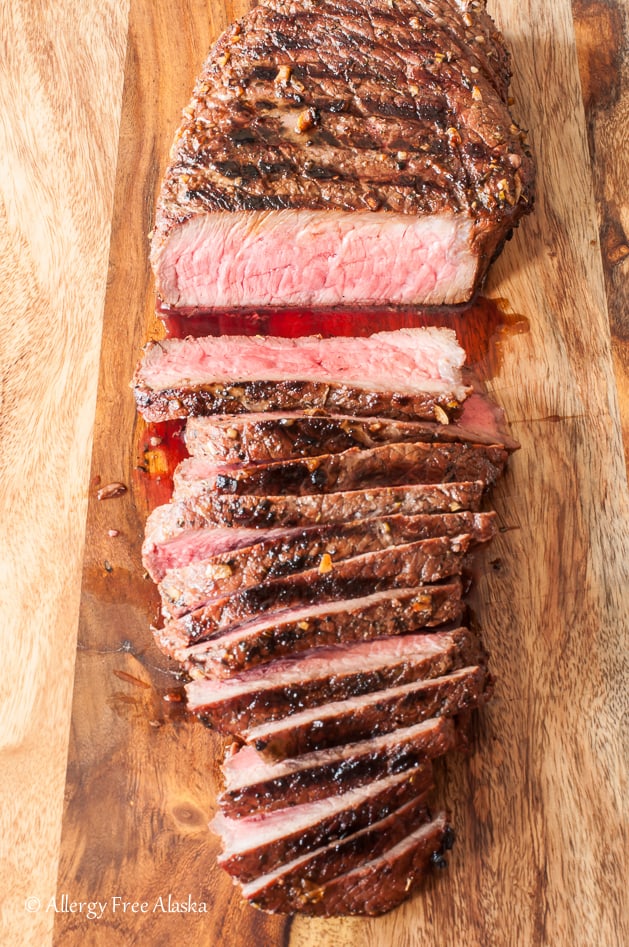 ~ London Broil with Balsamic Marinade from Primal Palate
Gluten-Free Lovely London Broil Recipe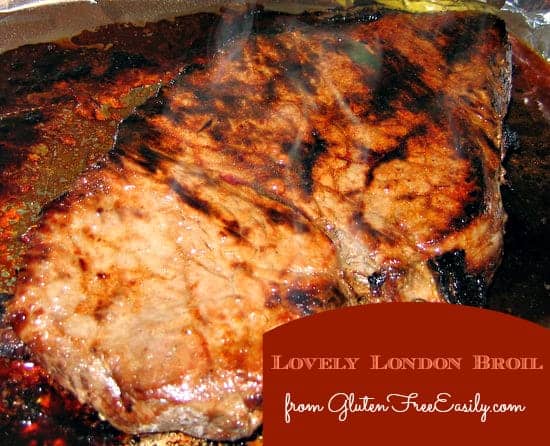 Yield: 8 servings
Lovely London Broil (Gluten Free)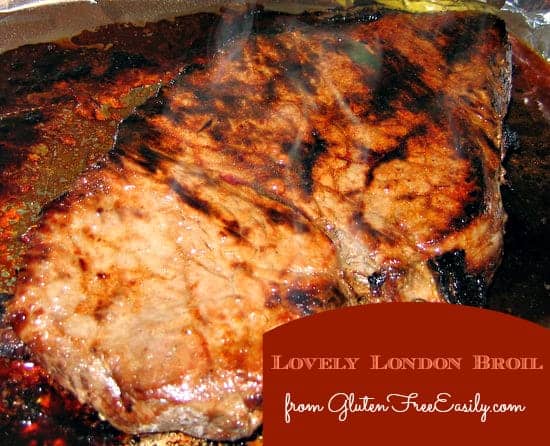 Lovely London Broil is a very special meal and can be made at home or when camping. Making it gluten free only requires ensuring that you use the gf version of ingredients like soy sauce.

Prep Time 4 hours 10 minutes

Cook Time 20 minutes

Inactive Time 4 hours 10 minutes

Total Time 8 hours 40 minutes
Instructions
Marinate meat at least 4 hours or overnight. Turn at least once, about half way through marinating.
Grill or broil at medium-high heat for 7 to 10 minutes on each side for medium rare. Cook slightly longer for medium.
Let sit several minutes before serving. Slice at an angle into thin slices.
Notes
You can prepare London Broil to medium doneness, but you don't want to cook it any longer than that as it will be dry and tough. Even at medium rare, or medium, remember that the meat continues cooking for a bit after it's removed from heat, so remove from heat before it appears done.

*If you don't eat soy at all, you can make your own substitute or use Coconut Aminos. Per the AllRecipes site you can substitute Worcestershire sauce mixed with water for soy sauce. So skip the soy sauce if you like and use the substitute of your choice---2 more tbsp of Worcestershire sauce plus 1 tbsp water or Coconut Aminos. I've also mentioned this recipe for homemade soy sauce before, but be sure you use gluten-free and soy-free bouillon if you make it.

Originally published July 31, 2009; updated November 25, 2022.