For affiliate links and as an Amazon Associate I earn from qualifying purchases.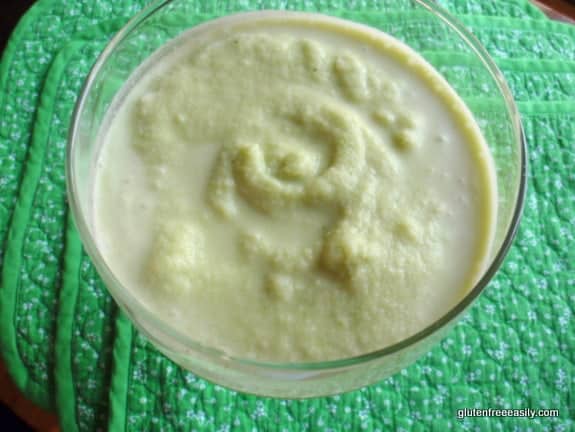 This recipe was originally shared over at Tasty Yummies for St. Patrick's Day, but what I originally called a Shamrock Shake, can very easily be called a Summer Green Frozen Smoothie or Minty Coconut Shake. The name is completely up to you, but the important thing to know is that this one is just too good to reserve for only one day of the year.
A little background … I used to be one of those folks who would go to a certain fast food place during the St. Patrick's Day season and order the Shamrock Shake. When I went gluten free and started reading labels and actually realized what was in my "food," I quickly gave up Shamrock Shakes. You can see the specifics on that fast food Shamrock Shake here, but a heads up, there are 52 ingredients in the other Shamrock Shake. Many are ones we can't pronounce or even have any idea what they are. Others we'd rather not know or have in our food. Blech! But who doesn't like festive holiday beverages, including indulging in green food and drink on St. Patrick's Day? And who doesn't love refreshing cooling beverages? Okay, maybe not so much in the dead of winter here, but with temps reaching the 90s here in Virginia this weekend, this cooling concoction is more than welcome. In fact, it might just be a necessity! Oh, and one more thing—a very important thing—my recipe has just four ingredients … four real food ingredients.
I had made delicious and healthy Mint Chocolate Chip Ice Cream before, so it didn't take much effort to turn that recipe into this drinkable potion. The pale green coloring in this recipe does not come from mint or food coloring; it comes from a small amount of baby spinach. It seems hard to believe, but there is no spinach taste. This fact won't come as a surprise to those who add baby spinach to their green smoothies all the time. Baby spinach is very, very mild in taste. And the mint flavor in this shake doesn't come from mint leaves, but rather peppermint extract or peppermint schnapps. The version made with the latter is my personal favorite, but I think you'll really enjoy this one made either way!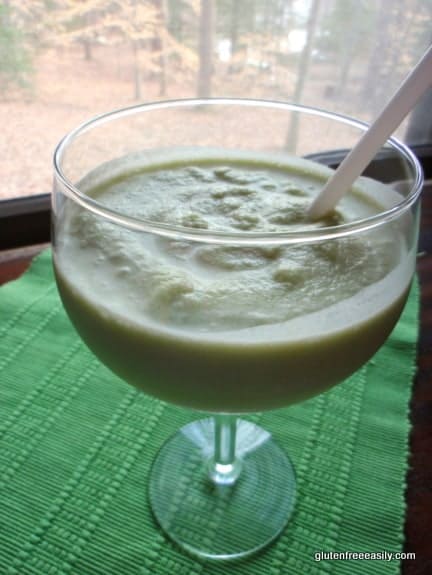 Yield:
Summer Green Frozen Smoothie/Minty Coconut Shake/Shamrock Shake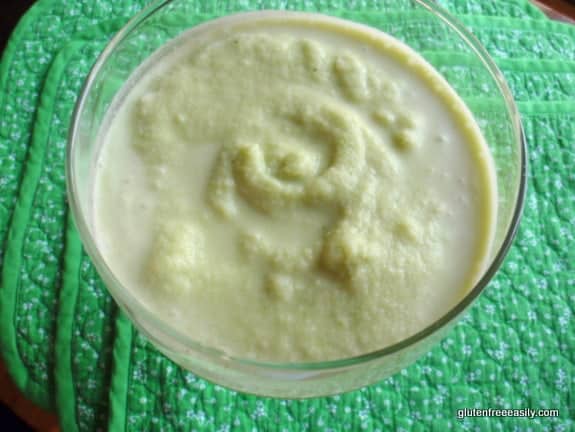 Ingredients
2 3/4 cups full-fat coconut milk, chilled
2/3 cup maple syrup (more or less, to taste)
1/4 cup fresh baby spinach (be sure to discard the stems)
2 tsp peppermint extract (or 1 tbsp peppermint schnapps for a still "mild," but adult version)
Instructions
Mix ingredients in blender until there are no visible particles from the spinach leaves. Pour mixture into the pre-frozen tub of your ice cream maker. Set blender pitcher aside.
Churn for about 10 to 15 minutes. Check consistency at 10 minutes; churn additional minutes if needed.
If you accidentally freeze too much and don't get enough of a shake consistency, spoon mixture back into blender and blend on high for about 30 seconds. Pour into desired size glasses and serve, with spoon or straw.
Makes one massive shake (worthy of two straws!), about two 2-cup servings, or about 4 smaller servings.
Notes
I've learned from my fellow bloggers and my own experimentation that adding alcohol to ice cream ensures creaminess and less crystallization. The beauty of making ice cream without eggs is that you can keep sampling your mix until you get a taste you like, before you add the mixture to the ice cream maker. If you don't have an ice cream maker, you might try this method for making ice cream from David Lebovitz. This recipe makes a shake that's a perfect green color—a natural green color, I might add. Unfortunately, the lovely shade of green doesn't really come through in the photos.
 This post is linked to Wellness Weekend, Allergy-Free Wednesdays, Gluten-Free Wednesdays, and 5-Ingredient Mondays.