For affiliate links and as an Amazon Associate I earn from qualifying purchases.
I'm one of those rare folks who use very few skin care products. The ones that I do use are single ingredient products or contain very few ingredients. And those ingredients are not chemicals, so there's no need to decipher unpronounceable terms and determine if such ingredients are gluten free or not. I am often contacted by skin care company representatives and friends who have become independent distributors for such companies. As much as I want to support my friends in such endeavors, when I look at the ingredients and see mostly chemicals, especially ones like cancer-causing parabens, I have to decline. So it's wonderful when I don't have to decipher ingredients and can recommend wonderful, naturally gluten-free skin care products like MadeOn Skin Care products.
MadeOn Skin Care products are ones that I can wholeheartedly recommend. It's a family run business that was started by Renee Harris as a solution to heal her own dry, cracked, and, as a result, pain-ridden hands. You can watch Renee talk about her company and her products via YouTube here. I've been using MadeOn products for over a year now and even gave several MadeOn Skin Care gift packs to family members for Christmas last year. I love that the gift packs come in small muslin tote bags. Just tie on a gift tag and/or pretty red ribbon and you're all set! I also gave some of the hair butter to a dear friend with super curly hair; she loves the product.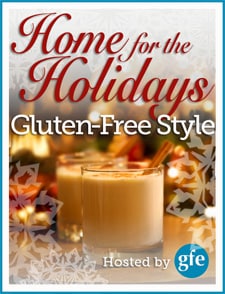 Let's talk about the specifics on the products themselves a moment.
Hard lotion means lotion that is solid at room temperature. It warms and softens from one's body temperature and once softened is easily applied. Hard lotion is designed to specifically protect hands and feet from cracked skin and extreme dry skin. It's this product that I use the most. I keep a bar at work. I keep a bar in my nightstand. I have a travel size that gets thrown in my toiletries bag. Hard lotion is my "go to" solution for "winter feet" and also makes for prettier summer "sandal feet."
What's in the hard lotion? In the standard Bee Silk hard lotion, you'll find shea butter, coconut oil, and beeswax. That's it! You know I love the beeswax factor, and it's the beeswax that helps hold in the moisture once applied. In the Au Chocolat version, you'll find cocoa butter, coconut oil, and beeswax. It will come as no surprise to those who know me well that I love this one. You can guess why!
The hair butter contains shea butter, coconut oil, beeswax, and orange essential oil, and my friend loved it! There are some great testimonial videos on the hair butter on the MadeOn website, too.
There's also lip balm, diaper rash cream, bug block, goat milk soap, and much more. There are even DIY kits so you can make your own skin care products!
MadeOn always offers free shipping on orders over $45, but gfe readers can use the code "ship25" to get free shipping for all orders over $25.
Giveaway Details:

UPDATE: This giveaway is now closed.  Thanks so much to all who entered! Remember that you can still use the "ship25" code for free shipping on orders over $25 (U.S. only) at MadeOn's site.

The winner is Susan. Her randomly selected comment was: "These natural products sound fabulous.  I would love to try the Calendula Goat Milk Soap and the Au Chocolat lip balm!"

One gfe winner will win a $35 gift certificate for MadeOn Skin Care products. (Shipping will, of course, be free for the winner, so all of the $35 gift certificate can be used on MadeOn's great products!)

To enter the giveaway:

~ Leave a comment telling which product sounds like the best one for you and your family, or share your review with us if you've used these products before. (Required)

~ Tweet the giveaway. Leave a comment.

~ Share this giveaway on Facebook. Leave a comment.

This giveaway will end Friday, December 14, at midnight EST.
Full disclosure: At one time, MadeOn Skin Care provided products to me and a giveaway winner free of charge. MadeOn is also offering the products for this giveaway free of charge.