For affiliate links and as an Amazon Associate I earn from qualifying purchases.
Now don't tell me that Thanksgiving is long past and our pumpkin pie making days are behind us this year. Please give the pumpkin pie its due. It's not a once a year thing, folks. Now while fresh pumpkin love does have seasonal limitations (although thank goodness that you can freeze your fresh pumpkin puree for later), canned pumpkin is available all year long. (Well, unless there's a shortage as there was in many places last year, including here.) So pumpkin pies can be enjoyed all year long—including today's crustless Pumpkin Butter Pie and 12 more pumpkin pies, and even a few more pumpkin pie desserts.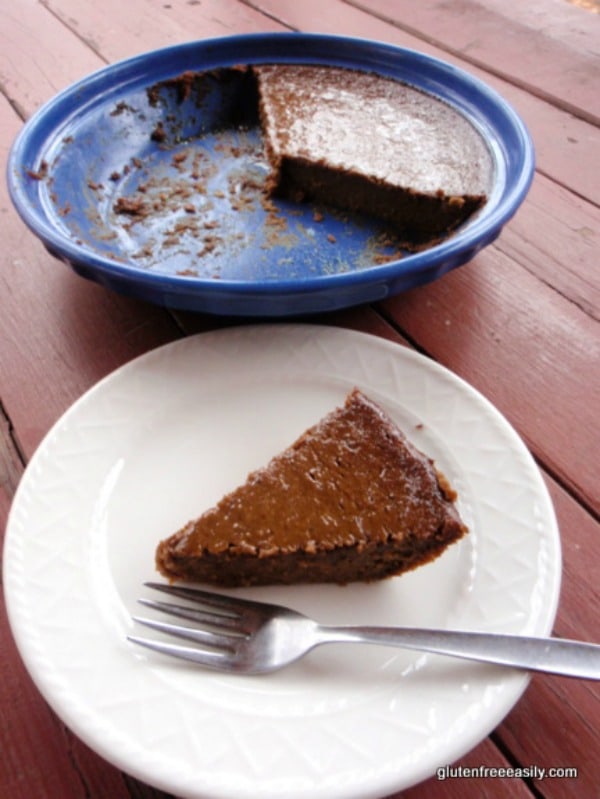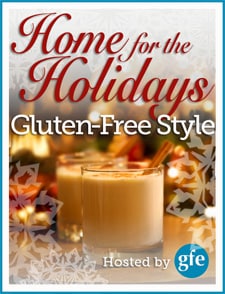 Recently I had the idea that if I used Pumpkin Butter instead of the thinner pumpkin puree in my Crustless Pumpkin Pie that I would be able to omit the small amount of flour in the recipe—the key to making the pie crustless. It didn't quite work though. The pie only set up enough to be pie consistency after refrigerating it overnight (that was not a desired option for me!), but it tasted fantastic even before it chilled enough to be "pie."  Without the flour to help absorb the sugar all the way, there was "left over" sugar, which caramelized along the edge of the pie plate. You can imagine how sad that occurrence made me! (Wink.) Then I tried the recipe again with flax eggs and pumpkin butter and less coconut milk than usual. The results were a velvety pudding that was wonderful right out of the oven or at room temperature, but again, and sadly, it was not a pie. For the third attempt, I used flax eggs and tapioca flour and again used a little less coconut milk. The resulting pie was "a gummy pumpkin candy pie." That's what one support group member dubbed it anyway. I was not happy. Finally, I gave up on my pie being egg free and grain free and just made it like my Best Ever Gluten-Free, Dairy-Free Crustless Pumpkin Pie, simply substituting pumpkin butter for pumpkin puree. The results were absolutely superb!!
The pumpkin butter adds a depth of flavor that you don't get with traditional pumpkin pie, and the color of this pie is dark and rich. Granted using pumpkin butter also means a higher sugar content, so you might decide that you'd like to reduce the sugar when making the pumpkin butter (or use a lower sugar ready-made pumpkin butter) or use less sugar in the recipe itself.
But wait, don't be dismayed if you're egg free or vegan, you can still use flax eggs (or any egg substitute that you usually use in such pies). I know flax eggs will work as they've worked in this recipe with the flour many times. And if you're looking for grain free, well, Sunny of And Love It, Too! came to my rescue when she told me that she made my usual pie recipe with coconut flour instead of grain flour—woohoo!!!! I knew if Sunny shared her success that it wasn't a fluke. But then Alyssa (Simply Quinoa) also made the recipe with coconut flour for her family's Thanksgiving and declared it a hit as well! While I haven't tried coconut flour yet with the Pumpkin Butter version, I am certain that it will work. See all the options in the recipe further below. But to give you even more choices so that pumpkin pie doesn't get forgotten with all the other holiday recipes, here are a bunch more fantastic pumpkin pie recipes from some of my favorite bloggers!
Yield:
Crustless Pumpkin Butter Pie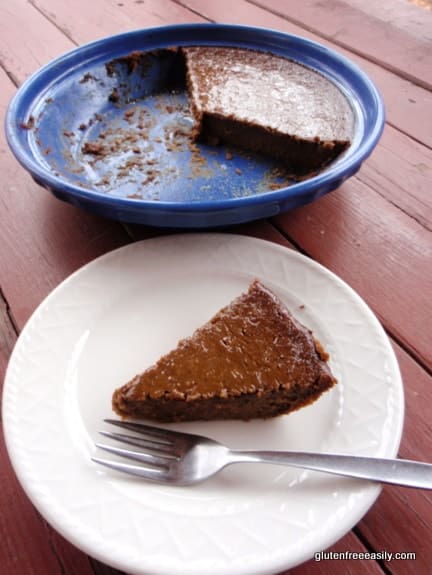 Using pumpkin butter in place of pumpkin puree makes a richer, spicier version of pumpkin pie.
Ingredients
2 eggs (see notes for egg-free, vegan version)
2 cups pumpkin butter
¾ cup granulated sugar (or coconut sugar)
½ tsp salt
1 tsp ground cinnamon (optional, see notes)
½ tsp ground ginger (optional, see notes)
⅛ tsp ground cloves (optonal, see notes)
1 cup full-fat, canned coconut milk
¼ cup gluten-free flour (your favorite single flour---even coconut flour for a healthy, grain-free option---or your favorite gluten-free all-purpose flour mix; sift if needed)
Instructions
Preheat oven to 425 degrees F. Grease pie plate and set aside.
In large bowl, beat eggs slightly; mix in remaining ingredients.
Place pie plate on oven rack; pour in filling. (I almost never do this latter step, but it makes sense. Personally, I'm in the "hum" or "count as you carry the pie to the oven" school of thinking to ensure the pie plate contents do not spill. Hey, it works for me!)
Reduce oven temperature to 350 degrees F. Bake until knife or toothpick comes out clean, about 45 minutes longer.
Notes
Flax "eggs" (or other egg substitutes that you have used successfully in custard pies) can be substituted for the chicken eggs for an egg-free, vegan version of this pie. The pumpkin butter already contains spices, so it's up to you if you want to add additional spices to your pie filling. I tried it both ways and liked both, but adding the spices in the filling definitely makes for a pretty spicy pie.
Kelly's (The Spunky Coconut) Dairy-Free, Egg-Free, No Bake Pumpkin Pie
and her Vegan Pumpkin Pie.
Lexie's (Flo and Grace) Maple Pumpkin Pie
Linda's Classic Pumpkin Pie Totally from Scratch
and her newer Gluten-Free, Dairy-Free Pumpkin Pie.
Karina's original Vegan Pumpkin Pie
and her Vegan Pumpkin Pie with Praline and Coconut-Pecan Crust
My Other Gluten Free Easily Pumpkin Pies …
Best Ever Pumpkin Pie and It's Gluten Free, Dairy Free, and Crustless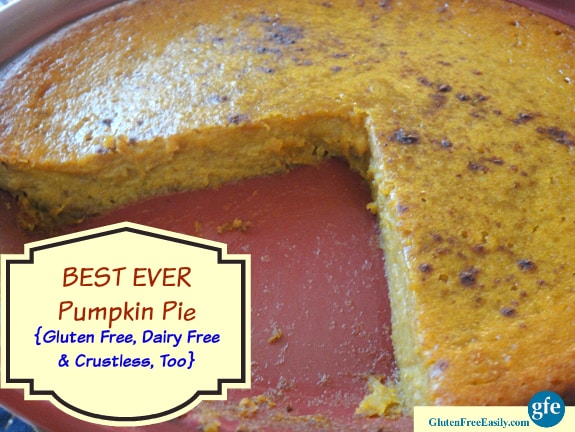 Pumpkin Pecan Pie (made with my Never Fail, No-Roll, Press-In Pie Crust and served with Honey Whipped Cream)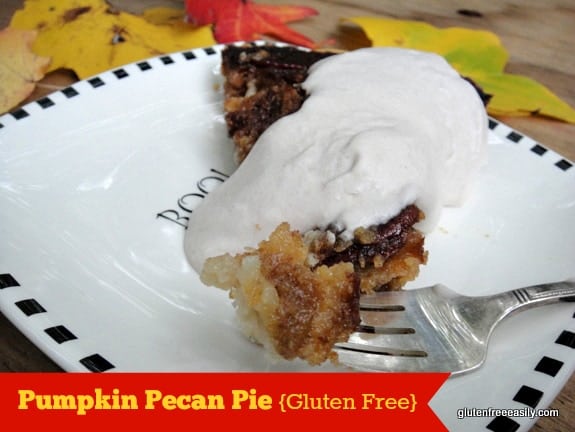 Karen's (Karen Schuppert) Crustless Pumpkin Pie (ensure ingredients used—like oat flour—are gluten free; use oat flour made from purity protocol oats)
Sarah's (Sarah Bakes Gluten-Free) Gluten-Free, Vegan Pumpkin Pie
A very respectable, well-liked cousin to the crustless pumpkin pie is pumpkin pudding.
Diane (The Whole Gang) bakes her Gluten-Free, Dairy-Free Pumpkin Pudding in the oven.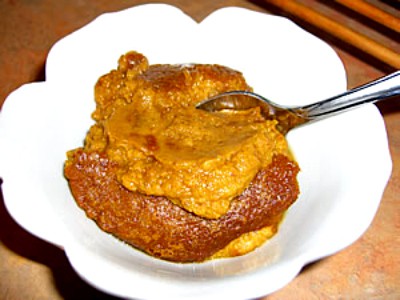 Stephanie (A Year of Slow Cooking), per usual, made her Crustless Pumpkin Pudding in her slow cooker.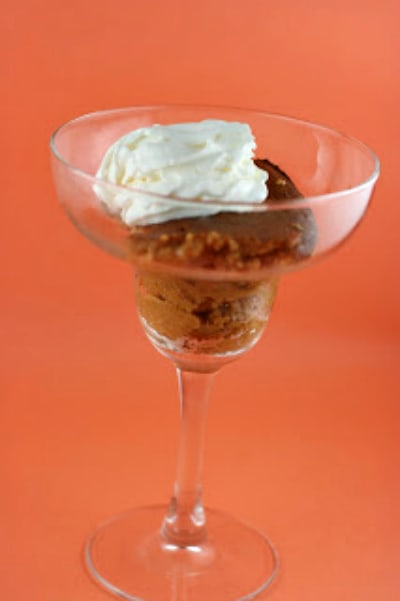 While not pie, both recipes look very good, don't you think?
Now what happens if you make your beautiful pumpkin pie and you really want a piece of that pie, but you can't indulge because after all you want to serve your gorgeous pie whole. Logic tells you "No! Don't do it!" But you still want that piece of pumpkin pie, right? Well, Christa (Zovie Style, previously Life in the Makings) has your solution, Microwave Pumpkin Pudding. Single serve (or maybe two servings if you don't get greedy). Pumpkin pie craving problem deliciously solved!
Don't let pumpkin pie be just a once a year thing. Start with Pumpkin Butter Pie and move on to the other recipes. Embrace the Pumpkin Pie year 'round in whatever form works best for you!