For affiliate links and as an Amazon Associate I earn from qualifying purchases.
Anne Byrn's first gluten-free cookbook, The Cake Mix Doctor Bakes Gluten Free, came out two years ago. Now she has released Unbelievably Gluten-Free! Both books are well rated on Amazon. Anne Byrn is not gluten intolerant herself, but she's a well-known, well-liked cookbook author. Several years ago, gluten-free friends and fans started asking her to create gluten-free recipes. So she accepted and thrived on the challenge. You can probably deduce from the title of Anne's first cookbook that her recipes are based on ready-made gluten-free cake mixes. Being the author of the same type of gluten-full cookbook, a gluten-free version was a natural progression. Similarly, many of the recipes in her second cookbook rely on baking mixes and other ready-made gluten-free products like bread crumbs and frozen pizza crusts. I'll be honest … if you don't use those ingredients, these cookbooks would not be good selections for you.
All that probably leads you to wonder why I am sharing these cookbooks here on gfe as part of my Home for the Holidays event. After all, my focus here at gfe is on real food and recipes made from real food, some mainstream naturally gluten-free products, and a few gluten-free specialty products. There are a couple of reasons I have decided to share Anne Byrn's gluten-free cookbooks. I met Anne at the Gluten-Free and Allergen-Free Expo last year. I attended one of her cooking demo sessions where she shared one of the most beloved recipes from The Cake Mix Doctor Bakes Gluten Free … Honey Bun Cake! It was very good! While she was demonstrating how to make the recipe, she told us how years earlier she had interviewed Julia Child in Paris and shared an impromptu lunch with her. It was a very special treat to imagine the scene painted by Anne's words. Then I thanked Anne afterwards for including gfe in her list of Blogs and Websites for Recipes and Fellowship her Cake Mix Doctor cookbook. She was warm and gracious throughout, and her session was "standing room only."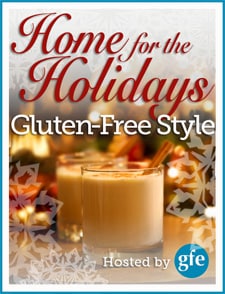 While I don't use gluten-free baking mixes and almost never used gluten-full baking mixes back in the day, I do know that some folks appreciate the "convenience" of them. That's especially true for those who don't bake often; those who are new to living gluten free and not ready to learn about individual gluten-free flours, not ready to buy xanthan gum, etc.; or those who had favorite gluten-full recipes based on ready-made mixes that they previously enjoyed and want someone else to re-create for them. I especially appreciate this statement from Anne in the introduction to her new book:
"Just because you can't eat gluten does not mean you have to do without amazing comfort foods we all look forward to. And knowing that no busy mom should ever have to cook one dinner for the gluten-free family member and a second dinner for the rest of the family helped me develop a greater resolve to write this book."
Those "amazing comfort foods" are really the focus of both of Anne's cookbooks. The first obviously focuses on cakes, but the new one features recipes like Mom's Chicken and Rice Soup, Buttermilk Biscuits, Hearty Vegetarian Chili, Homestyle Spaghetti Carbonara, Real Deal Gluten-Free Fried Chicken, Crab Fritters, December Beef Stew, and Easy Irish Soda Bread. There are 128 recipes in all. While the focus of this cookbook is what I call "mainstream gluten free" and most recipes are not dairy free, Anne offers tips at the end of the recipes for making them dairy free as well (if needed, a few recipes are both gluten free and dairy free as written).
If you are interested in a preview of the recipes from Anne's new cookbook, Unbelievably Gluten-Free!, download the following e-book (PDF) of six recipes via this link: Unbelievably Gluten Free Holiday Sampler by Anne Byrn, the Cake Mix Doctor
Or if you'd rather, you can enjoy this e-book sampler of six recipes in Kindle format. Or, of course, you can do both if you'd like!
Anne recommends a few gluten-free baking mixes in her books. Admittedly, I'm not a fan of a few of them. Here are a few other recommendations (with valued input from some friends) for gluten-free baking mixes:
Better Batter Gluten-Free Baking Mixes
Breads from Anna Baking Mixes
Jules Gluten-Free Baking Mixes
King Arthur Gluten-Free Baking Mixes
Pamela's Gluten-Free Baking Mixes
Giveaway Details:

UPDATE: This giveaway is now closed. Thanks to all who entered and congratulations to the following winners! Please follow along with gfe for the rest of the posts featuring recipes, info, reviews, and giveaways in Home for the Holidays event. 🙂

Katie (Gluten-Free Katie) won Anne Byrn's The Cake Mix Doctor Bakes Gluten Free. Her comment was: "I'd love to win the Original Cookbook…love my desserts!!"

Marsha won Anne Bryn's latest gluten-free cookbook, Unbelievably Gluten Free!  Her comment was: "I would like to win "Unbelievably Gluten Free", the first recipe that I would try would be buttermilk bisquits."

There will be two winners. One winner will win a copy of The Cake Mix Doctor Bakes Gluten Free and one winner will win a copy of Unbelievably Gluten Free!

To enter the giveaway:

~ Leave a comment telling which book you would like most if you're one of the winners.

~ Look at the preview of either The Cake Mix Doctor Bakes Gluten Free or Unbelievably Gluten Free! and share one recipe that you would like to make.

~ Subscribe to gfe via email or RSS. Leave a comment whether you're a new subscriber or current subscriber, and thank you!

~ Subscribe to All Gluten-Free Desserts … All the Time via email or RSS. Leave a comment whether you're a new subscriber or current subscriber and, again, thank you!

This giveaway will end Thursday, December 13, at midnight EST.
Last, you won't want to miss a post so subscribe or check back every day until at least Christmas for the remaining Home for the Holidays posts. I might have started slowly, but I'm *planning* to make up for it! I'm going to accelerate the speed and share briefer posts (a lot briefer than this one I might add … can I do it?). Writing much shorter posts for my new gluten-free desserts site, All Gluten-Free Desserts … All the Time, is giving me lots of practice at being much less wordy, but I still have "relapses." Have you checked out the new gluten-free desserts site yet? There are dozens of gluten-free desserts recipes of all kinds (and more are being added daily) from the bloggers that you already love and "new to you" bloggers that you will quickly come to love!
This post is linked to Allergy-Free Wednesdays and Gluten-Free Wednesdays.
Full disclosure: The cookbooks reviewed here and offered in this giveaway were provided free of charge from Anne Byrn's publisher, Workman Publishing. However, the opinions expressed are strictly my own.