For affiliate links and as an Amazon Associate I earn from qualifying purchases.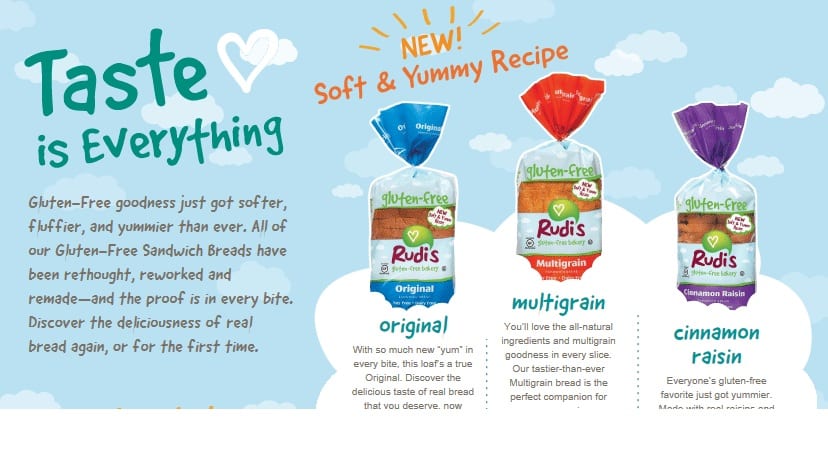 The folks at Rudi's Gluten-Free Bakery asked me if I'd like to sample and get the word out on their "new and improved," Softer and Fluffier Sandwich Breads. While I go months without eating bread, I know that some of you really appreciate good bread as well as the convenience offered by meals featuring bread in sandwiches and simple toast, and other more special recipes (like French Toast). The folks at Rudi's also offered to sponsor a Soft & Fluffy giveaway that not only gave one gfe reader a chance to sample the new breads, but also provided that person some other Soft & Fluffy comforts at home. I am a fan of Rudi's and their gluten-free efforts (as shared here and here) and I like to share good news with my gfe readers, so of course I agreed to all.
When I received my loaf of Rudi's gluten-free Multigrain bread, it didn't feel any different when I squeezed the bag. In fact, it seemed a bit firmer if anything. But once I tried the bread—both at room temperature and toasted—it was noticeably softer and perhaps even fluffy. I also noticed that the slightly "dry finish" (for lack of a better description) that used to be present with Rudi's gluten-free breads was gone. That is a nice improvement for sure!
The second loaf of bread was the gluten-free Cinnamon Raisin bread. I fed a few toasted and buttered slices of that bread to Mr. GFE for breakfast. Mr. GFE does not normally eat gluten-free bread, but he liked it just fine. Believe me … the absence of negative commentary from Mr. GFE on a gluten-free bread is noteworthy in itself. Plus, I should add that my bread came via the mail (over a few days' travel), so the loaves that I received were probably not even the best examples of Rudi's new bread.
As I don't eat bread often and didn't have any of Rudi's "old recipe" loaves in my freezer, I couldn't look at Rudi's current labels to do a comparison to determine how the bread had actually changed. So I asked Rudi's personnel and received the following info right away:
Rudi's New Formula: What Changed?

~Formula
– Improved softness by adding sugar cane fiber and natural enzymes
– Fiber per serving increases from 1g to 2g
– Removed Sorghum Flour to improve flavor profile (Sorghum flour has high tannin levels resulting in occasional stringent or bitter flavor)
– Added Vinegar to improve shelf life (naturally limits mold)

~Freezing process
– Improved manufacturing process resulting in much faster freeze times
– Results in better preservation of starches when frozen and less dryness when thawed

Overall benefit:  Soft textured bread over entire shelf life
Now for the giveaway! That Enjoy Soft and Fluffy at Home package for one gfe reader. This giveaway could not be a more perfect theme for me as I'm all about being cozy and comfortable in my house! Especially during the winter months.
One winner will win the following:
~Soft decorative pillow
~Cozy blanket
~Eco-friendly kitchen towels
~Kitchen compost pail
~Kitchen candle and
~Three coupons for free Rudi's gluten-free products so you can test out their new Soft and Fluffy Bread for yourself!
This giveaway is now closed. Many thanks to all who took the time to enter and congratulations to the winner, Cat! Cat's comment (selected via Pick A Giveaway Winner, which selects randomly, but fairly) is shown below. Be sure to stay tuned to gfe for some more great giveaways!

Cat: "Looking forward to trying it. Rudi's is one if my top 2 GF breads. And I "liked" Rudi's a while back on FB! (:"
This giveaway will end Saturday, February 9, at midnight EST.
To enter the giveaway:
~ Simply leave a comment stating why you would like some Rudi's Soft and Fluffy bread (need it for a special recipe? new to gluten free? … tell us). This entry is required.
~ For an additional entry, "like" Rudi's Gluten-Free Bakery on Facebook. Leave a separate comment saying that you did (or if you already "liked" them). Note:  While on Rudi's Gluten-Free Bakery page, you'll want to check out their Facebook sweepstakes to find the "Missing Soft and Fluffy Bread." The contest is in its final week with 10 winners this week receiving a Canon Powershot digital camera and one overall winner receiving $1000. All is ending quickly so head on over to learn more!
Full disclosure: This is a sponsored post. However, the opinions expressed are strictly my own.
This post is linked to Gluten-Free Wednesdays and Allergy-Free Wednesdays.