For affiliate links and as an Amazon Associate I earn from qualifying purchases.
So Delicious provided me with these samples and coupons at no charge. I was not otherwise compensated for sharing this review and the opinions expressed here are, as always, strictly mine. Brand photos are courtesy of So Delicious Dairy Free.
Some of my posts here on gfe are more of the "short and sweet" variety than others and such is definitely the case with this review of a fairly new product, So Delicious Dairy-Free CocoWhip, a coconut whipped topping. I heard about this product long before I actually got to try it. I mean dairy-free, ready-made whipped cream is sure to get lots of attention, right?  Then one day one of those magical coolers from So Delicious was delivered to my door.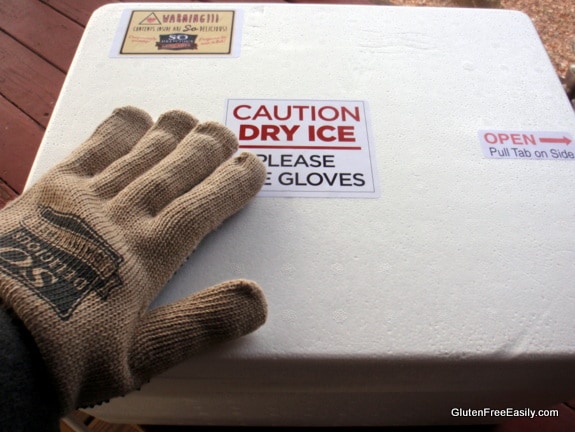 Inside we found So Delicious CocoWhip, So Delicious CocoWhip Light, several So Delicious dairy-free beverages—Cashew Milk (Unsweetened, Vanilla) and Coconut Milk (Unsweetened, Original, Chocolate, and Vanilla), and two new flavors of So Delicious Coconut Milk Frozen Desserts—Simply Strawberry and Oregon Mixed Berry. What a fabulous treasure chest!
First, we tried their new frozen desserts. Admittedly, I'm not a big berry lover, but Mr. GFE is. For the Oregon Mixed Berry flavor, So Delicious says: "We take Oregon Marionberry and Oregon Red Raspberry and swirl them into Organic coconut milk to make this berry lovers' delight." Mr. GFE eagerly enjoyed this flavor. He said it was "thick and creamy" and "very berryful, very good!" When I asked him about the coconut flavor, he said that he was not particularly conscious of any coconut flavor. Note that we both are major coconut lovers though.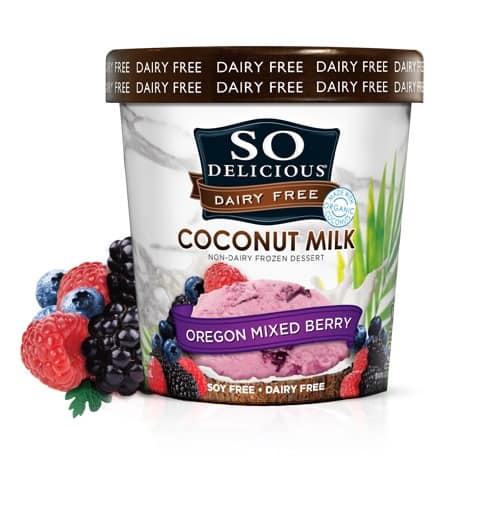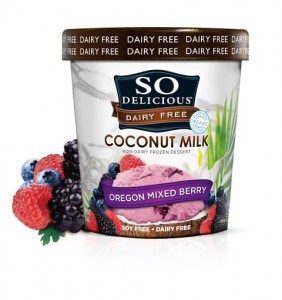 The Simply Strawberry is: "Organic Strawberries blended simply and sweetly into Organic coconut milk to create our new Simply Strawberry. Pretty in pink and tasty to the tongue." Because I'm not a berry fanatic like Mr. GFE or some of you, I made a chocolate strawberry milkshake with this flavor—simply adding some cacao powder and So Delicious Coconut Milk Beverage to get the mixture to shake consistency. It was so good!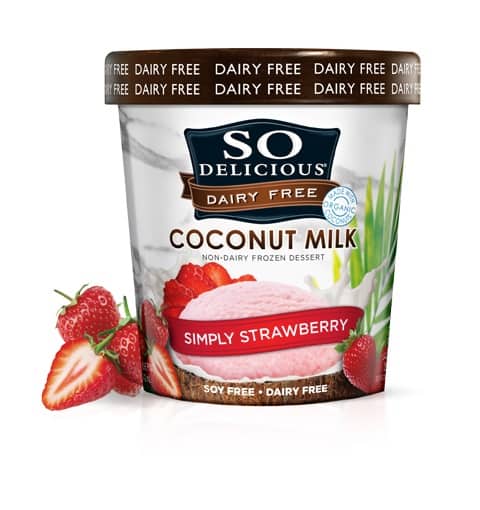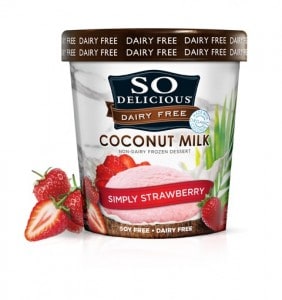 We enjoyed the Cashew Milk Beverages and Coconut Milk Beverages in a variety of ways—sipping them, pouring them over cereal, and turning them into fruit smoothies, green smoothies, dairy-free milkshakes, and hot cocoa. All worked great!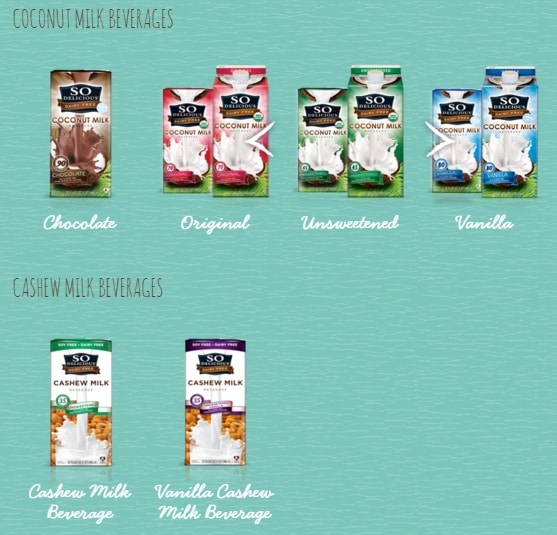 Now About That So Delicious CocoWhip …
It's been years since I ate Cool Whip on a regular basis. Well, not even that regular. I usually bought it to top holiday treats. I actually stopped using it completely when I learned more about its ingredients several years back.
While I've occasionally been enjoying homemade coconut whipped cream, I felt like I was overdue for a ready-made option that tasted just as good as Cool Whip, but was healthier.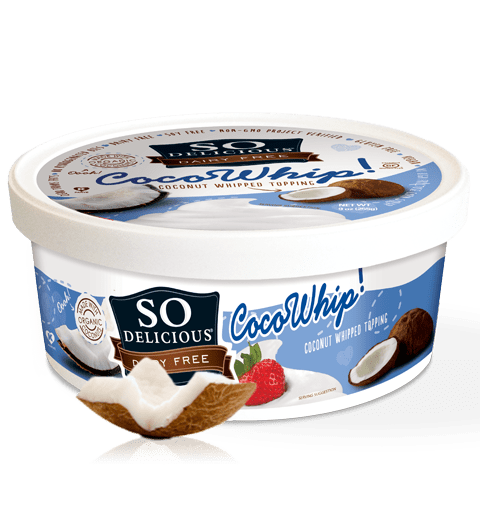 I had a bunch of gluten-free friends over for dinner in late October and made my first Crustless Pumpkin Pie of the season. Most of these friends are also dairy free, so I finally pulled out the CocoWhip Original flavor for us to try. My friends—even those who eat dairy—were thrilled to sample CocoWhip on their slice of pumpkin pie! The verdict? We all loved it! So Delicious CocoWhip delivers as a product that can both take the place of other ready-made whipped toppings and is healthier.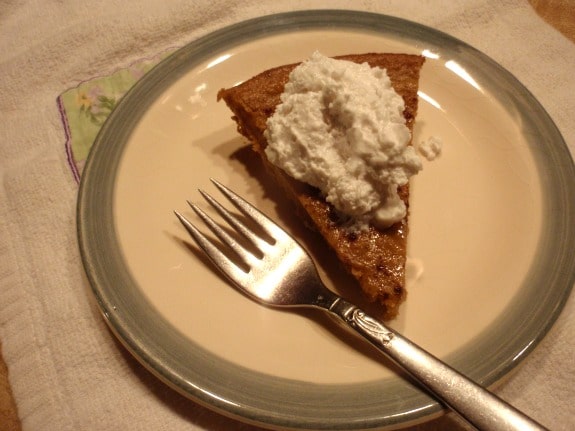 CoCo Whip is creamy and delicious and perfectly paired with pumpkin pie. I was surprised that even the original version "felt" much lighter than other whipped topping. No heavy feeling after eating!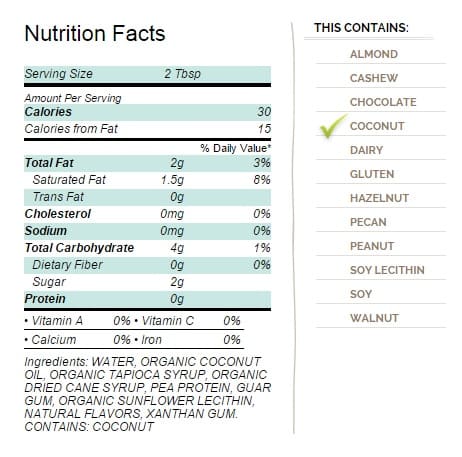 For Thanksgiving, I pulled out the CocoWhip Light for us to sample. I'm not one who usually seeks out lighter versions because often "light" means more fake ingredients. However, that's not the case with CocoWhip Light. You can see the ingredients below, and compare them to the ingredients in the original version.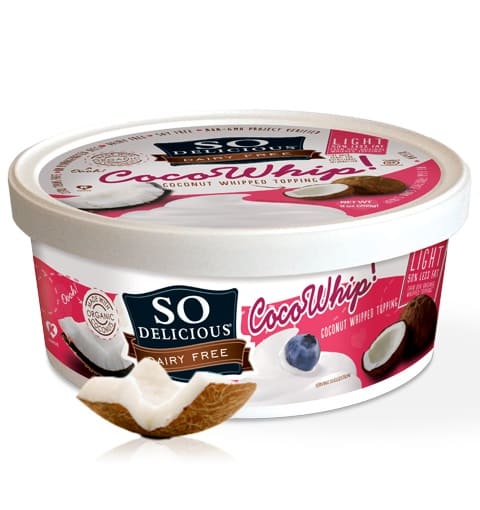 We used CocoWhip Light to top yet another Crustless Pumpkin Pie plus a Crustless Coconut Pie and Luxurious Pecan Pie. (Look for the recipe for that last one soon.) Again, the CocoWhip was wonderful! I didn't taste any difference at all with the Light version, although I did find it didn't hold its shape as well as the original. But taste and texture were far more important to me.
Do you want to try CocoWhip or any other So Delicious Dairy-Free products? Well, courtesy of So Delicious, FIVE SIX gfe readers will each win THREE So Delicious Dairy-Free Coupons for a free product. The winners can use them to get CocoWhip and two other products at no charge! The giveaway ends Sunday, December 6, at midnight Eastern. Enter via Rafflecopter below.