For affiliate links and as an Amazon Associate I earn from qualifying purchases.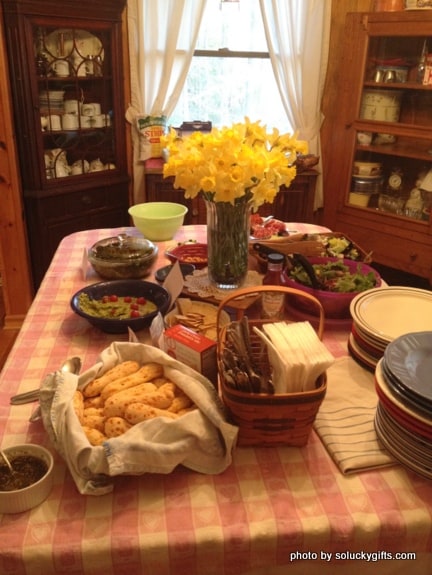 with only part of the food set out
Welcome to The GFE Virtual Gluten-Free Support Group for April! Now I think I understand why so many blog events are held on Wednesday or Thursday. It's just hard to get something going on a Tuesday after a very busy weekend. As the saying goes, "Life is what happens when you are making other plans." But as always, it's wonderful to have you here for our GFE VSG. As I said previously, to get the true support group "vibe," you'll have to imagine me in my kitchen donned in my full apron, feeling and looking a little "harried" as I try to do a bunch of things at once. Things that I should have done hours in advance, but being a procrastinator, I didn't. After you set your food or drink down, be sure to grab your permanent name tag from the sideboard (or make one if you're a new member), introduce yourself to some folks and chat a bit, or check out our group's extensive library. (There have been quite a few recent additions to our library:  Eat Like a Dinosaur:  Recipe and Guidebook for Gluten-Free Kids, Well Fed: Paleo Recipes for People Who Love to Eat, Make It Paleo: Over 200 Grain-Free Recipes for Any Occasion, Barrett's Unusual Ice Cream Party, The Gluten-Free Passover Cookbook, How to Cook Gluten Free:  Over 150 Recipes That Really Work, and The Healthy Gluten-Free Life: 200 Delicious Gluten-Free, Dairy-Free, Soy-Free and Egg-Free Recipes. We also have the latest issues of Delight, Gluten-Free Living, and Living Without magazines on hand for perusal.)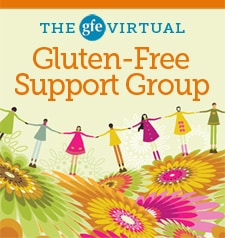 If you're new to GFE VSG, the goal is to share information from my actual support group meetings with all of you. That includes information on the presentations, the food shared, tips from my members … anything that comes out of the meeting that I think you will find helpful. Sometimes I'll add additional pertinent information to my GFE VSG post that we might not have had time for in our actual meeting (those fly by so quickly!) or that I investigated further later. In return, I'd like you to interact with all of us participating virtually by commenting on the presentations, gluten-free recipes, and all info and sharing your own input. There will be a linky, as you can see at the very bottom of this post, so if you are a blogger, please link up your recipe that fits the monthly theme. This month's theme is pizza and greens (green vegetable dishes, salads, green appetizers, etc.). See the participation guidelines further down right before the linky. Finally, there will also be a giveaway each month! Giveaways will tie into the topic of the meeting and/or the food theme. You do not have to participate in the linky to enter the giveaway. Anyone who leaves a comment will be entered for the giveaway. Only one comment is required (and only one will be counted), but folks are welcomed and encouraged to have discussions in comments.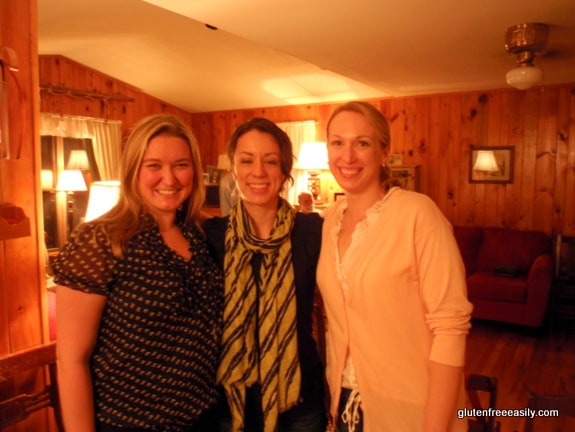 Presentations:  We were honored to have the lovely ladies from and co-founders of Inner Circle Foods—Carey Greene, Jenn Campbell, and Heather Lichtenfels—join us. Their first gluten-free endeavor is So Lucky Gifts. They traveled from their home base of Manassas, Virginia—about 90 minutes away—to give our presentation. The founders of So Lucky Gifts say that they are "purveyors of gourmet gluten-free foods and gifts." (UPDATE:  Sadly, as of May 2014, So Lucky Gifts is no longer in business. Therefore, links to their site have been inactivated.)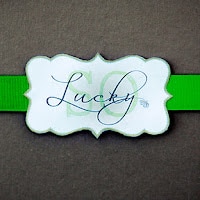 Carey has both Crohn's and celiac disease and has been eating gluten free for several years. Two of her three children also have celiac, and while the third tested negative, he also has symptoms of gluten issues. Carey told her own story of years of misdiagnoses, including the ubiquitous Irritable Bowel Syndrome (IBS) diagnosis that she was given based on symptoms alone, without any testing. (At this point in her story, I had to tell her that many of us who received an IBS diagnosis before finding out about our celiac/non-celiac gluten sensitivity say that the doctor is saying "I Be Stupid" or we say "It's BS" as an IBS diagnosis is a "catch-all" based on a collection of symptoms rather than a true diagnosis.) It was after several friends and family members of Carey's were diagnosed with colon cancer, and one was lost to the disease, that she became very concerned about her own ongoing symptoms and insisted upon further testing. Initially, testing revealed that she had Crohn's disease, but later after continued symptoms/issues, she was diagnosed with celiac disease as well. Carey stated that her current gastroenterologist believes that her Crohn's damage was more extensive due to years of undiagnosed celiac disease and, therefore, continued gluten ingestion. Recently, Carey was diagnosed as lactose intolerant, so she is eating both gluten free and dairy free now. Her story also includes the amazing support of her dear, long-time friends Jen and Heather. Inner Circle Foods was "born" when Carey and Jenn were attending a food expo type event and Carey wistfully mused how wonderful it would be to be able to safely eat and enjoy any food there; i.e, to have all the food be gluten free. The two of them talking out loud and pondering the possibilities then, and later with Heather, quickly turned into a business endeavor for all three friends—namely Inner Circle Foods!
So Lucky Gifts is their first foray into gluten-free offerings—gift boxes of gluten-free foods and "accessories" (e.g., a tea gift package comes with the tea cups) all lovingly packaged and delivered to one's door. Inner Circle Foods hopes to have a gluten-free grocery store up and running in Manassas by the end of the year. They donated a So Lucky Gifts door prize to our meeting and the winner was quite pleased! They also brought one of their college gift boxes for Son–the So Smart College Box Gluten Free, Dairy Free— which he got to open a few days after the event. He really loved his special package. His favorite item was the container of organic lollipops, but he didn't turn up his nose at any of the contents. He was quite tickled to have this gift to open when he arrived home! Had he not been coming home, it would have been shipped directly to him at college and I know he would have loved that special surprise, too.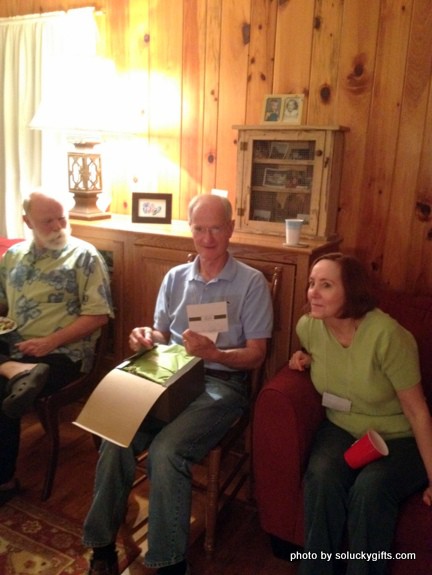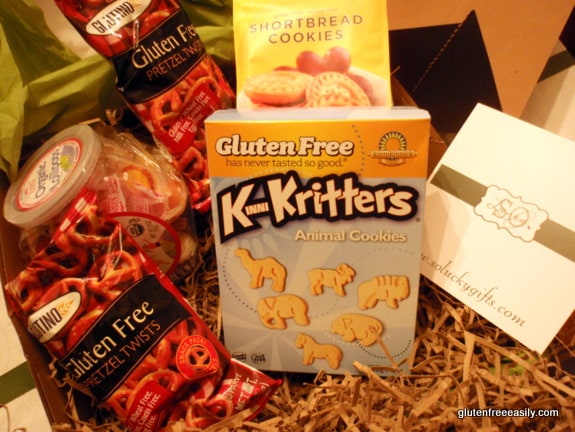 The ladies at So Lucky Gifts also brought some of the products that they include in their gift packages to our meeting. First, they shared Chebe Garlic Onion Breadsticks, which they served with Tuscan Farmhouse Herb Dip … all shown in their gift package here. We all really enjoyed these breadsticks as an appetizer while we waited on the pizzas to be done! Then at the end of their presentation, they brought out some of their Suss Vanilla Caramels with Sea Salt. These candies were outstanding!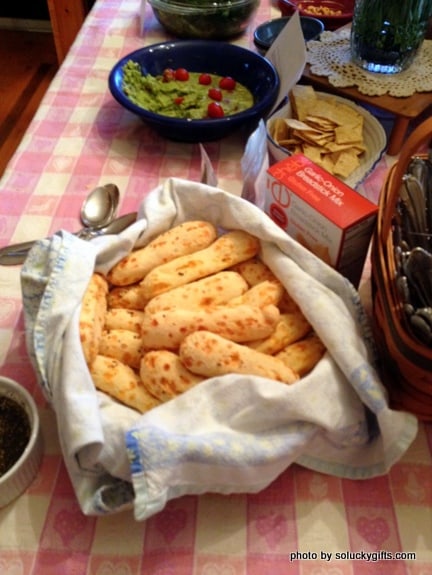 Those mentions naturally lead to the entire listing of food we enjoyed at our meeting, but before we get to that, I'd like to take a few minutes to chat about gluten-free college students, and their caring and concerned parents. For those who are gluten free, attending college can bring both challenges and opportunities. First, is the decision on deciding which college to attend with gluten-free dining and academic, extracurricular, and numerous other concerns at the forefront of the decision-making process. Admittedly, we didn't go through this experience. When Son went off to college, he was not eating gluten free, but once he went 100% gluten free almost 2 years later, college dining became much more complicated. Make that near impossible. In fact, I know he would have done backflips if he'd found one of So Lucky Gifts packages on his doorstep at that time! Instead I made lots of trips to visit him with full grocery bags and cookie tins in hand, plus while I was there we often made trips to the grocery store and almost always ate out where we could eat real food, quality food, and naturally gluten-free food. Living off campus in an apartment the last few years and eating gluten free, dairy free, soy free, and "more free" of late, he's done his own shopping and cooked most of his own food with occasional meals out at a few favorite, "safe" restaurants.
Son will be graduating in about a month (screaming "Wahooooo!"  here), so our college focus will soon be behind us, but many of you have college students in your family right now or your kids will soon be heading off to college in the near future. You need resources you can count on to make informed decisions, and the good news is that you don't have to re-invent the wheel by doing all the research yourself. One of the very best advocates in this area is Wendy Kaho, a parent of two gluten-free college students herself. You probably know Wendy from her blog, Celiacs in the House (no longer in operation), or her articles via resource sites such as Diets in Review and The National Foundation for Celiac Awareness (NFCA). You'll see more and more of her work in features and mentions over at NFCA (e.g, see latest NFCA newsletter). On Wendy's blog, you'll find an extremely helpful page, Gluten-Free College; there's so much helpful information there! Here are just a few highlights of the information she shares: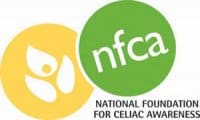 Her NFCA series on Gluten-Free College Dining Hall Challenges—This series offers the parent's and the student's experience for the first semester of college. It's both a high-level and an in-depth look at those "challenges." That means that it's not pages to wade through, but enough to save you from similar challenges. And did I mention that Wendy had both a son and daughter in college at the same time? Bottom line: You get a really good feel for the challenges you and your college student could be facing in this series.
NFCA's College Blogger Series—Who can we better learn from than the gluten-free students themselves? Gluten-free college bloggers give you somewhat diverse, "up-close-and-personal," ongoing perspective on living gluten free at the particular college they attend, plus so many of these experiences and challenges can be applied to any school situation.

Gluten-Free Travel Site's College Reviews Page—These are what I call "quick and dirty" reviews, and only a small number of schools are addressed in these reviews right now. (If you have gluten-free insight on any college, please add your review to help others.) Most of these reviews are written by students and parents and give an overview of the gluten-free dining options, but one as written by a gluten-free person who seemingly only had a telephone interview with the Dining Hall Services director. The latter assessment is woefully insufficient; I refer you back to Wendy's NFCA series as proof of that. But this page is a help to folks and will only improve as more folks learn about it and add their experiences.
Wendy's daughter, Shelby Kaho, is one of the gluten-free college students in her family. Wendy talks about Shelby's experiences and her gluten-free advocacy some in her NFCA series, but Shelby has quickly become a "sought after" gluten-free spokesperson. Check out her guest post at Go Dairy Free: Dorm Survival Guide for Students with Food Allergies or Sensitivities; her articles on Diets in Review, such as Advocating for Gluten-Free Diets in College; and her own blog, One Hurdle at a Time. Shelby's most recent blog post offers excellent advice on "fitting in" while staying gluten free. She and other gluten-free bloggers are putting their expertise to use to help others and expand their business skills at the same time; read more here. And as the old saying goes, Shelby doesn't "let any grass grow under her feet"—literally in this case, read Pete Bronski's profile of her in his Athlete Insight series. Shelby is also introduced in a two-page spread in NFCA's brand-new college magazine, GREAT U, A Gluten-Free Guide to College. This new publication is interactive and impressive. The article on Shelby is such a great highlight of this positive young woman and her achievements and, again, what an excellent resource this new magazine (sponsored by Udi's Gluten-Free Foods) truly is!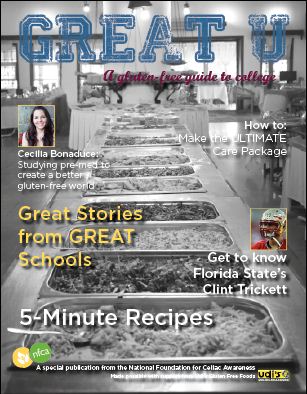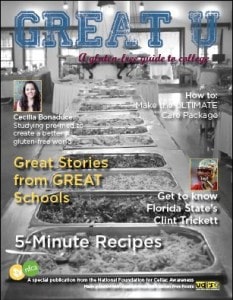 Clearly, there's much headway being made in serving gluten-free college students (and therefore their parents, too) right now. And to come full circle (Inner Circle?), Wendy has written about the So Lucky Gifts College Care package that Shelby received here.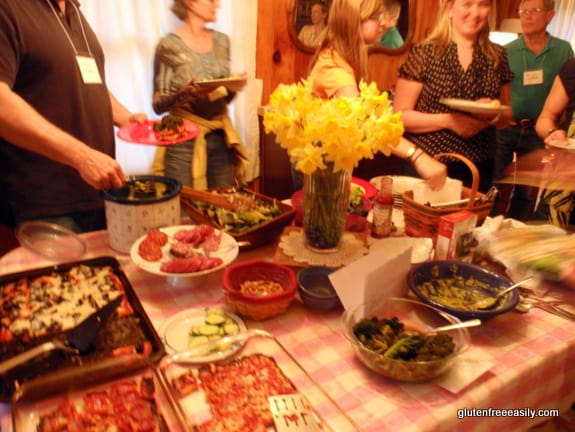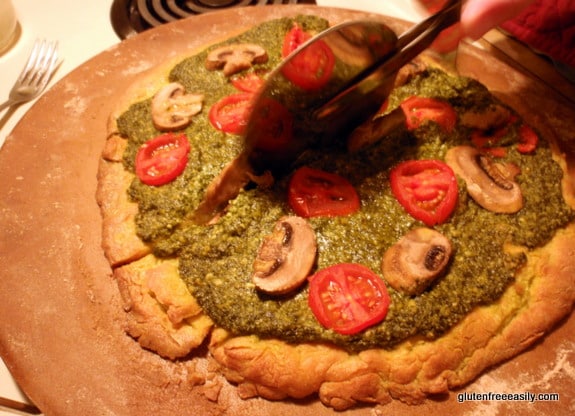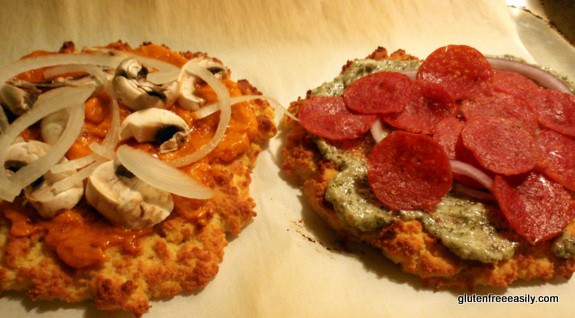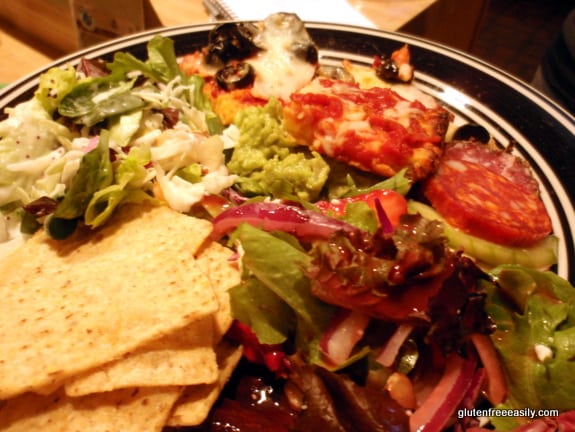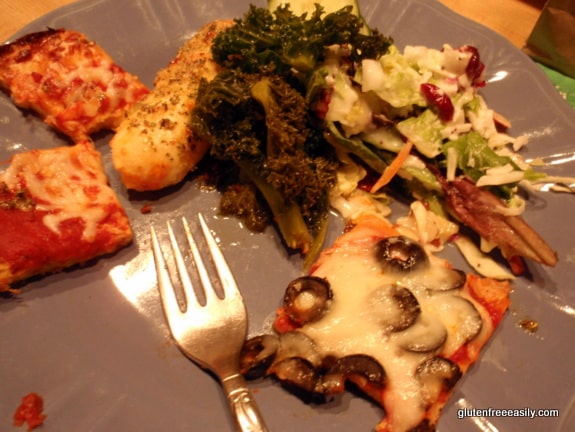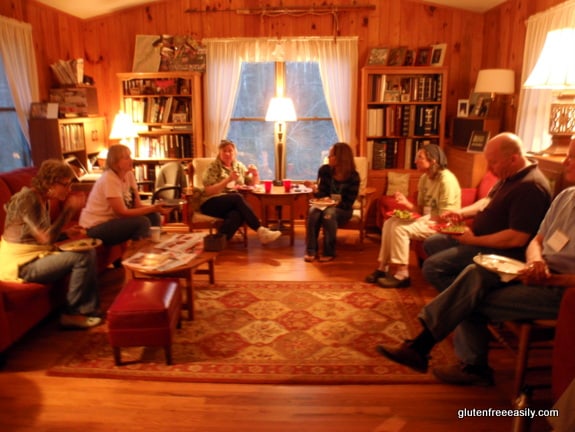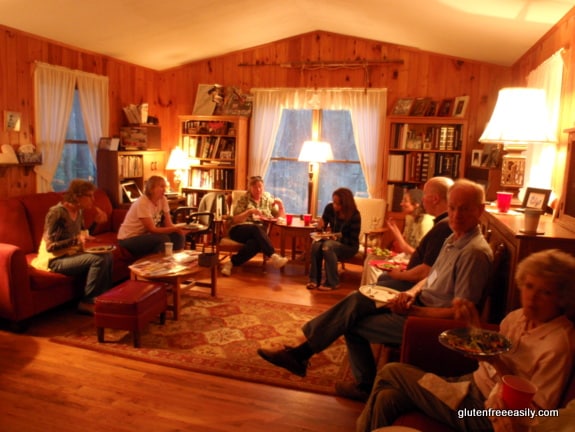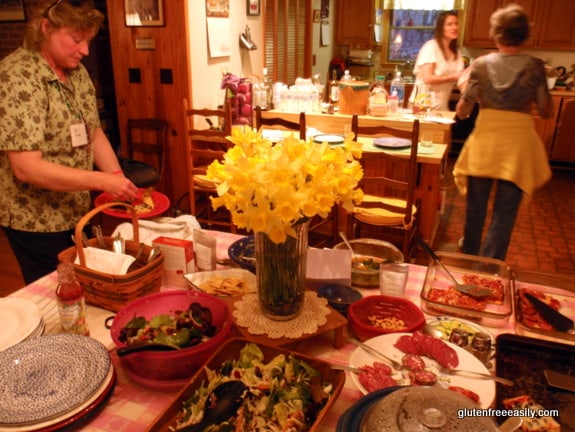 Food: As far as our main meal, we had so many pizzas (like Flourless Pizza—one plain cheese and one pepperoni; Grain-Free, Dairy-Free Flatbread Pizzas; Olive and Mozzarella Pizza; Gluten-Free, Dairy-Free Pesto Pizza; and more) that there was actually some pizza left over at the end of the night! That is a very rare occurrence, but I think that had to as much to do with the number of pizzas as with all of the greens and other foods we had to share. There was cooked kale, broccoli, cucumbers, zucchini, and wonderful salads like Strawberry Salad (that featured cabbage and other greens with strawberry dressing) and Great Salad. There was homemade guacamole (Karina's Easy Guacamole with Lime) with tortilla strips and Columbus Salami to sample while we waited on the pizzas to be ready. (In fact, the guacamole bowl was empty by the time the pizzas came out of the oven and the salami was half gone even though I'd only remembered it right before serving the pizzas.) We also enjoyed some Hail Merry snacks—Orange Rosemary Pecans. These received high praise from all! Desserts were few but more than adequate; there were some tasty Schar Shortbread Cookies and Aleia's Chocolate Chip Cookies, and delicious homemade Grain-Free Apple Custard Pie. We enjoyed iced tea, club soda, wine, and more.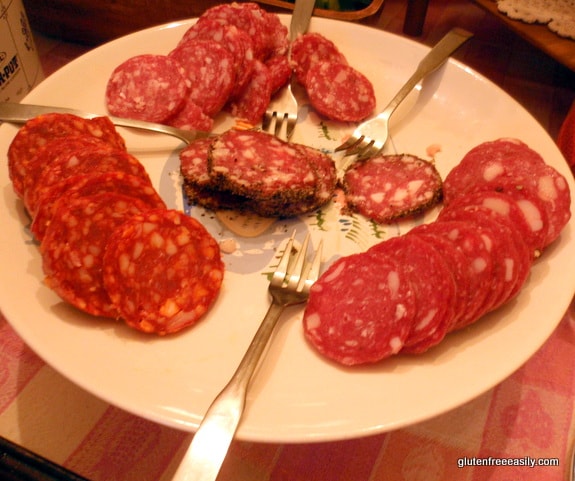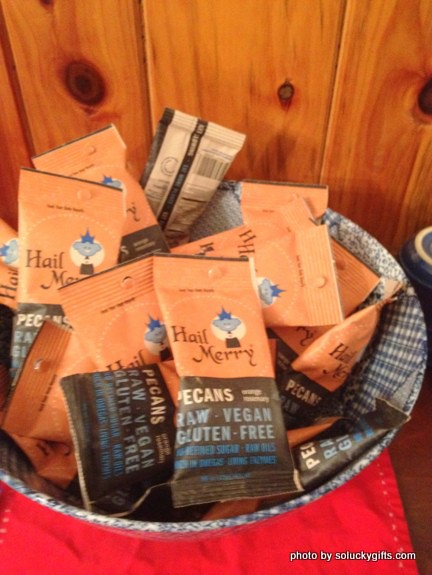 We always enjoy the most wonderful gluten-free food at our meetings. As you can see most of our food is real food, that's naturally gluten free, and recipes made from that real food. Many of our dishes are dairy free, refined sugar free, etc. as well. Members either bring copies of their recipes to have alongside their dish to show its ingredients or they note the ingredients on index cards to ensure that all eat safely.
For our Giveaway:
Update: This giveaway is now closed. Congrats to the following winners, and thanks to everyone who joined in for this month's GFE Virtual Gluten-Free Support Group!
Danielle (Against All Grain) ~ "Thank you for hosting another fabulous event! What a great resource for all of the GF people out there. I linked up my cauliflower crust pizza and what better to go with pizza than pasta?! I linked up my grain-free "pasta" that is full of green veggies – peas, asparagus, and zucchini! Congratulations to your son! Mine is 19 months and I can't even imagine him graduating yet!"

Tessa (Tessa the Domestic Diva) ~ "Another great post!"

Ina Gawne (Gluten Free Delightfully Delicious) ~ "Shirley – such a great post! I love your support group – the focus on health, celiac disease, and especially, all of the wonderful food! Such an inspiration, truly! I am so glad I found your blog!"

Shannon Brown (Enjoying Gluten Free Life) ~ "I love the idea of a pesto pizza. I think I'll have to tinker with a grain-free, dairy-free crust and topping. I missed last month's meeting so I'm happy to be joining in this month. Thanks."
This month's giveaway is as follows:
~ So Lucky Gifts – donated by So Lucky Gifts. There will be two winners; each will receive a So Lucky Gifts package. One winner will win the gift package, So You Like Breadsticks, which contains three of the Chebe Breadstick Mixes shown in the photo below. Another winner will receive the gift package So Smart College Snack Size, also shown. This package contains the Yummy Earth Organic Personal Lollipop Bin that Son so appreciated, plus Honey Stinger Organic Energy Chews, and Thai Kitchen Noodles (like Ramen, but gluten free, of course). Of course, you don't have to be a college student to enjoy this package, but if there's a gluten-free college student in your life, if you win, the package could be shipped directly to them.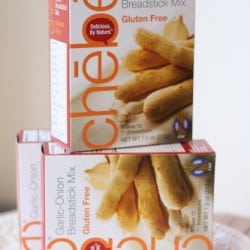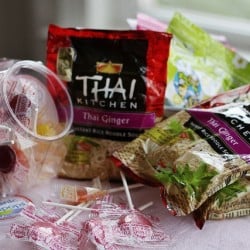 Last, we have our linky for bloggers with gluten-free, real food recipes that fit this month's theme. Here's how to participate:
~ Link up a recipe you made and posted that contains real food ingredients that fits this month's food theme, Pizza and Greens. Older posts may be used as long as they follow all the other rules.
~ Link to only one recipe in each category. One pizza recipe. One green recipe (green veggie dish, green appetizer, green salad, etc.).
~ Do not link to advertisement or business blogs.
~ Ensure that you mention The GFE Virtual Gluten Free Support Group in your post and link back to this post so your readers will check out all the info and recipes.
~ You are welcome to grab the badge and include it in your post. I'd love that because it would help spread the word on our event, and we'll have more join us from this point on! (Many thanks to Lexie (Lexie's Kitchen) for creating the fabulous badge.)
~ Leave a comment on the post. A comment is required if you are linking up a recipe or entering the giveaway.
~ Links will be removed if guidelines are not met (e.g., no link back to this event, no recipe is included in the post, the link goes to an advertisement or business blog).
~ This linky will close on Wednesday, April 11, at midnight Eastern. The giveaway will end at that same time.
This post is linked to Allergen-Free Wednesdays and Gluten-Free Wednesdays.