For affiliate links and as an Amazon Associate I earn from qualifying purchases.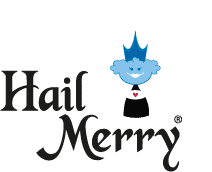 UPDATE:  This giveaway is now closed. Thanks to all who took the time to comment! Congratulations to the following winners! (I will be contacting each of you via email.)
~ Vegyogini(Hugger Food) "I'd love to try the Orange Cranberry Granola! Thanks for the giveaway!"

~ Rita:  "I hope these products come to my area. I want to try them all but if I could have only one, those coconut macaroons have called me by name."

~ Beverly:  "I couldnt decide between the choco macaroons or pecans…yum!"
Do you know about Hail Merry foods? Oh my goodness, you're in for some surprisingly wonderful treats if you don't. Their products are fabulous! Hail Merry's products are labeled raw, vegan, and gluten free. These products are certified gluten free to less than 10 parts per million (ppm) by the Gluten Free Certification Organization (GFCO). Although labeled raw, Hail Merry states on its website and individual packaging that its foods are not 100% raw. You can read more on that subject and the nutritional benefits of eating Hail Merry foods in their brochure, but here are some key points from Hail Merry:
"We don't use heated or processed oils, synthetic vitamins, soy fillers or stimulants, which flood the so-called nutritional performance snacks found on the market today. Hail Merry Foods are made from 100% unadulterated ingredients."
Hail Merry further states, "We believe in the healing power of certain plant-based oils in their raw state. Raw nuts and cold pressed coconut oil contain healthy fats proven to improve our cholesterol profile, increase metabolism, reduce inflammation and provide an excellent source of fuel for our body. Another added benefit of these dietary oils is more radiant skin and hair."
Susan O'Brien is the raw food chef behind Hail Merry and is now in partnership with two other ladies who make up this women-owned business. You can read how Hail Merry was "born" here and here. See Susan talk about "no more gluten-free junk food" (including her thoughts on bars) in this video below.
So let's get to the specifics, shall we?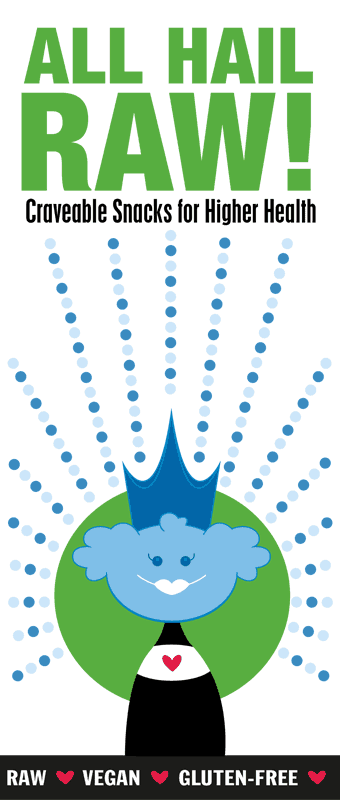 Son sampled the Blonde Macaroons, which he proceeded to call "coconut balls" and lapsed into "Valley Girl-speak" when he proclaimed "they are the best stuff I've had in like forever." I sampled them, too, and agree … they are delicious.
I also sampled the Chocolate Macaroons. These treats were amazing. "Hand made with organic shredded coconut, dark cocoa, organic expeller pressed coconut oil, pure maple syrup, organic Mexican vanilla and sea salt." Oh, they are so, so very good!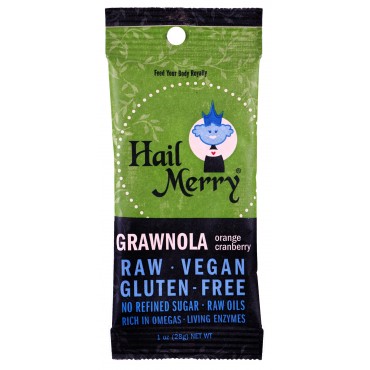 Son also loved the Orange Cranberry Grawnola. He liked the Lemon Agave Grawnola, too, but far preferred the Orange Cranberry Grawnola. This granola includes: "almonds, *organic maple syrup, organic buckwheat groats, orange juice, organic apples, raw pecans, organic cranberries (evaporated cane juice), organic raw sunflower seeds, raw walnuts, raw Madagascar bourbon vanilla, organic flax seeds, cinnamon, organic rice bran solubles, sea salt." I completely understood his preference for the Orange Cranberry Grawnola flavor because although I'm a fan of lemon in many foods and recipes, granola is not usually one of them. Plus, Hail Merry's orange-infused products are simply divine.
Why do I say that? Well, Hail Merry also sent plenty of its Orange Rosemary Pecans (1.75 ounce packets) for my last support group meeting. To say that I was extremely skeptical that I'd like this snack was an understatement. But what a surprisingly delightful flavor combination the orange and rosemary turned out to be with the pecans (which had been soaked and dehydrated). This snack was also very satisfying. I didn't have the urge to open another package when I had finished the packet. I also added some of the Orange Rosemary Pecans to my new Applesauce Muffin recipe that I'll be sharing in my upcoming March Muffin Madness event. And let me just say that those pecans added exactly the right touch to the recipe. Nice little giving bites of orange and rosemary! The Orange Rosemary Pecans were enjoyed by all who tried them. They were one of the items that did "their job" to keep folks pleasantly satisfied while we were waiting for all the pizzas to be ready.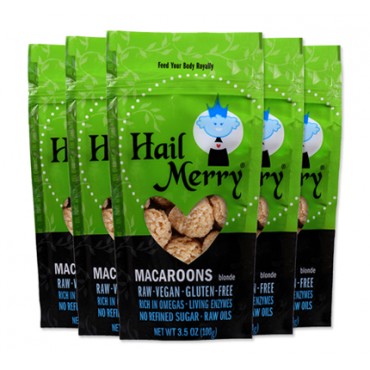 I also thought the Vanilla Maple Almonds were lovely sweet treats that were not overly sweet. The almonds have been soaked and dehydrated. Okay, I admit it … with that treat, I was actually a little sad when that snack bag was empty and I found out that it was the only one of its kind in the products sent me for review. I might have actually tilted the bag to my mouth to get every little bite of goodness.
Note that I did not get to try all of Hail Merry's products. I didn't get to try the Salt N Pepper Sunflower seeds or Chimayo Chili Pecans. And I didn't get to try Hail Merry's most praised products, its Merry Miracle Tarts. Voted Best New Vegan Product 2011 in Food Expo West, these beautiful tarts are pretty pricey, but like all the Hail Merry products they are made of very high quality ingredients. In addition, these tarts are coconut oil based and require refrigeration at all times. So overnight shipping is included in the price. The Merry Miracle Tarts come in several different flavors: Chocolate, Chocolate Almond Butter, Chocolate-Mint, Meyer Lemon, and Persian Lime.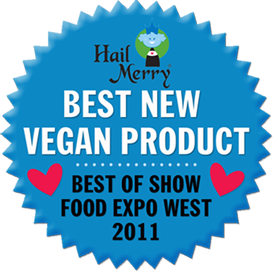 The important part … Hail Merry is giving three gfe readers The Assortment 4-Pack, which includes one 3.5-ounce bag of each of the following:  Chocolate Macaroons, Blonde Macaroons, Orange Cranberry Grawnola, and Lemon Agave Grawnola. Plus, one 1.75-ounce bag of the Vanilla Maple Almonds is also included in the giveaway prize package. Each winner's gift package is over $25 in value.
To enter the giveaway, just leave a comment stating which product sounds most appealing to you. (Note that additional comments will not be eligible entries.) The giveaway ends Tuesday, March 27, at midnight Eastern.