For affiliate links and as an Amazon Associate I earn from qualifying purchases.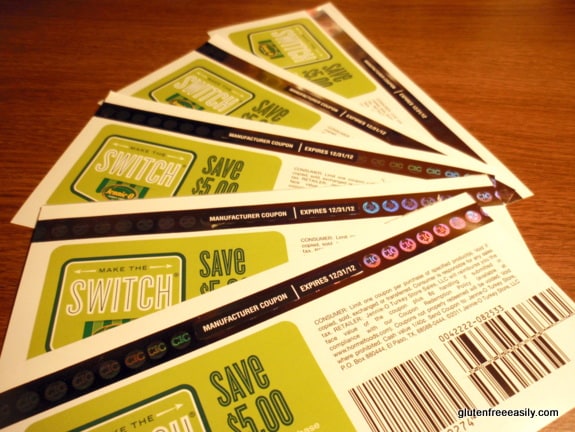 Full disclosure: Jennie-O provided free product coupons for me to review these products and also for this giveaway. However, this is not a compensated post and the opinions expressed here are strictly my own.
UPDATE: THIS GIVEAWAY IS NOW CLOSED.  Thanks to all who entered! Congratulations to the following winners who I will be contacting via email:
cheryl ~ "Personally, I love turkey and had it with breakfast. My favorite way to have turkey is turkey stock….to me, there is nothing more delicious. Ok, probably there is, but soup on a chilly or rainy day is really in a class by itself."
Kimberly Lopez ~ "I have Celiac disease and am always looking for new gluten free recipes. Turkey is a staple in our house."
Amy Zahniser ~ "I have never heard of spatchcock chicken (or turkey) but it makes perfect sense. We love making tetrazzini with turkey leftovers and make sure we have some inexpensive white wine to use in the sauce."
When a representative contacted me on behalf of Jennie-O products a while back, I immediately asked about their gluten-free products and then I wanted to know how they ensure those products are actually gluten free given the fact they also have gluten-full products. Here's the listing of all Jennie-O's gluten-free products (be sure to look around and click on "see more" if shown because this page is displayed differently in different browsers). And here's the quick Q & A below on the discussion I had with the Jennie-O rep on what "gluten free" means to Jennie-O.
1) Does Jennie-O do any testing to ensure their products are 100 percent gluten-free?

Yes, Jennie-O Turkey Store does have a testing process as part of our Allergen Control Program.  Jennie-O Turkey Store's gluten-free products comply with Government standards for gluten-free requirements.  As a proactive control measure, Jennie-O Turkey Store invests considerable time and effort into verifying incoming ingredients, proper formulation, and proper labeling for the products that we produce.

2) How does Jennie-O ensure there is no cross contamination from their products that include gluten?

At Jennie-O Turkey Store, we have administered a strict Allergen Control Program since 1998.  One of our primary goals in this program is to formulate our products so that they do not contain allergens.  If we are producing products that are not allergen-free, those products are identified and segregated in our production processes.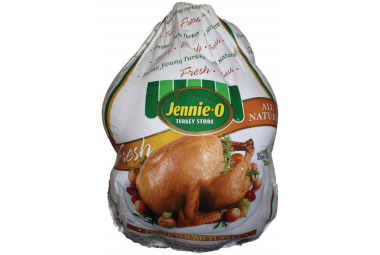 I've been buying a few of Jennie-O's products for many years … ground turkey upon rare occasion (admittedly, when one has a supply of ground venison, there's not much need for ground turkey … at least not in my opinion), turkey breasts once or twice a year, and the also rare whole turkey (my father has provided us with his bounties of wild turkey most years for holiday meals), and the occasional turkey tenderloin. That last one is purchased from time to time when the Jennie-O turkey tenderloins are on sale and we don't need a large amount of turkey. I also use them to supplement large meals upon occasion. With some of the coupons I received from Jennie-O, I picked up two packages of tenderloins for our February support group meeting. Not surprisingly, these tenderloins were enjoyed by all. I've found the Jennie-O tenderloins to be perfectly moist and very tasty. It's nice that you can buy them "plain" to season as you wish or already perfectly seasoned if you'd like (flavors include Savory, Lemon Garlic, and Smoked Applewood). Admittedly, I'm not keen on the fact that some of their products list words that sound too "chemical" for my preferences, but I use them so infrequently that I'm semi-okay with that. There's not a long list of ingredients on most of the Jennie-O products that I occasionally use; I do like that fact. I urge you to do your own review of ingredients before you buy them to see if they fit your requirements. Plus, clearly Jennie-O's "gluten-free" products are not "certified" gluten free, so you'll have  to use your best judgment on whether or not they are safe and right for you to consume. The lack of certification is not uncommon in "mainstream" naturally gluten-free products, but I did want to remind you of that for your consideration.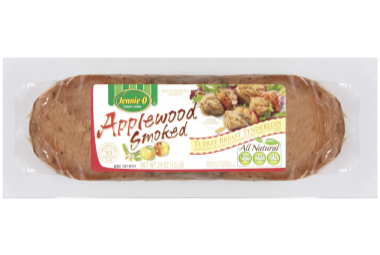 Maybe you've already been looking for some meal inspiration for using turkey, here are some great recipes for you to try:
~ The GFE Mother Lode of Turkey Recipes plus there's the source of most of the turkey used to create those recipes—my two-ingredient slow cooked turkey breast and my special turkey breast (be forewarned … the latter will most likely make you forsake all other turkey recipes) That amounts to 12 recipes in all, so there are a lot to choose from!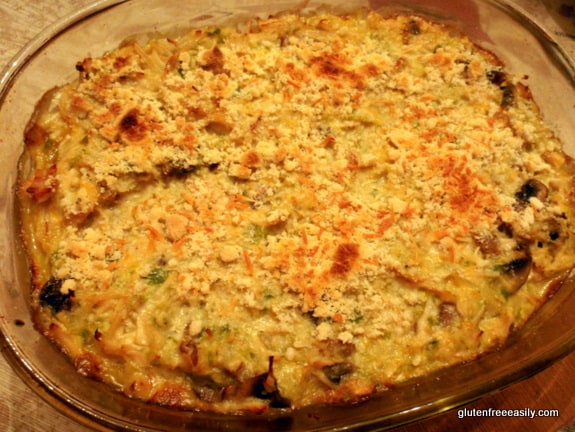 But I wanted even more choices for you and I didn't have to look hard. Here are more great turkey recipes from a number of my blogging buddies! Note that not all of these bloggers are exclusively gluten free, so please remember to use gluten-free versions of ingredients in each recipe if not already noted.
~ Wendy's (Celiacs in the House) Greek Turkey Burgers with Tzatziki Sauce (Don't those sound wonderful? You know how I like recipes with fun words in them, and I've never "met" anything Greek that I didn't like!)
~ Alisa's (Go Dairy Free and Alisa Cooks) Homemade Turkey Breakfast Sausage (no need to find nitrate-free sausage, simply make your own!), Creamy Thai Tomato Soup (a "failed" lettuce wraps recipe became amazing soup), and Sloppy Jose's over Polenta (this older post is worth it not just for the recipe, but also for Alisa's fond memories of her grandfather)
~ Alta's (Tasty Eats at Home) Turkey Enchiladas (enchiladas rightfully get everyone excited!) and Tomatillo Turkey Chili (this recipe wins on the title's simple alliteration alone)
~ Diane's (The Whole Gang) Roasted Spatchcock Turkey (Yep, another fun word/cooking concept involved and  a very fast and tasty way to cook a turkey indeed! the recipe title in Diane's post says chicken, but the recipe itself includes directions for either chicken or turkey.)
~ Ellen's (Gluten Free Diva) Italian Meat Loaf with Asiago Cheese (Cooked in the Pressure Cooker) (You want good meat loaf and you want it fast … Ellen has the answer for you!)
~ Lydia's (The Perfect Pantry) Smoky Turkey, Black Bean, and Corn Chili (Lydia is the queen of all things soup over at her other blog, Soup Chick, but this time she's dishing up delicious spoonable "grub" at The Perfect Pantry. I love how she tells you how you can create soups by adding extra liquid to a favorite stew or pasta dish.)
~ Melissa's (Gluten Free for Good) Festive Red Chile Enchiladas (Melissa shared these for our Home for the Holidays … Gluten-Free Style event because her family enjoys this dish during the holidays, but there's really no "wrong" time for such goodness!)
All of these ideas lead to the giveaway so you can pick up some turkey with some help from Jennie-O. Jennie-O is giving three gfe readers $25 worth of coupons (six $5 off coupons). Read on …
Okay, even though it's March, let's talk some turkey now. I've always thought that turkey doesn't get its due anyway. I'm a fan of turkey throughout the year, not just during the fall and winter holidays. Hopefully, you are, too! All you have to do to enter the giveaway is leave a comment stating your favorite way to use turkey. I get some of my very best recipe ideas and menu ideas from you guys, so I look forward to your comments. That's all that's required to enter this giveaway. If you want to share the giveaway with others (who doesn't need some free "buying power" at the store, right?), you can share the giveaway on Facebook, Twitter, and/or your blog and leave a separate comment for each for extra chances—those are optional entries. This giveaway ends Sunday, March 25, at midnight Eastern.