For affiliate links and as an Amazon Associate I earn from qualifying purchases.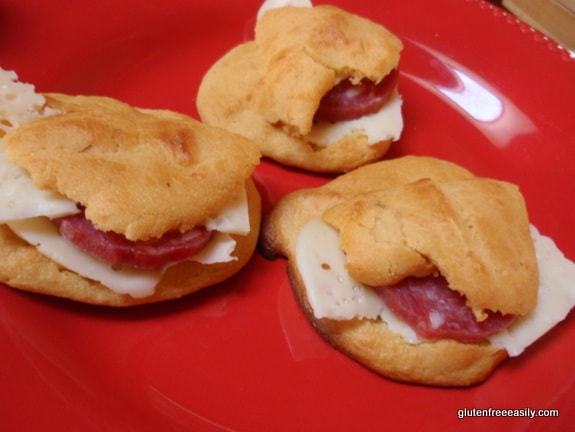 Full disclosure: Columbus Foods provided free salami products for me and my support group to review and also for this giveaway. However, this is not a compensated post and the opinions expressed here are strictly my own.
UPDATE:  This giveaway is now closed. Thanks to all who entered and shared their favorite ways to eat salami! I'm happy to introduce  so many of you to Columbus Salame. I used Jennette Fulda's Pick a Giveaway Winner tool to select the following winners. (Winners will be contacted via email.) Congrats to all! Please stay tuned to more giveaways as I continue my gfe "spring cleaning."
denise mallett ~ "As a child I was introduced to hard salami sitting on the back porch swing with cousins. My uncle had a full stick of hard salami, slicing pieces for us all to enjoy. I have eaten it this way since, for 52 years now. I purchase a good quality salami every two weeks, I eat it mostly by the slice, on gluten free pizza, with goat milk cheese or as salami sandwiches. My mouth was watering gazing at your wonderful picture of salami's teasing my tastebuds."
Janet Lewis ~ "I love salami with a cracker!"
Stacy (Paleo Parents) ~ "On the rare occasion my boys keep salami in the house long enough for me to eat it, I like to snack on it with an orange or clementine. The flavors work perfectly together!"
~~~~~~~~~~~~~~~~~~~~~~~~~~~~~~~~~~~~~~~~~~~~~~
When I posted my Brazilian Un-Cheese Rolls recipe, and shared a photo that showed how I'd made the rolls into little salami sandwiches, several readers commented on how appealing they were.  Some even specifically commented on the salami. As Amber (The Tasty Alternative) said, "P.S. Don't you just LOVE salami! Mmmmmmm!" Yes, I do, and those Brazilian Un-Cheese Rolls are a perfect way for anyone to enjoy salami. This is especially true for those who would normally pair salami with a good cheese, but who are eating dairy free now. Somehow that cheese is just not needed when the salami is tucked into the Brazilian Un-Cheese Roll! (Note that the photo does show cheese though; these were Mr. GFE's lunch.)
In my book, there's "really good" salami, "okay" salami, and "no thanks, I'll pass" salami. Columbus Foods offers really good salami! Mr. GFE and I enjoyed it as an appetizer on crackers, in the aforementioned rolls, and even as pizza topping.  With the help of my support group "sous chef," I even served up some at our last support group meeting … just for small bites or pairing with some of our other food items that evening. Those tasty bites were very much enjoyed, even without much accessorizing!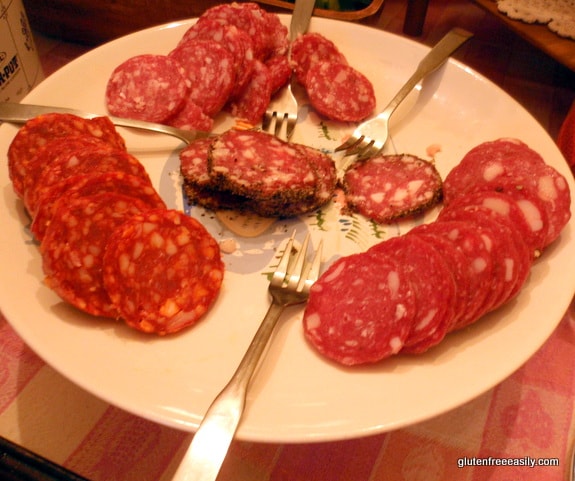 Columbus Foods sent me one of their tasting kits, plus one more—a total of five products with their tasting guide that allow you to be a true salumiere. The latter is an education on both Columbus Foods and this delicious type of meat.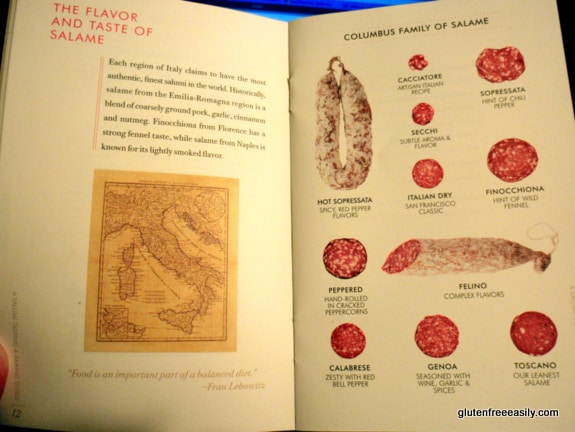 Some noteworthy tidbits that are shared in the tasting guide include:

~ "Salumi is the general Italian term for cured meats and it derives from the Italian word for salt, sale. It came into being as a necessity; it was a way of preserving meats to last longer for consumption. The most common examples of salumi are Prosciutto and Pancetta. Salame is a specific category of salumi that is dry-cured, fermented meat that's encased in a natural or synthetic casing. Salame can be made from many different types of meat … all Columbus salame is made exclusively of pork.

~ "We at Columbus maintain the original Italian spelling—salame, to honor our founders' heritage. In Italian, salame is singular, and salami is plural."

~ "Columbus Foods has been making salame for over a century. We live and breathe salumi, so much so that we even wrote a book about it—Salumi."

~ "High quality salame should have a rich red color, not washed out or pink, with good definition between the meat and fat. When there is little or no distinction between the two, it's a sign of a lower quality salame. Authentic, gourmet salame should have a firm bite and should never taste fatty on the palate."

~ "Salame should be served at room temperature." (20 to 30 minutes out of the refrigerator.)

~ "Sliced salame is best when consumed within 7 – 10 days of opening."
Columbus Foods material stated that "Like all Columbus salame and deli meats, these are gluten free and contain no MSG or trans fat." When I inquired further about the gluten-free status of Columbus Foods' salame, the representative stated, "All of our products are gluten free. We have no gluten within our plant; this includes the turkey broth in items like our turkey breast."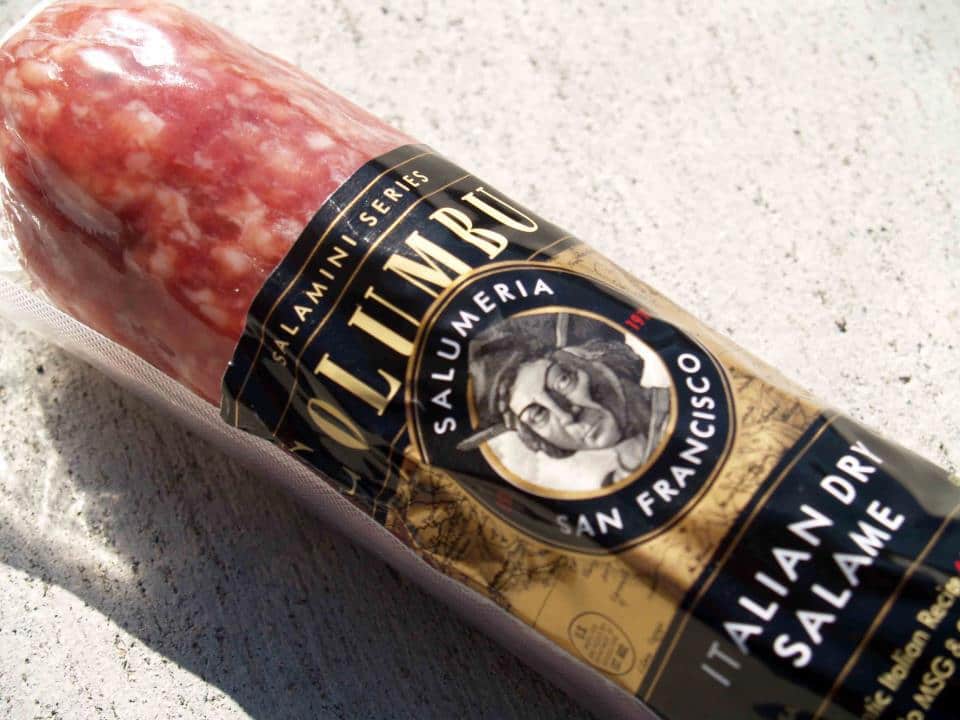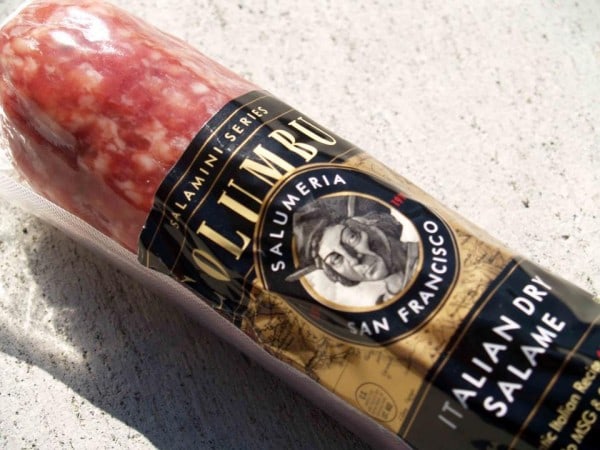 photo courtesy of Columbus Foods
The five products that we enjoyed were:
~ Italian Dry salame: An Old World classic with a San Francisco twist
~ Pepper salame: Hand-rolled in freshly cracked peppercorns. (From the Columbus natural line)
~ Sopressata salame: Robust with sweet fennel, hot peppers, paprika and red wine
~ Chorizo salame: A one-of-a-kind mixture of paprika, fresh garlic, and spices
~ Classic Toscano salame: Columbus Foods' leanest salame
Three gfe winners will get this same giveaway package, plus the very worthwhile tasting guide (with pairing suggestions, an area for tasting notes, etc.—makes for a great little party activity for two or more!). Each giveaway package is valued at about $40 (not including shipping and handling). This giveaway ends Thursday, March 29, at midnight. Important Note:  Because this giveaway prize involves food that must remain cold during shipping, this giveaway is not open to international readers; I am sorry.

To enter the giveaway, please leave a comment on your favorite way to eat salami. You can "like" Columbus Salame on Facebook for one additional entry. (There are great recipes and quotes shared on this page!)
And as the Columbus Foods rep always signs off … "Buon Appetito!"