For affiliate links and as an Amazon Associate I earn from qualifying purchases.
My second installment of March Muffin Madness, Pumpkin Mochi Muffins, starts out very similar to my first installment in which I shared my new recipe for Applesauce Muffins. This time I had pumpkin puree in the fridge. I had thawed the last container left from my fall efforts and wanted to turn it into a muffin. If you're a longtime gfe reader, you already know that I love all things pumpkin. This affection is evidenced in this gfe pumpkin recipe roundup and my never-ending Pumpkin Pie Plus … series; this post qualifies for that, too!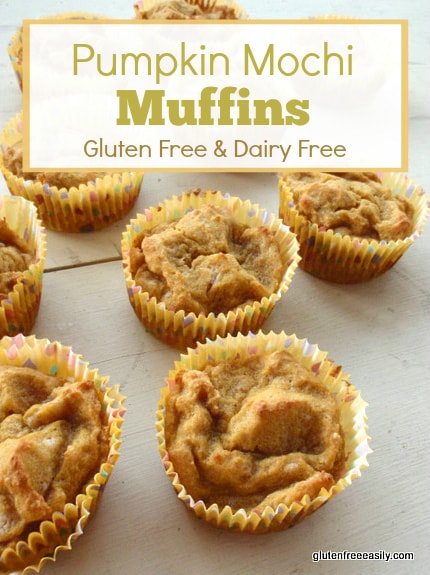 I didn't want to make your basic pumpkin muffin that's just pumpkin bread in muffin form. I also didn't want to use almond flour for this particular recipe. Not everyone who reads gfe can eat tree nuts so as much as I love using almond flour, it is not always an option for my readers.
So again this time (and like I do most of the time before creating a recipe), I looked to my pantry to see what options I did have. Sweet rice flour, also known as Mochiko or "glutinous" rice flour, was staring back at me. Sweet rice flour is another ingredient that I buy at my local Asian grocery store. (I also buy white rice flour, tapioca starch/flour, and potato starch there.)
Sweet rice flour is great for making gravy or similar sauces, for breading, and can be used in some baking. Often sweet rice flour is used in conjunction with other gluten-free flours and starches to create a lighter baked good. The "glutinous" description does not refer to gluten—it's gluten free or I wouldn't be using it, of course—but refers to the stickiness of the rice that was ground to make the flour. Sweet rice flour is a very fine, white, bland flour derived from a strain of short grain rice that is stickier, more starchy, and smoother textured than common white rice.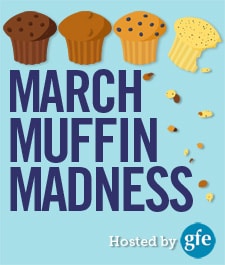 Lovers of Asian food know that sweet rice flour is the key ingredient for very delectable dessert treats called mochi or that use mochi, molded sticky rice treats that use that same short grain rice that is used to create sweet rice flour. I've lived a fairly sheltered life when it comes to foods from different cultures. So I've only enjoyed mochi once previously, in ice cream form, when it was part of a lunch catered by Big Bowl on my trip to General Mills and the Betty Crocker Kitchen for the Gluten-Free Bloggers Summit. I loved it! So when my Google search of "pumpkin sweet rice flour" revealed lots of recipes for pumpkin with sweet rice flour, I got excited.
There were many variations of pumpkin mochi cake that used butter and sweetened condensed milk, or evaporated milk or coconut milk. However, none of the recipes I saw for pumpkin mochi cake were gluten free. One person had used  a basic Pumpkin Mochi Cake recipe and a muffin tin to make Pumpkin Mochi Muffins for Thanksgiving. Another had made Gluten-Free Pumpkin Chocolate Chip Cookies. I got even more excited when I saw that gluten-free recipe!  In the end, I came up with a recipe that's gluten free, dairy free, and refined sugar free and even uses less sweetener than most mochi dessert recipes.
I really like these muffins. They are not the tall muffins that impress one on looks, but rather the kind of muffin that looks quite a bit less than perfect (some would even say ugly), but taste so good! They remind me a bit of these Pumpkin Pucks. Shorter, flatter mounds of goodness, but for the record, their treats are much more attractive than these Pumpkin Mochi Muffins.
One important thing you need to know is that the mochi factor means that these muffins are not to be eaten immediately. They need to cool for at least an hour before eating. After 2 or 3 hours, they'll taste even better. The flavors and ingredients need to "gel" to offer that mochi taste and texture. But if you make this recipe into mini-muffins, you can knock about 15 or 20 minutes off your waiting time! Just sayin. (You'll find the recipe with directions for either the mini or the full-size muffin at the bottom of this post.)
UPDATE:  This giveaway is now closed. Thanks, once again, to all who took the time to enter the giveaway. Congrats to Arleen, Thia, Grace and Angela!
For today's MMM giveaway, I'm giving away the palm sugar that I like to use,
Navitas Naturals Organic Palm Sugar
. There will be
FOUR
winners. 
And here's your recipe …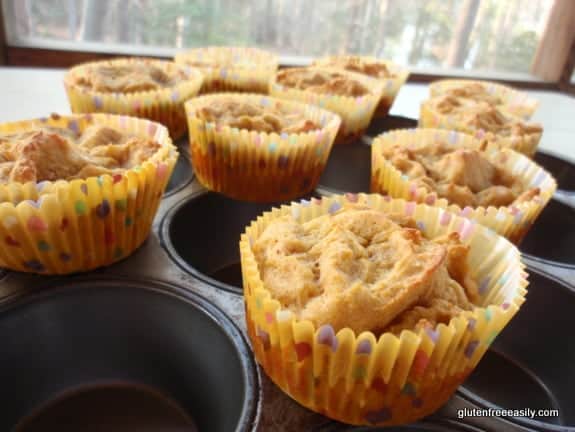 Yield:
Pumpkin Mochi Muffins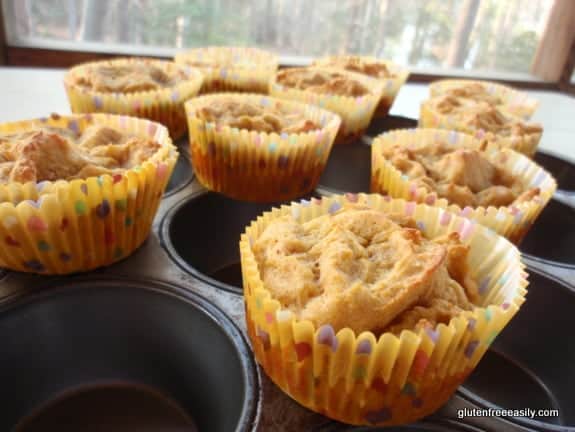 If you like mochi desserts, you're going to love these Pumpkin Mochi Muffins. The longer they sit, the better they get!
Ingredients
1 ¼ cup pumpkin puree (if using fresh, all extra liquid must be drained off before measuring and baking)
¼ cup coconut cream (the thick cream at the top of the can of full-fat coconut milk after it's been refrigerated for at least 24 hours, preferably longer)
½ cup of full-fat coconut milk (see notes)
½ cup coconut or palm sugar (or granulated cane sugar or a mixture of brown sugar and granulated cane sugar; may use more or less, to taste)
1 tsp cinnamon
¾ tsp ginger
1 ¼ tsp baking powder
¼ tsp salt
¼ cup coconut oil, liquefied
1 heaping cup sweet rice flour (just a little over a cup, as in not a level measurement)
2 eggs
1 tsp vanilla extract
Instructions
Preheat oven to 350 degrees Fahrenheit. Grease muffin cups or line with cupcake liners.
In large bowl, add ingredients in the order shown being sure to stir in the sweet rice flour right before adding in eggs and vanilla. Mix well.
Fill muffin tins about 2/3 full.
For mini muffins, bake about 10 minutes. For full-size muffins, bake about 20 to 25 minutes. Test for doneness using a toothpick.
Cool for at least one hour before serving, preferably more. (This step is important. Be patient.)
Makes about one dozen full-size muffins
Notes
I used a wooden spoon to mix this batter, but feel free to use a hand mixer if you like. The sweet rice flour does "harden" when mixed with liquid and clumps can form, so be sure to break those up if using a wooden spoon. For the coconut milk, I just used some from the same can that was part cream and part lighter milk since I'd already scalped most of the cream. The sweet rice flour gets added before the eggs so that the eggs (if still a little bit cold) don't harden the coconut oil. These muffins are mildly flavored, so if you really like some spice, feel free to add more cinnamon and ginger, pumpkin pie spice, etc. You can smooth the tops of the muffins with your finger or a spoon before baking if you'd like for a prettier appearance as they will maintain their shape. I don't know if these muffins can be made egg free. If anyone tries that, please let me know. I used cute cupcake liners that a co-worker who likes my baked goods gave me for Christmas, but I think I'd prefer these muffins baked in greased muffin tins. I'd like the outside to be a bit crispier.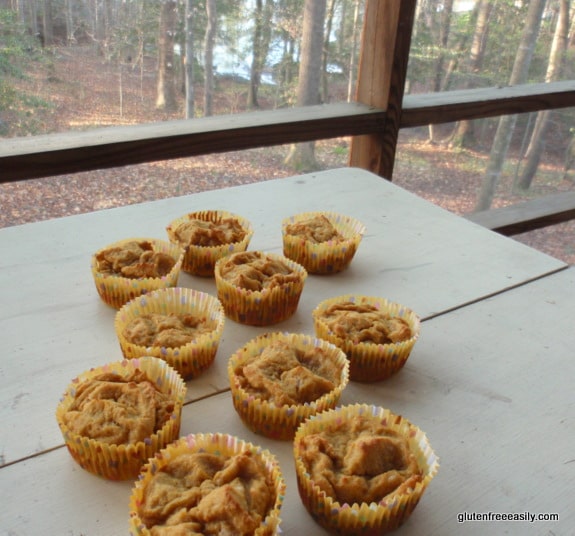 You can see the complete muffin roundup here!