For affiliate links and as an Amazon Associate I earn from qualifying purchases.
Full disclosure: Some of the products shown in this post and all of the products offered for this giveaway were provided free of charge by Rudi's Gluten-Free Bakery. However, this is not a compensated post and the opinions expressed herein are strictly my own.
UPDATE: This giveaway is now closed. Thanks to all who entered! The winner of this giveaway is Leese. Her comment was: "What a great product! My son would love any or all of what he could win. Thanks for this idea!" Congrats, Leese!

Most folks who are gluten free and enjoy the convenience of ready-made gluten-free bread, rolls, pizza crust, etc. know about Rudi's Gluten-Free Bakery and their gluten-free products. I wrote about a wonderful complementary Rudi's dinner that I attended last year when I shared my Savory Lemon-Kissed, Sun-Dried Tomato Chicken Artichoke Clafoutis that I made using Rudi's Multigrain Bread. While it's not often that I purchase bread products, when I do, I go for Rudi's products if they are available. One of the things that I like most about Rudi's products, other than the pleasant taste and satisfying texture, are the ingredients. For example, Rudi's multigrain bread is made of the following: "Water, potato extract, rice starch, rice flour, cane sugar, sorghum flour, high oleic sunflower/safflower oil (non-GMO and expeller pressed), egg whites, yeast, sea salt, xanthan gum, molasses, flaxseed, millet, sunflower seeds, cornmeal, honey." You won't see ingredients like cellulose or others that sounds like chemicals and are hard to pronounce in Rudi's products. As Rudi's states, its products are "Made with stuff you can pronounce and ingredients you recognize." Who doesn't love that?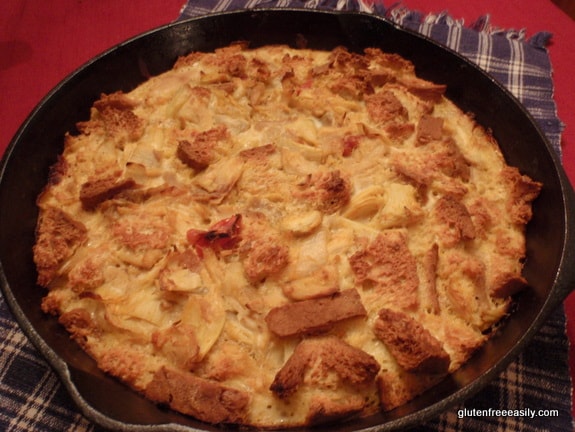 Not all Rudi's products are available here locally, so I was pleased that Maggie from Rudi's sent me some of their pizza crusts to try. These are thin, sort of neutral tasting crusts that make for great delivery systems for all type of toppings and meals. I made some of my pizzas "just" gluten free (as Heidi likes to say; so many of us have other food intolerances as well) for Mr. GFE to enjoy and I made others dairy-free as well by skipping the cheese and/or using some Majestic Garlic Spread (usually Sun-Dried Tomato Jalapeno Pepper flavor, but sometimes the creamy Basil) in lieu of cheese. All were fantastic!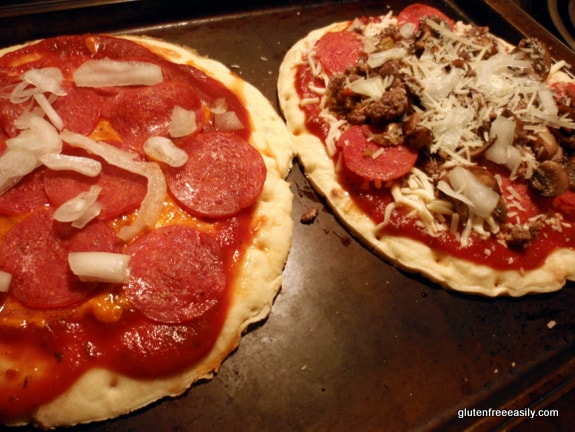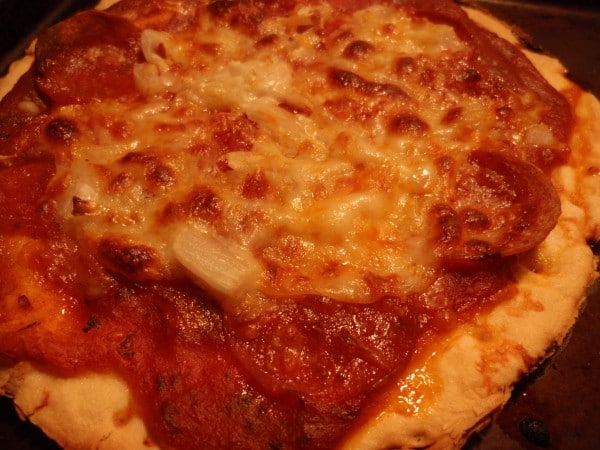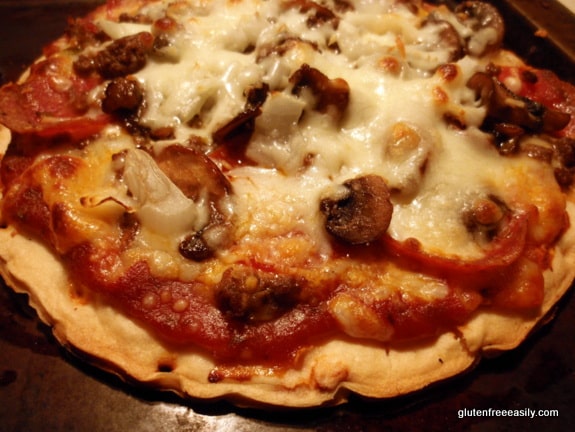 One day I toasted some Rudi's Multigrain Bread in the oven. (Son and I rarely eat bread, so we leave our toaster to Mr. GFE as a dedicated gluten-full toaster and instead toast our bread in the oven. Mr. GFE has a handful of gluten-full items in the house: bread, cereal, crackers, and beer.) I used my bread to make cinnamon toast and then on the spur of the moment, I decided to drizzle some maple syrup over it and eat this dish with a fork. Well, surprisingly, it tasted like French toast! It made for the easiest French toast ever and was obviously lower in calories than the usual recipe. It was a very enjoyable way to use Rudi's bread for sure!
Rudi's Multigrain Hamburger Buns work very nicely for their intended purpose or as toasted bread to go with a hot mug of soup instead of crackers … or even as another base for simple pizzas with few toppings. The truth is I can find endless ways to use Rudi's gluten-free products! Oh, and in case, you didn't know, Rudi's gluten-free products are certified gluten free by the Gluten-Free Certification Organization (GFCO).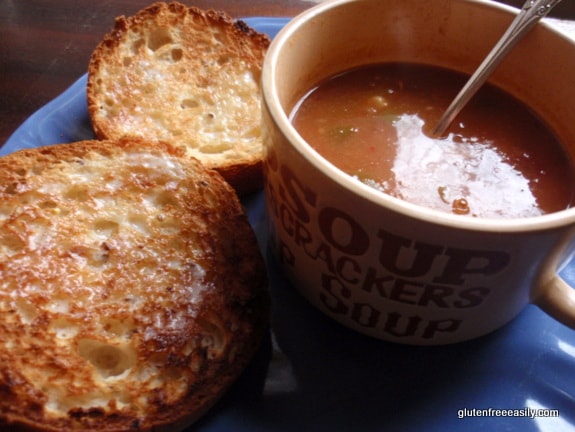 Finally, here's the info that you are really interested in! Rudi's is offering a wonderful giveaway package to one of my gfe readers. It includes the following:
•         Rudi's GF Sticky Notes (we use these at our support group meetings all the time)

•         Rudi's GF Bread Clip (who doesn't need one of those; I use them to clip my gluten-free flour bags, too)

•         Rudi's GF Banana Pudding Recipe Card (banana pudding!!!)

•         5 Free Product Coupons (you get to choose what you want)

•         Spice Grinder (spice grinders can usually be used for grinding more than spices; e.g., chia seeds, flax seeds, nuts)

•         Delight Magazine (single copy of latest issue; a "relative" newcomer in choices of gluten-free magazines, Delight offers all full-color photos and a variety of articles from great contributors)

•         Gluten Free Living Magazine (single copy of latest issue; I've been a subscriber since first going gluten free, Gluten-Free Living offers well-researched articles and much helpful info for the gluten-free consumer)

•         Rudi's GF Branded Toaster (here's your dedicated gluten-free toaster!)

•         Rudi's GF Reusable Bag (staying "green" when shopping)

This giveaway ends Monday, April 2, at midnight Eastern. To enter, do one or more of the following:

~ Leave a comment here. (This is the only required entry.)

~ Like Rudi's on Facebook. Leave another comment here.

~ Follow Rudi's on Twitter. Leave another comment here.

~ Share the giveaway on Facebook. Leave another comment here.

~ Tweet the giveaway. Leave another comment here.