For affiliate links and as an Amazon Associate I earn from qualifying purchases.
This giveaway is now closed. See winners here.
I am behind on my agenda. I hosted our support group meeting Tuesday night, went shopping last night, and then flew out first thing this morning to attend the Gluten-Free and Allergen-Free Expo outside Chicago in Lisle, IL. I'm here now in the hotel, but alas, I'm here without my checked bag (stop snickering, Diane!). I didn't pack any clothes in my carry-on because I figured it was a direct flight and there would be no issues. Wrong. The folks at United decided that they wouldn't put several bags on the small plane due to weight restrictions, but those of us whose bags got left off weren't told that until we inquired about our missing bags. They are sending my bag on a later flight and will then bring it to the hotel, but that will be after I have to leave for an amazing dinner being hosted by Rudi's Gluten-Free Bakery at Wildfire in Chicago. I'm planning on nice jewelry and lipstick drawing attention away from the jeans that I am wearing. What do you think? Will that work? Thankfully, I do have a on a nice top and jacket. Maybe if I can just plant myself in a spot where I can only be seen from the waist up?Looking at the bright side of the luggage snafu, I met some very nice folks whose bags also got left off. One of them was a local fellow who treated us all to Starbucks. That was a really kind thing to do! And of course, now I'm here safely at the hotel for the Expo event and all the excitement that will bring. What are a few lost clothes, right? (But that's not what I'm telling United when I fill out their online survey.)
The support group meeting the other night was fantastic by the way! Our meetings usually are. I'm not trying to be obnoxious. That statement is sort of like a mom bragging about her kids because all of our members are just great people and they often delight me with their contributions to our support group. Imagine all these wonderful folks who are enthused about eating real food, gluten-free food, getting together to eat an overly delicious meal and discussing what's new in healthy, gluten-free living. We do it every month and it's like recharging one's batteries. Mr. GFE, our "doorman" for our meetings, told me that as he escorted attendees to their vehicles, they were all raving about the meeting. He wasn't being overly dramatic. If you've found a really good gluten-free support group—with emphasis on the word, support—you know exactly how those folks feel.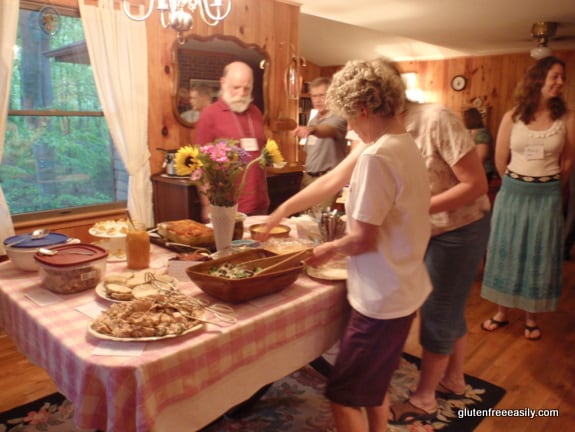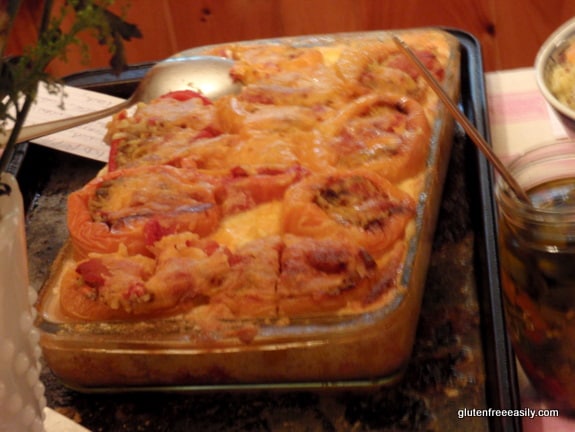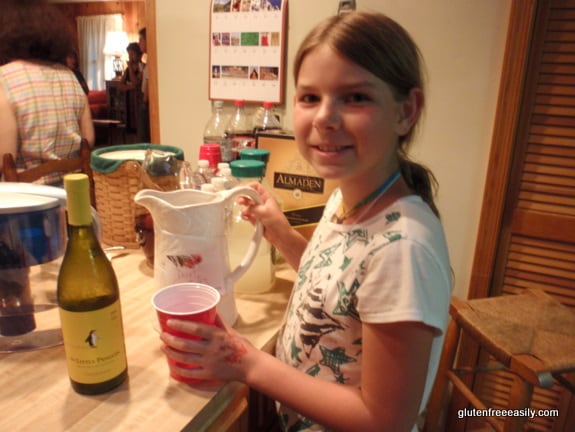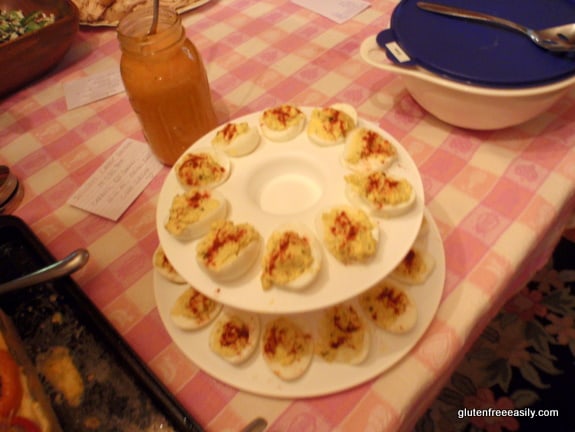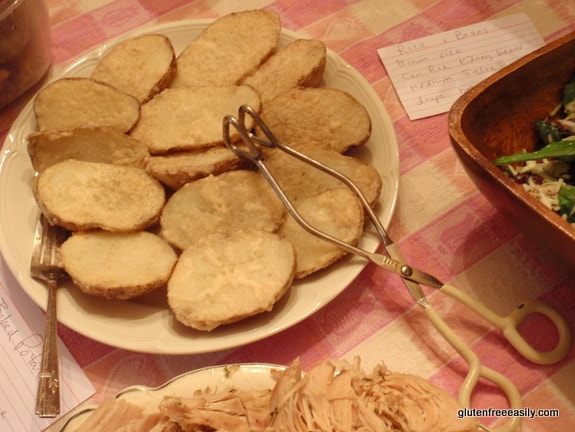 We had five new members join. All were alone in their gluten-free living … before last night. Now they have an instant support system. Most found out about our group from this recent article in our local newspaper. One found out about our group from my mother-in-law; she's sent quite a few our way. (Thanks, mom of Mr. GFE!) One found us through the valuable resource that is the National Foundation for Celiac Awareness. The NFCA's founder, Alice Bast, recently received the prestigious Philadelphia Award for her work. I love it when people who get awards truly deserve them; Alice Bast does. Read all about Alice's award and her story here. It will make you both sad and inspired to see that someone took such heartaches and turned them into the amazing resource that we have in the NFCA. Pay special attention to the NFCA site as we head into May, which is National Celiac Awareness Month. May 1st is Sunday!
Similar to our support group meetings, other gluten-free conferences, like the Expo, can offer the same camaraderie and "been there, done that" understanding. Started by Jen Cafferty (Gluten-Free Life with Jen) in 2008, this conference which offers a large vendor fair, cooking classes, and other key sessions has expanded to two cities for 2011 and will continue to grow. Yes, the Expo that officially starts tomorrow is going to be quite the event. I wager that more gluten-free bloggers, cookbook authors, and just great gluten-free people will be in attendance at the Expo than any other gluten-free event this year.
I talked about many of those folks in this post. But the Expo keeps getting better … I just found out my dear friend, Elana (Elana's Pantry), will be joining us here, too—woohoo! Elana has had quite the exciting week already. Her new cookbook, Gluten-Free Cupcakes, came out on Tuesday. You can see my review and find sample recipes from Elana's new cookbook here. The recipes are not only gluten free, but grain free, too. Some use almond flour, some use coconut flour, and some use both. I bet some of you already have Elana's new cookbook already because I heard that the folks in Canada who preordered got theirs early! I'm sure others of you have run out to your local bookstore and picked one up. It's a beautiful cookbook. I love its size, which is close to that of her first cookbook, The Gluten-Free Almond Cookbook. If you do have it, I'm certain that you are flipping through it, going nuts over all the gorgeous cupcakes (including savory muffins) and trying to decide what to make first. Do you want my advice on that? Don't choose; it's just too hard. Hand it to your kids or significant other and let them choose. Or you could just work your way through the recipes from beginning to end. There are over 50 recipes so it will take you a while, but you are guaranteed 50 days of cupcake heaven; who doesn't want that?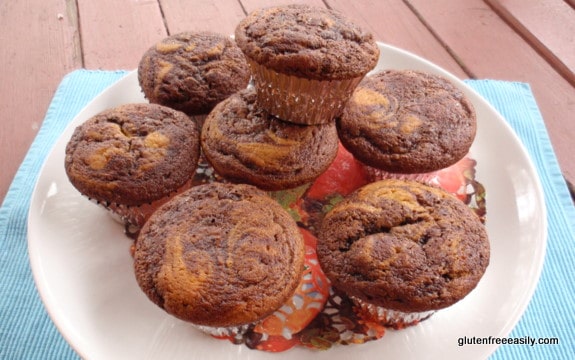 That leads me to that last thing that I mentioned in the post title … yes, a giveaway of Elana's Gluten-Free Cupcakes cookbook. When the kind folks at Ten Speed Press sent me a complimentary copy to review, they also sent along another copy for one of you! So if you don't have a copy yet, read on.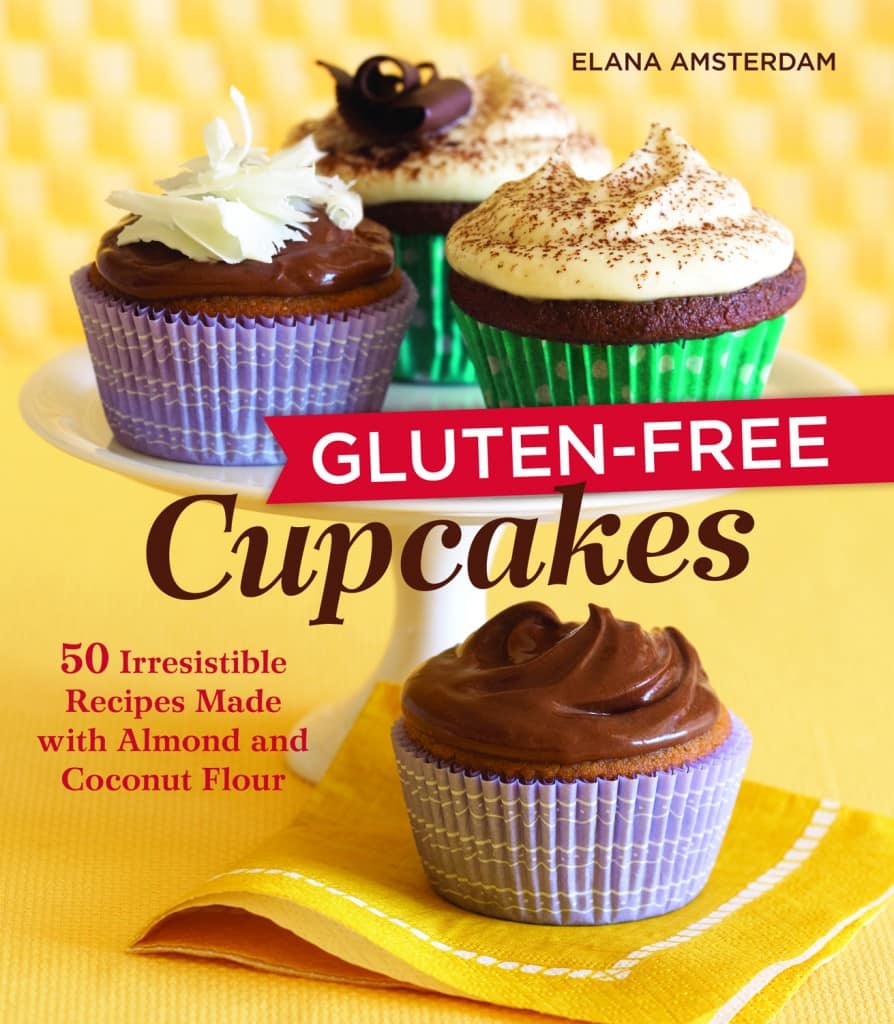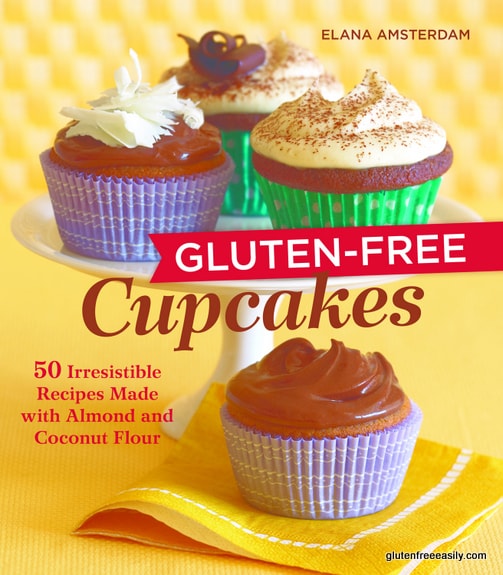 I have a special cookbook shelf built in to the end of the eating area of my kitchen. It even has adjustable shelving. I designed the multifunctional unit of cabinets that it's housed in and my craftsman dad built it for me. (There are also two levels of counter top (one for work space and the other for dining) and great storage for my entertaining supplies.) I have another rolling bookshelf for our support group. It's quite overloaded as you can imagine. I gingerly wheel it out from its usual reclusive spot in our bedroom for meetings. I'm curious about gfe readers' interest in Elana's new cookbook and your cookbook storage spots. To enter, please simply leave a comment telling me why this cookbook should be on your shelf and/or how you store your cookbooks. The Gluten-Free Cupcakes cookbook giveaway ends Wednesday, May 4, at midnight Eastern. No time to give more entry options. Make your own if you want. Seriously. You know the drill. Oh, and if you want even more chances to win Elana's new Gluten-Free Cupcakes cookbook, check out Kim's (Cook It Allergy Free) giveaway here and Sea's (Book of Yum) giveaway info here. Good luck! Hope to see many of you here at the Gluten-Free and Allergen-Free Expo this weekend!