For affiliate links and as an Amazon Associate I earn from qualifying purchases.
One of the special meals that we have enjoyed about once a month since Christmas of last year has been Stone Crab Claws. This homemade Special Sauce for Dipping Stone Crab Claws always made that meal a truly festive occasion!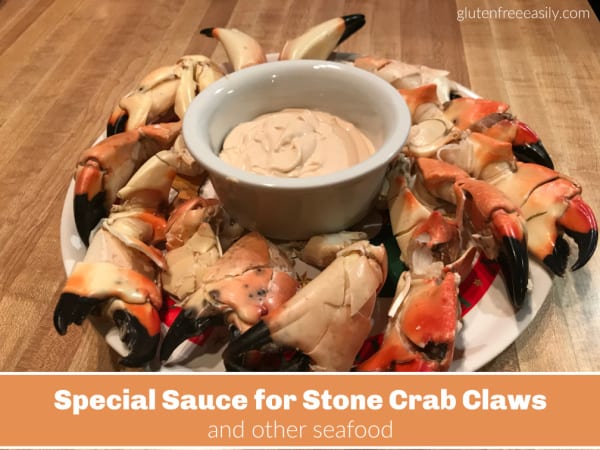 One of the ways we got through the often challenging last year was to indulge in such special meals, celebrating every possible occasion—traditional holidays, food holidays, our birthdays, our dogs' birthdays, our personal achievements, and more—and splurging on favorite foods as well as new-to-us foods that I ordered online. It didn't seem like that much of an indulgence because after all, we weren't eating out at all during that time.
Previously, we've only enjoyed Stone Crab Claws when visiting the Florida Keys during vacations—usually while in Key West—which typically happened during actual Stone Crab Claw harvesting season. Many a restaurant lured us in by advertising that they had stone crab claws on their menu. Even better when they offered them at bargain prices for Happy Hour! Our Key West adventures with Mr. GFE are such sweet memories for all of us.
Learning that we could order Stone Crab Claws from the comfort of our own home to create some new memories was exciting! To get the best value, we ordered them only during the harvesting season (mid-October through May 1 this year). Plus, we always opted for the medium-sized claws—which were the lowest priced option. A single order of medium-sized claws was two pounds, which could be as few as 10 claws or as many as 14. Two pounds was the perfect amount for us.
Stone crab claws are exceptionally hard. You can't use your typical seafood cracker to open them. Such crackers are simply not up to the task. When you order stone crab claws while dining out, they come perfectly pre-cracked and ready to eat.
Restaurants that serve Stone Crab Claws have heavy-duty cracking "machines" (similar to this one) that make the cracking task fast and easy, which is necessary for the volume of crab claws they're serving. The efficiency of such professional crackers also means that the claws are cracked without tiny bits of crab shell pushed into the meat.
I didn't think about our order of crab claws coming otherwise until they actually showed up uncracked. Uh oh.
How would we crack them? A quick Google search revealed a YouTube video showing one home method of cracking the claws—a quick rap from the backside of a very heavy spoon in all the right places. And I just happened to have the perfect spoon for the job. My niece had given me two gluten-free serving spoons years earlier.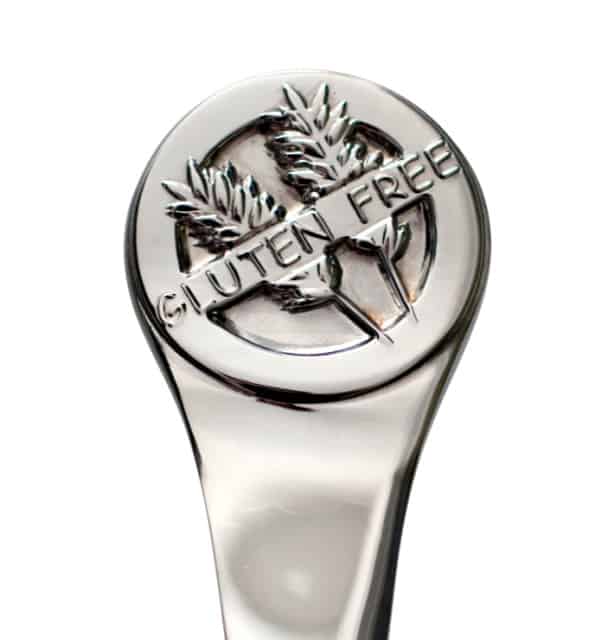 The large heavy-duty spoons are embossed with "gluten-free" slashed across wheat symbols on the handle. They come from The Food Allergy Kitchenware Company. They're perfect for identifying gluten-free dishes at a shared meal (shared meals can be navigated safely if you follow certain precautions) and it turns out these spoons are also ideal as tools for cracking stone crab claws. After the claws are wrapped in a towel to prevent shell shards from flying all over (we later decided that we preferred using a paper towel) and placed on a wooden cutting board.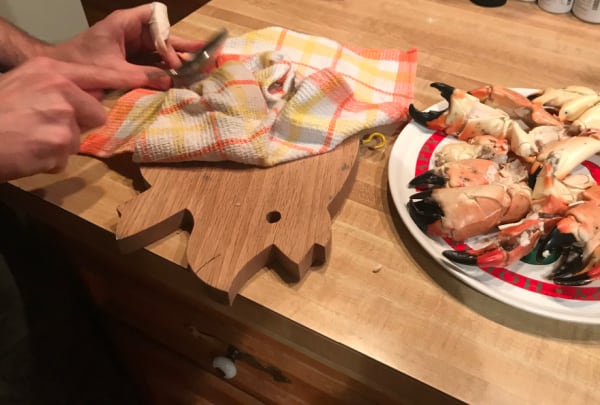 Stone crab claws are always served cold and always with a mustard-based dipping sauce. The sauce is a wonderful complement to the sweet and tender crab meat. It's a great alternative to melted butter for dipping, or a worthy second option for one's dinner guests if you wish to serve both.
We would divvy the claws up between the three of us, usually after eating a big salad (almost always a variation of Kathi's Great Salad). The combination made a simple and satisfying dinner—most definitely worthy of whatever special occasion we were celebrating that evening!
Not only do we love eating stone crab claws because they're absolutely divine but we also appreciate the fact that they're sustainable seafood. Commercial fishermen are only allowed to take one claw and the crab has the ability to regrow the harvested claw. Claws may not be taken from egg-bearing females.
We have also used this sauce with Blackened Mahi Mahi (recipe coming), grilled octopus, and fried calamari. It adds a nice flavorful touch to all of these menu items, whether one is dipping bite-sized pieces into the sauce or drizzling some of the sauce over the entrée before sampling.
I hope you'll give this special sauce a try and report back on your favorite ways to enjoy it!
Special Sauce for Dipping Stone Crab Claws (and Other Seafood) Recipe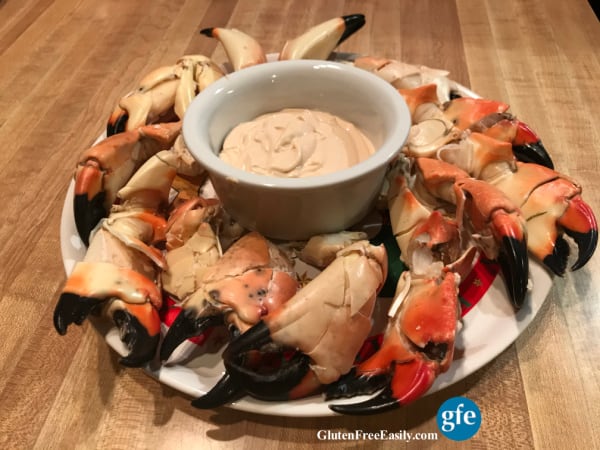 Special Sauce for Dipping Stone Crab Claws (and Other Seafood)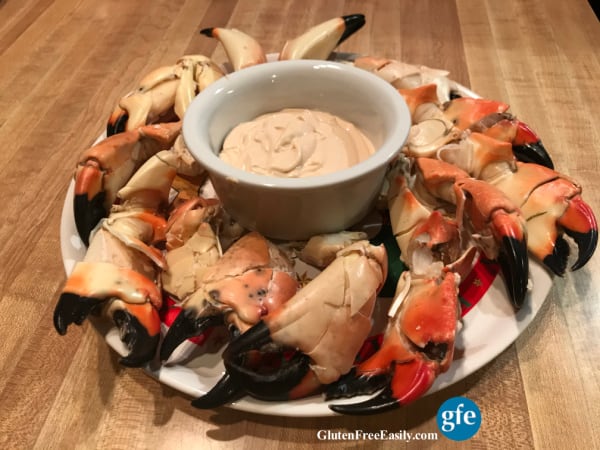 Prep Time 5 minutes

Total Time 5 minutes
Ingredients
1/3 cup mayonnaise
1 ¼ tsp dry mustard
2/3 tsp Worcestershire sauce
Pinch of salt
2/3 tsp lemon juice
2 tsp ketchup
2 tsp coconut cream (solid "cream" at top of can of full-fat coconut milk after being refrigerated overnight) or 1 tsp heavy cream (aka whipping cream); optional, but preferred
Instructions
Add all ingredients to small bowl and mix well.
Transfer sauce to a small serving dish, such as a ramekin, if you wish.
Notes
This recipe makes enough for dipping two pounds of medium-sized stone crab claws, which is typically 10 to 14 claws. You may even have a little of the sauce left over, which will allow you to try it with other seafood entrees.

I have "cheated" and placed a small bowl of coconut milk in the freezer for a few hours as a much quicker way to get coconut cream. I also believe that sour cream would work in place of the coconut cream or heavy cream. The use of sour cream will yield a slightly different flavor overall but the sauce will still be delicious.

Originally published September 21, 2021.