For affiliate links and as an Amazon Associate I earn from qualifying purchases.
Easy and Good Gluten-Free Lasagna. "Easy" and "Good." Those are probably my two favorite words when it comes to recipes that I want to make and serve my family and friends.
Those words can pretty much describe all except a very few recipes in my repertoire. This Easy and Good Gluten-Free Lasagna has been a favorite of ours for a very long time.
My friend Annie created the original gluten-full recipe because she wanted a lasagna recipe that tasted great but was not too complicated. This was years ago when Annie was married the first time and before Mr. GFE and I were married, so this recipe has stood the test of time.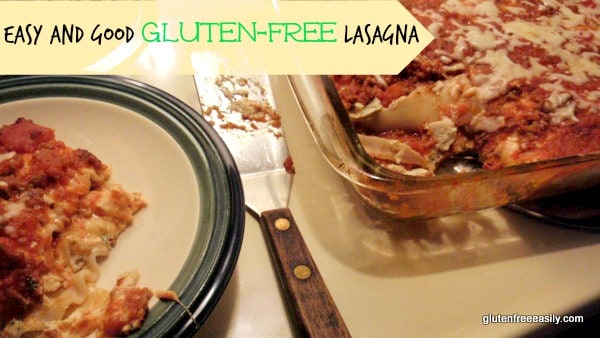 She called hers "lasagne." She said it the same way as "lasagna." She just spelled it differently. I have always preferred that spelling over "lasagna."
What's the difference? Grammarist states that "North American English speakers use lasagna. English speakers from outside North America usually use lasagne."
The word—and the dish, of course—are Italian. Lasagna or lasagna refers to both the pasta noodles and the casserole dish made from them.
If you're into grammar, you'll want to know that lasagna is the singular form and lasagne is plural, but the latter is used as a mass noun (I prefer to think of it as a "collective" noun) and takes a singular verb.
Despite having a degree in English (you don't want me to get into "bachelor," "Bachelor of," or "bachelor's"), I don't get too hung up over grammar as I personally still make grammatical errors on a regular basis, but I did want to explain Annie's use of "lasagne." That spelling just seems more elegant to me.
But before we go on, let me make this point clear. If you're Italian and/or a lasagna purist, this lasagna recipe is probably not for you.
It uses ready-made sauce in a jar and equally ready-made not-fresh tomatoes (diced or stewed; jarred or boxed tomatoes are fine, too), and it comes together fairly quickly. There is no actual "Mama!" in an apron waiting for her homemade sauce to reach its peak perfection before her prized lasagna can be made.
Like any good lasagna, it always tastes better on the second day, so I often make it the day before I want to serve it. It's good on the first day, but the flavors do that wonderful melding thing and the overall texture is much improved on the following day.
So, when making this recipe for guests, I always make it and bake it the day before, then just reheat it for our special meal.
When I went gluten free, I simply started making the recipe with gluten-free lasagna noodles. Some brands of gluten-free lasagna noodles fall apart quite a bit after you cook them. But it really doesn't matter in this recipe. You just layer the noodles and the pieces as if they were whole, overlapping them slightly and filling in any holes.
Piece-meal noodles or not, we have always been just as happy with the gluten-free version of this recipe as the original gluten-full version.
I've made a few other changes to Annie's recipe, but nothing too drastic. I usually use more meat for Carnivore Man (aka Mr. GFE), but I personally prefer this recipe with less meat, sort of as an accent to the noodles, cheese, and sauce. And if you're in my age bracket, you probably know that the size of jars of ready-made pasta sauce has shrunk over the years.
So, while Annie's recipe called for only a cup of tomatoes, now I have to add another ½ cup or more of tomatoes or pasta sauce to get the total sauce and tomato measurement to be sufficient.
I usually opt for adding more tomatoes instead of opening another jar of sauce, because it gives my lasagna more of a homemade taste. Plus, who really has a good use for less than a full jar of pasta sauce?
Here are step-by-step photos showing how I make my lasagna with the recipe below. This recipe is not really complicated enough to have a "tutorial," but I like photos. Enjoy!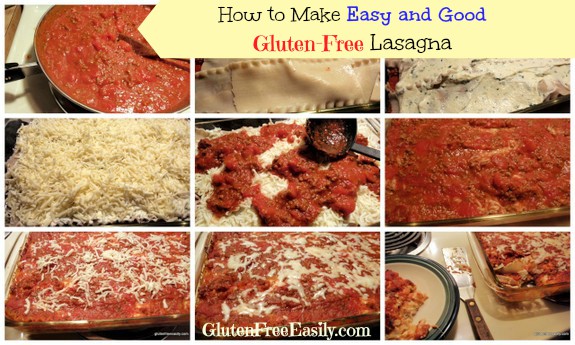 More Comfort Food Dishes That Are Guest Worthy
~ Easy Cheesy Gluten-Free Macaroni and Cheese
~ Easy Peasy Cheesy Gluten-Free Tuna Casserole
~ Gluten-Free Chicken A La King
~ Gluten-Free Green Chile Chicken Casserole
Easy and Good Gluten-Free Lasagna Recipe
Yield: 6 to 8 servings
Easy and Good Gluten-Free Lasagna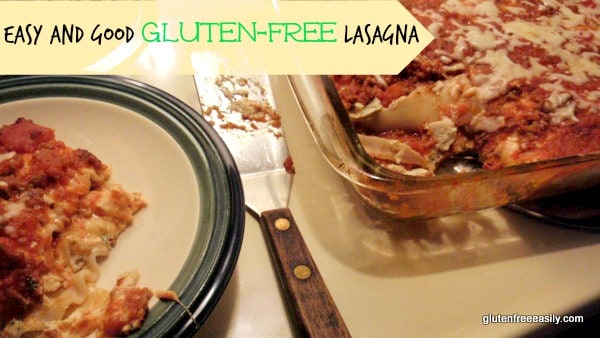 The easy and good---and of course, gluten-free---version of classic Italian lasagna can be enjoyed anytime but it's guest worthy.
Ingredients
½ to 1 lb ground meat (beef, turkey, sausage, venison) (see notes for vegetarian option)
24-ounce jar of your favorite gluten-free pasta sauce (thicker sauce is best)
1 ½ cups diced tomatoes, Italian style OR diced tomatoes with 1/2 tsp Italian seasoning added OR stewed tomatoes (see notes)
1 box of gluten-free lasagna noodles
1 large egg, beaten
1 container ricotta cheese, 15 ounces (I prefer whole milk ricotta for richer flavor)
¼ cup grated Parmesan and Romano cheese mixed (or either grated Parmesan or Romano)
1 tbsp dried parsley flakes
½ tsp salt (I use sea salt)
1/4 tsp ground pepper
4 cups (1 lb) mozzarella cheese, shredded
Instructions
Grease 9 x 13 glass baking dish.
Brown meat (or vegetables); drain. Add meat, tomatoes, and sauce to deep skillet, mixing well. Bring to a simmer over medium heat. Reduce heat to medium low until heated through. (If your sauce is watery, you can cook longer to cook all down a little.)
Meanwhile cook lasagna noodles. Near the end of cooking time, preheat oven to 350 degrees Fahrenheit.
Place lasagna noodles in the bottom of the baking dish, slightly overlapping them. Don't worry if your lasagna noodles break apart; just use them piece-meal to cover the bottom of the dish.
In a separate medium-sized bowl, mix egg, ricotta cheese, grated Parmesan and Romano cheese (or either Parmesan or Romano), parsley flakes, salt, and pepper. Mix well.
Layer noodles, ricotta cheese mixture, mozzarella, and meat sauce in that order. Repeat layering making sure you finish with the meat sauce. (See notes.)
Bake at 350 degrees Fahrenheit for 30 minutes or make ahead, refrigerate without baking, and bake for 45 minutes when ready to serve.
Notes
You can substitute 1 ½ cups of vegetables of choice (e.g., spinach, mushrooms, onions, zucchini), cooked and drained (if needed), for the meat if you like. I brown my veggies in a small amount of coconut oil, grapeseed oil, or extra virgin olive oil. I prefer to cook them down long enough so there is no excess liquid to drain. But if you don't cook them that long, you'll want to drain the liquid so your lasagna is not watery.~
Using stewed tomatoes versus diced tomatoes makes a heartier and much more appealing lasagna dish for the "purists." I use my kitchen shears to cut up the larger pieces of the stewed tomatoes for Mr. GFE who hates the texture of tomatoes most of the time.
I like to use a ladle to evenly distribute my meat sauce (as shown in photos). Then I use a spatula to evenly spread it out as a layer.
I sometimes sprinkle on a little more shredded mozzarella on top of my lasagna 10 minutes before it will be done to get a prettier presentation. You can see the lasagna before and after that small touch in the photo collage.
Originally published April 21, 2014; updated March 5, 2023.