For affiliate links and as an Amazon Associate I earn from qualifying purchases.
Today's brilliant idea on How to Make Almond Milk in Less Than 3 Minutes—lickety split!—comes from a gfe reader, Thia. And there's no straining or pulp to contend with using her method, I might add!

The Back Story on How to Make Almond Milk in Less Than 3 Minutes …
I shared a blogger friend's video on making almond milk on my gfe Facebook page the other day.  I and a few others, including Thia, ending up having a brief discussion in comments on adding sweeteners to homemade almond milk, how much almond milk you get from a cup of almonds, etc.
It was towards the end of the conversation that Thia dropped a bombshell. A good bombshell. Like a "Why didn't I think of that?" bomb of an idea!
Thia: "If you happen to keep almond butter around, there is a real easy way to make it! One tablespoon of almond butter per cup water. Pinch salt. Sweetener to taste. Shake it up. (Blend, if using dates, rather than a liquid sweetener.) Straining optional, in this case."

Me: "Wow! I love that idea!! Almond butter goes quickly when I have it around, but I do have some right now.  Thanks, Thia!"
The Testing …
So yesterday, I grabbed my jar of Maranatha No-Stir Almond Butter, which contains dry roasted almonds, organic unrefined cane sugar, palm oil and sea salt, and tested out Thia's method of making almond milk. (Note that I have linked to Amazon for display purposes only. I can get this almond butter at a much lower cost at my local grocery store. I just bought a jar at my local Wegmans for $5.49. One 12-ounce jar contains about 11 servings, 2 tablespoons each. Once you see the recipe, you can do the math on how many containers of almond milk you can get from one jar.)
Thia said that she used one tablespoon of almond butter for every one cup of water. I found the results from those proportions a bit thin for my tastes, but I had only added a single date because there was already sugar in the almond butter that I used.
I upped my almond butter amount slightly to 1 tablespoon and 1 teaspoon per cup of water. Those results made me happy.
Admittedly, this homemade almond milk is not as thick as store-bought almond milk, but it doesn't contain gums, lecithins, or carrageenan. And frankly, I'm thrilled about that.
You see I had stopped buying almond milk because it wasn't agreeing with me. At first, I thought it was because of the almonds, but then I surmised that it was really more about those other ingredients.
While Thia says she got the idea for making this almond milk when she added water to clean her "empty" almond butter jar and shaking it around created what looked like milk, I did find this idea elsewhere online. So as is the case with many great ideas, it's not a brand new one.
But it was brand new to me and I wanted to share it with you all just in case you had not heard of it either! And Thia and her idea are still the bomb to me because otherwise, I would not have known of this concept and would have continued to be almond milk free.
That would have been sad.  Very sad. By the way, you can find Thia and her other easy, "real food" ideas at Pixx Eye View on Facebook.
The Results and Benefits of This Homemade Almond Milk …
I absolutely love that I can make almond milk on demand now in whatever amount I want and that I can totally control the ingredients. For cooking, I like my almond milk unsweetened. For drinking, I added a wee bit of maple syrup and vanilla to my almond milk.
I just added the maple syrup and vanilla to my glass and stirred versus making two containers (one unsweetened and one sweetened), but if a lot of almond milk gets consumed in your house, two jars might be the way to go. (As you can see by the photo above, I enjoyed my homemade almond milk with a Flourless Peanut Butter Chocolate Chip Cookie.)
And as Thia said, even when starting totally from scratch with almonds, she still often chooses this route of turning her almonds into almond butter first, and then adding water, etc. to turn that into almond milk. With this method, there is no pulp to worry about using up! You are consuming all of the almonds with no fear of wasting anything. I love that!
Plus, here's another thought … you could add a little of this almond milk to coconut milk when you wish to lessen the coconut flavor. Or if you have some in your family who don't like the taste of almond milk, you could add a little coconut milk to your homemade almond milk.
Last, you can use this recipe to make milk from any nut butter so if you can tolerate others nuts, but can't eat almonds, give your favorite nut butter a try in place of almond butter. Again, you can use a ready-made nut butter or your own homemade nut butter.
You can add any sweetener you like … honey, maple syrup, yacon syrup, dates, etc. … or not. You can add a pinch of sea salt … or not. You are in control here!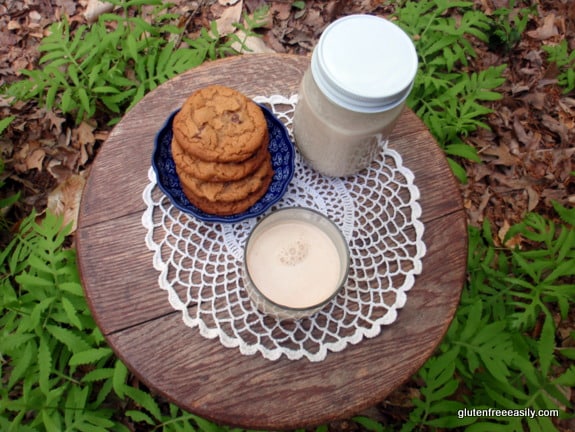 If you enjoy simple ways to make kitchen staples of your own, check out more ideas below the recipe!
How To Make Almond Milk in Less Than 3 Minutes Recipe
Yield:
Homemade Almond Milk In Less Than 3 Minutes!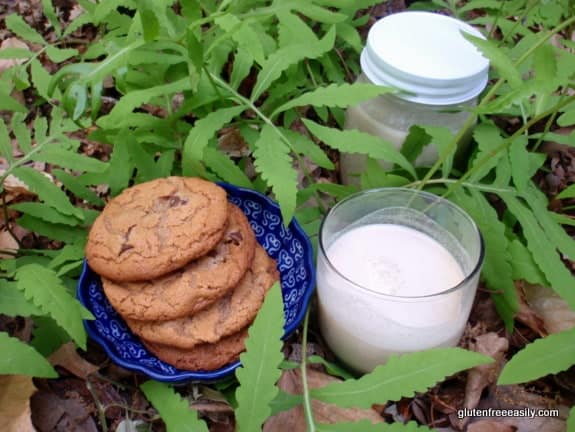 You won't believe how easy it is to make homemade almond milk using this method! Fewer ingredients (and no gums), lower cost, and you can make as much or as little as you want in 3 minutes or less, literally.
Ingredients
2 cups filtered water
2 tbsp plus 1 1/2 tsp of your favorite almond butter (to taste; I like this one, but homemade is fine if that's your preference)
Sweetener of choice; honey, maple syrup, yacon syrup, pitted dates (I like Medjool dates), etc. (optional, to taste)
Pinch of sea salt (if needed, your almond butter might already contain some sea salt)
Instructions
Add all ingredients to high-speed blender. I used my Vitamix, but any good blender will work fine. If you're not adding a date, you might even be able to use a shaker jar.
Mix until blended, about a minute.
Use immediately or chill before serving. Keep refrigerated. (Contents may settle over time. Just shake your jar before using.)
Alisa's (Go Dairy Free) How to Make Your Own Gluten-Free Flour in 3 Minutes or Less
Alisa also shows you
How to Make Nut Milk
using nut flour. Elana's (
Elana's Pantry
)
How to Make Almond Milk
Lexie's (
Flo and Grace
)
How to Make Your Own Coconut Butter
Do you have another great "How to" tip  (or post if you're a blogger) on making something basic for gluten-free, real food living? Tell us about it in your comment. (Please don't leave links as they will be recognized as spam.)
Originally published April 26, 2013; updated September 24, 2018.