For affiliate links and as an Amazon Associate I earn from qualifying purchases.
This post is linked to Allergy-Free Wednesdays and Gluten-Free Wednesdays.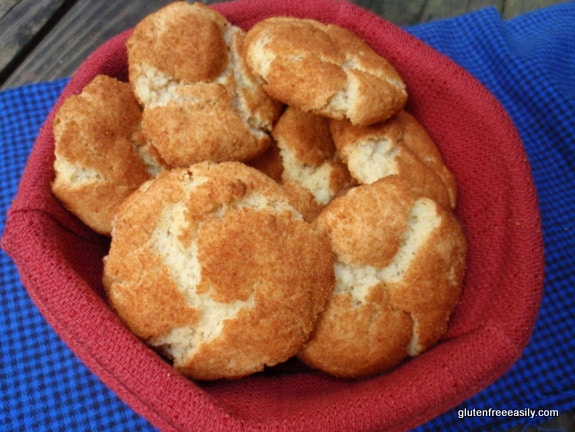 It's Adopt a Gluten-Free Blogger time again and this time I've adopted Deanna. Deanna is a super popular adoptee choice, so I had to get my pick in early!! What does that mean … The Mommy Bowl? You'll want to read Deanna's explanation on her blog here. It's a really cute story and I'm sure that most of you will be able to relate.
I've long admired Deanna not only for her amazing, easy-to-make recipes (usually dairy free and vegan in addition to being gluten free), but also for her positive, upbeat nature. Last, but not least—as I've told her many times—I'm always in awe of her ability to keep her posts to a minimal number of words. She demurs when I point out this fact and says it's just a matter of her having limited time, but the woman has a way of truly getting to the point quickly. I sooo admire that! Taking a page from Deanna's book (and given the fact that I'm on vacation with Mr. GFE and did not prepare this post ahead of time), this post will be at least a bit shorter and sweeter than my usual ones. (I know I will not match the brevity of her posts though!)
Here are just a few of Deanna's recipes that I have been eying, but haven't yet made. (I am sure that I will get to them though, especially after the success I had with the one I did get to make.)
Smoky Caramel Brussels Sprouts
And, of course, I've drooled with everyone else over her Better Than Dairy Queen Ice Cream Cake, the original version, and her raw, vegan Non-Dairy Queen Ice Cream Cake Take 2 version. Maybe I'll make the latter for a slightly early birthday celebration for Son when he's home for Christmas. It's a long wait, but it will be worth it!
Incidentally, it was inspiration from Deanna's Gun Powder Biscuits that indirectly led to my gluten-free, grain-free vegan Brazilian Un-Cheese Rolls. The latter is one of my family's favorite recipes and a favorite of my support group members, too. Last month, Sunny (And Love It, Too!) adopted me for Adopt A Gluten-Free Blogger and made a paleo version of my Brazilian Un-Cheese Rolls. As my recipe calls for Roasted Red Pepper Hummus, Sunny made a grain-free, paleo version of Roasted Red Pepper Hummus. When Alta of Tasty Eats At Home—who happens to be our event hostess this month while Sea (Book of Yum) remains in Japan a while longer—adopted Sunny, she made Sunny's Roasted Red Pepper Hummus. Alta raved! You can read Alta's review in her adoption post. Do you see how this adoption thing works? The connections, love, recipe inspiration, and fabulous food just go on and on!
The recipe of Deanna's that I actually did make was Snickerdoodles! Now I have to tell you that I'm a Snickerdoodles fan from wayyyyy back. I've made Snickerdoodles since going gluten free and they were good, but just too brittle and crumbly from using a gluten-free all-purpose flour mix. Deanna very wisely uses almond flour in her recipe and it works perfectly. The texture of these cookies is amazing, unlike any other almond flour cookie recipe I've sampled and, admittedly, I was already a big fan of almond flour. Actually, Deanna gives you a "three-fer," as she calls it—three recipes in one from just changing up the ingredients slightly. She describes the three options as "a traditional soft & chewy snickerdoodle, a traditional crisp and puffy snickerdoodle, or a natural, nutty, not so snickerdoodle." She also calls the latter Cinnamon Stackers.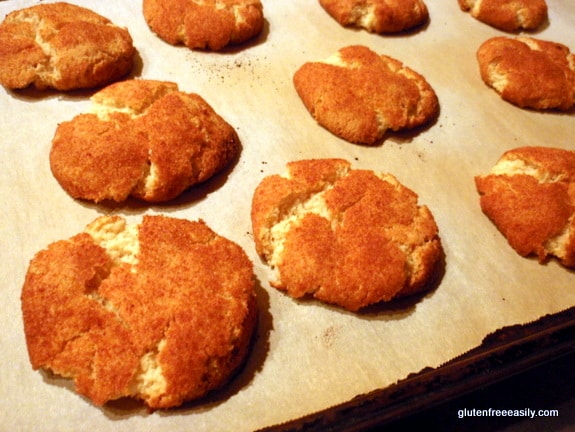 Per usual, I tweaked Deanna's recipe based on ingredients I had on hand, specifically, ones that I wanted to use before we left on vacation. Deanna's recipe is vegan; my version was not. Allow me to explain. I used a "failed" frosting made from a mix. I'd planned to use this butter cream frosting on my Banana Kahlua Coconut Cake, which I'd made for my parents' wedding anniversary. Most gfe readers know that I never use mixes (they don't fit the gfe approach in any way), but this one had been left behind by a friend and I was curious because the mix contained only powdered sugar, vanilla powder, and sea salt. Shockingly, that mix was just over a cup's worth of ingredients and cost $4 a box. Wait … there's more … you were still supposed to add 2 ½ sticks of non-dairy butter and some milk. Holy moly! (See why I don't use mixes?) Despite my better judgment, I decided to follow the directions. I used real butter and the resulting "frosting" was bad. I mean really bad. It tasted like sweetened butter, not frosting. So I didn't use it as frosting, but I didn't immediately throw it away either. I decided to use it in place of the non-dairy fat in Deanna's recipe and also greatly reduced the sugar I used. I didn't have arrowroot or a suitable starch by itself to substitute, so I did use my gluten-free all-purpose flour mix (which contains cornstarch) in place of the small amount of arrowroot needed.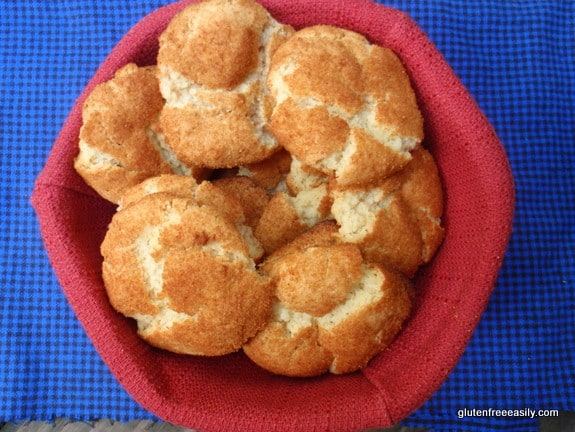 Oh my word! The resulting cookies were out of this world good! Never have I ever tasted better snickerdoodles—either gluten full or gluten free. These cookies looked magazine perfect (don't you agree?). They had a nice crunch on the outside, but were dense and chewy on the inside; and the sweetness was right on. Next time, I'll be making Deanna's recipe using a mix of palm shortening and extra virgin olive oil because I've had good luck with that mixture in making a dairy free version of some of my other cookie recipes. But if you're craving a Snickerdoodle, head on over to The Mommy Bowl and pick the combination of ingredients that works best for you! Plus, be sure to look for a roundup of all the adoptions from this month's event in a few days over at Tasty Eats At Home!