For affiliate links and as an Amazon Associate I earn from qualifying purchases.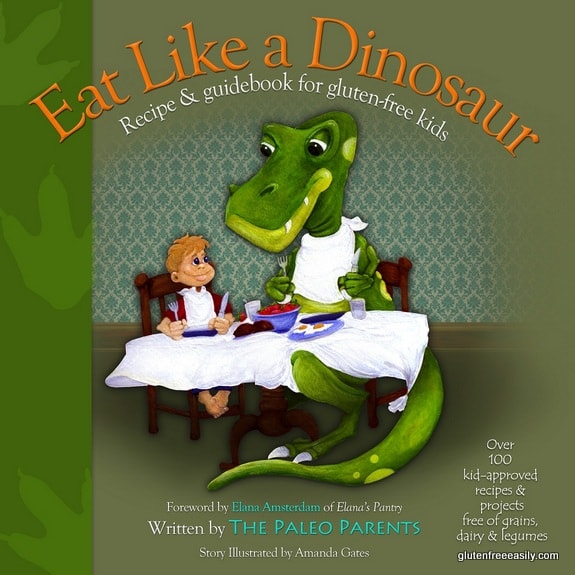 Thanks to all of you who entered the giveaway for Stacy Toth and Matt McCarry's—better known as Paleo Parents'—truly terrific Eat Like a Dinosaur:  Recipe and Guidebook for Gluten-Free Kids. While this book was written with kids and families in mind, many single individuals have fallen in love with it as well. Congratulations to the following winners! I'll be contacting you via email soon. Note that the comments I'm sharing might not be the entries that actually were the ones chosen by the Pick the Giveaway Winner tool, but these comments were also ones from the winners and best tell why they entered to win a copy Eat Like a Dinosaur.
Robin ~ "I'm really wanting my whole family to join in eating like a dinosaur and this book would be the perfect start!"
Dawn Burgess ~ "My thoughts on the Paleo Parents are that I am so grateful for their blog and their recipes. I have been trying desperately to transition my children and myself to a paleo lifestyle and it has been difficult and frustrating to say the least. My kiddos will hold out for meals at a time to avoid eating the healthy goodies I spend so long in the kitchen making. I love the way the Paleo Parents lay out their recipes with a symbol to show you which steps would be great to get the kids involved with. Bringing my children into the kitchen and engaged in making our meals has helped them to get more interested in a variety of foods and to try new flavors. They particularly loved the autoimmune version of the pumpkin pucks that we made last night. I'm very grateful and would love to get my hands on a copy of the book because right now I use the website as my primary resource. Thanks for the chance!! "
Tessa @ the Domestic Diva ~ "We did a month long trial of Paleo and loved the way we felt….the trick is keeping it going most of the time!!" (Incidentally, Tessa just shared her Vegan Paleo Nutella Cookies. Be still my heart.)
christopher sorel ~ "love the book and would bring some pulled pork I have make with paleo spice rub"
Maryn ~ "My son who has Down syndrome was diagnosed celiac three years ago. In eliminating gluten he lost almost 40 pounds and has more energy and interest in the world around him. He went from his favorite foods pizza and burgers to a vegetable vacuum. He's 30 but the dinosaur book is exactly what would appeal to him (and me)."
Congratulations again to all! Be sure to follow Paleo Parents. Oh, by the way, if you haven't already heard the news, they're writing their next book to be released in 2013—yippeeeee for us all!