For affiliate links and as an Amazon Associate I earn from qualifying purchases.
Welcome back to March Muffin Madness (MMM) once again! Happy Spring! I should have said that in my last post, but the threat of snow in the forecast threw me off. Thankfully, we had no snow here, so we can really focus on Spring now. While available year-round from the grocery store, carrots are most definitely a spring favorite. So today's recipe for Paleo Healthy Carrot Muffins is timely!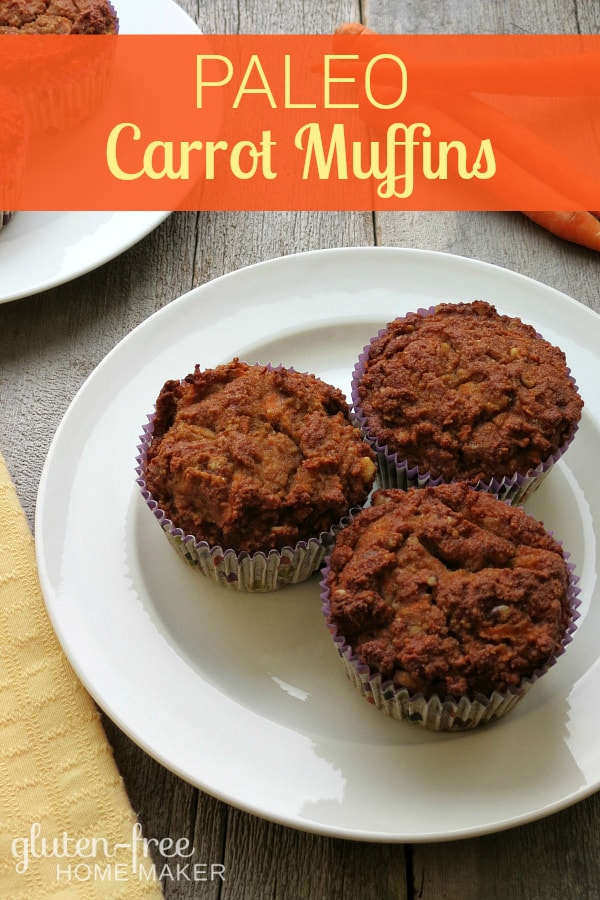 Paleo Healthy Carrot Muffins from Gluten-Free Homemaker
Linda at Gluten-Free Homemaker is sharing Paleo Healthy Carrot Muffins. She says they're "easy to make, moist, and flavorful," and "they just happen to be gluten free, dairy free, refined sugar free, and paleo!"
Thanks to Linda for the recipe and the great reminder that we shouldn't let any labels—such as "paleo" and "dairy free"—keep us from enjoying recipes. As long as recipes are gluten free and fit any other food restrictions we have, eat up. So often we find a love of new ingredients and new ways of eating when we do.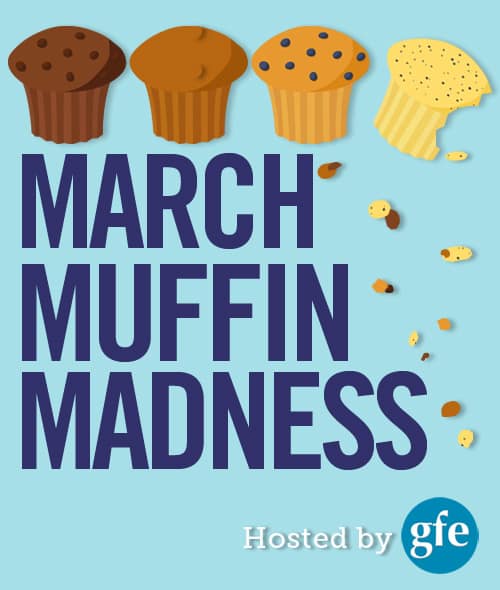 For more paleo muffin choices, check out the following recipes at Gluten-Free Homemaker:
~ Banana Walnut Coconut Flour Muffins,
~ Blueberry Coconut Flour Muffins,
~ Pumpkin Muffins, and
Linda has many more muffin recipes, including the following three that will work as an appetizer or main dish. I'm a big fan of the "meal in a muffin" concept and I think the Corn Dog Mini Muffins and Tater Meatloaf Mini Muffins are especially going to please children … of all ages!
~ Ham and Cheese Corn Muffins, and
~ Tater Meatloaf Mini Muffins.
Linda and I are very good friends and I've eaten many of her delicious recipes over the years, usually recipes made by her own hand. My favorite recipe of all time of Linda's is her Angel Food Cake. This recipe beats out ANY other Angel Food Cake. Yes, even gluten-full versions!
Please take a minute to enter the giveaways (including a giveaway of Linda's ebook, How To Be Gluten Free) below before you check out Linda's Paleo Healthy Carrot Muffins recipe. Remember that all the comments on all the blog posts during MMM are entries into the overall/grand prize giveaway, so don't miss ANY of the recipe posts!
Paleo Healthy Carrot Muffins Recipe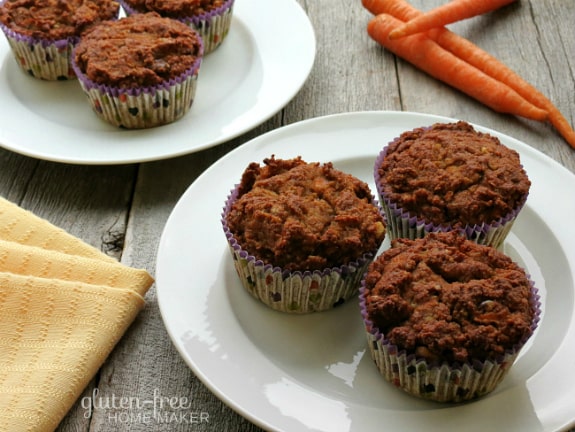 Yield: 12 muffins
Paleo Healthy Carrot Muffins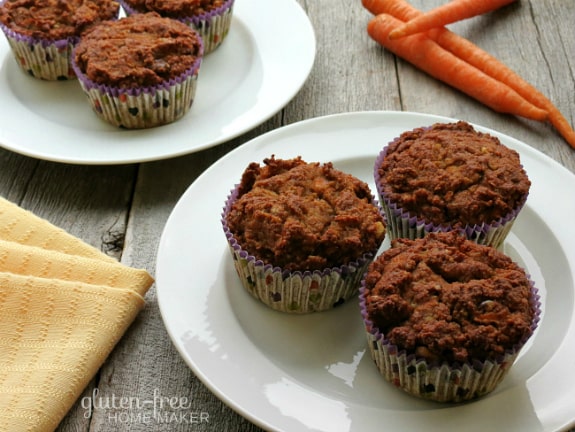 Linda says: "These muffins are easy to make, moist, and flavorful, and they just happen to be gluten-free, dairy-free, refined sugar-free, and paleo!"
Ingredients
1 ¼ cup almond flour
1/3 cup coconut flour
1 1/2 teaspoon baking soda
¼ teaspoon salt
1 teaspoon cinnamon
1/4 teaspoon allspice
4 eggs
1/3 cup honey
1/2 cup mashed ripe banana (about 1 medium)
1 teaspoon vanilla extract
1 cup shredded carrots
1/2 cup chopped walnuts
Instructions
Preheat oven to 350° F. Grease a 12 cup muffin tin or line with paper liners. (If using liners, the muffins must be completely cooled before eating or they will stick to the liner.)
In a small bowl combine the almond flour, coconut flour, baking soda, salt, cinnamon, and allspice.
In your mixer bowl, beat together the eggs, honey, banana, and vanilla, about 1 minute.
Add the carrots and mix to incorporate.
With the mixer on low, slowly add the dry ingredients and mix until moistened. Stir in the chopped walnuts.
Spoon into prepared muffin tin and bake at 350° about 20 minutes or until done in the center.


Today's Daily Giveaway
~ How To Be Gluten Free: 10 Steps to a Gluten-Free Life (3 winners)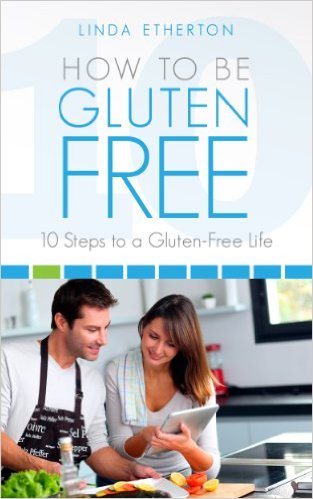 When you go gluten free, you need information to get started living gluten free safely and well, but you don't want so much information that you are overwhelmed. Being overwhelmed to some degree when going gluten free is a given, of course, but we don't function well when overwhelmed so we need something to help us get past that stage. This guide from Linda of Gluten-Free Homemaker helps you do just that so I'm grateful to Linda for sponsoring this giveaway!
Linda has provided all the right info in a very concise, easy-to-understand e-book for all. I recommend that her book be read not only by the person going gluten free, but by the gluten-free individual's family members. Again, there's just enough information and it's all the right information. I wholeheartedly recommend this e-book to all starting out gluten free. In very short order after reading How to Be Gluten Free, you will be ready to start on your new gluten-free path! (Note: It's even helpful as a refresher for "veteran" gluten-free folks.)
~ Against All Grain: Delectable Paleo Recipes to Eat Well and Feel Great (1 winner)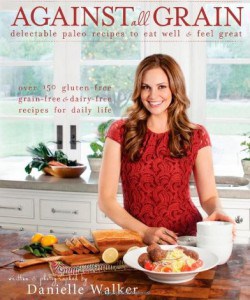 This book is Danielle Walker's (from the Against All Grain blog) first cookbook and it's a New York Times bestseller. It's outstanding. Danielle's story of recovery from ulcerative colitis using diet is inspiring, plus she shares such fabulous paleo recipes. You can read my full review of this cookbook and snag Danielle's Real Deal Chocolate Chip Cookies recipe here. Many thanks to Danielle for giving one MMM reader a copy of this cookbook! Stay tuned to MMM for a giveaway of her second cookbook, Danielle Walker's Against All Grain: Meals Made Simple.
Grand Prize Giveaway (1 winner for each)
UPDATE: All the prizes in this event have been awarded.
a Rafflecopter giveaway
You can see the up-to-date listing of daily prizes and the complete lineup of bloggers and recipes in the kickoff post here.
Originally published March 21, 2016; updated December 20, 2021.