For affiliate links and as an Amazon Associate I earn from qualifying purchases.
While I gave up sodas long ago, I still miss them when eating a few things … like pizza or steamed crabs. I knew we'd be having steamed crabs the other evening and I decided to make a frozen "slushie"-type beverage as a healthier substitute. Lemon-Lime Coconut Basil Slushie.
I remembered a recipe that I'd seen in the May issue of Better Homes and Gardens magazine—Lemon Basil Ice made with Meyer lemons. However, that recipe took almost 5 hours to make—yikes!
I wanted something I could whip up fairly quickly. Plus, I didn't have any Meyer lemons available. I also wanted a beverage that had a little more slush than ice, so I decided to include some lite coconut milk versus just water. And, I wanted to use my new Boyajian citrus oils, namely the lemon and lime oils, that I'd received as a birthday gift.
Today's recipe for Lemon-Lime Coconut Basil Slushie or Lemon-Lime Coconut Basil Ice Cream—your choice, or make both!—is what I came up with. It's ideal as a slushie to sip while picking crabs or just chilling on the screened porch or deck, but also wonderful as a spoonable ice cream!
More Gluten-Free Lemon and Lime Recipes Featured on gfe
~ Cooling and Luscious Key Lime Pie Recipes
~ Key Lime Cheesecake Bars (Gluten-Free and Vegan)
Lemon-Lime Coconut Basil Slushie or Lemon-Lime Coconut Basil Ice Cream Recipe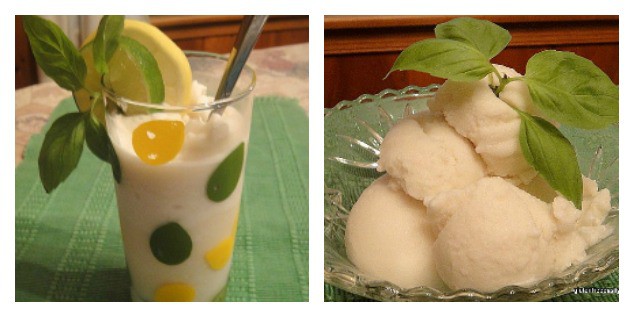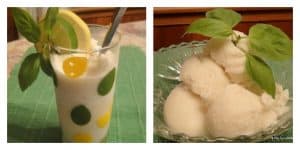 Yield:
Lemon-Lime Coconut Basil Slushie or Ice Cream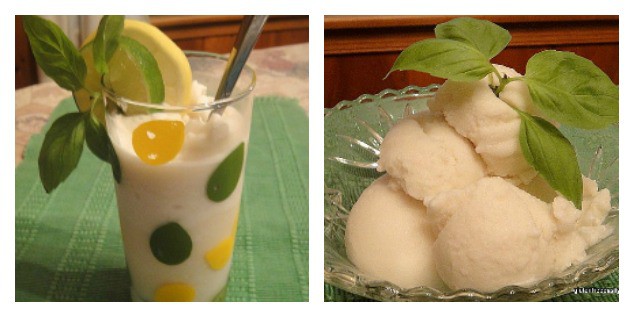 This combination of lemon, lime, coconut, and basil is so cooling and refreshing. You can sip it, eat it with a spoon, or do a little of both!
Ingredients
1 1/2 cups water
1 3/4 cups lite coconut milk, chilled (I used ¾ cup full-fat coconut milk and 1 cup filtered water)
¼ cup honey (or agave nectar, or other sweetener of your choice to taste)
4 drops vanilla crème liquid stevia (or more honey or other sweetener of choice, if needed)
¼ cup fresh, chopped or sliced basil
¼ tsp lemon oil (or 1 tsp lemon zest)
¼ tsp lime oil (or 1 tsp lime zest)
3 tbsp lemon juice
2 tbsp lime juice
Instructions
In a medium saucepan, heat water over med-high heat until steaming, not boiling. Add basil and let stand 15 minutes. Pour through fine mesh sieve; discard basil. Set in freezer in shallow pan for about 15. It should be thoroughly chilled but not frozen, even on the edges. (It's not a good idea to add frozen ingredients to one's ice cream maker.)
In a large bowl or blender, add lemon oil, lime oil, lemon juice, lime juice, "basil water," coconut milk, honey, and stevia. Use a hand mixer or blender to blend.
Add to a pre-frozen container of ice cream maker. Churn 15 – 30 minutes. Yes, that's a wide gap of time. Check at 15 minutes to see if the mixture has reached your desired consistency. I really wanted a beverage to sip with my steamed crabs more than a scoopable snow cone-like mix, so I was pleased with the consistency at 15 minutes for that purpose. However, I churned the mixture for the full 25 or 30 minutes, and perhaps additional freezing afterward, might be needed for a firmer ice dessert. Again, I mainly wanted a beverage, so even at churning the full time, I let most of the ice get "melty" and then sipped it as a beverage. Very light and refreshing.
Notes
You can use any sweetener as I stated above, but honey always yields a softer, more scoopable frozen dessert, so I recommend using at least some honey.
I used fresh lemon and lime juice; I'm sure that bottled juices would work, but the results would not be quite as flavorfu and may taste "processed."
If using lemon and lime oil (versus lemon and lime zest), do not use with plastic measuring (or stirring) spoons; the oil will eat right through the plastic. Next time, I'll remember to use my stainless steel measuring spoons, which are much better to use anyway.
The basil flavoring in this mix is very mild. If you want a stronger basil flavor, steep basil in water for 30 minutes.
Finally, if you read the ingredients of lite coconut milk, you'll see that they are water and coconut milk (and maybe guar gum depending on the brand). The lite coconut milk costs the same amount as the full-fat coconut milk at my store. Why not just buy full-fat coconut milk and add filtered water to make your own lite coconut milk? As soon as I open a can of coconut milk, I transfer it to a glass jar immediately anyway. So now, if I want light coconut milk, I simply use a bigger jar and add filtered water. This method works great.
p.s. If you have so much basil that you don't know what to do with it all, follow Kalyn's (Kalyn's Kitchen) directions on freezing fresh basil. It sure would be nice to have some basil in sauces and soups in the middle of winter! Read and see Kalyn's guidance here.
Shirley
Not just gf, but gfe!
Originally published August 17, 2010; updated August 15, 2022.