For affiliate links and as an Amazon Associate I earn from qualifying purchases.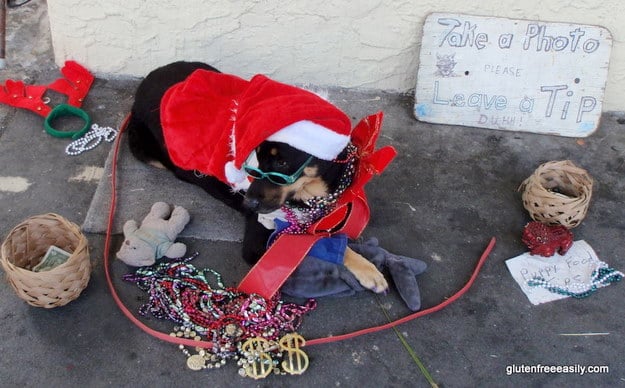 One of Key West's cuter street "performers"
I've been trying to write this post since I returned from Key West, but I'm having "re-entry" problems. You know the issues you have when you come home from vacation and you just can't get into the home-work-every day life groove again? This transition is not being helped at all by the weather. Only a few days ago I was in Key West wearing short sleeves and skirts, and walking bare legged in sandals. Now I've got the wood stove roaring, I'm sitting here in a thick turtleneck sweater and pajama pants, with big fuzzy socks on. Plus, I'm under a Scottish wool blanket (properly called a rug I'm told), and I'm still freezing. It really wasn't that cold here before we left. What happened?
Anyway … while we were away, a significant milestone passed here at gfe. I celebrated my one-year anniversary of blogging. It still sounds funny to even say I am a blogger. But, on December 30 of last year, I wrote my very first post, Waiting, and nervously hit the Publish button. After months of planning and pondering starting my blog, I had actually done it! That was a great moment. I'm still proud of that post, this blog, and the gfe mission. Just over a year later, it's 95 posts (rats, why didn't I plan ahead so I could have had an even 100?) and 2,900 comments later. Okay, about half of those comments are mine (as Mr. GFE always says, I really do like to have the last word), but even that number makes me happy. I love chatting with my gfe readers. 
From the comments readers leave and the emails I receive, I know that there are many who find the typical guidance on eating gluten free to be sorely lacking for their needs. Some initially are not even sure why they feel that way; they just know the traditional gluten-free approach is not working for them. This blog will continue with a focus on real food that is naturally gluten free (and recipes made using real gluten-free food), some mainstream processed foods that are gluten free, and few gluten-free specialty foods. Discussions will continue on who should get tested for gluten issues, who should consider a gluten-free diet, how to live gluten free with grace and ease, and everything in that general realm. The approach can keep our gluten-free lives simpler, less expensive, and, most importantly, healthier. But, if you're a regular gfe reader, you already know about the gfe approach, so let's turn the focus to you. Thank you for being here at gfe. I appreciate your readership, subscriptions, and I greatly appreciate all of you who take the time to comment and email me. It's both heartening and humbling to know that gfe is truly helping you to live gluten free easily. Any blogger will tell you that the feedback we receive makes a huge difference in being sure that we're going down the right path. Just knowing that someone is listening—i.e., someone cares and finds what you, the blogger, are sharing is of value—well, that's huge! So, again, thank you so very much for being here! Really, my only regret this year with gfe is that I have not been able to share all the recipes, information, and discussions that I would have liked. I am never short of ideas and words (sometimes there are about 10 posts at a time rattling around in my head), but I am often short of time to properly share them all. So now you know I have enough material to last a few more years!
Many of my blogger buddies are posting 2009 wrap-ups and 2010 "launch" posts. I have really enjoyed reading them. Some have shared their Top 10 recipes of the year. Karina, the Gluten-Free Goddess, shared her Top 10 here and has graciously invited others to leave a link to their gluten-free top 10 post in comments. She'll update her post to include them all! Check them all out. (Some of gfe's favorite bloggers already have their lists included.) Iris, of The Daily Dietribe, even included a recipe shared here at gfe, Crustless Pecan Pie, in her list of favorite 2009 recipes—thanks, Iris! I like that she also listed the top 10 recipes that she wants to try this year, too. Who doesn't have a list like that? Write it down, make it happen, right?
Here are my Top 12 Posts (10 Recipe Posts Plus 2 Discussion Posts) from Year One at gfe. Of course, tomorrow or next week, I might choose a different set depending on my mood, the weather, etc. (You'll notice that I couldn't bring myself to include an ice cream recipe, even though I purchased an ice cream maker this summer and made some amazing ice cream and sherbet, like POMerdoodle and  Honeydew.) In no particular order, the top posts are as follows.
Top 10 Recipe Posts:
~Crustless Pumpkin Pie—Every bit as good as any pumpkin pie with a crust. Some folks say they like it better because it's not as "wet" as other pumpkin pies. I get that.
~Flourless Pizza—The crust is made from eggs and cheese, then topped like a regular pizza. It's a well-loved recipe. One of my son's favorite.
~Flourless Chocolate Cake—Still the cake that can take any event up several notches. No unusual ingredients required. No separating of eggs or folding in of egg whites. Heavenly death by chocolate. (Those who don't do sugar or dairy will want to check out the Flourless Chocolate Banana Honey Walnut Cake instead.)
~Flourless Peanut Butter Cookies—Not the recipe that's everywhere on the interwebs. These cookies contain brown sugar versus white, plus baking soda and vanilla extract. These three ingredients makes a huge difference in flavor and texture. These are my "go-to" quick cookies, which everyone loves.
~Crustless Apple Pie—A recipe that will make anyone a baked apple lover, as well as a tribute to my mom on Mother's Day.
~Popovers (titled Better than Sliced Bread for a reason)—Popovers, muffins, and biscuits will always have my heart … and stomach. Everyone loves these popovers.
~Volcano Pancake—This one is in my Valentine's Day party post, so you can skim until you get to the recipe. It's one that everyone erupts over. Sorry, but it's true—in a good way. People are always telling me that they make this recipe for special breakfasts, dinners, or just a decadent afternoon snack.
~Special Turkey Breast—Unusual ingredients to make a very tasty turkey breast in your slow cooker. By the way, I also liked Erin Elberson's (Gluten Free Fitness) take on this recipe.
~Surprise Stuffing—The easiest way I've found to make gluten-free stuffing. Those who've tried it have found it very tasty. It can happily serve the whole family or you can adjust to make enough for one or two. By the way, I can't wait to tell you what I made with my leftover stuffing.
~Go Ahead Honey It's Gluten Free for July—Make Me A Happy Camper—I'm a big fan of Naomi's (Straight Into Bed Cakefree and Dried) gluten-free blog carnival, so it was a great treat to host last summer. We had quite the event on our riverside property in the mountains. You'll find a wide variety of recipes in the roundup!
Plus Two Discussion Posts: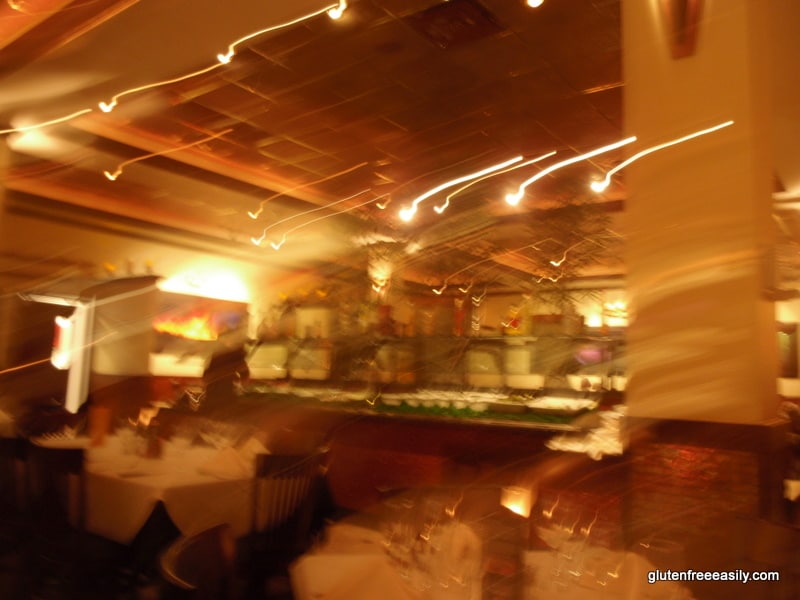 ~Stop the Madness!—This post still captures my feelings on one of the biggest benefits of eating gfe. Sadly, the madness continues in my opinion.  This post inspired some lively discussion in the comments section. I'm sure the discussion isn't over, and I welcome comments, but ask you to consider the gfe approach to stop the madness.
~Educate, Not Eviscerate—Another discussion post. I still believe we have a long way to go in this area to ensure that our needs our best met when dining out.
To continue with this year's plans for gfe, certainly there will be more of the same type of simple recipes that satisfy everyone in the family. My recipes will always be gluten free, but I'll continue to share many that will be dairy free as well. Hopefully, there will be more recipes that are refined sugar free (certainly one of my own goals for healthier eating), soy free, and more. So many readers have those needs. As a support group leader, I get to actually "field test" these recipes while allowing my members with additional intolerances to still enjoy favorite dishes and baked goods. (I love that.) And, of course, there will be more discussion posts. Some of the other posts that I have wanted to share (and have not had an opportunity to yet) are ones presenting information from some great speakers that I have heard this year. I'll plan to catch up on those. I won't worry that I won't be able to do them justice. I'll just put out as much information from these individuals as I can, as best I can.
Heads up … there will be some housekeeping type changes here at gfe. I'll be adding a Frequently Asked Questions (FAQ) page, accessible as a "tab" below the gfe header. (Most of you who read gfe regularly will know the answers to those questions before you even read them.) I've already updated my blog listings on the side bar. Some of my favorite bloggers have moved on to other endeavors, or their blogs have not been updated for a long time. I feel it's my responsibility to my readers to provide links that are current. If your blog is in that inactive state and I'm a fan, I'll gladly reactivate the link once I see that you are posting again. (Hope you understand. I would expect you to do the same if I went on hiatus.) I'll be going back to earlier posts and tweaking them as needed (e.g., ensure that all recipes on gfe are printable). Unfortunately, these changes may trigger them to go out via my feed again. So, I'll apologize ahead of time in case that happens.
Again, thanks for a very exciting and fulfilling year here at gfe. I'm looking forward to spending 2010 with you all!
Shirley
Not just gf, but gfe!