For affiliate links and as an Amazon Associate I earn from qualifying purchases.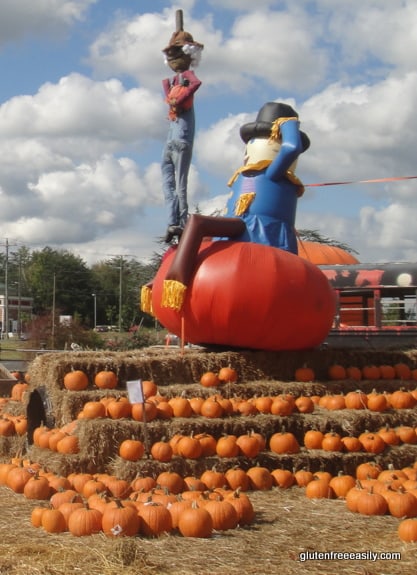 I've been paying attention to much going on in the gluten-free world and want to share my "finds." First, I'd like to remind those who can be in Palo Alto this Saturday, October 16, that the second annual Gluten Sensitivity and Celiac Forum is being held. It's being hosted by the HealthNOW Medical Center, which is also graciously offering the book, The Gluten Effect, to one lucky gfe reader. Head over to my Out and About page for the giveaway.
The effects of going gluten free for those with gluten sensitivity/gluten intolerance or celiac can be very powerful indeed. I always urge patience when it comes to healing and symptom resolution because it can definitely take some time to see the benefits. I remember my own healing coming "incrementally," with me suddenly realizing that I no longer had symptom "x," then symptom "y," and so forth. (Truth be told, I still have some healing to do, but that's a discussion for another day.) Depending upon the issue, years may be needed for resolution. For example, I had osteopenia when diagnosed. It took 3 years of eating gluten free, taking high quality bone-building supplements, doing weight-bearing exercise, and eating mostly real food with few processed foods of any kind in my diet before my bones were normal again. To me, that wait was well worth it. It's also important to note that many of the positive effects of living gluten free can be very surprising in their scope. For a very encouraging example, read about Lynn's (Lynn's Kitchen Adventures) latest health triumph since going gluten free.  
Erin Got Married! No, it's not the name of a movie. Erin Elberson (Gluten-Free Fitness) got married last weekend. She's now Erin Elberson Lyon. Congratulations to Erin and her new husband! You can read more in this recent post, which also happens to be another of Erin's terrific roundup posts of what's she's found of interest of late. (I was particularly interested in the posts she shared from another site on whether eating clean is truly eating clean.) Erin also just shared an outstanding discussion post on getting the celiac diagnosis and moving forward.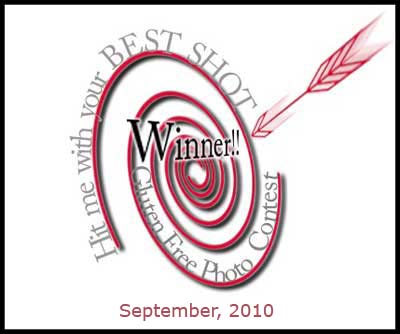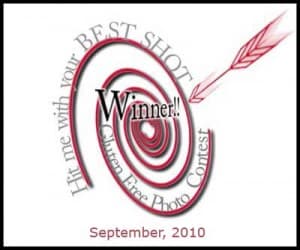 Carol (Simply … Gluten-Free) recently announced the winner and finalists in the first round of her food photography contest. These individuals are three of my favorite gluten-free bloggers—Kim at Cook IT Allergy Free, Jenn at Jenn Cuisine, and Hallie at Daily Bites. The good news is that you don't have to wait for a contest to see stunning photos of theirs (which also equate to amazing recipes). All you have to do is visit each of their blogs on a regular basis to see the quality of their work. Incidentally, Carol just announced the theme for another round of Hit Me With Your Best Shot! … Autumn Edibles. Entries are due by October 27; read more here. Carol also has created a link-up page for all gluten-free bloggers, The Gluten-Free Global Community. The amazing logo for this page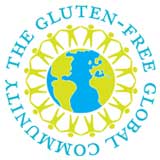 was created by none other than the talented Lexie (Lexie's Kitchen) (who does graphic design). Add your info to Carol's page and grab the button to display on your site.
Stephanie (A Year of Slow Cooking, plus more) is hosting Crocktober! She's posting a slow cooker recipe every day this month on her slow cooking site. Ahhh, it seems like old times … it was back at the start of 2008 when Stephanie committed to cooking in her slow cooker every single day that year. Many of us eagerly followed along as she tried recipe after recipe, sharing her "verdict" on each one. Well, of course, you know she reached her goal and has been keeping us supplied with the best slow cooker recipes ever since! Now we're checking out her crockpot blog daily to see what wonders Steph has slow cooked. The Crocktober recipes cover everything from main dishes to desserts, and don't forget her "old" recipe for Pumpkin Spice Latte. By the way, did you know that Stephanie has a new slow cooker cookbook coming out? More Make it Fast, Cook it Slow: 200 Brand New Budget-Friendly, Slow-Cooker Recipes will be released on December 28. In my opinion, that would make a great holiday gift for someone on your list. I truly don't think they will mind that it will arrive a few days after Christmas. You can even pre-order it now and mark it off your list.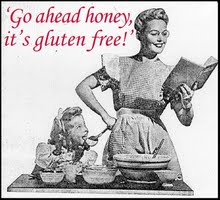 Are you and your kids already bored with school lunches this year? Check out Ali's (The Whole Life Nutrition Kitchen) roundup of Go Ahead Honey, It's Gluten Free! on packing the healthy school lunch here. The lunch ideas that everyone shared will definitely inspire you, as well as the "green" packaging ideas. Ali also just shared this tutorial on making pumpkin puree, which will come in handy later in this post.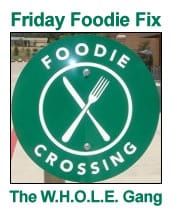 Diane (The W.H.O.L.E. Gang) is hosting Go Ahead Honey, It's Gluten Free! this month. Her theme is Scared Silly. Read what that means here. Do note that entries are due by October 23, which as you know will be here tomorrow. Well, practically … you know what I mean.  Last week, Diane's Friday Foodie Fix "secret ingredient" was grapes. This week it's balsamic vinegar, and Friday, October 29, is pepitas. Link up new or "old" recipes!
Carrie (Ginger Lemon Girl) shared an in-depth tutorial on making great gluten-free bread here. Lexie (Lexie's Kitchen) shared her success following Carrie's tutorial in her Adopt a Gluten-Free Blogger post. Then Lexie turned around and had another success with Karina's gluten-free, dairy-free sandwich bread, which is designed to be made in a breadmaker. Bread lovers should be very happy that Carrie and Karina have created such great recipes, and thankful to Lexie for showing how well they both work!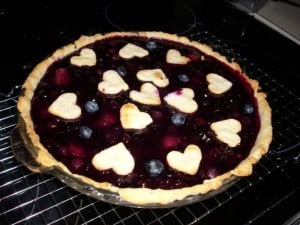 Cheryl (Gluten-Free Goodness) adopted me in Sea's monthly adoption event. You'll want to take a close-up look at her very lovely, heart-topped Blueberry Honey Pie as well as check out the super healthy recipe my decadent Magic Oat Bars inspired her to make. Check it all out here.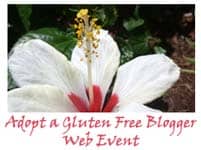 Sea (Book of Yum) has the complete and impressive adoption roundup for the September Adopt a Gluten-Free Blogger here!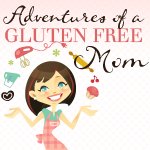 Heidi (Adventures of a Gluten-Free Mom) has made so many mouth-dropping, "do-a-little-happy-dance" recipes of late that I simply can't keep up with her! Homemade gluten-free "Pop Tarts," "Hostess" cupcakes, pizza rolls, allergen-free pasta, and more. Heidi's not lovingly called the "Glutadoodle" for nothing! Just head over to Heidi's blog and start looking around. You'll be so happy you did.
Do you have a little one in your family who flips over Hot Wheels? Then, you absolutely must check out the awesome birthday cake that Heather (Celiac Family) made for her son's birthday recently. This cake was such a hit with her son that she might just have to keep re-creating it each year for his birthday!

In case you thought you could slide on holiday planning a while, think again. Kim (Cook IT Allergy Free) will soon kick off a gingerbread house contest with what she promises will be a great prize! She announced the contest and some of the details (in comments) on her Facebook page here. But maybe Christmas is too busy for you and Halloween is your thing instead, or maybe you want to go all out for both! Either way, check out this haunted house. No, it's not gluten free or healthy, but it is fun! Use it as inspiration. I mean who really eats these holiday houses anyway? One of my very favorite "gingerbread" houses of all time is Kelly's (The Spunky Coconut) salt dough version. Simple and beautiful. Speaking of Kelly, she just did an excellent radio show on gluten-free, dairy-free eating over at BlogTalk Radio.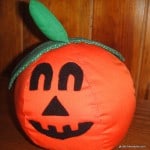 It's pumpkin love time! That alone makes Fall worthwhile to me. Luckily, the pumpkin goodies are plentiful in the blogosphere. One of these treats just might have to go with us on our mountain trip this weekend, or get made while there. Read on. Kristina (Spabettie) shared Fudgy Pumpkin Brownies that she says taste almost like fudge. Hey, don't knock me over as you head out the gfe door to Spabettie's! Admittedly, her photo makes me want to reach through my monitor to grab one. Karina (Gluten-Free Goddess) shared Pumpkin Chocolate Chip Cookies. Let me know your reaction when you see her photo. How about Chocolate Chip Pumpkin Blondies from Beth (Delectably Free)? The recipe even tells you how to easily make your own chocolate chips. I am so going to do that and make Beth's blondies! Kim (Cook IT Allergy Free) made Apple Cider Pumpkin Pancakes. Her photos say Fall, comfort, and pajamas … although not necessarily in that order. If we can get some folks to go camping with us this weekend, these pancakes might be just the thing when we are bundled in sweats, hats, and scarves as the temps drop into the 30s on Sunday morning. If we're camping alone though, I might have to defer making them. Honestly, I'm afraid to be left alone with a batch of these pancakes for just Mr. GFE and myself. Finally, a major gluten-free vendor recently came out with pumpkin spice doughnuts, but they will be available only through the end of November. Well, in Iris' (The Daily Dietribe) Fall Gluten-Free Specials series, Alea shared her Sweet Potato Doughnuts. Sweet potatoes don't exactly equate to pumpkin, but the flavors can be close and I'm betting these doughnuts will easily satisfy your Fall doughnut craving. Plus, you can happily enjoy them all year long! You can check out Iris' Fall Gluten-Free Specials complete roundup here.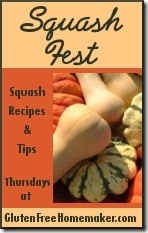 Linda's (The Gluten-Free Homemaker) challenge this month is to Create a Gluten-Free Quick Bread. Cooler weather definitely means quick breads to me and I find most recipes just so comforting and easy to make. A slice of Chocolate Zucchini Bread (using grated zucchini I've frozen) or Molasses Banana Bread with a cup of tea … so very nice! Linda is also hosting Squash Fest this month. I'll be doing a guest post soon on my favorite, but not very well-known, squash. Posts to date have been Wendy's (Celiacs in the House) Curried Roasted Butternut Squash Soup, a lesson on varieties of squash from Linda, and a tutorial on roasting butternut squash from Carrie (Ginger Lemon Girl)—check them out when you get a second.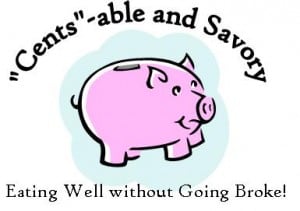 Hallie (Daily Bites) is hosting a great "Cents"-able and Savory series. Several posts have already been shared in the series, including Alta's (Tasty Eats At Home) Italian-Style Spaghetti Squash. You can see my guest post on making Simple Hash Browns or Heavenly Hash, here.
Okay, that's all for now! Next up at gfe—thoughts on the blogging conferences I've attended recently and an accidental, but delightful new granola recipe. Hope you are enjoying Fall!