For affiliate links and as an Amazon Associate I earn from qualifying purchases.
Some of you may remember these gluten-free Chocolate Protein Muffins from one of my March Muffin Madness events a few years back. The recipe was created by Andrea Wyckoff and was shared on her site at the time, Forest and Fauna.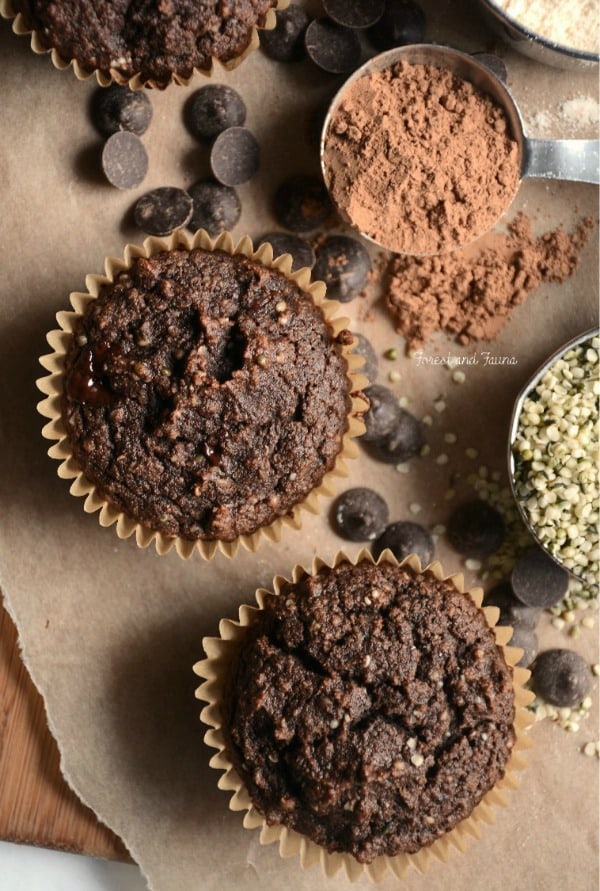 When I recently re-checked my post linking to hers, I learned that her site was no longer active. After further investigation, I ultimately learned that Andrea tragically passed away in a car accident in September 2021.
I was stunned and saddened and remain so. What a tremendous loss for Andrea's family, friends, and the gluten-free community and beyond. I will miss her. She was such a bright light.
Although Andrea had moved on to many diverse endeavors in recent years, she remained a vivacious and positive figure in the special diet world. She was best known for her early and ongoing work at her Betty Rawker site, where she shared her expertise in all things raw and vegan, and her game-changing work for the low-starch ankylosing spondylitis (AS) community, at her Forest and Fauna and Pure and Simple sites.
Janneke Phung, another member of the AS community who was personally helped greatly by Andrea is carrying on Andrea's advocacy and sharing many of her recipes on her own new site, Starch-Free Feasting. Janneke remembers the vital role that Andrea played in her own healing here.
There is no doubt that Andrea's free spirit, advocacy, and passionate encouragement to others will always be missed. We are fortunate to have some of her outstanding recipes still available as part of her legacy.
With that in mind, here's Andrea's original post with her recipe for paleo Chocolate Hemp Protein Muffins. I know without a doubt that she would want you all to have this one so you can continue to enjoy these wonderful muffins. True to Andrea's nature, she gives you easy options to make this gluten-free recipe work for multiple diets.
National Chocolate Day is coming up on October 28. That's one good reason to plan on making these muffins soon. Trying a protein-packed muffin or simply a recipe with hemp seeds are two more good reasons!
The Benefits of These Gluten-Free Chocolate Protein Muffins
In Andrea's own words:
"These tasty Chocolate Protein Muffins are full of those good fats we love for fuel, a healthy dose of fiber, each muffin packs in 7 grams of protein, and they can easily be made with just 3 net carbs! Seriously this is like the ultimate muffin to start the day!
I know MIM (muffins in mugs) are super popular these days, but when you think about it, this recipe is even easier, as with this muffin recipe you only have to get out the ingredients ONE TIME on the weekend, mix, bake, and then you have 12 muffins to refrigerate for the week ahead so you can grab this breakfast fuel to go! You can even freeze half the batch to cover TWO WEEKS of breakfasts.
I love to toss in a big handful of chopped dried cherries, sugar-free chocolate chips, and chopped walnuts into the batter so they resemble black forest muffins. Feel free to mix in any of your favorite dried fruits and chopped nuts. When you add in these additional ingredients the muffins puff up even bigger.
I updated this recipe below since taking the photos so the muffins come out of the oven looking better and even more moist than these photos. You will see what I mean when you bake them!
Since I thrive best on a diet loaded with good fats along with some unrefined carbs, I personally use maple syrup in these muffins when I make them, but I have also adapted them to work with sugar alcohols for those who prefer "low-carb" treats, just see my recipe notes if using a granulated sweetener. ♥ "
Shirley here: I can personally vouch for the version of these muffins made using maple syrup. I have made them many times and I know other gluten-free friends who have as well. Most of us now have these muffins on our regular breakfast and dessert menu because good muffins always work for both! Bake some!
Some More Excellent Gluten-Free Recipes Made Using Hemp Seeds and Other Recipes from Andrea
~ Paleo Chocolate Chip Cookies with Hemp Seeds
~ Paleo Sweet & Sour Chicken (or Fish or Shrimp)
~ Pumpkin Pie Smoothie with Honey Cinnamon Whipped Cream
~ Snickerdoodle Muffins (Keto)
Gluten-Free Chocolate Protein Muffins Recipe (with Paleo and Low-Carb, Keto Options)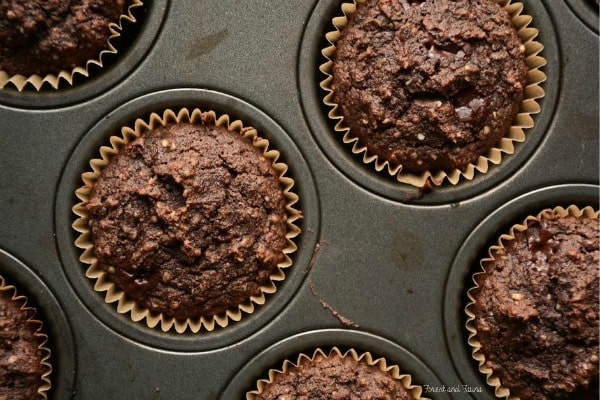 Yield: 12 muffins
Paleo Chocolate Protein Muffins (Keto Option)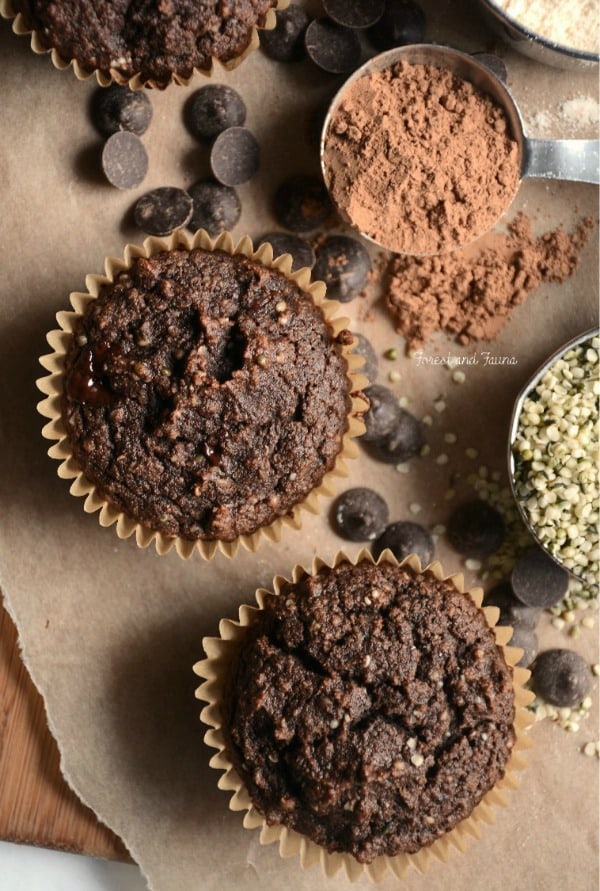 Andrea says: "These tasty gluten-free Chocolate Protein Muffins are full of those good fats we love for fuel, a healthy dose of fiber, each muffin packs in 7 grams of protein, and they can easily be made with just 3 net carbs! Seriously this is like the ultimate muffin to start the day!"

Prep Time 10 minutes

Cook Time 20 minutes

Total Time 20 minutes
Ingredients
1/2 cup coconut flour
1/2 cup hemp seeds
1/2 cup sweetener of choice (maple syrup, erythritol, or lakanto; please see notes if using a granulated sweetener*)
6 Tablespoons cacao powder
1/2 cup avocado oil, MCT oil, or olive oil (see notes)
6 pastured eggs
1 teaspoon vanilla extract
1 teaspoon cream of tartar or lemon juice
1/2 teaspoon baking soda
pinch of sea salt
optional add-ins: 1/2 cup sugar-free dark chocolate chips, 1/2 cup dried cherries (chopped), and 1/2 cup chopped walnuts
Instructions
Preheat oven to 350*F.
Mix ingredients together in a bowl. I start by mixing dry ingredients together and then adding in oil and eggs. but you can mix the ingredients together however you like. (You can mix in optional chocolate chips or add in some dried fruits or chopped nuts. The chocolate chips do get "melty" in the muffins when warm, but do firm up into bits of chocolate when chilled.)
Line a muffin pan with muffin liner/papers (I use these liners) and then spoon batter into muffin cups.
Bake at 350*F for 20 to 23 minutes, or until baked all the way through. You can test with a toothpick to confirm muffins are done.
Notes
Andrea's Notes:

The recipe as written will be perfectly moist if a liquid sweetener is used like maple syrup or honey. If using a dry granulated sweetener like erythritol, lakanto, maple sugar, or coconut sugar add in 1/4 cup of canned full-fat coconut milk plus 1/4 cup of additional oil to make the muffins nice and moist.

Additional notes:

In response to a reader asking about a substitute for cocoa, Andrea replied: "Roasted carob powder "should" work, I think. Otherwise, I encourage you to experiment in replacing the cocoa powder as it also acts like a "flour" in this recipe."

Readers have reported the following information in their reviews:

"Instead of erythritol, I used 1/2 teaspoon of pure monk fruit and mistakenly added 1/4 cup of coconut milk and 1/4 cup of avocado oil. I used 100% dark chocolate chips unsweetened and added cinnamon. These turned out fantastic and super moist."

"I did the palm sugar route and rather added 1/4 cup yogurt for moisture. It actually ended up being too thin, so I added some cassava flour too for the right consistency!"

"I used your adaption for erythritol, using almond milk and coconut oil. They were so light and fluffy."

Estimated nutrition facts per muffin, based on making 12 muffins, using erythritol as the sweetener. 185 calories, 16 grams fat, 11 grams fiber, 7 grams protein, 3 net carbs (total carb count looks higher as it includes sugar alcohols).

Originally published April 3, 2016; updated December 25, 2022.