For affiliate links and as an Amazon Associate I earn from qualifying purchases.
October is the month when pumpkin gets all the love and National Pumpkin Day (October 26) just passed so it seems like the perfect time to share this gluten-free Pumpkin Bread Pudding recipe! I hope you'll agree!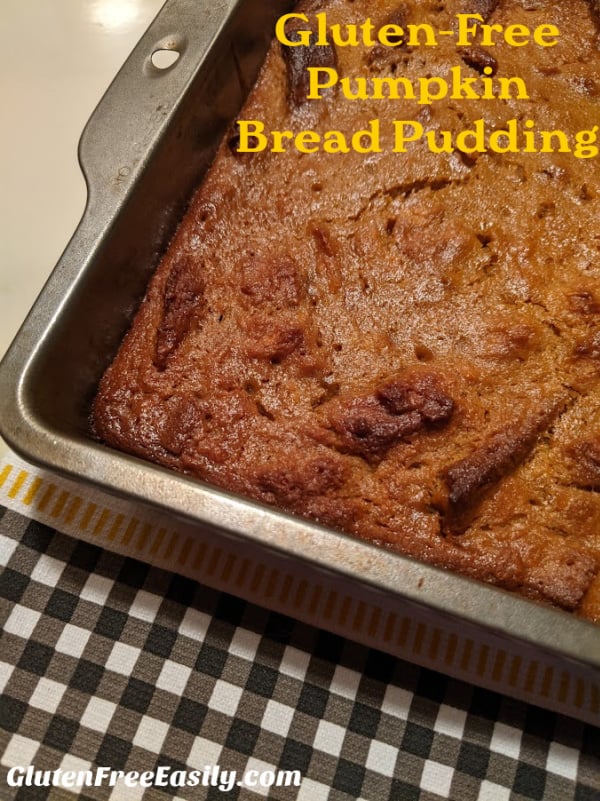 I have always been a big fan of bread pudding. It was a recipe that my beloved grandmother made often and every spoonful said love to me.
Cliché perhaps but Grandma had stopped most of her baking by the time I was enjoying my daily visits with her so the rare homemade treat from her was very special. And her bread pudding was such wonderful comfort food.
I was so happy when I finally added a recipe for foolproof gluten-free Old-Fashioned Bread Pudding to gfe. Making it always reminds me of my grandmother. I have so many sweet and vivid memories of time spent with her and my granddaddy!
While I have made pumpkin versions of other favorites, such as my gluten-free Overnight Pumpkin Pie French Toast Casserole, I had not yet gotten to Pumpkin Bread Pudding. Then a couple recipes popped up in my feeds recently.
One that caught my eye used a combination of dairy milk and evaporated milk. The evaporated milk factor made me think of the foolproof bread pudding recipe. It also made me think of the single can of sweetened condensed coconut milk left in my pantry.
It really didn't take too much to come up with this simple recipe. It's a lovely pumpkin version of the bread pudding. Perfectly pumpkin-y—not too much pumpkin and not over-pumpkin-spiced—plus, it's not too heavy either.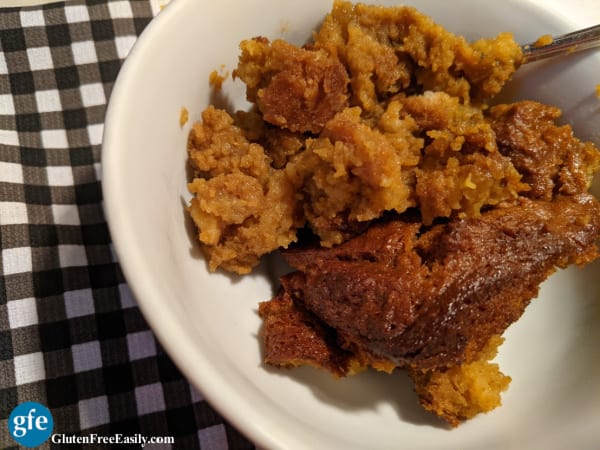 If you are wondering if you can substitute "regular" sweetened condensed milk for the sweetened condensed coconut milk, I'm sure you can do that but you will have to make an adjustment or two. A can of the original sweetened condensed milk contains 14 ounces and a can of the sweetened condensed coconut milk falls short at 11.25 ounces. So, it would not be a one-for-one swap.
You could either use slightly less than the full can of regular sweetened condensed milk or you could add in another slice or two of gluten-free bread to help soak up the extra liquid. I don't *think* you'd need to make any other adjustments. If you use regular sweetened condensed milk, please come back and tell us exactly what you did and how your gluten-free Pumpkin Bread Pudding turned out.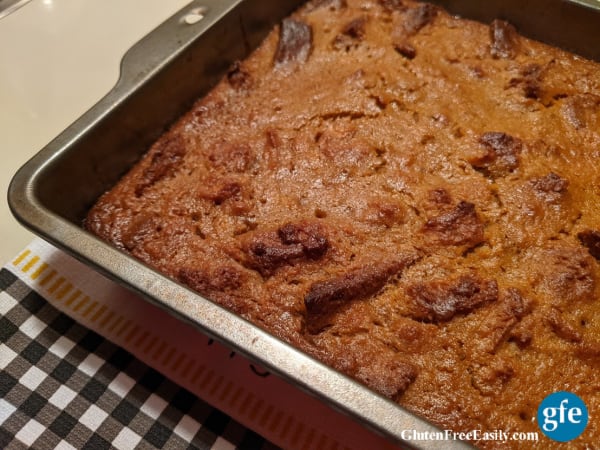 One final note. With most bread pudding recipes, the directions say to soak the bread for half an hour or more. As most of us know, gluten-free bread is not as sturdy as gluten-full bread (because of the lack of gluten) so in this case, you'll only be soaking the bread long enough for the oven to preheat.
Otherwise, you'll send up with mush. Nobody wants mushy bread pudding! You want some crusty structure along with softness so please follow the instructions below and don't turn on the oven until you've mixed up the ingredients.
I really hope you'll enjoy this gluten-free Pumpkin Bread Pudding as much as my family does! It's pretty irresistible in my opinion and a small portion is very filling and satisfying so I made this bread pudding in an 8 x 8 baking dish versus the 9 x 13 one that I used for my original version.
We have always put a little milk over our bread pudding, whether we ate it hot or cold. Just as we did for any other pudding. I poured a little almond milk over this bread pudding.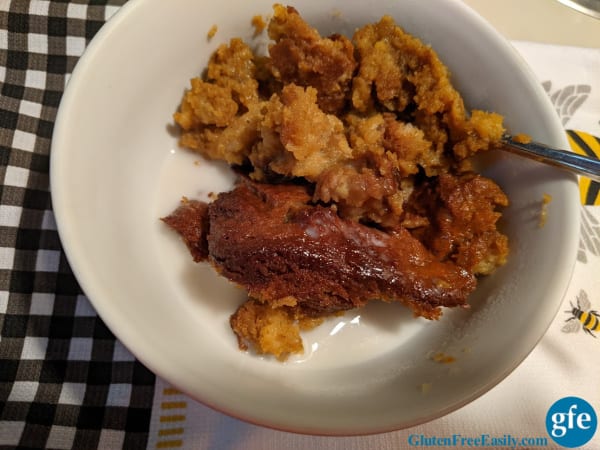 Happy Pumpkin Day! Or do you celebrate all month? Or all Fall? Honestly, there's no time of year that I would turn a pumpkin dessert down! Especially this irresistible gluten-free Pumpkin Bread Pudding!
Some More Gluten-Free Pumpkin and Bready Comfort Food Recipes
Gluten-Free Pumpkin Bread Pudding Recipe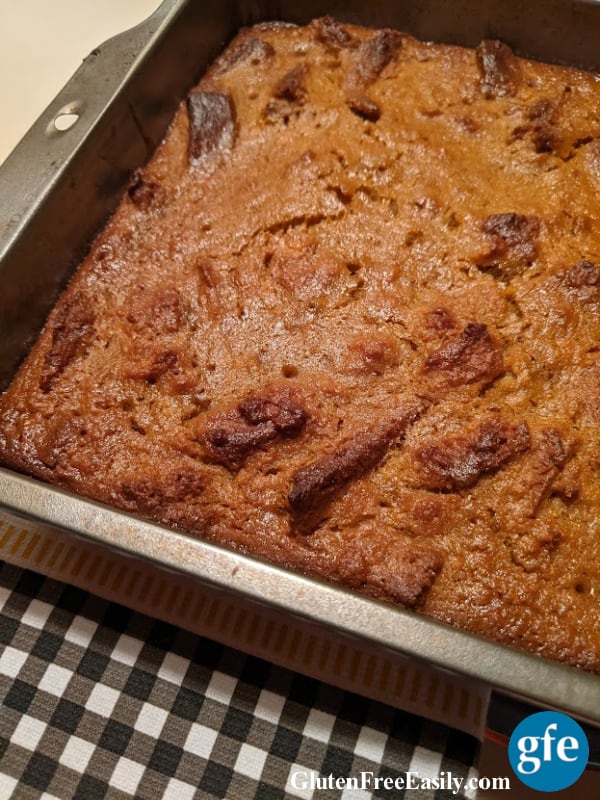 Yield: 9 servings
Gluten-Free Pumpkin Bread Pudding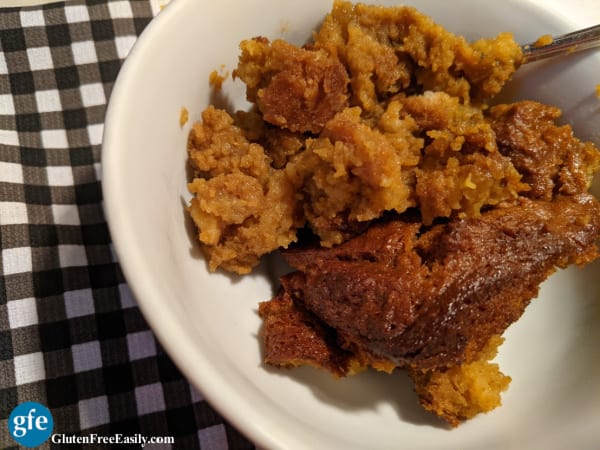 Beautiful and delicious bread pudding made with the magic of pumpkin, pumpkin spice, and sweetened condensed coconut milk. Perfect Fall comfort food!

Prep Time 10 minutes

Cook Time 55 minutes

Total Time 1 hour 5 minutes
Ingredients
2 large eggs
1 cup canned pumpkin (not pumpkin pie filling, aka pumpkin puree)
½ cup light brown sugar (or less if desired; see notes)
½ tsp ground cinnamon
Instructions
First, do not preheat your oven for this recipe.
Add eggs to a large mixing bowl. Beat.
Stir in pumpkin puree, sweetened condensed coconut milk, vanilla extract, light brown sugar, pumpkin pie spice, and ground cinnamon until well mixed.
Add gluten-free bread pieces. Stir and let sit until the oven is preheated.
Immediately turn the oven on to 350F.
Grease 8 x 8 baking dish.
Once the oven is heated, stir the bread pudding mixture one more time. Pour the mixture into the greased baking dish.
Bake bread pudding for about 55 minutes. The top should be clearly baked and a bit crusty. Test for doneness with a toothpick.
Notes
While most bread pudding recipes instruct you to soak the bread for a good period of time, most gluten-free bread is by nature more fragile than gluten-full bread. Simply soaking the gluten-free bread for this recipe while the oven preheats is sufficient.

Adapted from Lou Lou Girls' recipe.

Originally published October 28, 2022.