This post may contain affiliate links. If you purchase through them, your cost will stay the same, but gfe will receive a few cents for every dollar spent. Thanks for supporting gfe!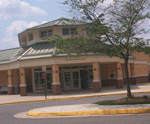 When:  Thursday; March 28, 2013; 12:30-2:00 pm (part of North of 50 series)
Where:  Bull Run Regional Library, 8051 Ashton Avenue, Manassas, VA  20109
What: Shirley is presenting a session on gluten-related issues and the gluten-free diet. Handouts will be available and Shirley's homemade gluten-free (gfe) treats will be served.
For additional information on this presentation or the North of 50 program, please contact Julie Italiano, Librarian, at (703) 792-4502