For affiliate links and as an Amazon Associate I earn from qualifying purchases.
Today's recipe for Paleo Pork Chips was yet another recipe inspired by a national food day. It seems that this past Friday was National Pig Day. I never quite hit these food holidays right even when they relate to a food we love.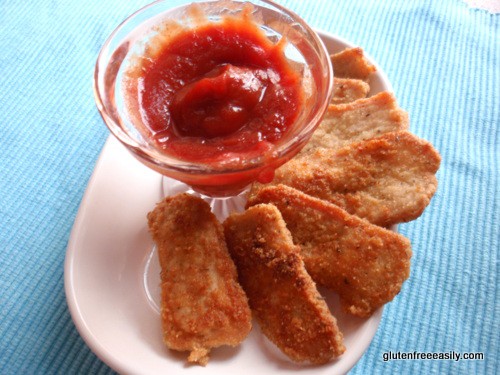 And we love pork, as evidenced by gfe recipes like The World's Easiest and Best Pulled Pork and Pork Tenderloin with Maple Glaze. I was close to celebrating on the right day though because I made these Paleo Pork Chips for us over the weekend.
Or maybe they should be called Paleo Pork Tenders because they are so tender and delicious. I'll stick with calling them Paleo Pork Chips, but you can call them whatever you like!
To be honest, this recipe is so simple and flexible that it's more of a concept than an actual recipe. All you really do is thinly slice the still partially frozen pork tenderloin and "bread" the slices with a mixture of almond flour or coconut flour and seasonings of your choice, and then fry for just a few minutes in your favorite healthy oil.
There are several ways you can prepare your Pork Chips. We like adding Italian seasoning to the almond flour and frying in olive oil or coconut oil.
If using coconut flour, note that it is so fine, that it hardly seems like breading. It's also naturally sweet, so I like adding smoked paprika to its seasoning mixture for a little more oomph.
Or you can use gluten-free seasoned bread crumbs to bread your Pork Chips. That option is not paleo, of course, unless you're using grain-free bread to make your bread crumbs.
I've been using this concept for years with venison tenderloin and seasoned bread crumbs. Prepared Italian bread crumbs or homemade seasoned bread crumbs were always my easy and delicious breading choice before going gluten free.
The Venison Tenderloin Chips have always made for an unbelievably good and welcomed meal. Friends who are hunters—and more importantly, their families—have thanked me for sharing this method with them, because even non-venison lovers almost always enjoy venison tenderloin prepared this way.
Venison tenderloin is almost always more cylindrical than pork tenderloin, so the chips look more like chips than strips, which I like.
Admittedly, the idea for preparing venison tenderloin this way is not my own. I either read about it or was told about it so long ago that I don't remember the original source.
But it was only recently that I thought of using pork instead of venison. I wanted to serve pork tenderloin for dinner. But the tenderloin was not yet thawed and had it been, I still would not have been ready to wait the better part of an hour for it to roast in the oven either.
Then I remembered how we have always enjoyed our venison tenderloin. Light bulb moment … Paleo Pork Chips! In just a few minutes, we were enjoying a wonderful pork dinner.
I don't know why it has taken me so long to think of using pork tenderloin this way. This is such a great alternative to pork dishes like roasted pork tenderloin and grilled pork chops when you want your meal right away.
You could also easily use turkey tenderloin or boneless chicken breasts for an alternative to turkey/chicken nuggets.
Serve your Paleo Pork Chips with your favorite dipping sauces that meet your dietary requirements. You'll see organic ketchup, our favorite "barbecue" sauce (ancient recipe from Hints from Heloise, which is half ketchup, half Worcestershire sauce), hot wing sauce, and blue cheese dressing in the photo. Another favorite dipping sauce at our house is our bees' honey.
Add some cut-up veggies (raw or cooked, like broccoli "trees") to your Paleo Pork Chips for a complete meal and you'll make everyone in your family happy. There's just something about finger food that makes eating more fun, and more interactive than most shared meals!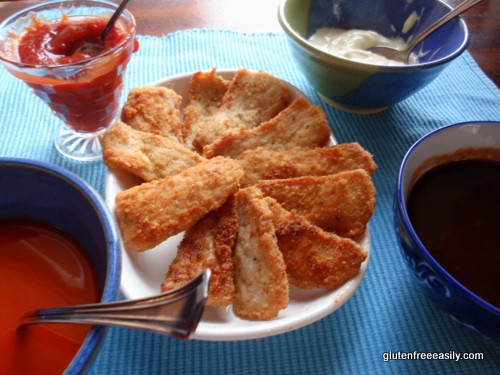 Incidentally, these Paleo Pork Chips are terrific eaten cold for breakfast, too. No sauce needed.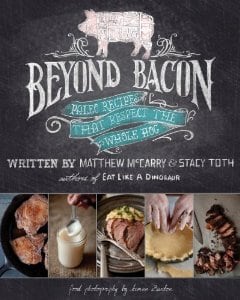 Finally, when considering the pig with its always tantalizing bacon, succulent pork tenderloin, economical and delicious pork butt,  and other offerings, don't forget that the Paleo Parents (Stacy Toth and Matt McCarry) have a new book that's all about the pig—Beyond Bacon: Paleo Recipes that Respect the Whole Hog. Just reading about some of the recipes that they and their recipes testers have been making has certainly whetted my appetite!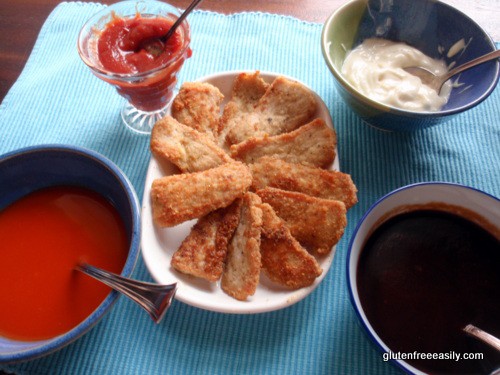 Yield:
Paleo Pork Chips (or Venison Chips, Turkey Chips, or Chicken Chips)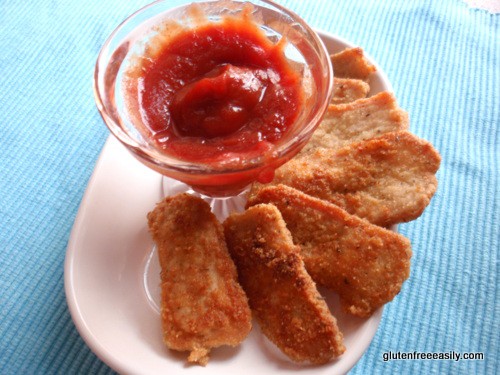 These Paleo Pork Chips (think very skinny pork chops!) are so quick and easy to make! Choose some tasty dipping sauces to go with them. 
Ingredients
Cooking oil of choice (I use coconut oil or extra virgin olive oil)
Pork tenderloin, thawed just enough so that it's sliceable
1 cup almond flour, coconut flour, or gluten-free bread crumbs (the latter for a non-paleo version)
¼ to ½ tsp Italian seasoning, smoked paprika, or spices/herbs of choice (more or less, to taste)
Instructions
Add oil to large skillet until it's about ¼ to ½ inch deep. Preheat to medium to medium-high temperature.
Mix breading and seasoning of choice in medium-sized bowl. Set aside.
Slice pork tenderloin into thin slices, about ¼-inch thick. (A serrated knife works best for this task.)
Dredge slices of pork in seasoned breading mixture until coated.
Add pork chips to hot oil. Flip with appropriate utensil (e.g., wooden fork) after about 2 to 3 minutes. Cook additional 2 to 3 minutes until light or golden brown on both sides. (The coconut flour "breading" doesn't really brown that much in this recipe, but all signs of pink will be gone.)
Remove to paper-towel lined plate to drain and cool slightly before eating. (I like to use newspaper under my paper towels for extra absorption.)
Serve immediately with favorite dipping sauces, veggies, etc. Or eat cold or reheated later with or without sauce.
Notes
I prefer to work in small batches, basically enough pork chips to fill the skillet. Between batches, I put my remaining pork tenderloin back in the freezer so that it will remain firm enough to slice easily. If you run out of breading before finishing frying all your chips, just make another batch.
Originally published March 4, 2013; updated September 14, 2018.