For affiliate links and as an Amazon Associate I earn from qualifying purchases.
Yes, that's a mouthful, but it's a really good one … believe me! I hesitated over sharing this Spicy Sweet Potato, Cabbage, Bean, and Vegetable Soup because the original version was not totally made from scratch as most of my soups are. The first time around I made this soup using Bloody Mary mix actually. I always buy Bloody Mary mix for our Valentine's Day parties. Some years it gets consumed. Some years not.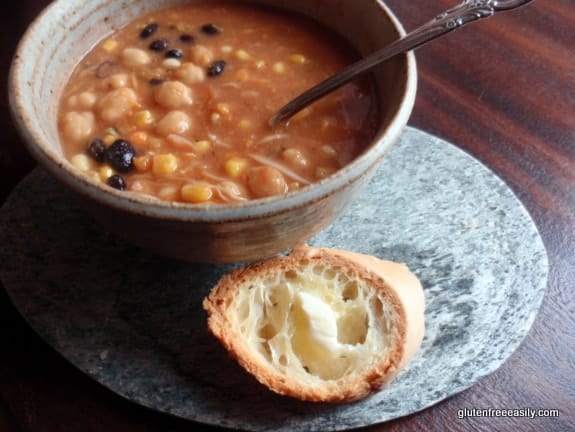 This year the Bloody Mary mix didn't even get opened. I knew that I wasn't going to put it back in my liquor cabinet (aka the top shelf of my pantry) because it would not get used if I did that either. We don't have many Bloody Mary drinking friends who stop by. Although pre-made Bloody Mary mix can be some fairly horrific stuff … full of high fructose corn syrup and lots of undesirable ingredients as lots of drink mixers (but not all) are, the mix I found was one of the the healthier ones. It was free of gluten (of course), HFCS, and MSG, but it did contain some ingredients at the end of the listing (therefore, in lesser amounts) that are not ones I normally consume (e.g., soy). From the ingredients listing, the Worcestershire sauce included in this Bloody Mary mix even appeared to be vegan, which is a bonus for my vegan friends.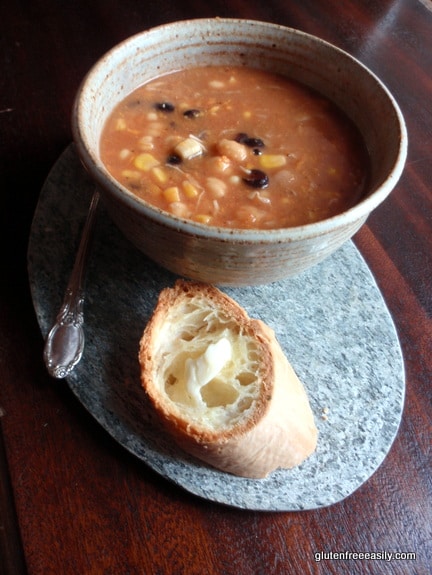 So I decided I'd use this Bloody Mary mix in some soups because I've been on a real soup kick of late. Although Mr. GFE doesn't care to eat soup night after night, particularly the same soup night after night, but when I come up with a good soup, I'm more than happy to eat it several times in a row. Even for several meals in a row. I will eat great soup for breakfast, lunch, and dinner.
This soup is a great soup. Every time I eat a spoonful, I am thrilled with the combination of flavors and textures. It's perfect for a Meatless Monday and other than the Bloody Mary mix, all the ingredients come from your basic pantry—broth, sweet potatoes, finely shredded cabbage (these become very much like noodles), shredded carrots, black beans, chickpeas (you know how I love them!), corn, and coconut milk (or other non-dairy milk).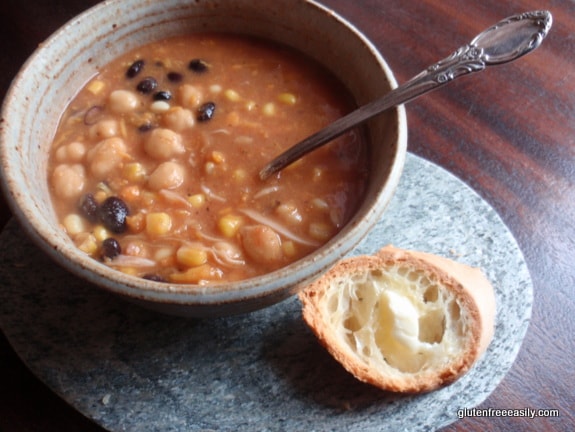 A quick and easy substitution for Bloody Mary mix is a spicy tomato juice or regular tomato juice or even V-8. I most often use V-8 to make my own version from scratch today.
Yield:
Sweet Potato, Cabbage, Bean, and Veggie Soup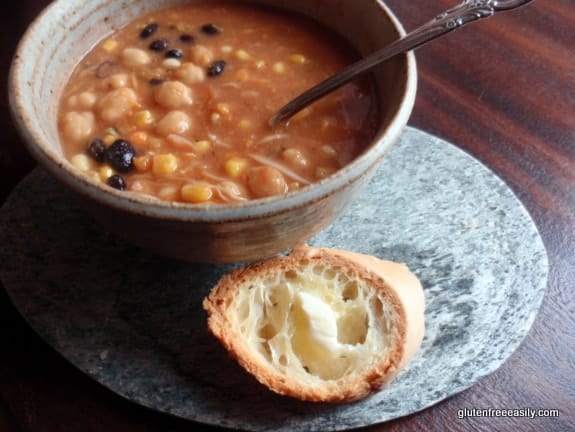 This soup is full of flavor and textures, and it's delightful! Shredded cabbage gives this soup a little crunch and even a bit of a noodle vibe without actual pasta.

Prep Time 10 minutes

Cook Time 15 minutes

Total Time 10 minutes
Ingredients
2 to 2 ½ cups tomato juice, regular or spicy (or vegetable juice like V-8 or gluten-free Bloody Mary mix)
2 cups gluten-free vegetable broth (you can use gluten-free chicken broth if you are not vegetarian/vegan)
2 sweet potatoes, cooked and mashed (I used my hand masher)
2 to 3 cups finely shredded cabbage (I used old-fashioned cole slaw mix, which was simply cabbage and carrots)
1 can black beans (or equivalent amount of fresh cooked black beans), about 16 ounces, rinsed and drained
1 can chickpeas (garbanzo beans; or equivalent amount of fresh cooked chickpeas/garbanzo beans), about 16 ounces, rinsed and drained
1 can corn (or equivalent amount of fresh or frozen corn kernels), about 12 to 16 ounces, rinsed and drained (optional)
1 ½ cups coconut milk (either canned or from carton)
Instructions
Combine all ingredients in large stockpot.
Bring to a boil on stove top.
Reduce heat to a simmer for about 10 to 15 minutes until warmed through. (If you want a thicker soup, use your immersion blender once or twice in the stockpot for about 15 to 30 seconds at a time.)
Stir and serve.
Notes
I originally made this soup with leftover Bloody Mary Mix. These days I use tomato juice or V-8 juice. I sometimes add diced or pureed tomatoes for a slightly thicker soup. I'd definitely recommend the use of an immersion blender near the end of your cooking time, to nicely thicken the soup, whether you are adding diced or larger pieces of tomatoes or not. Incidentally, the finely shredded cabbage in this recipe creates a nice crunchy "noodle" effect.

Originally published March 11, 2013; updated January 30, 2023.