For affiliate links and as an Amazon Associate I earn from qualifying purchases.
Despite being a pie fanatic, I have missed celebrating Pi Day every single year since starting this blog. No longer! Well, I'm barely getting in my post on time. Truthfully, I got a little sidetracked with two other things (here and here) in the gluten-free special diet world today. We've chatted about them quite a bit on my gfe Facebook page. I'll probably be sharing more on both topics later. Anyway, I'm sharing a brand new recipe, Paleo Crustless Carrot Pie. And there are also several fabulous gluten-free pie recipes featured over at my other blog, All Gluten-Free Desserts … All the Time. (Just click on the pie category and see all the amazing pie recipes.) People get excited about Pi Day. You know the math term Pi meaning 3.14… that we celebrate on 3/14 with all kinds of pies? Many folks tend to outdo themselves with their Pi Day pie recipes, and I totally get that! I come from a family of pie lovers and so does Mr. GFE. Any reason to have pie a good thing!
But I'd never considered making a Carrot Pie before until my friend Joanna Cassidy-Farrell shared "Trick or Treat" pie in an article in the October issue of one of our local news magazines. As a Certified Natural Health Care Professional and Master Herbalist, JoAnna (Keep It Green Herbal Center) specializes in teaching the community about achieving and maintaining balanced health with herbal plants and nutrition. (She has previously presented to my support group to share her wealth of knowledge.) In the article, JoAnna stated that Carrot Pie had a higher nutritional value than pumpkin pie. I was intrigued both by the nutritional aspect and the possibility of adapting another great recipe to be gluten free and crustless because if you didn't already know, I adore crustless pies!
Although I never fully researched the nutritional comparison of carrots versus pumpkin, I was more than happy to accept JoAnna's knowledgeable advice that carrots offer more in the way of iron, calcium, and Vitamins A and C. That simply left me to investigate the deliciousness comparison on my own! Mr. GFE and I both agree that this Crustless Carrot Pie is very good. It tastes mildly sweet and slightly less rich than a pumpkin pie, but I used coconut sugar and coconut flour in this Crustless Carrot Pie and I didn't do a side-by-side comparison against my Crustless Pumpkin Pie. The coconut flour that allows this pie to "stand on its own," so to speak also gives it a wee bit of a texture (even after I sifted the coconut flour before adding it to the recipe). Admittedly, that same texture is not really present in my original, non-paleo versions of this pie, but we don't think it is objectionable at all. Coconut flour also works well because it tends to absorb that extra moisture that might linger in your puree from the steamed carrots. Incidentally, it was my friend Sunny, of And Love It, Too!, who thought of using coconut flour and I will be forever indebted to her!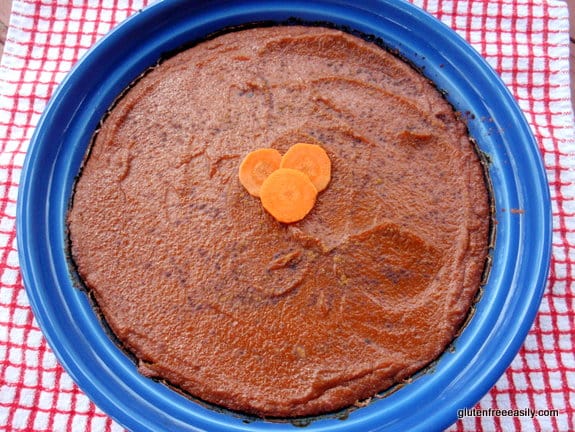 After further reflection, about the only thing that this version has in common with the original carrot pie recipe is the inclusion of two cups of carrot puree. I used coconut sugar instead of brown sugar (and less of it). I used coconut milk instead of evaporated milk, and again it was a lesser amount. I skipped the vanilla extract because I've never added that to my Traditional Crustless Pumpkin Pie, my Best Ever Gluten-Free, Dairy-Free Pumpkin Pie, or Crustless Sweet Potato Pie and they all still taste wonderful. In fact I followed the same basic recipe as for those latter two pies, simply substituting carrot puree for pumpkin puree and sweet potato puree, respectively. It was only after I'd made this pie and we'd enjoyed it, that I took another look at the original recipe that JoAnna had shared and saw that it called for not two eggs, but four eggs. I had used two eggs because the previously mentioned pies all work just fine with two eggs. Only two eggs makes this recipe easier for the egg-free folks to substitute flax eggs or the like though as I know those substitutions have always worked in those same crustless pie recipes that call for two eggs. For Version 2, I'll try this recipe with four eggs and some additional spices, and a longer baking time. But enjoy this slightly lighter and definitely tasty version now!
Yield:
Paleo Crustless Carrot Pie ("Faux Pumpkin" Pie?)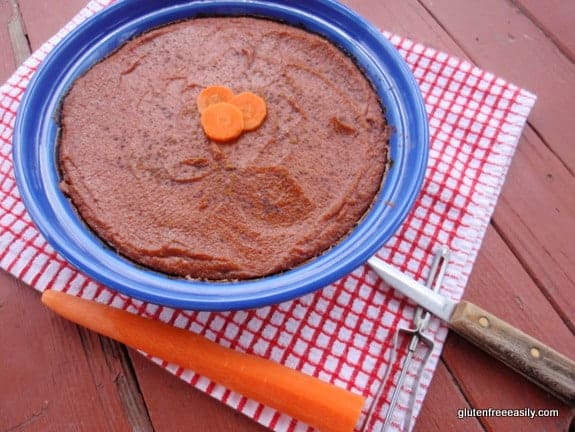 Ingredients
2 cups carrot puree (from about 3 cups steamed or boiled carrots; about 1 lb carrots I *think*)
2 eggs (see notes for egg-free options)
¾ cup coconut sugar
½ tsp salt
1 tsp cinnamon
½ tsp ground ginger
½ tsp ground nutmeg
½ tsp ground allspice
1/8 tsp cloves
1 cup full-fat, canned coconut milk
¼ cup coconut flour, sifted (I use this brand)
cinnamon, enough for sprinkling if desired
Instructions
Preheat oven to 425 degrees F. Grease pie plate and set aside.
In large bowl, beat eggs slightly and then mix in remaining ingredients.
Pour filling into greased pie plate. (It will be thick so you'll need a spatula.)
Sprinkle with cinnamon, if desired. (It doesn't really show up against the dark colored background, but it does provide additional flavor.)
Bake 15 minutes.
Reduce oven temperature to 350 degrees F. Bake until knife or toothpick comes out clean, about 45 minutes longer.
Notes
Use a food processor to make your carrot puree. (A hand masher or hand mixer will not be sufficient.) Processing will only take a few minutes. Steamed carrots provide the most nutrients. If you boil your carrots instead, save the water to make smoothies later. Flax gel eggs or chia gel eggs always work well in my crustless pie recipes. Pumpkin pie spice or apple pie spice may be substituted for the total measurement of the individual spices.
 This post is linked to Pennywise Platter Thursdays, Whole Foods Friday, Wellness Weekend, 5-Ingredient Mondays, and Saturday Night Fever.