For affiliate links and as an Amazon Associate I earn from qualifying purchases.
A while back I shared my Homemade V-8 Splash Tropical Blend recipe in a guest post on my friend Linda's blog, Gluten-Free Homemaker. I realized recently that I have never shared the recipe here so I'm remedying that oversight today. That way you'll have a cool healthy drink recipe as we head into summer!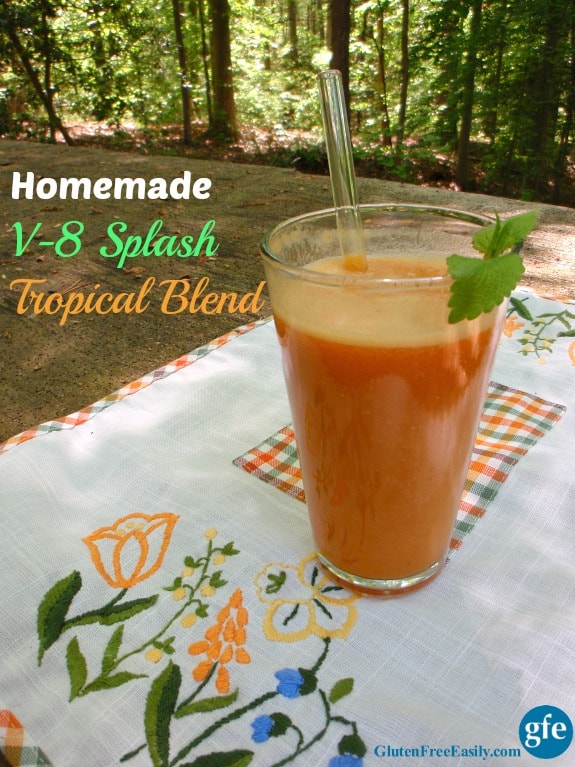 For a short time when Son was in college, he was slightly hooked on the V-8 Splash drinks. He really liked the V-8 Tropical Splash Blend and I would happily indulge in the glass he offered from time to time.
While I enjoyed the taste of this beverage and knew that it was gluten free, I was not thrilled when I further reviewed the ingredients. They included high fructose corn syrup, natural flavorings (natural flavorings are usually gluten free, but often made of ingredients I don't want to consume), and—last and worst of all (in my opinion)—sucralose. (Sucralose is also known as Splenda.)
Fast forward several years and I love making smoothies and juice blends from ingredients I have on hand. Typically, my beverages are a combination of fruit and leafy vegetables (e.g., spinach, romaine, cabbage) with juices, water, or dairy-free milk added. All of these concoctions are good and quite a few are even blog worthy, so sometimes I jot down the ingredients as I add them to my Vitamix.
One time when there were no greens or dairy-free milk on hand, I added what I saw first in my fridge and on the counter:  tomato juice, pineapple juice, a banana, leftover pumpkin puree, and the juice from an orange. The result was a blend that was slightly thicker than juice alone, but definitely not smoothie thickness, and I was surprised and delighted to discovered that it tasted just like the V-8 Splash Tropical Blend!
I've made this lovely beverage many times since and the amount of pineapple juice needed for the recipe depends upon the size of the banana and how much juice the orange yields. That's why the amount of pineapple juice in the recipe can vary.
This recipe is still super simple though with only five ingredients—and they're all "real food," whole food ingredients. Oh, and Son enjoys this homemade version just as much as the ready-made version!
Yield: 6 servings
Homemade V-8 Splash Tropical Blend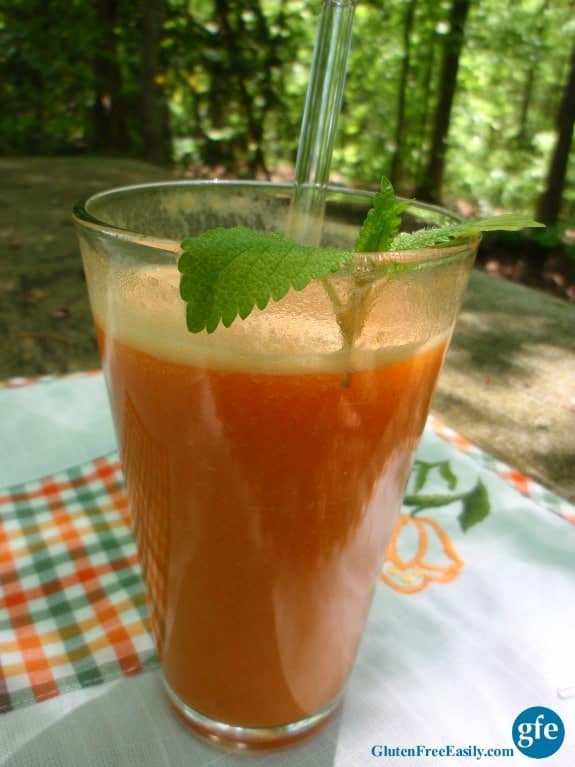 Homemade knockoff recipes that are easy to make, healthier, and taste the same are wonderful to have in one's repertoire! This V-8 Splash Tropical Blend will be a great addition.
Ingredients
¾ cup tomato juice
2 – 3 cups pineapple juice (see instructions)
1 banana
1 cup pumpkin puree
Juice of one orange, about 1/3 cup
Instructions
Combine all ingredients in the blender, starting with the lesser amount of pineapple juice and adding more, a little at a time, if needed, to get just the right thickness and sweetness. Sample after each addition of pineapple juice. (Even if you've never tasted V-8 Splash Tropical Blend, you'll intuitively know when the mixture is just right.)
Blend until smooth. Enjoy!
Notes
I like using Cara Cara oranges because they're both sweet and low in acid.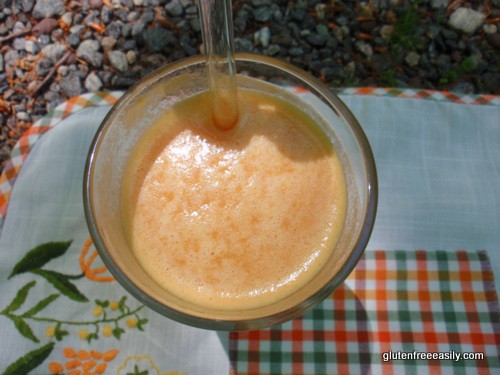 This post is linked to Hearth and Soul Blog Hop.