For affiliate links and as an Amazon Associate I earn from qualifying purchases.
When:  Sunday, June 10, 2:00 pm
Where: Padovan-Hickman Family's home, Biota Farm, in King George, VA (Note: Please email Shirley for directions if you are local and plan to attend.)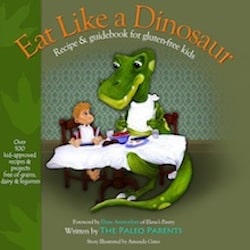 What:  This year's picnic will be held on June, Sunday, the 10th, at 2:00 pm. Once again, it will be hosted by the Padovan-Hickman Family—Steve, DeLaura, Tara, and Maren—at their farm, Biota. This is our third annual picnic event at Biota. They've all been great fun with delicious fare, too, and there's not much that beats being on the Padovan-Hickman farm whether enjoying all the wonders of nature outside or visiting with each other in their wonderful log cabin. If you've never visited Biota before, you'll see the beauty of simple farming and country life and see how neat a log cabin built from logs hand cut and hewn right on one's property can be. However, this picnic meeting is even more special because the Paleo Parents, Stacy Toth and Matt McCarry and their three young boys Cole, Finian, and Wesley will be joining us.
In addition to writing their outstanding paleo blog, Stacy and Matt are the authors of the brand new cookbook, Eat Like a Dinosaur: Recipe and Guidebook for Gluten-Free Kids (note that the book is more commonly referred to as ELaD). Intended for children and families, this cookbook presents eating healthy real food—like that a dinosaur would have eaten—in a friendly, super approachable way. The intro shares how Stacy and Matt together lost over 200 pounds in little over a year and resolved all types of health problems for themselves and their boys. Their story is very compelling and their recipes are simple to make and delicious. I've made several as I've been reviewing ELaD the last few weeks and we've enjoyed them all! I anticipate that Stacy and Matt will be bringing some books for selling and a book signing. (If you already have a copy, bring yours for them to put their "John Hancocks" on.) In addition to the Toth-McCarry family, we may also have some other gluten-free bloggers on hand as I'll be hosting several of my gluten-free blogger friends that same weekend. (Many are folks whose blogs you read faithfully!) Our food theme will of course be paleo picnic food! Please put this event on your calendar now!