This post may contain affiliate links. If you purchase through them, your cost will stay the same, but gfe will receive a few cents for every dollar spent. Thanks for supporting gfe!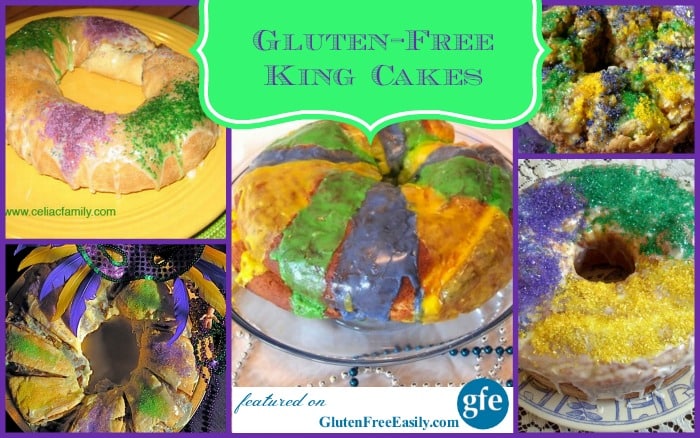 Are you looking ahead to Mardi Gras? You might need a gluten-free King Cake recipe to have a proper celebration.
Mr. GFE and I were out celebrating Mardi Gras with friends this weekend by dancing and listening to Terrance Simien and The Zydeco Experience at The State Theatre in Culpeper, Virginia. We had the kind of time you would expect to have at a Mardi Gras experience—in a word, fabulous!
Terrance Simien and his band have long been favorites of ours. We've never been to New Orleans, but Terrance Simien has played in our area a number of times over the years. Terrance and his band never disappoint. Plus, your workout for the day is guaranteed as you never sit down when listening to Terrance. It's all dancing all the time! Laissez les bons temps rouler!
Here I am with two of my girlfriends. That's me in the middle. I was smiling, but you can't really tell because of my mask.
Before we get back to King Cake recipes, don't forget to get your completely FREE $1000 bundle for paleo resources (over 70 cookbooks, menu plans, videos, and more) HERE!
Now Back to Gluten-Free King Cake Recipes
Technically, the season for King Cake extends from the end of the Twelve Days of Christmas (Twelfth Night and Epiphany Day) until "Fat Tuesday," Mardi Gras, the day before the start of Lent. So we're in the typical King Cake "window." Most folks that I know enjoy King Cakes for Mardi Gras, but they can also be used to celebrate other special occasions.
A King Cake is a pastry of sorts which has an almost Bundt cake appearance and is decorated with bands of colored sugar or frosting in green, purple, and gold. The colors represent the following:  purple for justice, green for faith, and gold for power. Some King Cakes also have delectable fillings, such as cream cheese, brown sugar, nuts, and fruit. Here are some beautiful and delicious King Cakes! (There's even a paleo option.)
~ King Cake from Art of Gluten-Free Baking ~ gluten free, vegetarian
Jeanne is the author of Gluten-Free Baking for the Holidays and Gluten-Free Wish List. She says: "As it turns out, the Mardi Gras King Cake is basically a brioche–which is a combination of a yeasted bread and a cake." She shares not only her wonderful recipe, but a very special memory of a day with King Cake.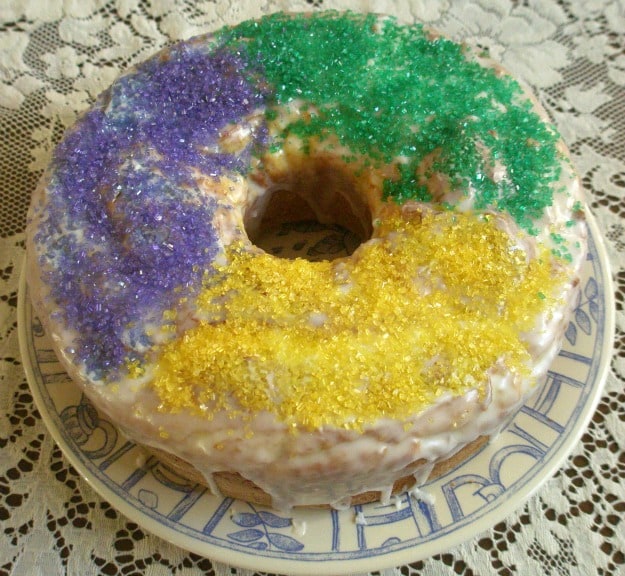 ~ King Cake from GF Jules ~ gluten free, with dairy-free option
One reader said: "Loved the king cake! I was so happy that my two girls could enjoy this treat again! I made it twice, once with your flour and once without. It was much, much better with your flour! I am from New Orleans so I know what I am talking about. My daughter informed me that I can't wait a whole year before I make it again!"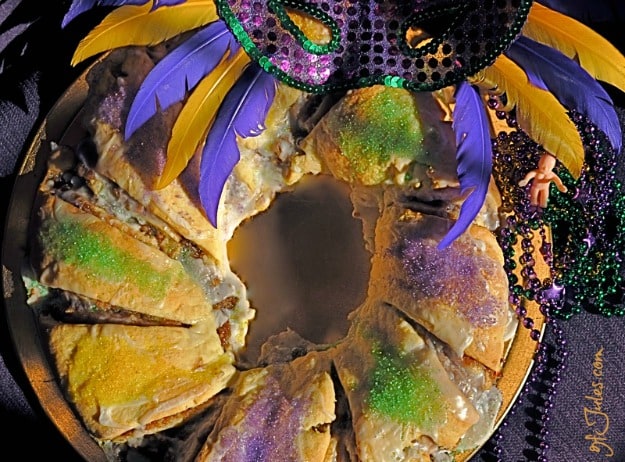 ~ King Cake from Celiac Family ~ gluten free, vegetarian (Heather shares two choices of fillings for her King Cake. She also has a great Beignet recipe.)
One reader said: "I tried out this king cake recipe and plan to bring to our church's Shrove Tuesday Pancake dinner for two of our members who are gluten sensitive. I love this recipe. It is better (more moist and the crumb more tender) than a traditional recipe made with wheat flour."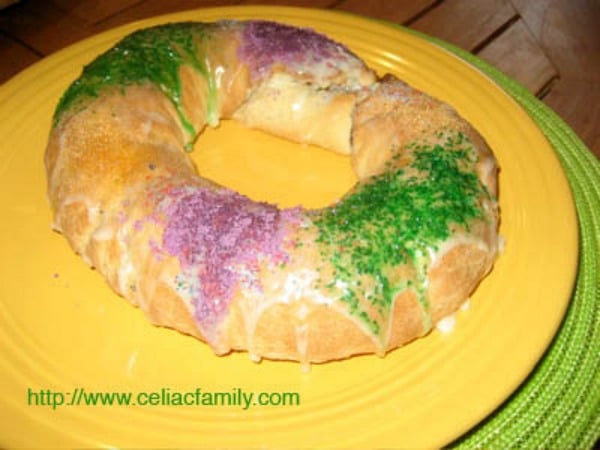 ~ King Cake from Faithfully Gluten Free ~ gluten free, vegetarian, with dairy-free option
Jeanine is the author of The Everything Guide to Living Gluten Free. One reader said: "I lived in Louisiana for 6 years and became gluten free after leaving the state. I have tried for years to make a king cake in February because they are so yummy and remind me of happy Louisiana times. Finally, this year, thanks to you I had my first king cake in 6 years and it was so good I almost cried. I was so proud of myself! I wanted to share it with everyone AND eat it all myself."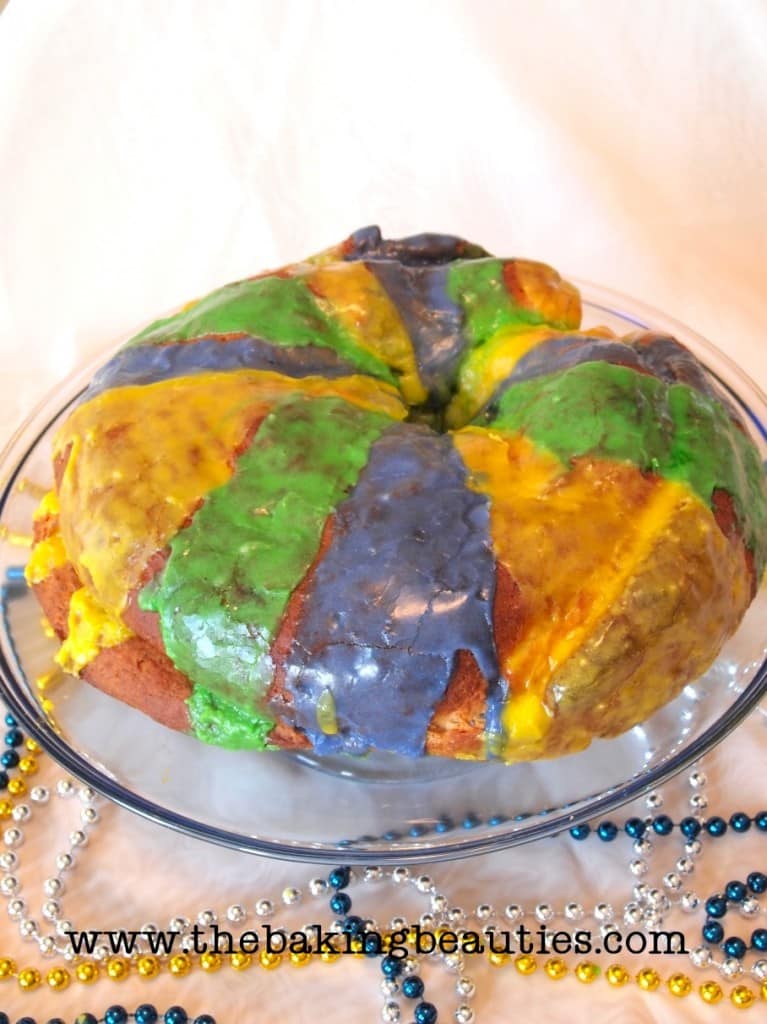 ~ Gluten-Free, Dairy-Free King Cake with Quince Filling from In Johnna's Kitchen ~ gluten free, dairy free, vegetarian
Johnna says: "It's none other than King Cake, the traditional Mardi Gras treat. While not one of my prettiest creations, I was assured King Cake does not have to be particularly attractive. I hope that is true. I can only recall eating it once years ago and it was like having a dried out cinnamon roll with lots of sugar on top.  Mine was a bit more moist and I really liked the addition of quince to the filling."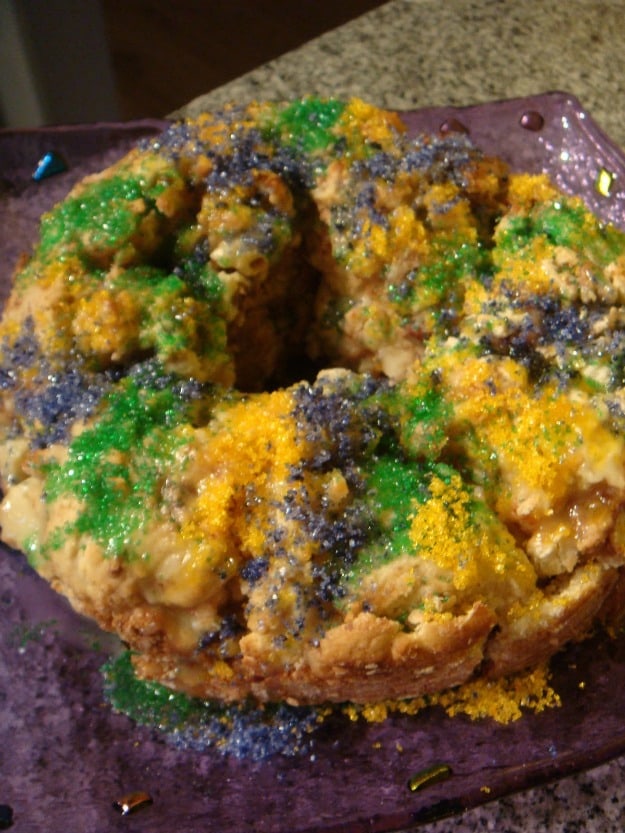 Paleo King Cake from Predominantly Paleo ~ gluten free, grain free, dairy free, refined sugar free, vegetarian
Jennifer is the author of Down South Paleo: Delectable Southern Recipes Adapted for Gluten-Free, Paleo Eaters; Paleo Kids Cookbook for a Lifetime of Healthy Eating:  Transition Your Little Ones to Grain-, Gluten-, and Allergy-Free Food with Family-Friendly Meals They Will Love; and co-author of The New Yiddish Kitchen:  Gluten-Free and Paleo Recipes for the Holidays and Every Day.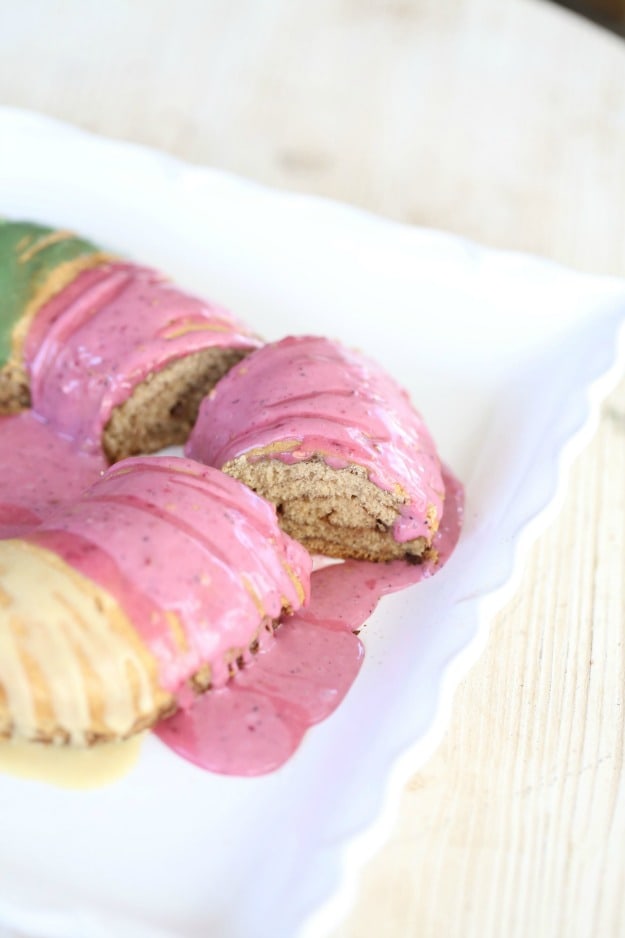 You will also find lovely King Cake recipes from some of your favorite gluten-free companies:
~ Gluten-Free King Cake from Better Batter ~ gluten free, vegetarian, with dairy-free option
~ Gluten-Free King Cake from Pamela's Products ~ gluten free, vegetarian
Enjoy your gluten-free King Cake and laissez les bon temps rouler!
This post is linked to Allergy-Free Wednesdays.