For affiliate links and as an Amazon Associate I earn from qualifying purchases.
Are you in a festive mood and more into looking ahead than looking backward right now? Perhaps you're looking ahead to Mardi Gras? You might need a gluten-free King Cake to serve after your main course for a proper celebration so I thought I'd remind you about all the great gluten-free King Cake recipes that exist—including several splendid new recipes!
It's actually King Cake "season," if you will. This season runs from January 6, King Day, through Mardi Gras Tuesday, which is the day before Ash Wednesday (the start of Lent). The dates for Mardi Gras Tuesday and Ash Wednesday change each year depending on when Easter is observed. For 2023, the dates are February 21 and 22, respectively.
While the end date for King Cake season will change every year, it's obvious that you'll have plenty of time to enjoy gluten-free King Cake! That's why I'm sharing some terrific gluten-free King Cake recipes with you today.
Mr. GFE and I were out celebrating Mardi Gras with friends a couple of years ago by dancing and listening to Terrance Simien and The Zydeco Experience. We had the kind of time you would expect to have at a Mardi Gras experience—in a word, fabulous!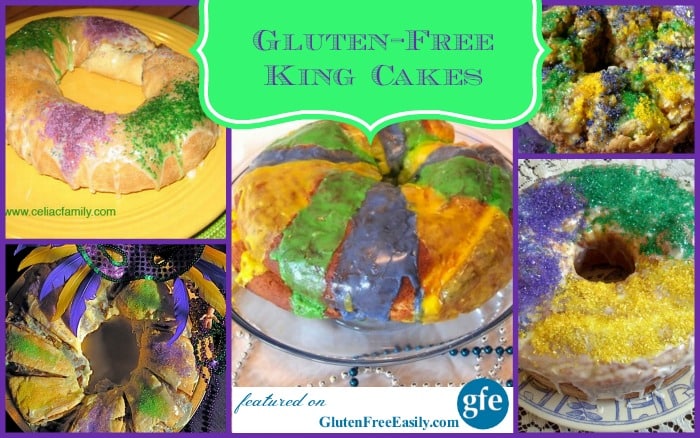 Terrance Simien and his band have long been favorites of ours. We've never been to New Orleans, but Terrance Simien has played in our area a number of times over the years. Terrance and his band never disappoint. Plus, your workout for the day is guaranteed as you never sit down when listening to Terrance. It's all dancing all the time! Laissez les bons temps rouler!
Here I am with two of my girlfriends. That's me in the middle. I was smiling, but you can't really tell because of my mask.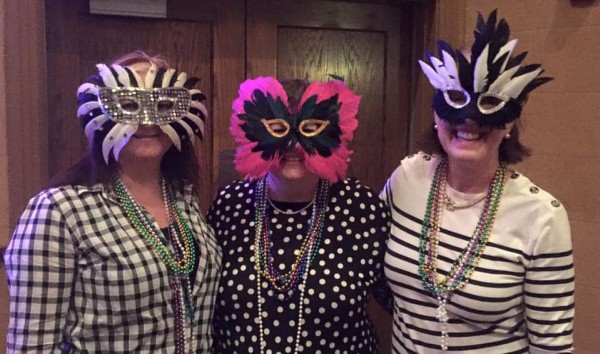 Now Back to Gluten-Free King Cake Recipes
So we're in the typical King Cake "window." Most folks that I know enjoy King Cakes for Mardi Gras, but they can also be used to celebrate other special occasions.
A King Cake is a pastry of sorts that has an almost Bundt cake appearance and is decorated with bands of colored sugar or frosting in green, purple, and gold. The colors represent the following: purple for justice, green for faith, and gold for power. Some King Cakes also have delectable fillings, such as cream cheese, brown sugar, nuts, and fruit. Here are some beautiful and delicious gluten-free King Cake recipes. There's even a paleo option in this recipe roundup.
~ King Cake from Art of Gluten-Free Baking ~ gluten free, vegetarian (Jeanne is the author of Gluten-Free Baking for the Holidays and Gluten-Free Wish List.)
Jeanne says: "As it turns out, the Mardi Gras King Cake is basically a brioche–which is a combination of a yeasted bread and a cake." She shares not only her wonderful recipe but a very special memory of a day with King Cake.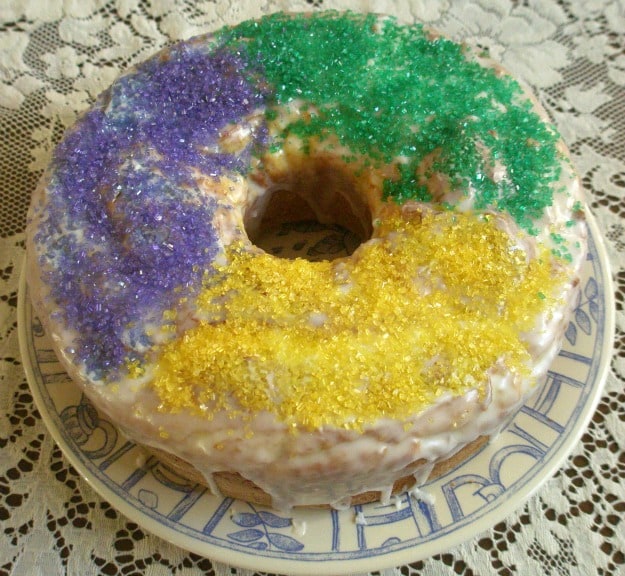 ~ King Cake from Celiac Family (via The Wayback Machine) ~ gluten free, vegetarian (Heather shares two choices of fillings for her King Cake. She also has a great gluten-free Beignet recipe.)
One reader said: "I tried out this king cake recipe and plan to bring to our church's Shrove Tuesday Pancake dinner for two of our members who are gluten sensitive. I love this recipe. It is better (more moist and the crumb more tender) than a traditional recipe made with wheat flour."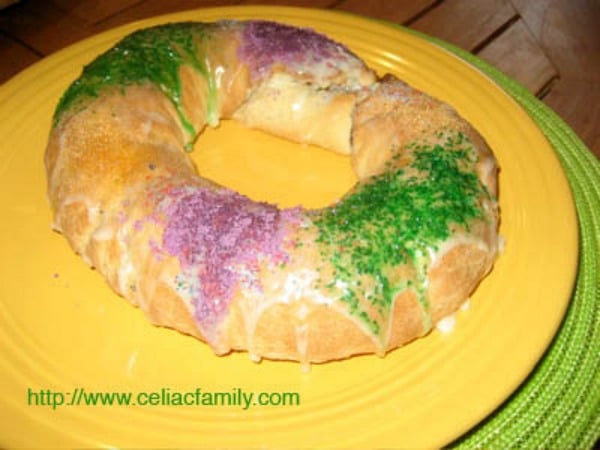 ~ King Cake from Faithfully Gluten Free ~ gluten free, vegetarian, with dairy-free option (Jeanine is the author of The Everything Guide to Living Gluten Free.)
One of Jeanine's happy readers said: "I lived in Louisiana for 6 years and became gluten free after leaving the state. I have tried for years to make a king cake in February because they are so yummy and remind me of happy Louisiana times. Finally, this year, thanks to you I had my first king cake in 6 years and it was so good I almost cried. I was so proud of myself! I wanted to share it with everyone AND eat it all myself."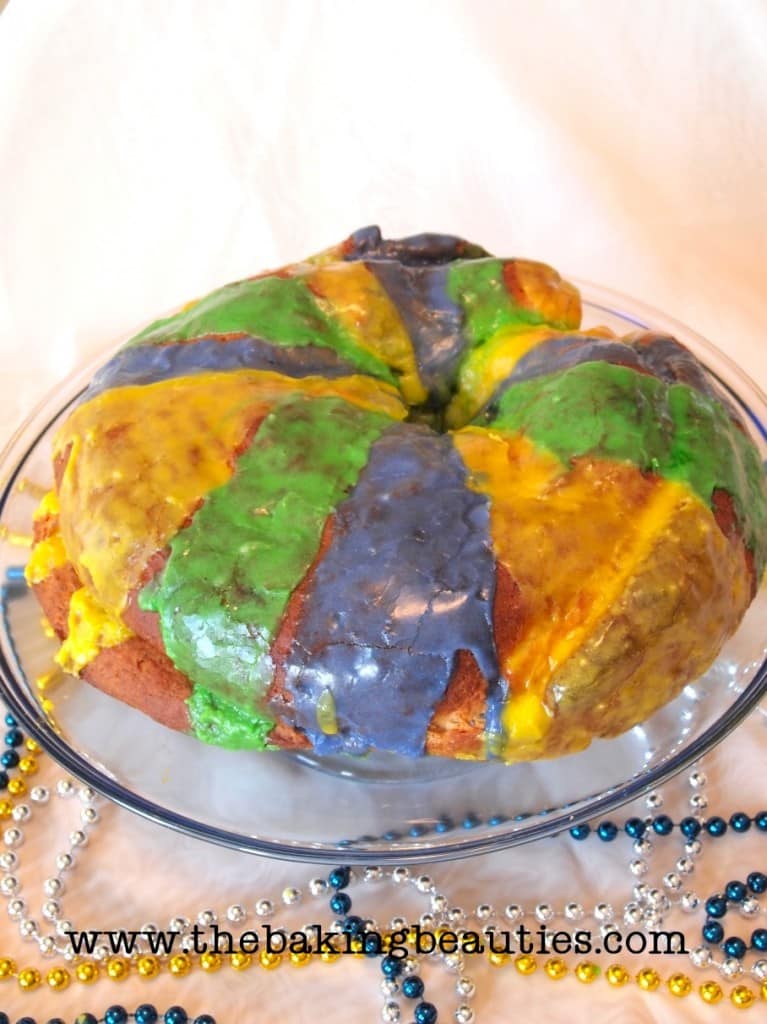 ~ Gluten-Free, Dairy-Free King Cake with Quince Filling from In Johnna's Kitchen ~ gluten free, dairy free, vegetarian
Johnna says: "It's none other than King Cake, the traditional Mardi Gras treat. While not one of my prettiest creations, I was assured King Cake does not have to be particularly attractive. I hope that is true. I can only recall eating it once years ago and it was like having a dried out cinnamon roll with lots of sugar on top. Mine was a bit more moist and I really liked the addition of quince to the filling."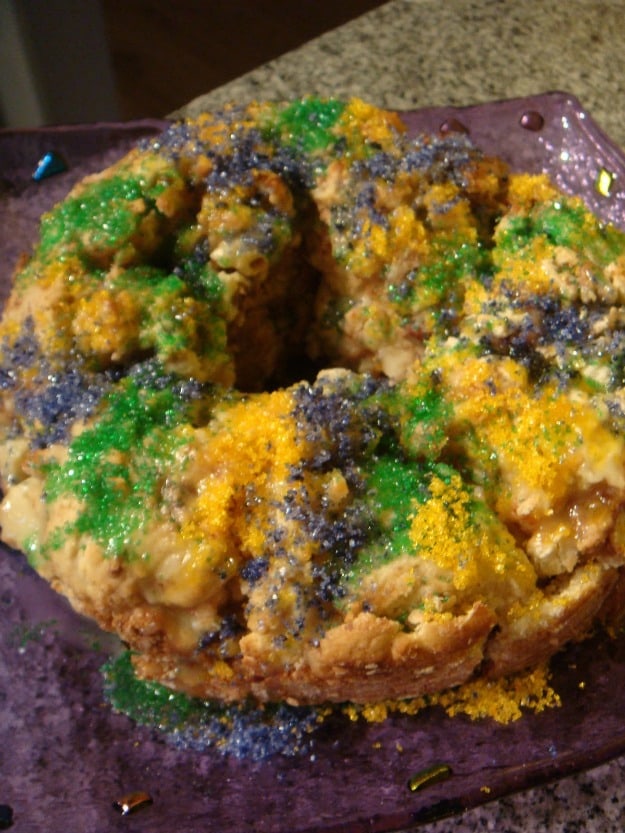 ~ King Cake from Let Them Eat Cake ~ gluten free, vegetarian
Kim describes her King Cake: "It's like a giant colorful cinnamon roll ready to be shared with your friends and family!" She adds: "Even if you can't make it to New Orleans for Mardi Gras, you can still make an authentic gluten-free king cake to celebrate the tradition!!" Yes!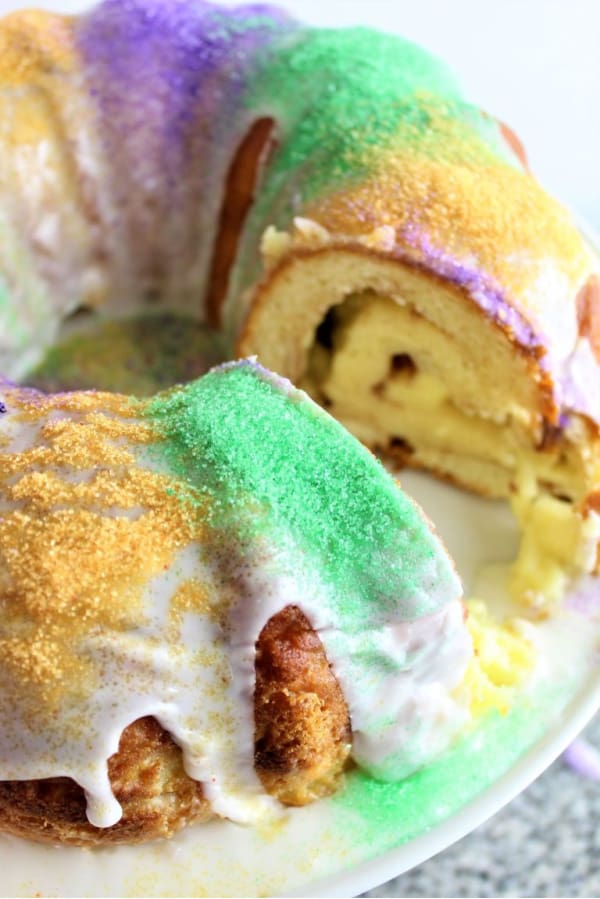 ~ New Orleans King Cake from Strength and Sunshine ~ gluten free, dairy free, egg free, refined sugar free, vegetarian, vegan
Rebecca says: "Mardi Gras is all about bold, fun, crazy decorations and celebrating, so this messy and delicious gluten-free king cake is just the thing you need!" I could not agree more. Check out her recipe and read about the rich history of King Cake!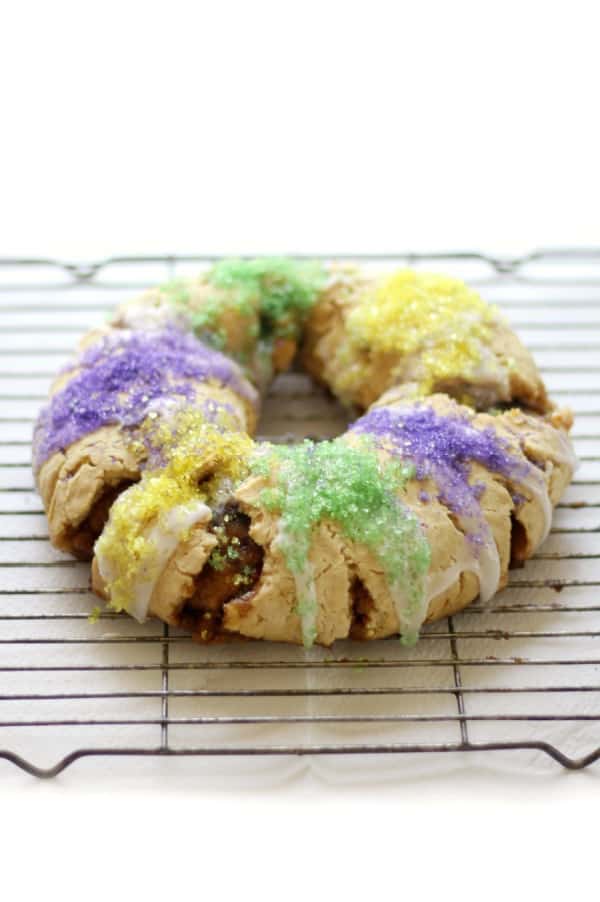 ~ Paleo King Cake from Predominantly Paleo ~ gluten free, grain free, dairy free, refined sugar free, vegetarian (Jennifer is the author of so many terrific cookbooks, Affordable Paleo Cooking with Your Instant Pot, Down South Paleo, The Paleo Kids Cookbook, and Paleo Cooking with Your Instant Pot; and the co-author of The New Yiddish Kitchen: Gluten-Free and Paleo Recipes for the Holidays and Every Day.)
One reader said: "Thank you for this recipe–I made it for my middle daughter whose class was having king cake at school, and it was delicious and easy to make too! My older daughter thought it was better than the store-bought one that her school served. Thanks again!"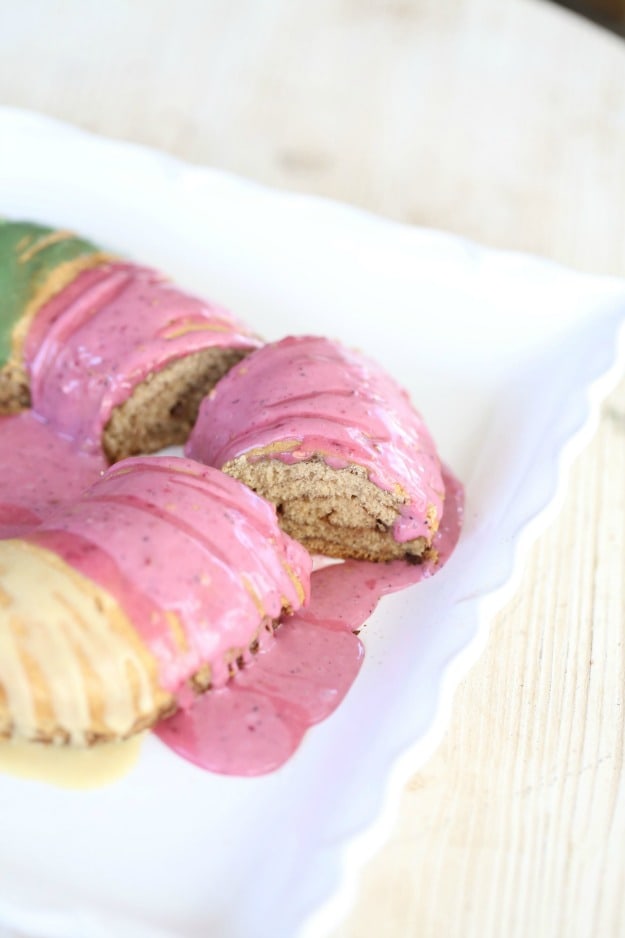 You will also find lovely King Cake recipes from some of your favorite gluten-free companies:
~ Gluten-Free King Cake from Better Batter ~ gluten free, vegetarian, with dairy-free option
Naomi describes King Cake: "A New Orleans tradition involving sweet pastry and little toys, this cake is meant to be eaten as part of a party—find the hidden token and be "King" of the party of the day!!"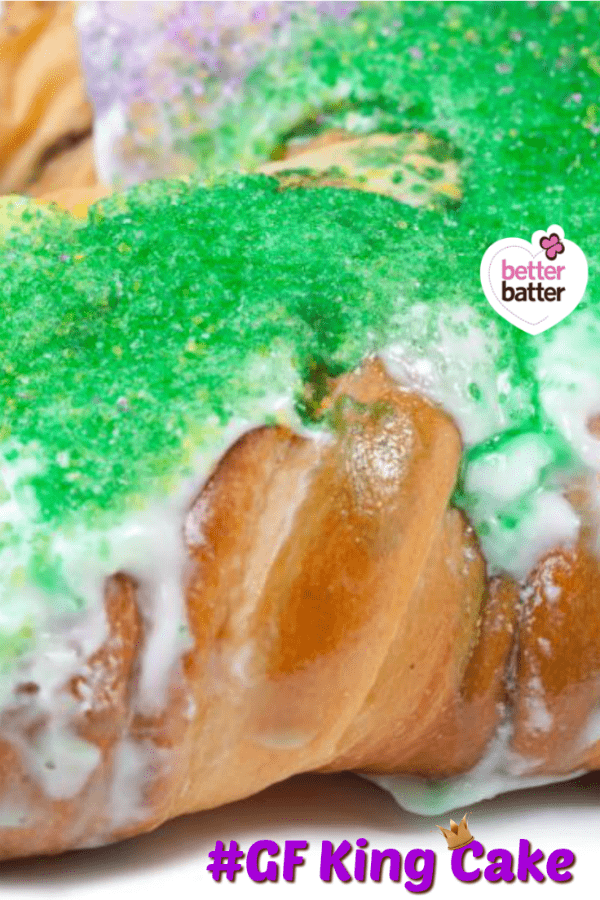 ~ Gluten-Free King Cake from GF Jules ~ gluten free, with dairy-free option (Jules is also the author of several gluten-free books, including her latest, Free For All Cooking.)
One reader said: "Loved the king cake! I was so happy that my two girls could enjoy this treat again! I made it twice, once with your flour and once without. It was much, much better with your flour! I am from New Orleans so I know what I am talking about. My daughter informed me that I can't wait a whole year before I make it again!"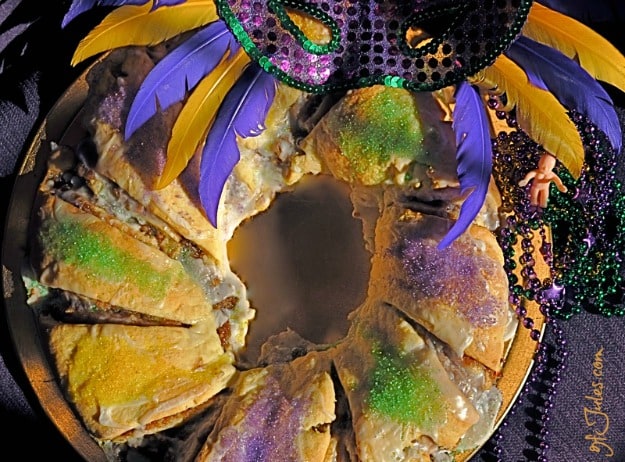 ~ Gluten-Free King Cake from Pamela's Products (made using Pamela's Bread Mix) ~ gluten free, vegetarian
Pamela's customers love this recipe! Some of their reviews: "First time making a King Cake, it was divine!" and "My first ever King cake, gluten free at that! It's delicious!!!" and "Loved it so much that I made it again!!! It amazes me how well this dough rises and how moist it is after baking the cake. Delicious!!!"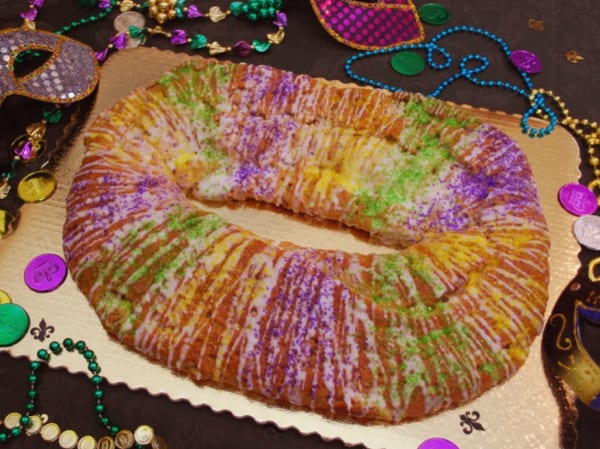 Get creative with King Cake goodness! For example, you could make this gluten-free King Cake Cheesecake or even these adorable and delicious doughnuts:
~ King Cake Donuts from All Day I Dream About Food ~ Gluten free, grain free, sugar-free, vegetarian, keto.
One of Carolyn's readers reported: "I made these on Saturday and they were a HUGE hit in my house!!! I chopped up some pecans to mix with the cinnamon slurry and these doughnuts tasted like Cinnabon. So. Delicious!"
With all these delicious choices, you're sure to find the recipe that suits your needs and preferences. Enjoy your gluten-free King Cake and, again, laissez les bon temps rouler!
Originally published January 31, 2014; updated February 7, 2023.