For affiliate links and as an Amazon Associate I earn from qualifying purchases.
Day 7 of March Muffin Madness (MMM) brings us these Grain-Free Chocolate Banana Muffins from Amy Atwell of The Painted Mermaid.
Amy is not a gluten-free blogger or a food blogger. She is, however, a force of nature—a delightful one—who runs a brick-and-mortar shop in Southport, North Carolina, and offers a positive and inspiring online presence.
She also eats gluten free, dairy free, refined sugar free, and paleo-ish.


Amy is most active on Facebook and Instagram. I honestly look forward to her posts every single day. She does a lot of very quick videos, some of which are sharing items from her shop but such sharing also comes with clever decorating ideas and historical knowledge.
Plus, she gives her thoughts on situations that many of us experience (e.g., how to eat well without meal planning, getting past hating to have our photo taken, needing to use leftovers).
I've been following Amy since I stopped at her shop when visiting my sister and brother-in-law last year. After a partial home renovation, I needed some additional decorative items for my downstairs rooms.
My sister said we should definitely go to Amy's shop. She told me that Amy was wonderful, fun, and inspiring and her shop was always full of treasures (everchanging treasures, I might add).
The Painted Mermaid and Amy were exactly as my sister had described. Amy was truly lovely and I did indeed find several items at her shop that were perfect for my needs.
I also quickly spied Amy's book Ten Little Rules for Mermaids. My sister had told me about Amy's book and after flipping through it, I added two copies to my handful of items.
I purchased a copy for a friend and one for myself. Amy graciously signed both for me.
Since then, Amy has published another book, Ten Little Rules for Serving You.
Both books are part of The Ten Little Rules series —"a series of books designed to help you live an authentic and fulfilling life." (Amy and I both are sponsoring the giveaway of her books today, which I'll tell you more about below.)
Now back to her muffins, which I can personally confirm are amazing.
A while back, Amy posted the following on her Painted Mermaid Facebook page (with the photo below):
"Holiday season at the Atwell Estate always spills over into the first two weeks of January with little boy birthday things.

Making giant chocolate banana muffins this morning for his party.

My original recipe is on page 77 in the cookbook, but here is a wonderful variation on the theme. Paleo friendly. Gluten-free. No refined sugar. For a nut-free version, try tiger nut flour which is a root vegetable in disguise and one of my favorites!"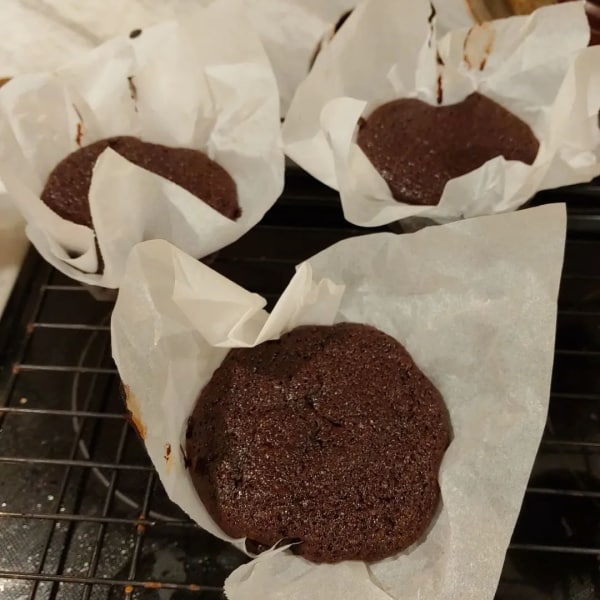 I knew I wanted to make that recipe and after making them, I also knew I wanted to ask Amy to join our March Muffin Madness event. I'm so glad she agreed to participate when I did!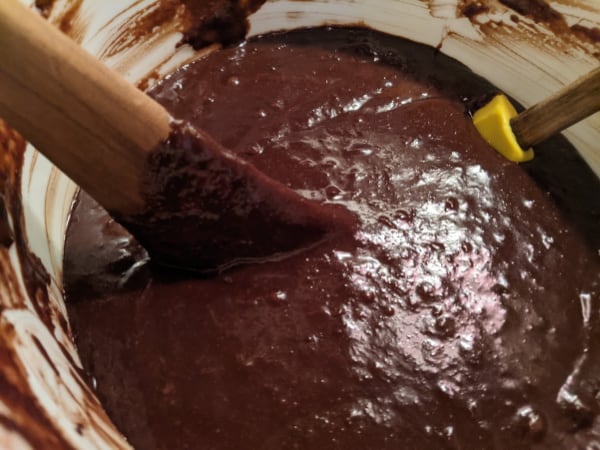 I opted to make regular-sized muffins so I could use regular-sized liners. Oh, my goodness, these Grain-Free Chocolate Banana Muffins are so rich and luscious.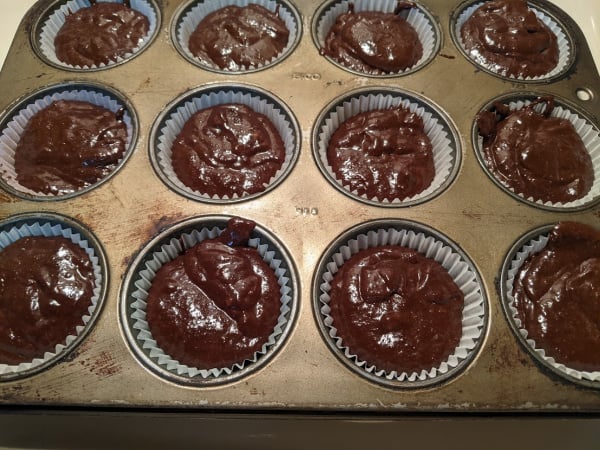 This muffin recipe is a somewhat unique recipe for me because as good as it is, I am not tempted to overindulge. I am perfectly satisfied with a single muffin!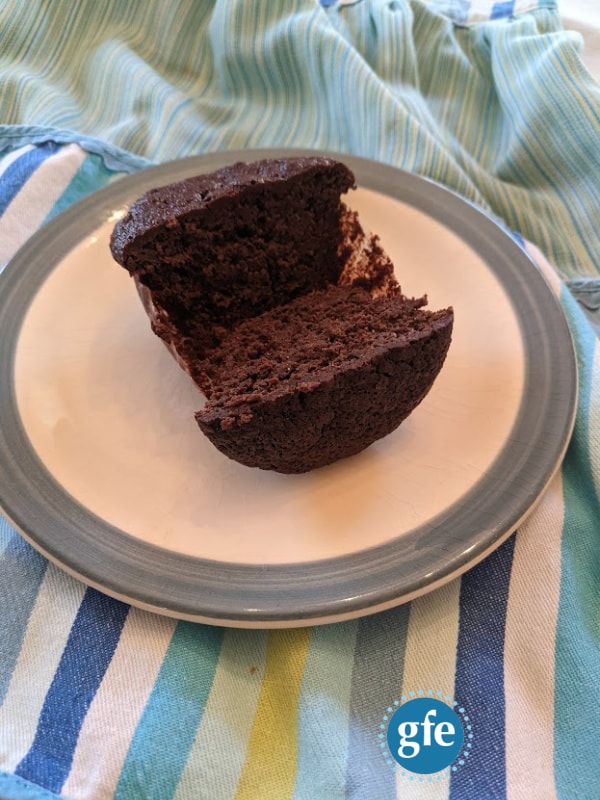 Every day I would pull one, just one, out of the fridge. Sometimes I enjoyed one for breakfast, sometimes one as an afternoon snack (when I knew I would be having a later dinner), and sometimes one as a late-night snack. I enjoyed them so much and I surprisingly did not want or need to eat again—eat anything—for hours.
When I have baked goods with a high moisture content, I always err on the side of caution and refrigerate them in an airtight container at the end of the day.
This leads me to confess to you that cold the next morning, these muffins are nirvana. Incidentally, because these muffins are made using almond flour, you can technically call them flourless.
That's appropriate as these babies certainly have the rich and heavenly taste and texture of a Flourless Chocolate Cake with the addition of mild banana flavor.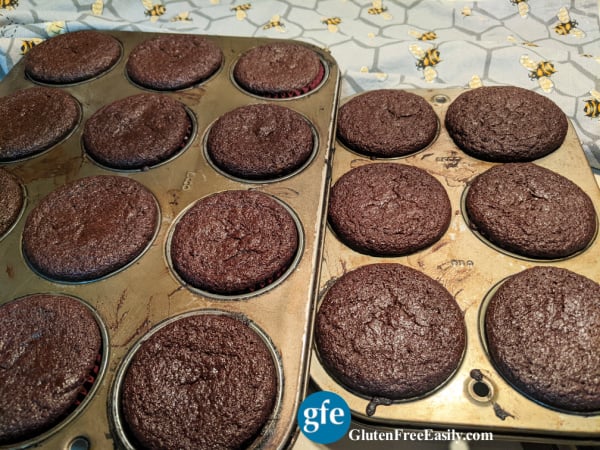 As you can see, this recipe makes 18 muffins and while you can easily halve it, I have made it twice now and each time I was very happy that I made the full batch. I was able to give my Mom and my gluten-free aunt four muffins a piece and still have plenty of muffins left over to enjoy myself. For days in fact.
The review from Mom? An absolute rave!
These muffins have the absolute best muffin tops, too. Perfectly crunchy.
Oh, and the aroma while these are baking? Heavenly! My air purifier was going insane! LOL
Grain-Free Chocolate Banana Muffins Recipe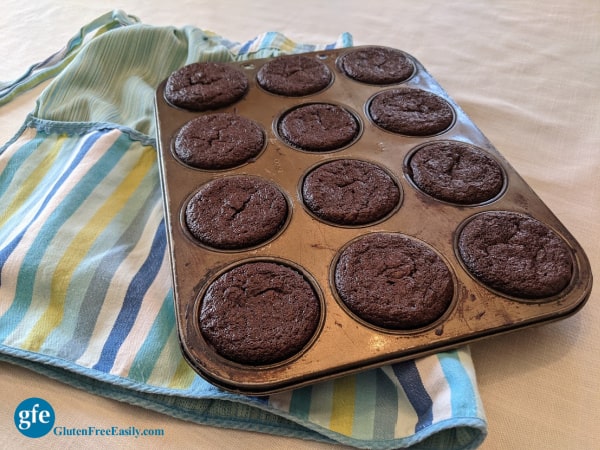 Yield: 18 muffins
Grain-Free Chocolate Banana Muffins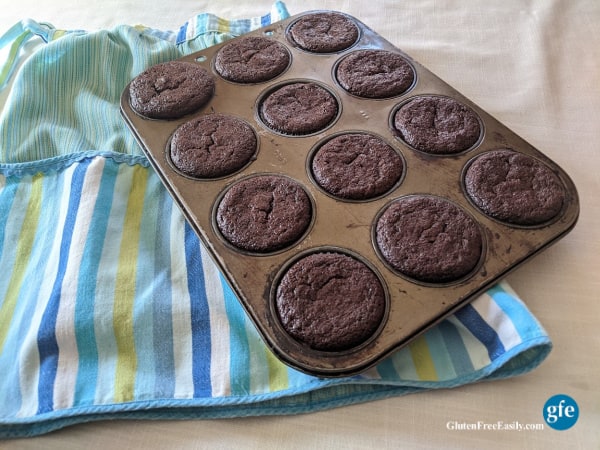 Delicious, rich, and very satisfying chocolate muffins with a mild banana flavor. Yes, you can just eat one!
Ingredients
1 1/2 cups cocoa powder
1 1/3 cups pure maple syrup
1 cup mashed bananas (see substitute option in notes)
1 cup melted coconut oil
4 large eggs
3 tsp baking powder
2 tsp almond extract
1 teaspoon sea salt
Instructions
Preheat oven to 350F degrees. Line muffin tins with muffin liners or parchment paper liners (ready-made or homemade).
In a large bowl, mix all the ingredients until well incorporated. (See notes.)
Fill muffin liners to the top.
Bake for 30 minutes.
Cool completely before serving.
Notes
While you can simply mix the ingredients all together with success, do be aware that coconut oil will "seize" when mixed with cold ingredients (e.g., eggs). Having all the ingredients at room temperature can prevent that. Otherwise, be sure to add the coconut oil at the end after you've "warmed up" the other ingredients to prevent it from seizing.
If you can't eat nuts and therefore, can't use almond flour, Amy says: "For a nut-free version, try tiger nut flour which is a root vegetable in disguise and one of my favorites!"

Applesauce can be substituted for the bananas but obviously the resulting flavor and probably the texture as well will be slightly different.
~ Today's MMM Prizes
All giveaways are now closed. Thanks to all who participated!
~ Resource Book and Cookbook
~ 10 Little Rules for Mermaids (two winners; sponsored by Amy Atwell and gfe)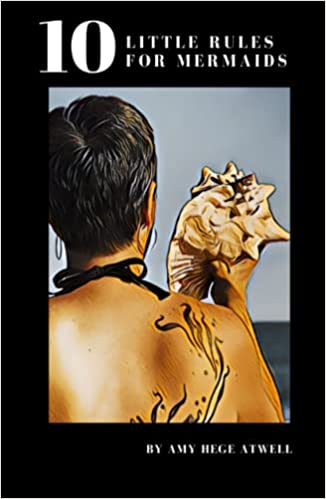 Amy's first book evolved from her thoughts shared as blog posts on The Painted Mermaid site when she was going through major life transitions, including health challenges. From them, she developed The Ten Little Rules for Mermaids. Rule #1, Back Your Own Trailer; Rule #2, Find Your Community; Rule #3, Speak Slowly and Clearly … (You can read the rest in her book!)
There are journal pages ("time to reflect") at the end of each chapter with questions/prompts if you want to jot your own thoughts in response. (It's possible to enjoy this book without completing the journal pages but you'll have a more valuable experience with this book if you do.) Including the journal pages, this book is only 126 pages. It's a quick read but it stays with you.
~ 10 Little Rules for Serving You (two winners; sponsored by Amy Atwell and gfe)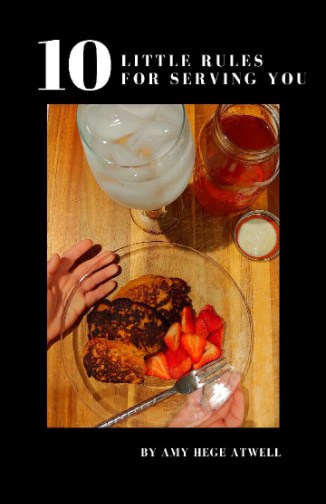 Amy says: "Maybe you're dealing with a big health issue. Maybe you're not sick, but you just don't feel great. Maybe you've tried a million things that seem to work for everyone else, but none of it works for you.

For me the magic began when I acknowledged my needs in ALL aspects of my life and found a style of eating that works for me. I finally accepted, after years and years of constant battling, that there really is no fast fix, no magic pill.

When things aren't working, we know we need to make changes. It's the HOW that too often holds us back. This book is about helping you discover what will work for you.

This book is about covering the bases where you can: it's about eating to heal and, even better, eating to prevent. It's about eating to promote overall good health, eating to stay and BE satisfied. It's about letting nutrition be your guide.

At the end of the day, it's about taking care of you."
Many of us may not be very good at taking care of ourselves. Or at least we occasionally falter or need reminders.
While this book has more of a food focus than Amy's first book; it is not jam-packed with recipes. It's not your typical cookbook but rather a resource book/cookbook. There are actually just enough recipes–great ones, simple ones—but it is full of discussions and solutions that I think you will find truly helpful.
I love its gfe-type approach (mostly real food and recipes made from it; some processed foods that work for one's individual requirements (e.g., healthy almond butter), and finally, very few gluten-free specialty products (e.g., grain-free flour).
There are sections like "One-Pan Too-Hungry-To-Think 20-Minute Mix & Match," which I love. The too-hungry-to-think part is key.
That's why so many of us have at times gone out to eat even when we'd prefer to dine at home. We simply didn't want to have to come up with a plan for dinner because we were tired and literally could not think.
It's so much easier to choose from a menu when you're in that mode, right? (Of course, eating gluten free can change that whole dynamic quite a bit.)
With Amy's three-column list that includes a total of 25 ingredients, she in effect gives you a menu and you can easily and quickly come up with a delicious meal so you can stay home and eat healthier. Simple but brilliant.
Note: As this book has a food focus, it's very important to state that Amy is not someone who has been diagnosed with celiac disease and she is not attempting to give medical advice to anyone with celiac disease. Amy chooses to live gluten free, dairy free, and more. She absolutely lives this way for her health without a doubt but in her book, she mentions taking burgers off of buns and removing bread from sandwiches. That is not something any of us with celiac disease, non-celiac gluten sensitivity, or any other medical condition that requires living strictly gluten free should do. I also want to remind you that anyone who thinks they have issues with gluten should be tested for celiac disease before going gluten free. Once an individual starts living gluten free (or even greatly reducing gluten in their diet), celiac testing results will not be accurate.
You can also get signed copies of Amy's books via her website plus, simple journals that you might find helpful after you've read her books and completed the journal pages within them.
~ Ingredient
~ Pure Vermont Maple Syrup (32 ounces) (one winner; sponsored by gfe)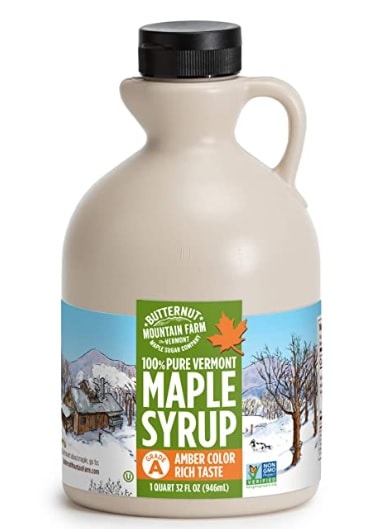 There are few things finer than pure Vermont maple syrup. You can use it to make today's recipe and so much more.
Grand Prize Giveaway
All giveaways are now closed. Thanks to all who participated!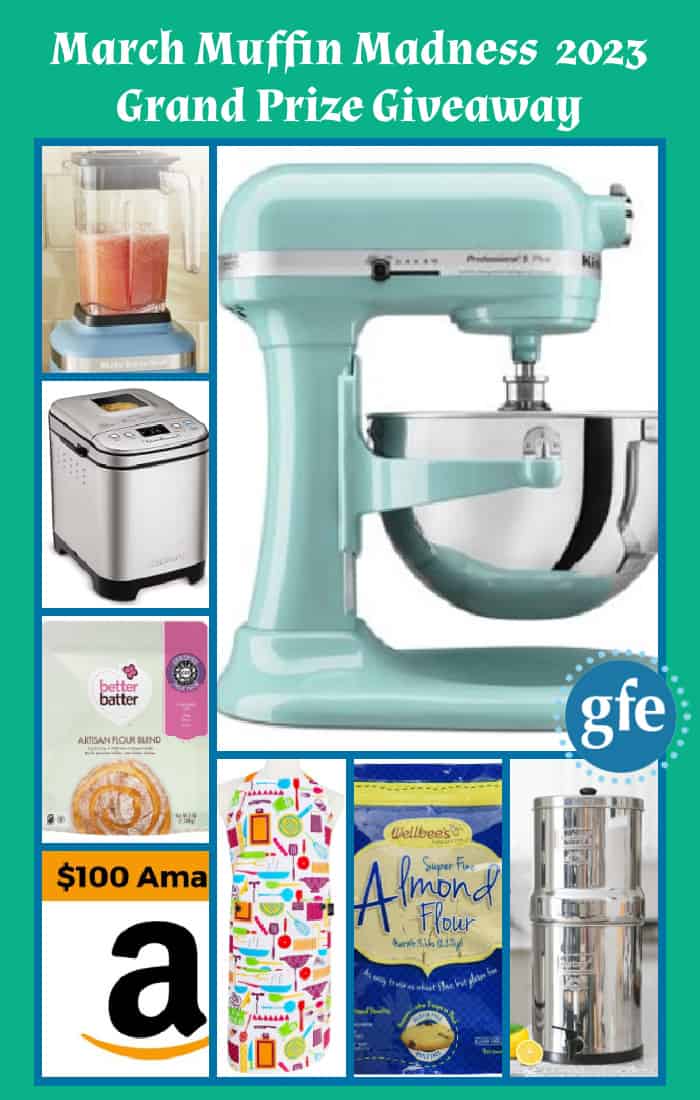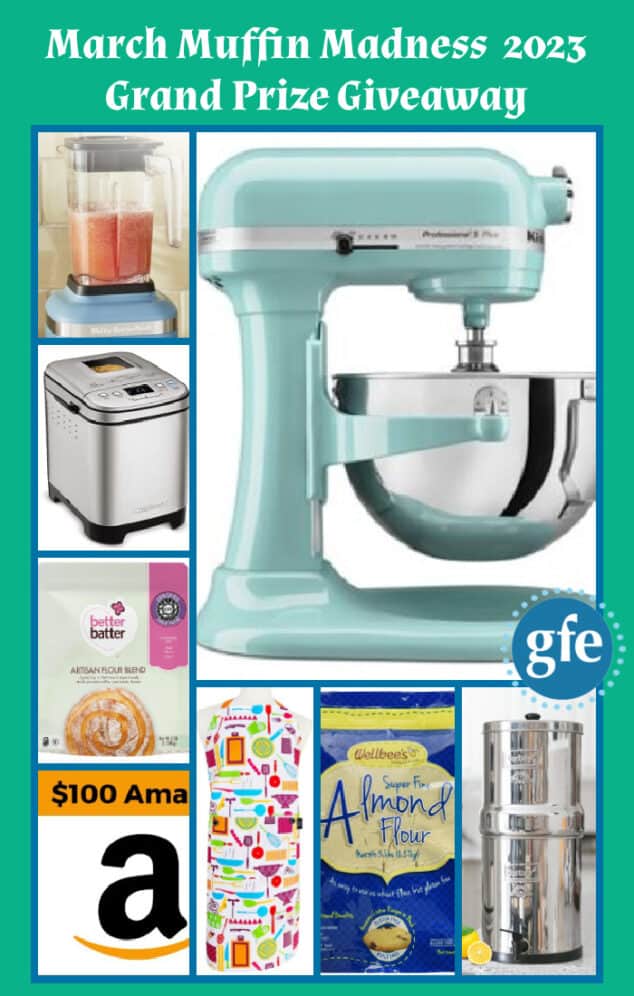 a Rafflecopter giveaway
Originally published March 20, 2023; updated April 9, 2023.