For affiliate links and as an Amazon Associate I earn from qualifying purchases.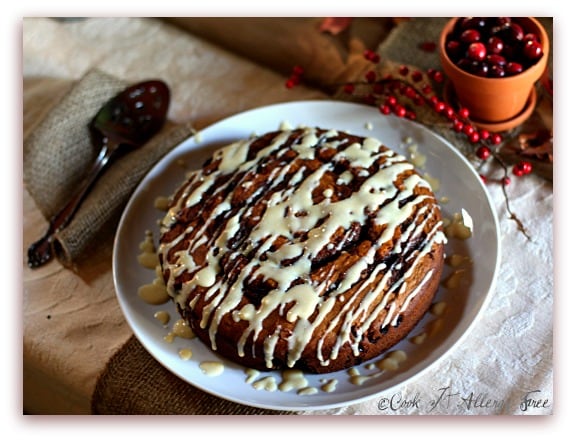 photo courtesy of Cook IT Allergy Free
Okay, I'm realllllly late on this post. We had our holiday support group meeting tonight at my house. sharing excellent, healthy dishes and talking about getting real food, naturally gluten-free foods, everywhere. One of our members, who is also our Farmers' Market manager, had just returned from the Virginia Food Security Conference, where the main goal discussed was launching the Virginia Farm to Table plan. Very exciting! But I digress. A bit.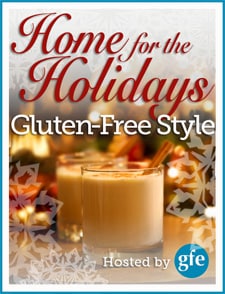 The truth is you've probably already heard about today's Home for the Holidays … Gluten-Free Style post for Day 9 by Kim of Cook IT Allergy Free, because let's face it … good news travels fast! Really good cinnamon buns can bring even the strongest person to their knees. As my gluten-free Facebook friend Debbie said when I shared the link to this recipe earlier today, "Cinnamon rolls are my kryptonite!" Indeed. Most of us weaken at the mere mention of homemade cinnamon rolls or buns—whatever you call them. So what has Kim gone and done? She's made a giant cinnamon bun for us! Okay, technically, it's Cinnamon Bun Cake, but as Kim so aptly points out herself in her post, her cake looks exactly like a giant cinnamon bun. If that's not enough for you to weaken, consider that she then drizzles her Cinnamon Bun Cake with Egg Nog Icing. Swoon. Someone please pass the smelling salts and then a fork! Last, but not least, Kim's Cinnamon Bun cake is gluten free, dairy free, corn free, and yeast free, and can easily be made egg free. (She has lots of expertise in allergen-free cooking and proper substitutions through the development of her Cook IT Allergy Free app.)
Sweeter than Kim's Cinnamon Bun Cake are the family memories and traditions she shares as well. She truly captured "Home for the Holidays" in her post. Of course, Kim also has an awesome giveaway for you! The following prizes will be given away, one prize per winner for a total of three winners.
Simply … Gluten-Free Desserts and Five Pounds of Amazing All-Purpose Gluten-Free Flour Mix Combo ~ This cookbook is my good friend Carol Kicinski's first one and it has a 5-star rating on Amazon! To really get you started on making her scrumptious desserts, Carol has also added one 5-lb bag of her amazing gluten-free flour mix to her gift package. With Carol's permission, I shared her Gluten-Free, Dairy-Free Chocolate Pots recipe here on gfe earlier. Stunningly simple, stunningly good. I haven't personally used Carol's flour yet, but I've heard that folks really like their baking results when they use it. How convenient that Carol's flour blend can be used cup for cup to replace gluten-full flours in your favorite old recipes! This gift package will be a great way to do some wonderful holiday baking and more.
The Pure Kitchen ~ I shared my review of another friend's, Hallie Klecker's, new gluten-free, dairy-free cookbook earlier in our holiday series. Bottom line? I highly recommend it. You can read my review here as well as get Hallie's Thick & Chewy Peanut Butter Cookies recipe. I even used the dough to make some impromptu cut-out cookies … they were delicious … so much better than most other cut-out cookies I've made!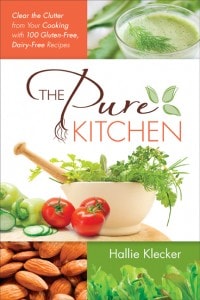 Easy Eats ~ Easy Eats is an all-digital gluten-free food and lifestyle subscription edited by my friend, Silvana Nardone—also of Silvana's Kitchen. The publisher is a new friend, Amie Valpone (also of The Healthy Apple). Full of recipes, product reviews/ratings, tips on living gluten free, and tips on just plain living well, this magazine will both wow and help you greatly in gluten-free living! Oh, and I was tickled pink when my Garlic Cheese Biscuits were mentioned in the "Dinner Made Easy" article in the inaugural issue.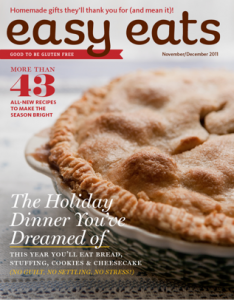 Kim's giveaway ends Thursday, December 8th, at 10:00 am CST. Be sure to enter here (and not on my blog)! (I know I don't have to remind you to get her Cinnamon Bun Cake recipe.)
Look for Lexie's (Lexie's Kitchen) post next. Keep up with the complete line-up here and remember that every entry for the daily giveaways is also an entry for the top-of-the-line Vitamix, Caveman Cookies gift package ($89 value) or Free From Gluten shopping spree ($150 value) … see how many you can rack up before our event ends!