For affiliate links and as an Amazon Associate I earn from qualifying purchases.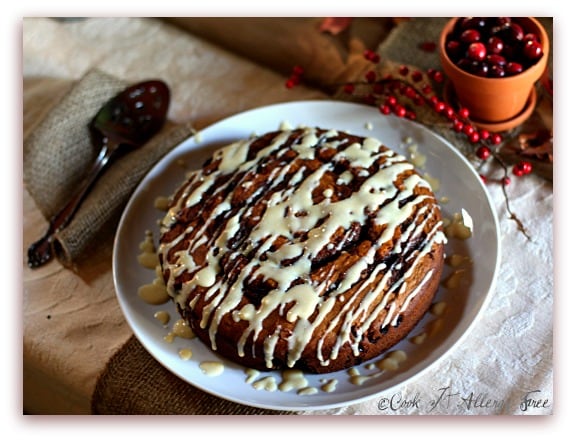 photo courtesy of Cook IT Allergy Free
Okay, I'm realllllly late on this post. We had our holiday support group meeting tonight at my house. sharing excellent, healthy dishes and talking about getting real food, naturally gluten-free foods, everywhere. One of our members, who is also our Farmers' Market manager, had just returned from the Virginia Food Security Conference, where the main goal discussed was launching the Virginia Farm to Table plan. Very exciting! But I digress. A bit.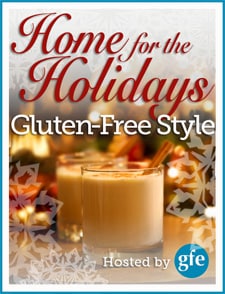 The truth is you've probably already heard about today's Home for the Holidays … Gluten-Free Style post for Day 9 by Kim of Cook IT Allergy Free, because let's face it … good news travels fast! Really good cinnamon buns can bring even the strongest person to their knees. As my gluten-free Facebook friend Debbie said when I shared the link to this recipe earlier today, "Cinnamon rolls are my kryptonite!" Indeed. Most of us weaken at the mere mention of homemade cinnamon rolls or buns—whatever you call them. So what has Kim gone and done? She's made a giant cinnamon bun for us! Okay, technically, it's Cinnamon Bun Cake (via The Wayback Machine) but as Kim so aptly points out herself in her post, her cake looks exactly like a giant cinnamon bun. If that's not enough for you to weaken, consider that she then drizzles her Cinnamon Bun Cake with Egg Nog Icing. Swoon. Someone please pass the smelling salts and then a fork! Last, but not least, Kim's Cinnamon Bun cake is gluten free, dairy free, corn free, and yeast free, and can easily be made egg free. (She has lots of expertise in allergen-free cooking and proper substitutions through the development of her Cook IT Allergy Free app.)
Sweeter than Kim's Cinnamon Bun Cake are the family memories and traditions she shares as well. She truly captured "Home for the Holidays" in her post.
Look for Lexie's (Lexie's Kitchen) post next.
Originally published December 7, 2011; updated December 24, 2022.