For affiliate links and as an Amazon Associate I earn from qualifying purchases.
I'm very happy to be participating in the third July edition of the Self-Care Retreat again. Cheryl of Gluten Free Goodness (and Harris Whole Health) is our event's originator and overall host, but we also have other terrific bloggers taking turns hosting each week. Today I'm focusing on Self Care by Saying No.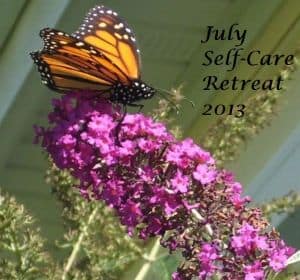 Some Details About the July Self-Care Retreat
Let me share some details on the overall retreat before I discuss the benefits of Self Care by Saying No.
Here's the main schedule:
~ June 28th:  Cheryl of Gluten-Free Goodness (See Cheryl's kickoff post and get links to all her posts here.)

~ July 6th:  Valerie of City|Life|Eats (See her post on self-care goals here.)

~ July 13th:  Moi … Shirley of Gluten Free Easily (GFE)

~ July 20st:  Iris of Iris Higgins (chances are that you also know Iris from her original site, The Daily Dietribe)

~ July 27th:  Kate of Eat, Recycle Repeat (this blog is no longer active)

~ Aug 3rd :  Carrie of Ginger Lemon Girl
Other blogger and reader friends are also asked to join in with their posts on self care. For example, here's a guest post from reader Linda over at Gluten Free Goodness. (I really liked Linda's post and learned a very helpful self-care tip from reading it.)
You can read all the details on joining in on our July Self-Care Retreat—and, again, you can see all the posts to date in the kickoff post, which Cheryl is updating with all the links. FYI:  I LOVED this post from Cheryl on learning from the masters! (Photo below comes from  that post!)
In addition to the priceless benefits of self care, this retreat also offers a $50 giveaway to Nuts.com (courtesy of Cheryl!) with entries given to all participants who write a post on their goals, self-care lessons, etc. Finally, we even have a terrific Facebook group, which offers daily support as we attempt to get better at self care. It's a private group (currently 50+ members), but all are welcome!
And Now My Thoughts on Self Care by Saying No
The Self-Care Retreat takes place in both July and December. It's important to note that I passed on the December edition because saying "No" to joining in then equated to my own self-care at the time. So it seems appropriate that this time I've decided to join in this time around and share the power of saying "No."
Are you nodding your head, because you already know how powerful saying "no" is? I suspect many of you are, in fact, nodding your head.
Here's the thing. We all know the power of saying "no" in certain instances, we all want to say "no" to all sorts of things from time to time, but, truthfully, most of us don't say "no" very often.
And to be clear many of us—me included—need to say "no" more. I'm one who usually doesn't say "no" until I'm well into overload mode. That's not really the time to do it, of course.
Now before I go on, some of you might be thinking, wait a minute, I thought I'm supposed to say "yes" to everything and carpe diem. Admittedly, that is a philosophy that I try to follow. Live life to the fullest and all that, but a lot of "clutter" can quickly become part of the equation with saying "yes" and I don't think that's the true intent of that approach.
Today I'm going to talk about some of the times that I've said "No" during the last few months. The results have surprised even me. I plan to say "no" more often, not only for my own self care but also to the surprising "betterment" of others when I pull back by saying "no."
~ First, I received a request from a good blogger friend to join in an upcoming blogging event that was a really great one with a fun theme and lots of exceptional bloggers participating. However, the theme/event was not really a good fit for me personally. I was a novice in the topic area. I valued it, but it did not excite me. Now I could have said "yes" and gone outside my comfort zone to participate (because I've done that a fair number of times in the past), but saying "no" felt right.

Bonus:  The host graciously accepted my passing on participating and I was able to recommend that another blogger friend take my place. That blogger was not only an expert on the theme, but she was totally passionate about it as well. Her participation in the event made it so much better than mine would have, and I didn't have to add another challenging task to my activity list.
~ More recently, a frazzled family member was having a hard time making some very serious life decisions and wanted me to accompany them on an out-of-town trip. This person had already gotten very frustrated with me when I had offered options on their situation. (I like to play devil's advocate and I like to present others' viewpoints; neither of those approaches is always appreciated by this individual.)

I felt like I'd already "received" enough of their stress and anxiety from our previous discussions. I knew that we'd end up talking about the same subject and rehashing the same scenarios if I said "yes" to heading away with that individual. So I said "no." That surprised this individual. The individual asked again. I stood my ground and said "no," explaining that I knew we'd end up talking about the matter and my input was no longer needed. I told the individual that s/he needed some time alone to work out their solution.

Bonus: This person was forced to think about his/her situation independently and come up with his/her own solution. S/he was relieved when their decision was made, and was proud of coming to that decision on their own. I got a break from the ongoing discussion/decision process and didn't end up feeling like I had placed undue influence on the individual. That's a win-win situation!
~ Another "no" has been brewing in me for quite some time. I love hosting my support group meetings, but after almost a decade of hosting them at my home pretty much every month, I decided to say "No" in one regard. I needed a break from hosting 10 or 11 times a year. (Another family hosts our annual picnic and our anniversary open house event is held in a public forum.)

Hosting at my home each month had come to feel like a chore because of the cleaning and cooking involved and I didn't want that to continue. I wanted to enjoy meetings with my members. So I told my group that I would no longer host every meeting, and even when I hosted those meetings would not necessarily occur at my home. I said that we could alternate members hosting at their homes and start conducting some meetings in a public forum as well.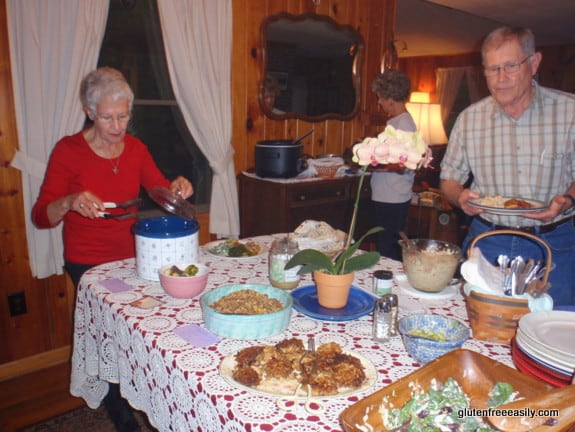 I'll be honest here. I didn't expect folks to readily volunteer to host. I sort of expected our group to fizzle out from members' unwillingness to pick up the "reigns," but they did accept the challenge!
First, one family hosted at their home and we had a really great and relaxed meeting there with them. Then others saw that it didn't have to be hard to host a meeting, so more volunteered. Next month, we'll be having our fourth meeting outside my home and I feel like a huge weight has been lifted from my shoulders. Now I am looking forward to hosting again at the end of the summer!
Bonus: With members sharing the hosting duties, we're having richer meeting experiences due to new locations, folks getting to know each other better as individuals by seeing their living spaces, and hosts are sharing terrific dishes that are different from ones they'd bring to a meeting outside their home (think more main dishes versus desserts). The new hosts have been really pleased at the way the meetings turned out when they hosted and have been happy to help!
The takeaway:  Clearly, a main component of all of these situations was saying "no." Sometimes we simply have to do that. "No, I can't do that this time." "No, I don't need to go into overdrive mode." "No, I can't solve that problem for you."
So many of us want to please others and experience major guilt when we don't. We have to learn to let that go. As demonstrated here, saying "no" to others will not only benefit us, but will end up benefiting those others as well.
Follow TUT to Keep On Track with Self Care
Final thought … I follow a website by Mike Dooley called TUT, at tut.com. TUT stands for Totally Unique Thoughts. (My dear friend Diane of The Whole Gang told me about TUT.) It's also subtitled Notes from the Universe. "TUT believes that everyone's special, that every life is meaningful, and that we're all here to learn that dreams do come true. We also believe that "thoughts become things," and that imagination is the gift that can bring love, health, abundance, and happiness into our lives."
Don't we all want love, health, abundance, and happiness? A daily message can really help us focus on self care, which will allow us to achieve the other goals. (Sign up for your free daily message from TUT here.  Be sure to read the very last line of your daily email, which comes after the brief, embedded marketing pitch.) One of the recent messages from TUT that resonated with me was the following:
"Sometimes the helper needs help, Shirley, and for being helped they become better helpers.

Become better,
The Universe"
Most of us are all about helping. That's how we get in the predicaments where we need to start saying "no" more to begin with.
We always want to help out, to be kind and generous. However, in saying "no" and letting others take the helm, so to speak, we can become better helpers.
So if you have a hard time focusing on yourself as justification for saying "no", please consider that factor, which again I think is exactly what happened each time I have said "no" recently. I became a better helper and others actually benefited from me saying no!
Originally published July 13, 2013; updated September 6, 2018.